Over the last decade, there have been differing views on how to create the right kind of content to support your SEO. For a while, the thinking was that content needed to be bite-sized, snappy, and simplistic. Strictly no heavy data, no long words, and no more than a couple of scrolls on the mouse.
The idea was based on the notion that online consumers are busy and short in attention span and needed quick and easy info at their fingertips. The more consumers read and engaged with this content, the better it would rank in search.
However, it's becoming increasingly apparent that longer-form content (of around 2,000 words or more) is generally better for SEO, with the longest average content length reaching the first two pages in search results.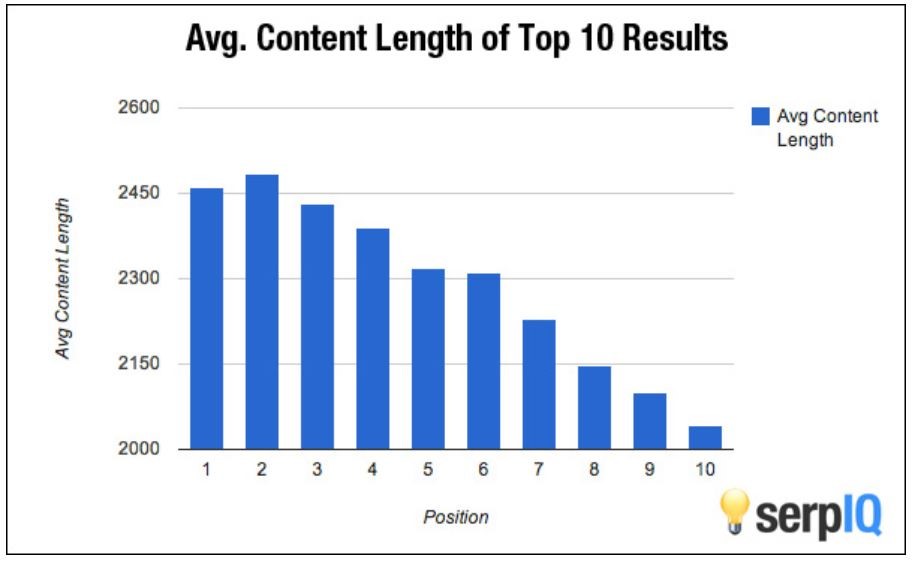 Well-produced, optimised long-form content that's rich in information, links and keywords:
Earns more backlinks
Gets more social shares
Provides long-term SEO value (read this post about evergreen content)
Creates stronger brand signals
Is rewarded by Google's RankBrain signals
Increases dwell time – and therefore the likelihood of a conversion
Improves click-through-rate, engagement and reduces bounce rate
Increases email subscribes
However, it goes without saying that not all content is equal. For your long-form content to improve your SEO it has to be produced in the right way to get the best chance of seeing results.
1. Identify your goal(s)
Before starting on any content, it's crucial to know what you're trying to achieve. Producing content for content's sake is simply not enough.
Take some time to revise your personas, and to determine which personas and which queries you'd like to address with your content.
Then identify what your goals are and the metrics you'll use to measure them against:
To increase engagement – measure social shares, likes, comments.
To increase website traffic – measure referral traffic from your article, page views.
To increase your conversion rate – set up a goal to track conversions.
To grow your subscriber list – use your email marketing software to track list growth.
And given that this article is focusing on SEO as your goal, it's worth noting that SEO will be improved even if your primary goal is something completely different. For example, if engagement increases, this sends the right signals to Google that your content is authoritative, and they'll reward it accordingly.
2. Start with keyword research
Now you need to determine the topic of your content.
Some keyword research will help you to identify where the high volume (many people searching for them) and low difficulty (not much competition) keywords and phrases are in your niche.
1. Do some initial keyword ideation using Google's Keyword Planner tool.
Type in your URL and some initial keyword ideas
The tool will suggest how many searches per month those keywords receive
Decide which keywords have a good volume of traffic but that are also relevant to your niche.
2. Check in with Google Trends to see what content topics are trending.
3. Find long-tail keywords by typing your keywords into search and seeing what Google suggests: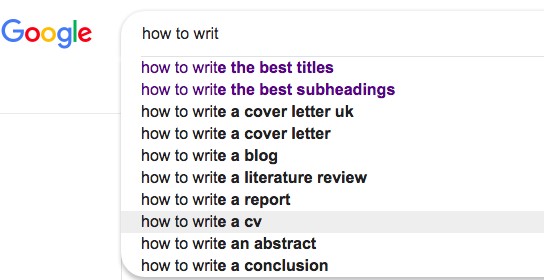 For more on keyword research, check out this introductory guide.
3. Draw a crowd with a great heading
A great heading will grab the attention of the right audience and get your content seen. But it also sends signals to Google about the keyword context of your piece.
According to HubSpot, headings that gain the most clicks are those that follow these rules:
Use alliteration e.g. "7 fun facts about long-form content"
Use strong language e.g. "Brilliant", "Things people hate".
Are short and sweet – around 70 characters – so they're not cut off in search results
Use "who" rather than "why" e.g. "Top 10 brands who are killing it on Instagram"
Use numbers e.g. "10 reasons for…"
And to make sure your title works from an SEO point of view, make sure it's written in H1 tag. H1 tags are important for two main reasons. Firstly, they make your content stand out to the people who are looking for those keywords. Secondly, they give search engines the keyword context.
In WordPress, your titles will automatically be in H1, and it's worth noting that you should only include one H1 tag per page. For further subheadings, you must then use H2 and H3 tags as you go down your content hierarchy (we'll come on to this later).
Use subheadings to provide structure
Your header tags are important for both giving your article a logical structure, but also for sending keyword-rich context signals to search engines.
For example, you can use your subheadings to answer the questions, within your broader topic, that your audience is likely to be asking.
Subheadings should be written in H2, which is the code that identifies it as such. Further subheadings should then use H3 and H4 tags.
Use subheadings for Rich Snippets
Rich snippets – also known as answer boxes – are the results that show up right at the top of the results page (i.e. in "position zero" above the first organic result) and are usually in a list or step-by-step format.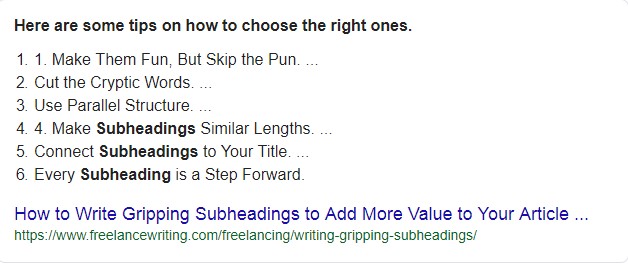 Getting your content to appear in position zero is an SEO coup. It's the first result your audience will see, and so will likely receive correspondingly high click-through rates.
But to get your content to appear as rich snippets isn't guaranteed. Although, to give your content the best chance, there are a few tricks you can employ:
Use your subheadings to answer long-tail search queries. E.g. if your content is about gardening, your first subheading (or H2 tag) might be "How do I choose the right spot in my garden to plant my geraniums?"
Use your subheadings as a bulleted or numbered list/steps in a process.
4. Enrich your content with links
Long-form content tends to accrue more backlinks (backlinks are when other websites link to your content). Why does this happen? Longer content is generally more valuable, which means that people are more likely to link to it from their websites or from their social media.
You can, of course, encourage more backlinks by including outbound links (links to other trusted sources) too. The important thing to remember is that the better the source you link to, the more valuable that link will be from an SEO perspective. Where possible, choose well-known, authoritative websites over smaller obscure sites.
Similarly, SEO is helped by including internal links (links to other pages in your own website). They help search engines crawl your site, rank you for your salient keywords, and provide further information to your readers.
5. Complete your meta-data
The meta-descriptions and title tags that you give to your content make a big difference both to how likely people are to click on it, and how well ranked you'll be in search results.
In the example below, the title tag is in purple, which is then followed by the URL and the meta-description below:

Your title tag, typically around 50-60 characters long (any more and it might be too long to show up in the results), should ideally include your brand name and your main keyword.  For more on title tags, read the Moz guide here.
The purpose of your meta-description is to sum up what your content is about and to encourage people to click through to read it. It also provides the context to Google about your content.
Your meta-description should be no longer than 300 characters long (after this it gets truncated) and should include your keywords. It should be succinct yet persuasive enough to encourage people to read your content. For more on meta descriptions, read the Moz guide here.
Before you click publish, make sure you enter a meta-description and title tag. WordPress plugins such as Yoast will help you with this and will score you based on a central keyword for which you want to rank.
Other content management software might require you to enter it manually, in which case you might need to get in touch with your developer for support.
6. Use high-quality visuals
Using images is a well-known tactic to improve your content engagement. And while engagement impacts on your SEO, the images themselves can help to score you extra SEO points.
The key is to optimise your images so that they contribute effectively to your SEO.
The first thing to do is ensure that the file name, under which you've saved your image on your computer, contains appropriate information about your content. Your image file should include information about the image as well as referencing your brand. Don't forget to separate words with hyphens:
For example, if your content is about hairstyles, and you want to use an image of a certain style, then rename your saved image "0012.PNG" to something like "mid-length-bob-the-hair-forum".
Alt-text is the information that you provide images so that, should an image not be able to load, the information will still be indexed by search engines and be visible by mousing over where the image should be.
Your alt-text is the description of your image and, again, should include your keyword(s). For more on alt-text, read Moz' guide here.
7. Make content useful, relevant and shareable
Long-form content is primarily to provide your audience with high-quality, useful and shareable content; content they could not find elsewhere. If your long-form content doesn't achieve this, then you won't see the traffic numbers.
If your content is useful, relevant to your audience and visually pleasing enough to be shareable, then search engines will reward it too.
To ensure your content is useful, then it needs to be well-researched and, where possible, data-driven. Know your authoritative resources and dedicate a decent chunk of time researching your topic. When it comes to writing your content, make sure you link to your sources as you reference them.
To make your content relevant, it needs to keep your persona(s) in mind. Your content must speak to their needs, rather than show off what you know about the topic. Make sure you use the language your audience will understand but don't patronise by over-simplifying.
And, lastly, if your content is useful and relevant, it will automatically be shareable. But to go the extra mile, make sure your content contains high-quality (and optimised) visuals.
In summary
Long-form content is proven to be good for your SEO. It achieves higher backlinks, more traffic and engagement, and demonstrates the authority of your brand.
However, producing long-form content isn't, in itself, enough. Your content must be useful, relevant to your audience, and likely to be shared around the web. To achieve this means to put in the time to research both your personas and the topic you want to cover.
Your long-form content also needs to be optimised to achieve good SEO points. This means completing your metadata, optimising your images with alt-text, and providing authoritative inbound and outbound links throughout your piece.
Follow these tips, however, and you'll begin to see the value – both for your customers and for SERPS – in creating rich long-form content.