You may think that branding is something that only big businesses need to think about. But thanks to the internet, we're now in an age when we effectively all have a personal brand. It's our identity, or how we come across to others, both online and offline. Whoever you want to be known as – whether it's as a talented designer or an outspoken climate change activist – developing your own brand will help you land job opportunities and grow your contacts list. Here's how to do it.
Who do you want to be?
Before you can create a strong personal brand, it's worth putting some thought into your career aims and how you want to come across to others. What do you want to achieve in the short-term and in the long-term? Your answers will affect everything about your personal brand, from who you follow online to how you talk about yourself when you're meeting other people at networking events or job interviews. You'll also need to be clear about who your target audience is: like-minded individuals? Employers in your chosen industry? Whoever they are, your brand should speak to them.
Email address and social media
Branding is about being consistent in how you present yourself, and your online presence is a good place to start when bringing everything together under a personal brand. Your email address and social media handles should ideally be your own name, while your publicly visible 'about me' text should be consistent across all platforms, whether it's Facebook, Twitter, Instagram, LinkedIn or any other site you use.
It goes without saying that you'll need to monitor your social media content and privacy settings carefully if there's anything you'd rather people didn't see. Think about who can view your posts and what your posts say about you. For example, unless you have a private Twitter profile, everything you tweet – whether to someone else or to your timeline – will be visible to everyone. Similarly, everyone will be able to see who you follow, so take a look down the list of people you follow to check there's nothing embarrassing there. Who you follow says something about who you are, as well as helping to get your profile seen by the right people, so be selective.
Build a website or blog
Everyone who's anyone has their own website, so this is a great next step when you're developing your brand online. Your website is your very own corner of the internet where you can represent yourself the way you want to. Purchasing your own domain name is very worthwhile, as it looks more professional and will allow you to have your own email address to match. WordPress.org is a good platform for building a website, with lots of free templates that don't take too much technical expertise to use.
Find a domain
Your website doesn't have to be complex to build your brand; an 'about' page could serve as an introduction to you as a person, while you could also have a page devoted to your experience and career aspirations. A blog is ideal either as a standalone or as part of your website, giving you somewhere to write opinion pieces on subjects that interest you. This is the perfect place to start demonstrating thought leadership in your chosen industry, so be sure to post regularly and include the link on your CV so that potential employers can see how knowledgeable and enthusiastic you are about your field. Each time you write a new post, share it on your social media profiles so that more people see it.

Example: Digital designer Adam Hartwig uses his website www.adamhartwig.co.uk to showcase his experience, examples of work and awards as well as a 'about' page.
Branching out online
Once you've built your own website, social media profiles and/or blog and got them established, another thing you can do to grow your personal brand is to start writing for other sites. Writing for other blogs or sites connected with your chosen industry will get your name in front of new audiences who are interested in what you have to say; you might even get noticed by potential employers. You can find writing opportunities by searching Google for phrases like "write for us" alongside terms related to your areas of interest.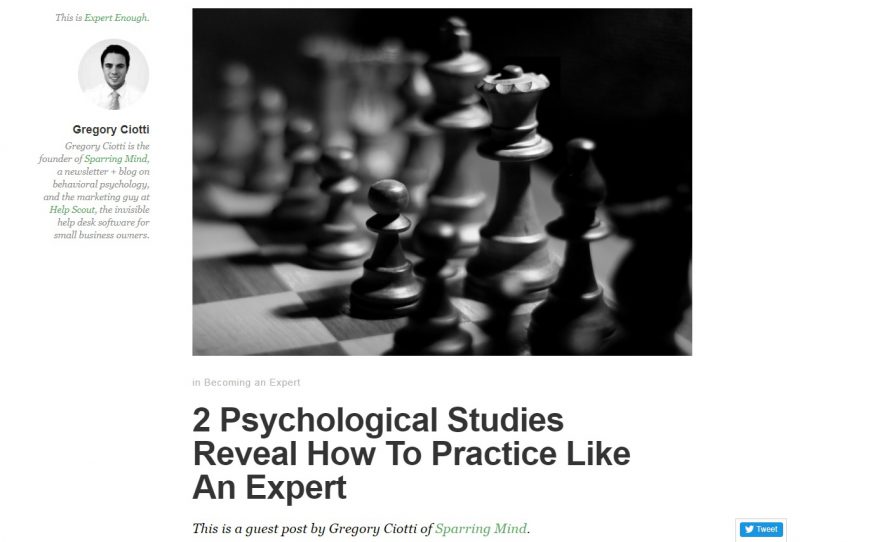 Example: Gregory Ciotti (www.gregoryciotti.com) a content marketing strategist regularly writes guest posts for a number of blogs including Expert Enough and Buffer Social.
Networking
With the relative ease of representing yourself online, it's all too easy to neglect opportunities for building up a reputation for yourself offline. For all the popularity of blogging and social media, business is still ultimately about people, and showing your face at offline networking events is a great way to become recognised in your industry and make valuable contacts. Look out for details of meet-ups and talks relevant to what you're interested in, and go along and talk to people; you never know who you might meet. Get yourself some business cards and get ready to hand lots out. It sounds old-fashioned, but people do still use them.
Stay true to yourself
Our last tip sounds a cliche, but it's important: don't try to be someone you're not. Keep your personal brand professional, but stay true to yourself. Inject your own personality into your brand, and show people who you are. After all, branding is about what makes you different, not what makes you the same as everyone else.