Just like with social media, having a strategy in place for email marketing is a good idea, whatever the size of your business or scale of your email activity.
Having an email strategy can ensure you reach the right audience with the right content and help you use email as an effective tool to support your wider marketing campaigns.
If the thought of finding time to create an in-depth strategy document fills you with dread, don't fear! A strategy doesn't have to be an extensive document to be effective, you may even like to start with some bullet point notes or pointers to help keep you on track.
Today, we look at six steps to creating a strategy for your email communications. Before we jump in, let's just quickly discuss what an email marketing strategy is.
What is an email marketing strategy?
SendPulse describes an email marketing strategy as:
"A set of procedures that a marketer identifies and follows to achieve desired marketing goals with email advertising. This plan of action gives the businesses a direct channel of communication with prospects and customers for brand promotion."
Similar to a strategy you might create for other online marketing channels, an email strategy enables you to be clear on your email aims, goals and approach so you can effectively measure and optimise email activity while remaining consistent in your delivery and branding.
Now we know what an email marketing strategy is, let's look at how to create one.
How to create an email marketing strategy
These six pointers will help you to start thinking about the key areas of an email strategy. There are different approaches you can take, and you may find you go into more detail on some of the steps than others or even add some steps of your own. The important thing is that the strategy is tailored to your business, and most importantly, is helpful.
1. Set your goals and objectives
As with most strategies, one of the first steps is to think about what you want to achieve.
A good approach is to determine your goals and objectives. Typically, goals define the ultimate outcome you want to achieve from the marketing activity, while objectives outline smaller achievements or milestones which help achieve that goal. Your individual email campaigns are likely to have their own objectives too. Here's an example:
Goal: 15% of overall sales to be generated through email marketing by January 2022
Objectives:
Send one promotional email per month
Increase click-through rate (CTR) of product emails to 2%
Campaign objective: Encourage clicks to sales area of the online store
Another example could be:
Goal: Increase email database by 50% by the end of the financial year
Objectives:
Run a social media promotion to encourage sign ups
Get a new subscribe CTA banner created and implemented on the website
Having a clear idea of what you want to achieve through your email marketing can keep campaigns really focused and help you measure the performance and success of your email activities.
Remember to keep your goals and objectives SMART: specific, measurable, achievable, realistic and time-bound.
2. Define your audience
Now you know what you want to achieve from your email marketing, the next step is to think about who you want to reach through your email communications.
Email marketing can be a highly effective tool to reach a targeted and engaged audience, so relevancy and building a high-quality database are key to success.
At this stage of your strategy, spend some time thinking about your target audience and their needs and expectations. If you've already done this exercise for the wider business, have a think about your target audience specifically in terms of email. For example:
What do your customers want to see in their inboxes? Perhaps they're looking for helpful content or want to see your latest deals
When are they accessing their emails? Are they likely to have access during the day or maybe they might be more engaged in the evenings or at weekends
How can you ensure your email marketing is relevant and personalised to them? Perhaps you can group them via interests or local area
Understanding who you want to reach with your email marketing can help you build a targeted email database and create more engaging campaigns.
3. Build your email marketing list
Now you've identified your target audience, the next step is to think about how you can reach them and encourage them to subscribe to your newsletter or database.
Having a smaller engaged database of email subscribers is better than having a big database of people who don't engage with your emails.
Thinking about the tactics you're going to use to build subscribers will help you dedicate enough time and resource to them. Having this plan in place will also allow you to evaluate which tactic is most effective for your target audience.
Think about where your target audience hangs out online, what they're likely to want from your emails and what could encourage them to sign up to your database. Some ideas you might like to think about include:
Running a Facebook Lead Generation advertising campaign or similar on Twitter or LinkedIn
Offering a subscribe option in the checkout process for e-commerce sites
Popups or promotions on your website or blog (like in the below example from HubSpot)
However you choose to build your email database, it's important you keep compliant with GDPR legislation surrounding consent, data protection and more.
4. Plan what you're going to send…
Next, it's time to think about how you're going to build and send your emails and which formats you're going to use.
Online email tools or software which allow you to manage subscribers, build visually appealing emails and track and monitor the performance of each send are becoming increasingly popular with small businesses.
As part of your strategy, it's a good exercise to explore the different platforms available keeping in mind your budget, knowledge and which more advanced features you might like to consider in the future. Here are five platforms to get you started.
We've spoken before about the different types of email businesses can create and send to their subscribers. This part of your email strategy can be flexible, you don't need to choose just one type of email campaign or use the same ones if you find they don't perform as well as expected.
Instead, think about what types of email suit your business and will be most relevant, engaging and enticing for your target audience. For example, e-commerce businesses are likely to have more promotional emails (like in the example below) compared to a charity, who might choose to send more e-newsletters.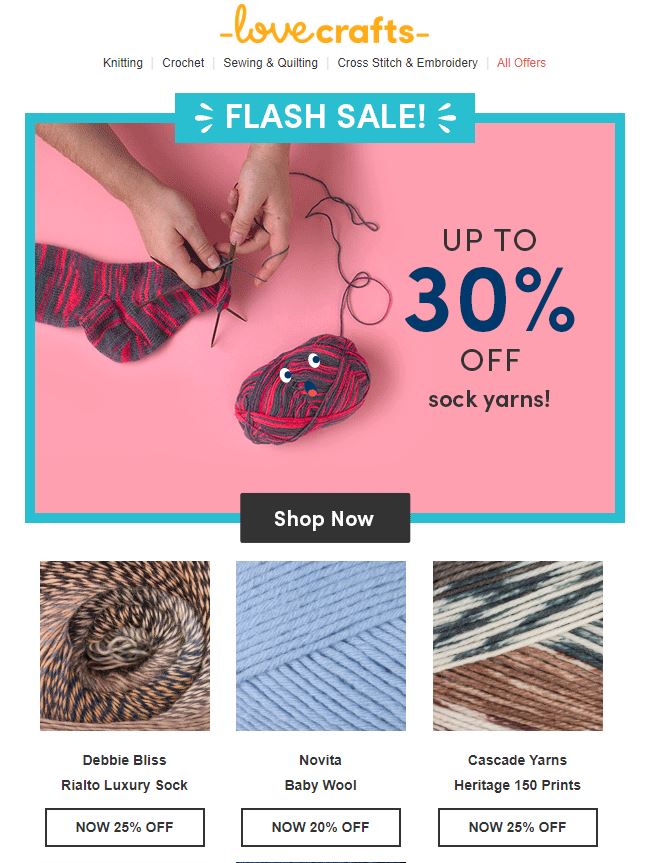 To get you started, here are some ideas:
E-newsletters
Welcome emails
Promotional emails
Reminder emails
Cart abandonment emails
5. …and when you're going to send it
As with other areas of digital marketing, like social media and content marketing, setting some goals and targets for the frequency of your email activity is really important.
Consistency is key, so maintaining a schedule for your emails is essential. This doesn't mean that you need to be creating and sending an email every day or even every week, especially as a small business owner when time is tight. Sending a monthly, or even quarterly, newsletter packed full of relevant and engaging content can still be effective, especially if recipients are expecting it.
Think about what might be achievable for your business, especially if you're just starting out with email marketing, and try your hardest to stick to the schedule. Remember that you'll need to think about when you can create the content for the email and plan in time to build, test and send the campaign too.
6. Measure the results
If you are using a Customer Relationship Management (CRM) platform or online email software to manage your emails and campaigns, you'll likely have access to insightful metrics. From seeing how many people opened your email to monitoring unsubscribe rates, this can be incredibly useful information to help you understand what's working well for your business and what might need some tweaking.
Not only is it important to measure the impact of individual email campaigns, but also the effectiveness of your overall strategy. Regularly review the tactics you're using to build your email database and evaluate how your scheduling is going, have you been able to send emails consistency over the past six months for example?
Remember that your strategy is in place to help you boost your email marketing. Don't feel disheartened if you've fallen behind schedule or haven't got the open rates you were expecting on a campaign. Your strategy should help provide some structure for your email marketing but can also change and evolve as your business grows.
Now you know how to create and use an email marketing strategy, you might find some of these other articles helpful: