Having written about Facebook advertising several times previously, I'm sure I don't need to stress its power for marketing small businesses. But have you thought about what happens after someone clicks on your ad?
If you want to make the most of your Facebook advertising spend, it makes sense to consider every stage of a user's journey – not just whether or not they'll notice your ad. In today's post, I'm going to be looking at how to optimise your campaigns by pairing your ads with suitable custom landing pages, giving you the ins and outs of how to create a landing page for Facebook.
What is a Facebook landing page?
A Facebook landing page is a page on your own website that people will 'land' on when they click on your advert on Facebook.
Rather than being sent to your homepage and hoping that visitors find their way to particular content of their own accord, using a landing page allows you to continue the message and look and feel of your advert to provide visitors with a more seamless experience and to ensure your site lives up to the expectations set up by the advert.
Imagine you saw an advert for a shirt you liked the look of. You click the advert and instead of being taken to a landing page giving more information and the option to buy that shirt, you're directed to the main homepage or to some other page that wasn't relevant to the advert. You're likely to click straight back out of the site, with a feeling of frustration. That's why relevant landing pages are important.
The idea is that a well-designed landing page helps to maximise conversions from your ad campaign, encouraging people to follow up on the action you wanted them to take from your advert.
You're no doubt putting lots of effort into ensuring your ads are as effective as possible at driving traffic to your website, but all this time, effort and money will have been in vain unless you're able to convert that traffic into business.
Let's look at an example. Below is a screenshot from Facebook's right-hand side bar, with two ads featuring Karen Millen and HelloFresh. The Karen Millen ad contains two separate links, which go directly to the product pages of the dresses featured in the images, as you'd expect.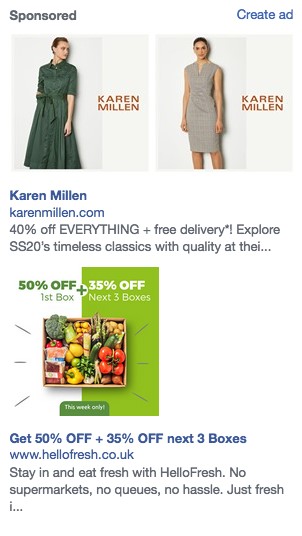 Clicking on the HelloFresh ad takes you to an attractively designed landing page that includes further details on the discounts mentioned in the ad copy, as well as more information about HelloFresh when you scroll down.
There's a 'Get Started' button at the top that stays in the same position as you scroll, encouraging clicks, and further down there are additional persuasive tactics including user reviews and information about sustainability.
Finally, there are four boxes to choose from, with the discount mentioned in the Facebook ad automatically applied. In short, this is a great example of a landing page that's perfectly positioned to help convert ad traffic into paying customers.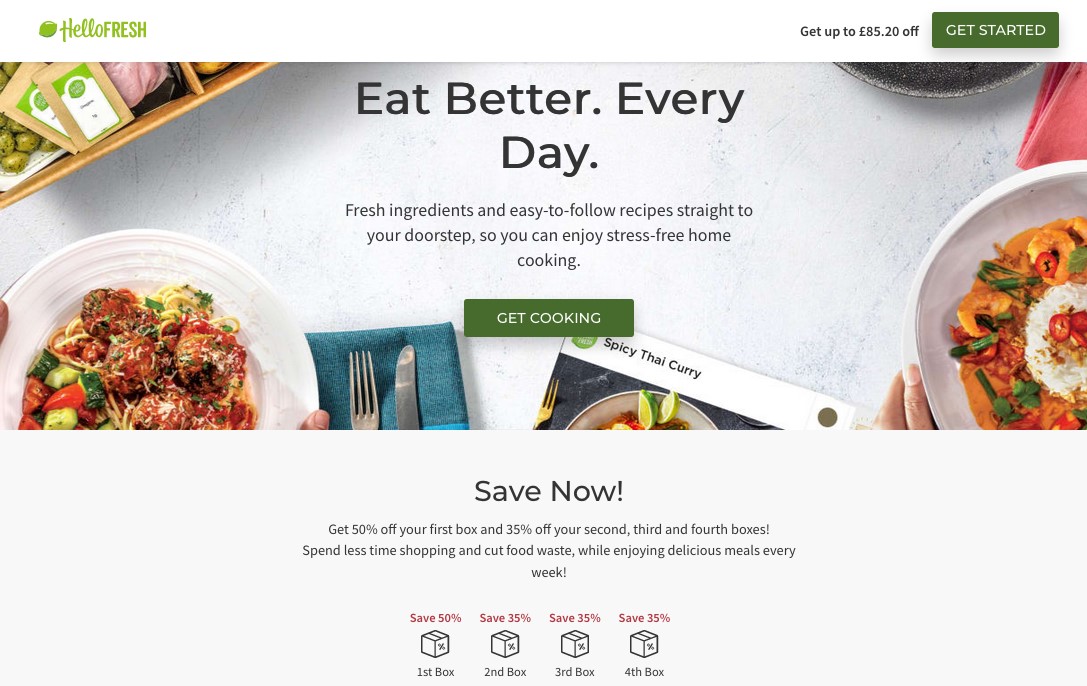 It's also worth noting that while your landing pages can take the form of pages on your own website, another option is to have 'custom tabs' on your Facebook page itself.
Custom tabs are only available for pages with over 2,000 likes and are a bit more technical, so for the rest of this article, I'll be concentrating on creating Facebook landing pages for your own website.
How to create an effective landing page for your Facebook campaign
Your landing pages should be designed around your goal for a particular campaign, so the format of your landing page depends on the action you want people to take.
If, for instance, you're advertising because you want to get as many people as possible to your website – for brand awareness, for example – your focus will be different from if your aim is to boost e-commerce sales, which will necessitate compelling product descriptions and careful design to drive sales directly from your landing pages.
If your aim is lead generation, you'll want your landing page to incorporate a form and some copy explaining what's in it for them if they fill it in (a free whitepaper, for example).
So how do you go about creating a landing page that does the job? Here are some top tips for creating effective landing pages for Facebook campaigns to improve conversions.
Make them consistent
It's important to make sure the look and feel of your landing page is consistent with what was in your Facebook ad, which will have included a prominent image.
For example, if someone clicked your advert because they liked the image that you used in it, it stands to reason that they'll be expecting to see that image (or one in a similar style) and more about its subject when they reach your landing page.
It's also important to keep the look and feel of your landing pages consistent with the rest of your website and branding, so that if someone clicks into another part of your website from your landing page, it looks as they expect it to. That means using the same fonts, image styles, logo and other visual elements that make up your brand, as well as the same tone of voice in the copy.
Make them useful
It's not just about making sure the landing page information is a logical continuation of the content of your ad; it's about ensuring there's enough relevant information to drive the user forward in the conversion pipeline.
So, give them enough information to engage them further. That said, bear in mind the best practices of writing for the web – don't present the reader with a wall of text, keep it short and sweet and break it into small chunks with subheadings, using bullet points to present information clearly if necessary.
Keep it simple
As well as keeping the text punchy, make sure your landing pages are easy for visitors to find their way around.
Reinforce your USPs
You don't have many characters to play with in a Facebook ad, so your landing page is where you can mention them again and go into more detail.
…But don't give them the hard sell
People browsing Facebook who just happen to click on an ad may not be in the right frame of mind for making an immediate commitment to purchase, so your landing page should keep them engaged without expecting too much from them.
Don't ask for too much too soon
On that note, unless your ad specifically urged people to 'sign up' or 'download', sending visitors straight to a page that asks them for their personal details is unlikely to win you many conversions.
Optimise them for mobile
With 98% of users accessing Facebook from a mobile device, and nearly 80% only accessing it from a mobile phone, it makes sense to ensure your pages display well on the small screen of a mobile phone. It's what users expect, and a page that isn't optimised for mobile is likely to result in them shutting the page without proceeding further.
Conclusion 
As you sit down to create your Facebook landing page(s), it's important to bear in mind that there's a crucial difference between your normal website visitors and those arriving from Facebook.
Someone who's ended up on your website from a Google search is actively looking for companies like yours. If they've made it past your homepage, or landed on a deeper page straight from Google, it's because they're already interested in what you have to offer.
On the other hand, someone who's arriving from a Facebook ad has simply clicked something that caught their attention in passing, and they're therefore likely to be in a less committed frame of mind. Unless you're aiming for direct e-commerce sales straight from Facebook, your copy needs to reflect the fact that this is an early stage in the process of converting them to a customer.
Finally, it's worth noting that Facebook itself has some guidelines on what you should and shouldn't do with your landing pages. Facebook says:
"Any landing page must clearly represent the company, product, service or brand that's being advertised. Your ad may not be approved if the landing page content isn't fully functional, doesn't match the product or service promoted in your ad or doesn't fully comply with our Advertising Policies."
Facebook advises against pointing your adverts to "landing pages with minimal original content, low-quality content or content that is difficult to access", as well as cautioning against the use of distracting embedded or pop-up ads. Importantly, Facebook also warns against trying to make money from Facebook ad views, saying: "Facebook ads shouldn't link to a destination page that requires people to click through other ads to access the site's content."
So there we have it: everything you need to know about how to create an effective Facebook landing page. Want to learn more about advertising on Facebook? Here are some other articles you might find useful for marketing your small business.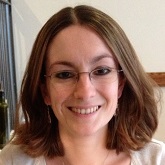 Rachel Ramsay is a freelance copywriter with a background in digital marketing. She's written copy for clients ranging from the United Nations World Food Programme to The North Face, and particularly enjoys working with lifestyle and travel brands. In her spare time, she volunteers for Guide Dogs and flies light aircraft and helicopters.
Read full profile