Owned, earned and paid media are the three pillars of a successful content marketing strategy.
Owned media focuses on interacting with target audiences via communication channels owned by the company. Earned media is earned publicity generated by building relationships and providing great content, and paid media involves paying to promote content.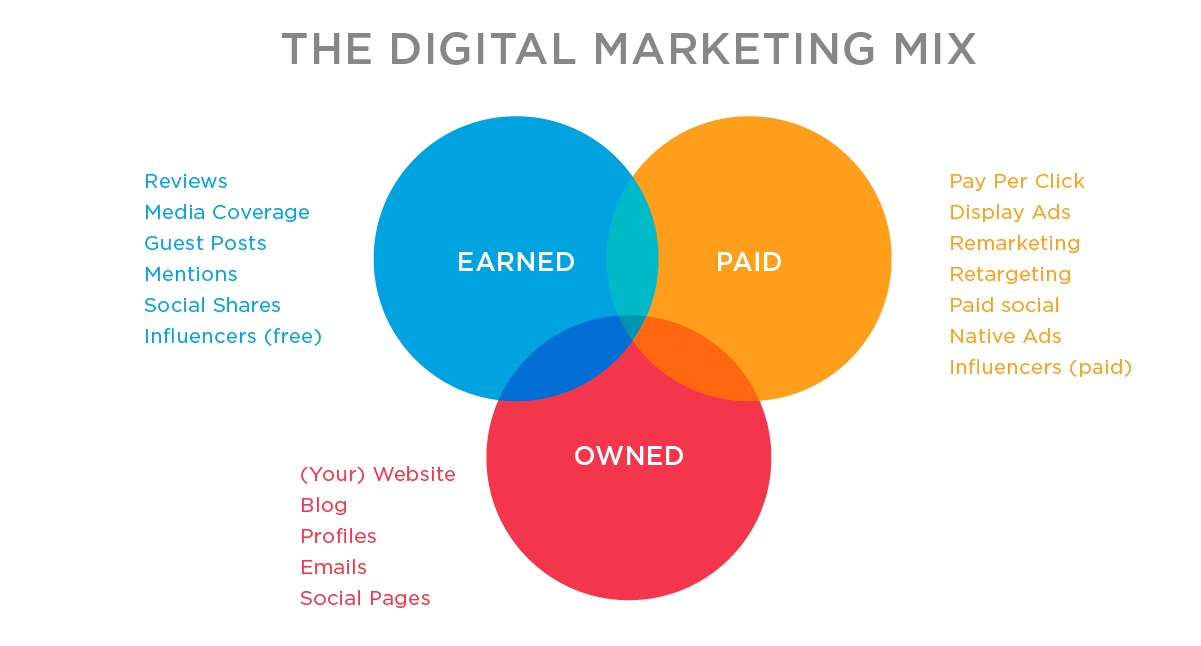 Below I've highlighted the main differences between the three channels and provided some top tips on how you can use each of them to improve brand awareness and the conversations you're having with your audience, plus how you can measure your performance in each.
Owned media
Owned media consists of the channels owned or controlled by your brand. Some owned media examples include your website, mobile site, blog page, videos, podcasts and social media platforms. Its role is to build credibility and long-term relationships with your audience.
Benefits of owned media
Cost-effective
Longevity
Complete control
Helps you to create niche audiences
You can establish yourself as an expert in your field through helpful and informative content
It's good for SEO because you can add keywords to your content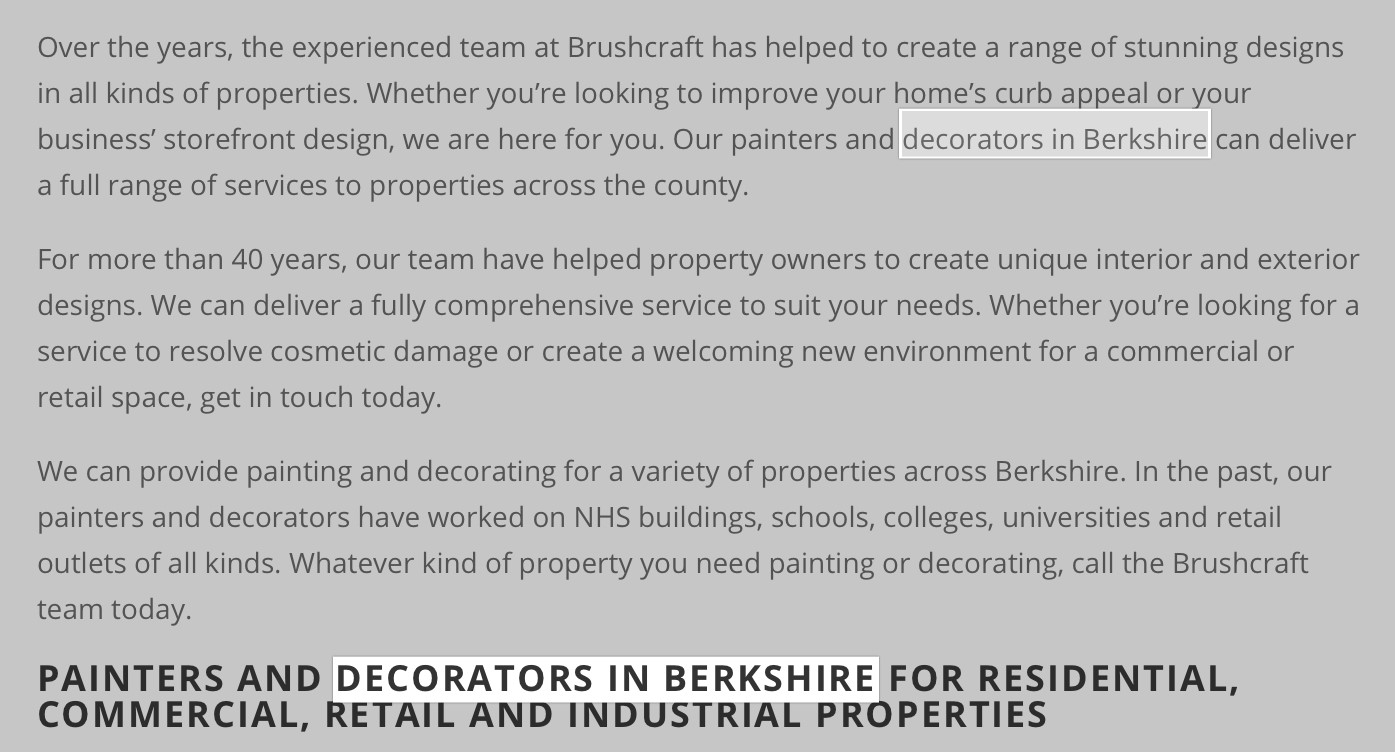 Challenges of owned media
It takes time to build your audience
Success with owned media is entirely dependent on having a comprehensive strategy in place
Updating your website, blog and social media pages requires an ongoing commitment
How to measure results for owned media 
Analytics tools are very useful when it comes to measuring the success of your content.
While your social media pages provide built-in data such as likes, comments, shares and post reach, platforms such as Google Analytics allow you to track what's going on with your website. You can find out everything from how long people spend reading your blog and how many people are viewing each piece of content to ultimately, what's driving your readers to complete a call to action.
Which metrics should you be focusing on?
When it comes to social media, some important metrics to look at include:
Post likes and comments
Page likes
Engagement rates
Reach
Impressions
Follows/unfollows
Audience demographics
Fortunately, social media platforms make it very easy to access their analytics. Providing you have a business account, Instagram, for example, will let you see how many people have liked, commented, saved and sent your post in a private message to someone simply by clicking on the photo.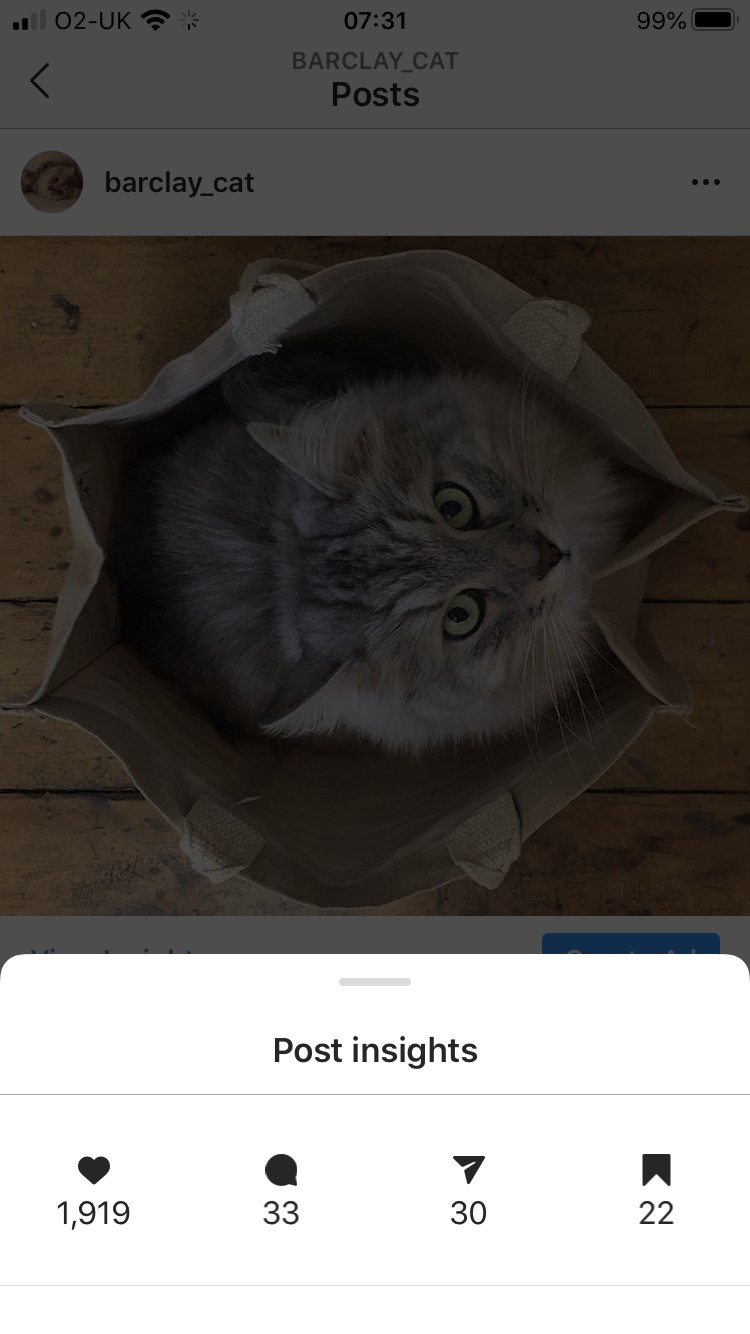 Facebook also tells you how many people your post has reached and the engagement it has had at the bottom of each post. All of this information helps you to build up a picture of the type of content that resonates with your audience and if there's anything that typically doesn't go down as well.
With regards to your website analytics, there are plenty of metrics which can help you to improve the content you provide including:
Page views. Identifying popular pages and your most-read blogs gives you a great indication of the content your audience enjoys reading
Time on page. If people only spend a few seconds on a page, chances are the content isn't very engaging
Bounce rate. A high bounce rate suggests that you're optimising the page for the wrong keywords or there wasn't enough to capture attention
Owned media top tips
1. Create a strategy 
Think about which channels you're going to use, how often you're going to post and how you're going to promote new content. Ensure you have a purpose for each piece of content. Are you trying to obtain new leads or increase brand awareness for example? Here are some great tips for creating a powerful content marketing strategy.
2. Don't try to do too much
When you're looking to boost sales, it's tempting to try your hand at everything. For the majority of small businesses however, this simply isn't possible. It's unlikely you have time to publish a blog every day, create brilliant videos and post to every single social media platform on a regular basis.
When devising your strategy, identify where your target audience hangs out online and how they interact with your competitors. You're better off focusing on using one or two platforms really well than trying to master everything at once.
3. Think about who you're writing for
Remember to write for both search engines and people. Head over to 'How to write content that both Google and your audience will love' for more information on this.
Earned media
Earned media is user-generated content whereby customers become the channel. This can be someone's social media post, a review, or them tagging you in a photo of them using your product or service.
It's essentially online word of mouth. It can include anything from shares, mentions and re-posts to reviews, recommendations and content picked up by third-party sites. A great example of earned media is a review left on a business's Facebook page, like in the below example.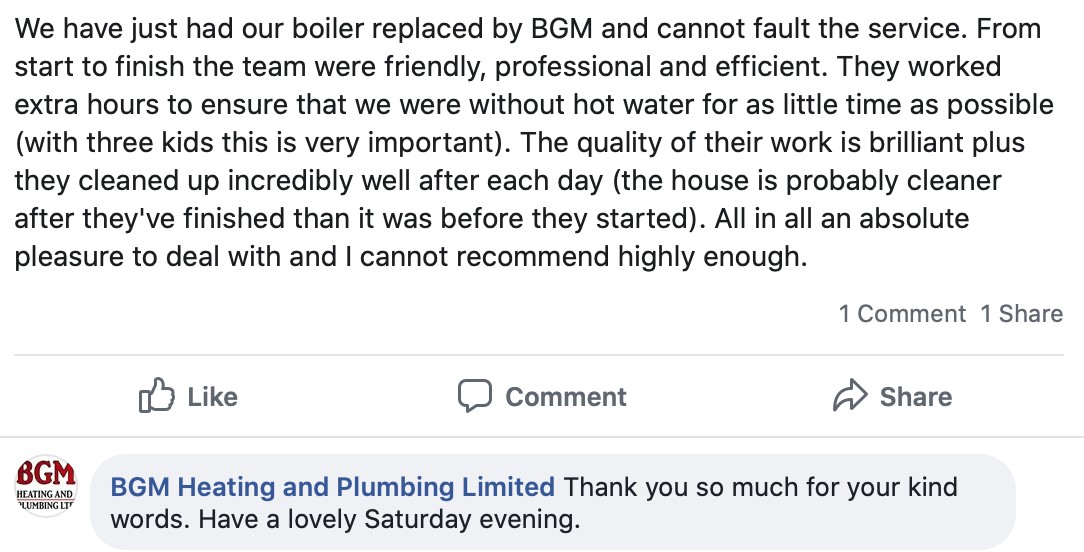 Another popular example of earned media is social media tags. This is particularly good for companies that sell a product which their customers can showcase on their social media pages. If people genuinely love a product, they're often happy to shout about it on their page as with the example for Skinny Bakery below.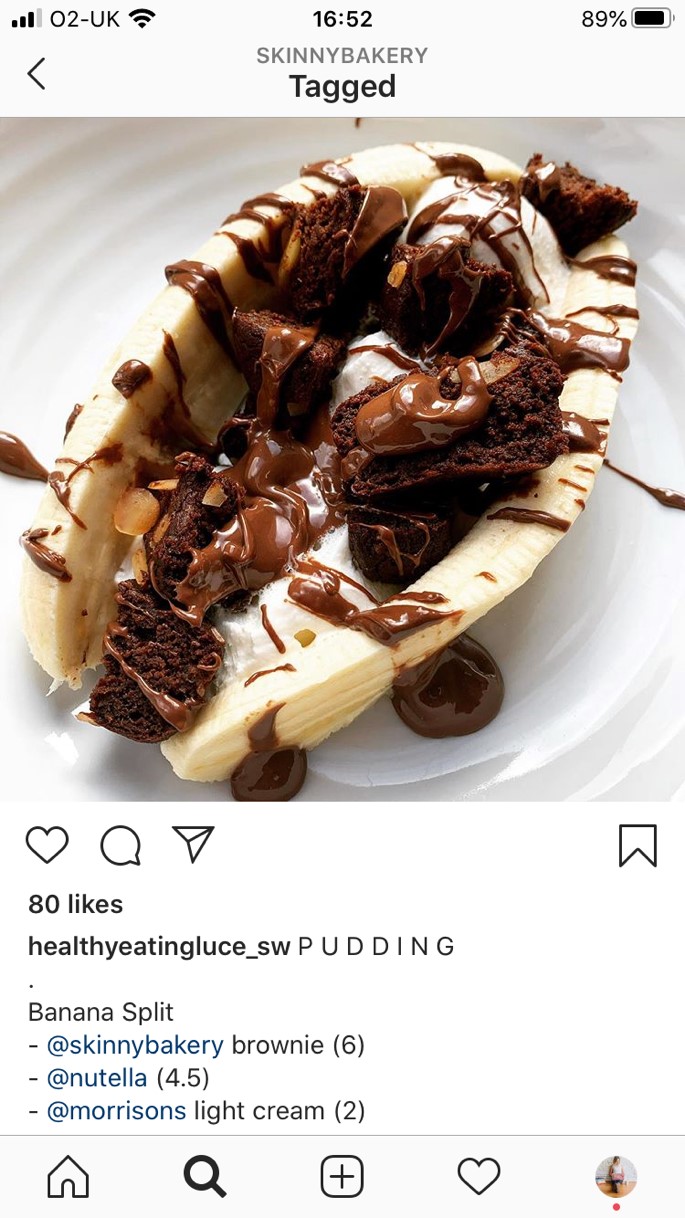 Benefits of earned media
Highly credible
Consumers actively search for it when making a buying decision
Plays a key role in sales
Incites trust
Boosts your reputation
Genuine and authentic
Customers are generating content for you
Challenges of earned media
It's difficult to crack and can take a long time to occur
You have no control over what customers say
Consumers can leave negative comments
How to measure results for earned media 
Earned media is a bit more difficult to set a benchmark for because you have little control over it. For your website for example, you could set yourself a target of receiving X number of visitors after launching a new social media campaign. You can try to get these numbers up by sending out more posts and even paying to promote posts.
While you can't force people to write a review or share your post, you can keep an eye on the following.
Social listening
Social listening involves monitoring the discussions people are having about your brand online. This is most often done via social media but it's also worth checking review sites, forums and other websites.
This can be very beneficial to brands but bear in mind, you need to take the good with the bad. Positive conversations are ideal – it's positive publicity, creates trust, can help to convert new customers and if the person agrees, you can use their comments for your content.
While nobody likes to read negative comments about their company, it's important to identify them. Constructive feedback helps to improve your business and by responding to the person, it gives you an opportunity to rectify the situation and you may even win the customer over again.
A simple way to engage in social listening is to search for your business using hashtags on social media or keywords in Google.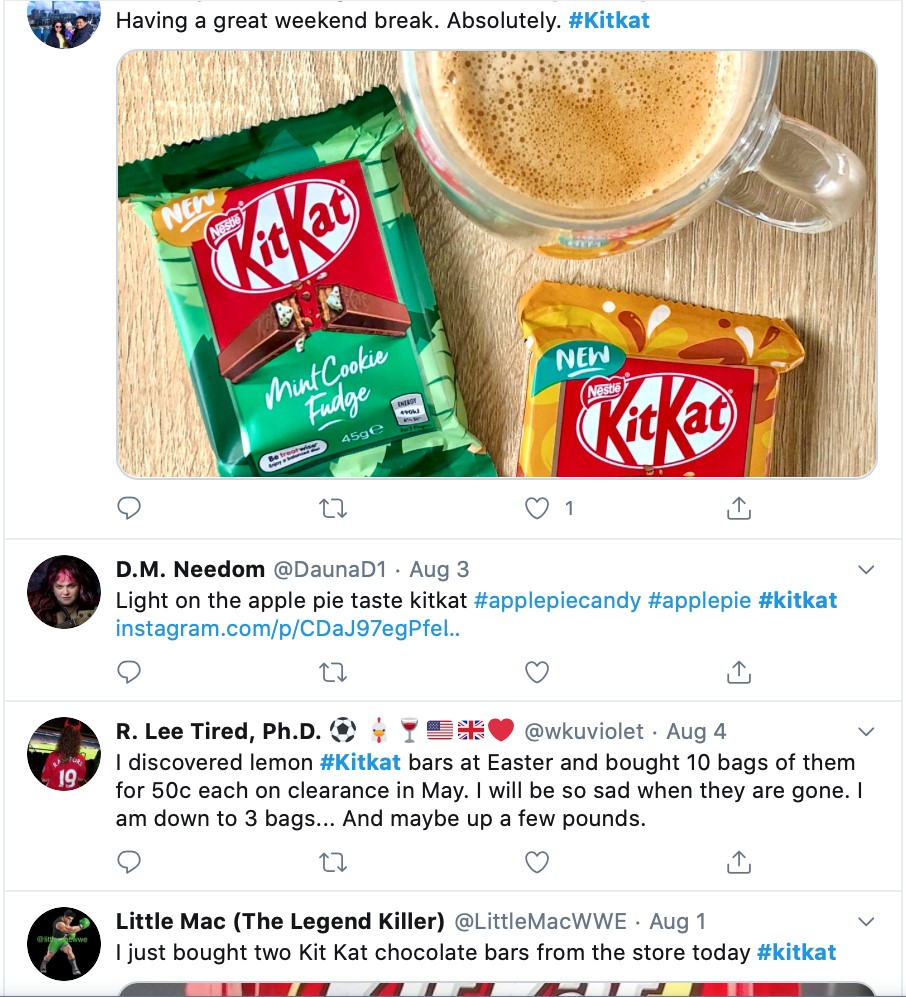 Find out more about social listening, why it's important and what tools you can use to monitor it.
Google Alerts
Google Alerts allows you to stay on top of what people are saying about your brand without you having to do a manual search. Simply specify your search terms, and every time there's a new webpage, article, blog or piece of content that mentions it, Google will notify you.
Social media tracking
There are a number of ways you can monitor your social media for earned media:
Keep on top of your notifications (if anyone mentions you or tags you in a post, you will receive a notification)
Search your brand name and key phrases using hashtags
Use Social Mention to find out what people are saying about you and whether comments are mostly positive or negative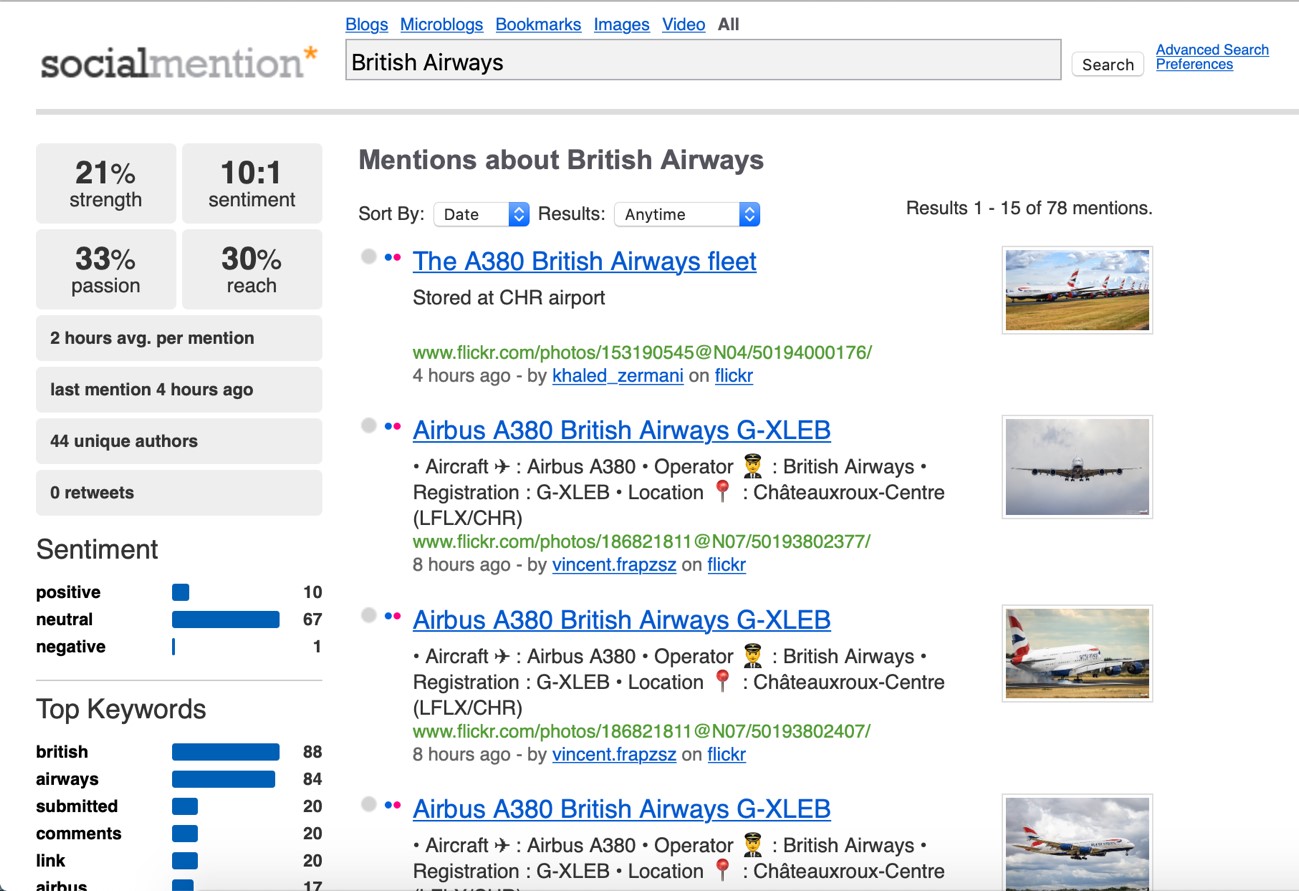 Earned media top tips
1. Listen and respond 
Earned media is often the result of well executed and coordinated owned and paid media. When someone makes the effort to speak positively about your brand, make sure you respond and thank them.
2. Endorse others
Leave positive LinkedIn endorsements for those you've collaborated with on projects and recommend or leave reviews on products/services you've used. People are more likely to return the favour if you've helped them.
3. Ask for feedback
When someone has purchased a product or used your service, make it standard practice to send out a follow-up email asking them to leave a review. Here are some top tips on how to encourage and showcase online reviews.
4. Perfect your SEO technique
One of the most effective driving forces of earned media is a combined result of strong organic rankings and content distribution so a good SEO strategy is essential. HubSpot has put together some great tips for creating an SEO strategy.
Paid media
Paying to promote your content is a great way to increase views and generate exposure. Some examples of how you can do this include Pay Per Click (PPC), social media advertising, display ads, sponsorship and paying influencers to share information about your brand.
Below is a great example of how a business can use PPC advertising to generate leads. If someone is looking for a carpet fitter in Reading, they will type this query into Google. If you don't organically feature on the first page of Google, you can pay for an ad to show at the top of the page.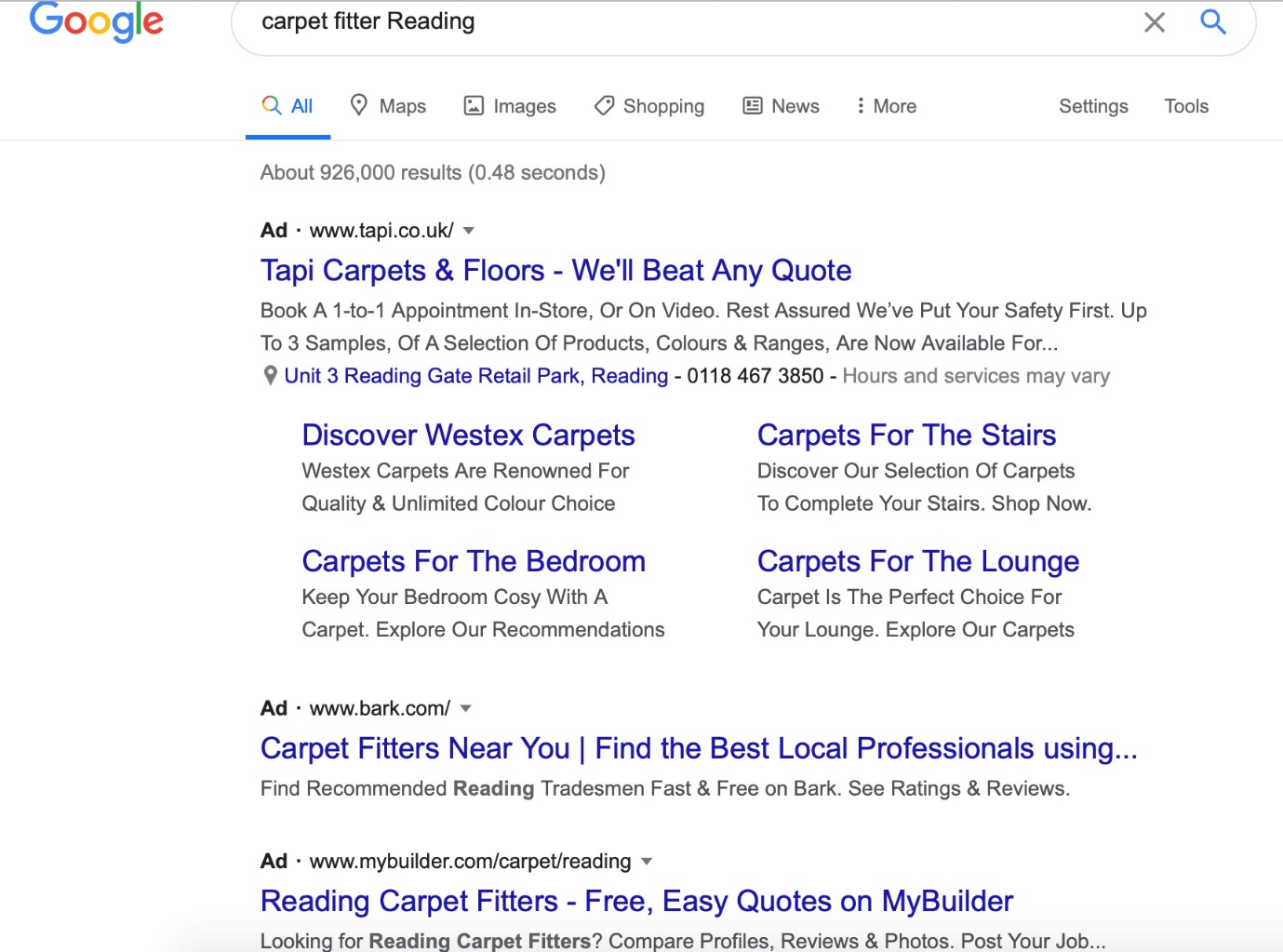 Paid media is a highly effective way of driving earned media because the more people who know about you, the more likely they are to mention you to others. It can also help to direct traffic to owned media properties such as your website or blog page.
Another example of paid media is using influencers. This has become an incredibly popular tactic in recent years because social media 'celebrities' can have a huge influence on buying decisions.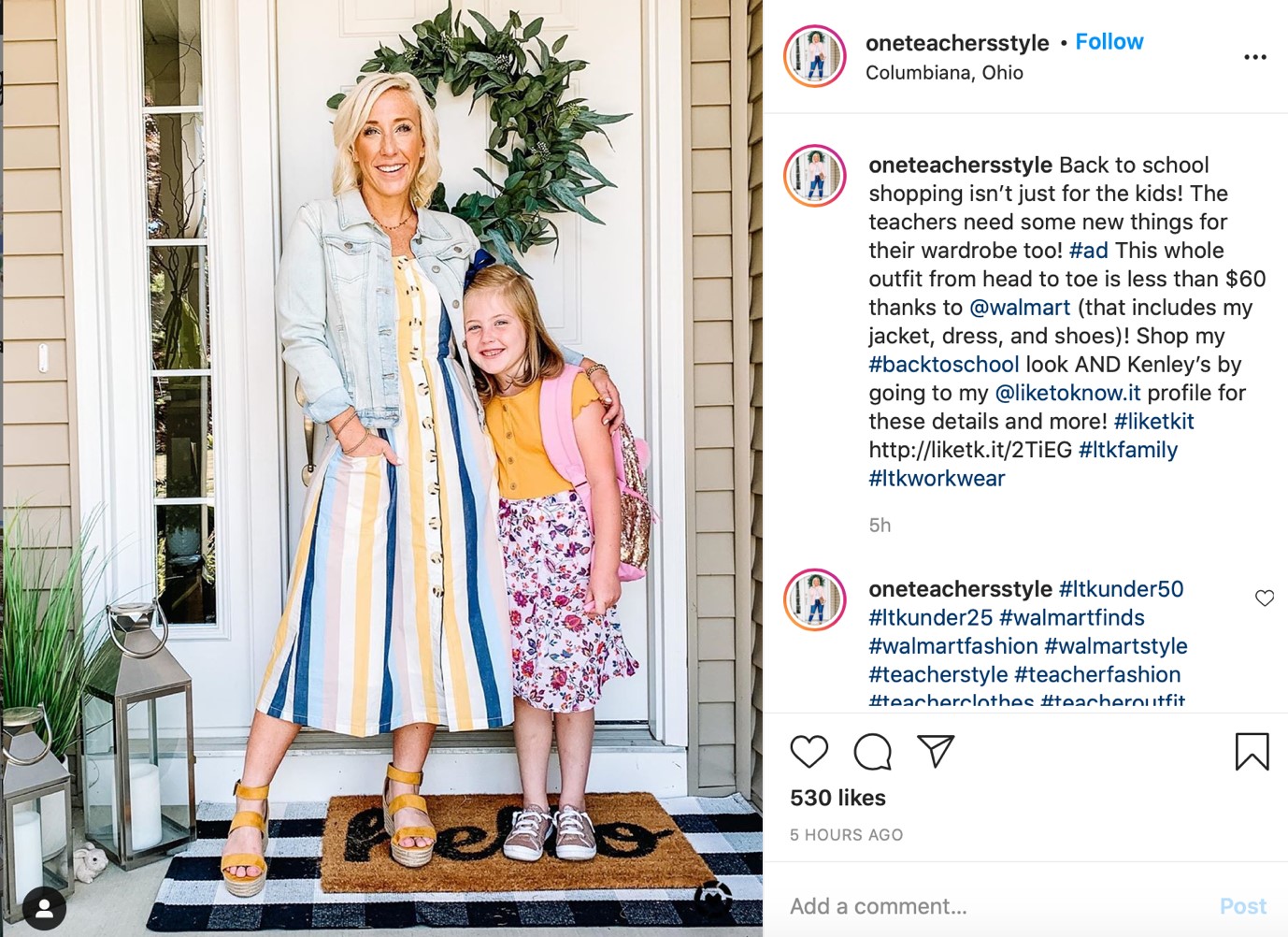 You can find out more about this topic in this guide to 'Instagram marketing for small businesses.'
Benefits of paid media
Immediate results
It gets your content seen by audiences you wouldn't normally reach
You can target large audiences in a very short space of time
It can increase traffic to your website and more importantly, conversions
Typically, you only pay if people click on your ad
The use of influencers can help to build trust
It can provide a real boost if you're trying to promote a specific product or service
Challenges of paid media
It's more expensive than other marketing methods and there are no guarantees how successful it will be
If you run out of budget, your campaigns end
It's not as credible as owned and earned media
How to measure results for paid media 
However you choose to promote your content, the platform you use will provide analytics.
Google Adwords
If you're running PPC ads, Google Adwords will tell you everything you need to know including clicks, impressions, average cost per click, total cost, click-through rate, the devices people view your ads on, keywords, customer demographics and even the time of day people tend to click on your ads.
All this information is very helpful but there are a few metrics it's especially important to keep an eye on.
Impressions. If you're not getting many impressions, you may need to re-think your keywords
Clicks. If your impressions are high but nobody is clicking on your ad, it might be the case that your ad description isn't doing enough to entice people in
Click-through rate. Google calculates this by dividing impressions by clicks. If your click-through rate is high, your ad is doing a good job of converting search queries
Conversions. This is when someone interacts with your ad and takes an action that you've defined as valuable to your business (such as making a purchase or submitting a contact form)
Find out more about how to track the performance of your paid advertising.
Social media advertising works in a very similar way to Google Ads, you pay per click and you will have access to most of the metrics mentioned above. The only difference is that rather than appearing in Google, your advert will show up in people's social media feeds.
Don't forget to target your social media ads, however. If you only provide services in Berkshire for example, there's no point displaying your ads to the whole of the UK. If you're thinking of using social media advertising, you may find some of these blogs helpful.
Paid media top tips
Supplementing your organic social media efforts with paid ads can really boost your following and engagement rates. It can also improve brand awareness and transition new customers into the sales funnel. Here, Social Media Examiner shares six tips for writing social media ad copy that converts.
1. Consider retargeting
Social media retargeting is a powerful way to remind customers who've already expressed an interest in your brand that you exist. In the consideration phase, being reintroduced to your product can help push them to make a purchase. Find out more about social media retargeting.
2. PPC top tips
Some top tips for creating successful Google (PPC) ads include:
Conduct keyword research
Focus on the locations you want to target (remember, if you can only serve the local area, there's no point targeting the whole of the UK)
Create different ads and ad groups so you can monitor the performance of each
Create extensions including phone numbers and links to your website
Set limits for which hours of the day your ads will show
3. Create custom landing pages
Whether you're advertising on social media or using content distribution platforms to boost visibility, creating custom landing pages should be a priority if your goal is to increase conversions. This allows visitors to focus on the message you're sharing with them without the distraction of having to navigate your website to find the information they need.
Although owned, earned and paid media are used in different ways, they're all interconnected and work together to contribute to a complete marketing strategy. What's more, the ultimate goal of all three channels is the same – to generate awareness and engage users.
Earned media can, for example, help people to find your owned media channels. Paid media can boost your owned media which can lead to earned media because more people have heard of and used your brand.
By incorporating all three elements, you can be rest assured that you're doing everything you can to create a well-balanced marketing mix that's going to get you the results you desire.