A well-written press release can increase brand exposure, drive sales, give credibility, increase website traffic and enable you to share your content across multiple channels whilst establishing relationships with local press. Best of all, you can do all this without breaking the bank.
Writing your press release is of course only half the battle however. After all, it's no good to you if people aren't seeing it. This is where distribution comes in. Following on from this article, 'How to write an effective press release,' below I explain how to distribute a press release for maximum success.
Press release distribution outlets: where to send your press release
Press releases have long been a popular way for brands to communicate their latest news and updates to the world. Naturally, over the years, we've seen an increase in the number of press release distribution websites and services as a result.
This can be particularly daunting when you're trying to figure out how to put out a press release, especially for small businesses. So, I'm going to share some of the best outlets including local papers and industry specific influencers.   
1. Local newspapers
The aim is to get as many eyes on your press release as possible and local media is a fantastic way to achieve this.
Simply Google "local newspapers" and the name of the town where you're based (or the area you're targeting). Head to the contact us page and this will usually bring up a list of all the journalists who work there along with their details.
It's well worth taking a bit of extra time to find a name and email address for a specific individual rather than sending your press release to a generic account.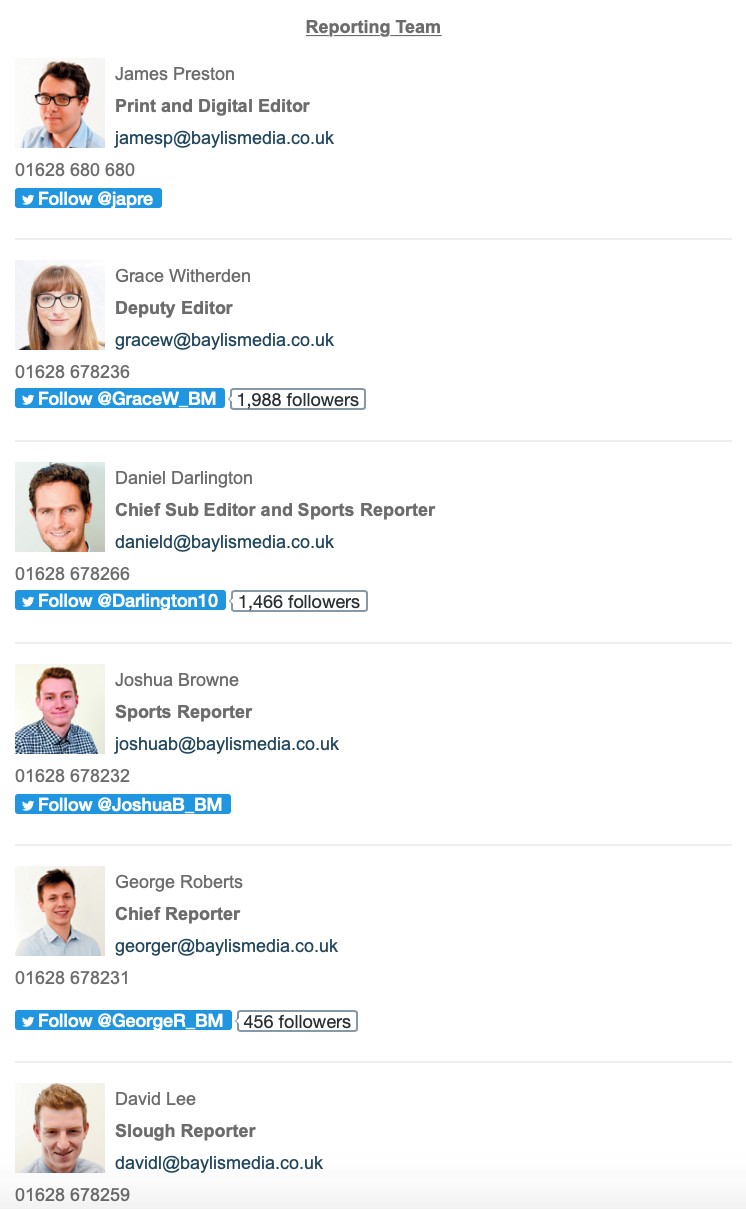 2. Industry-specific publications
Whether you're launching a new product or service, are merging with another business or you've won an award, you want to get this information in front of the right audience. This means targeting publications specific to your industry.
Initially it will take time to build up your list of contacts but once you've done this, you'll have a fantastic database for future releases.
There are a number of ways you can find industry-specific publications including:
Webwire.com: This site lists trade publications by industry
WHSmith and isubscribe.co.uk: Lists all the industry and trade magazines they stock
Wikipedia: Has a list of trade magazines
Google your industry + 'trade publications UK': Will bring up lots of great ideas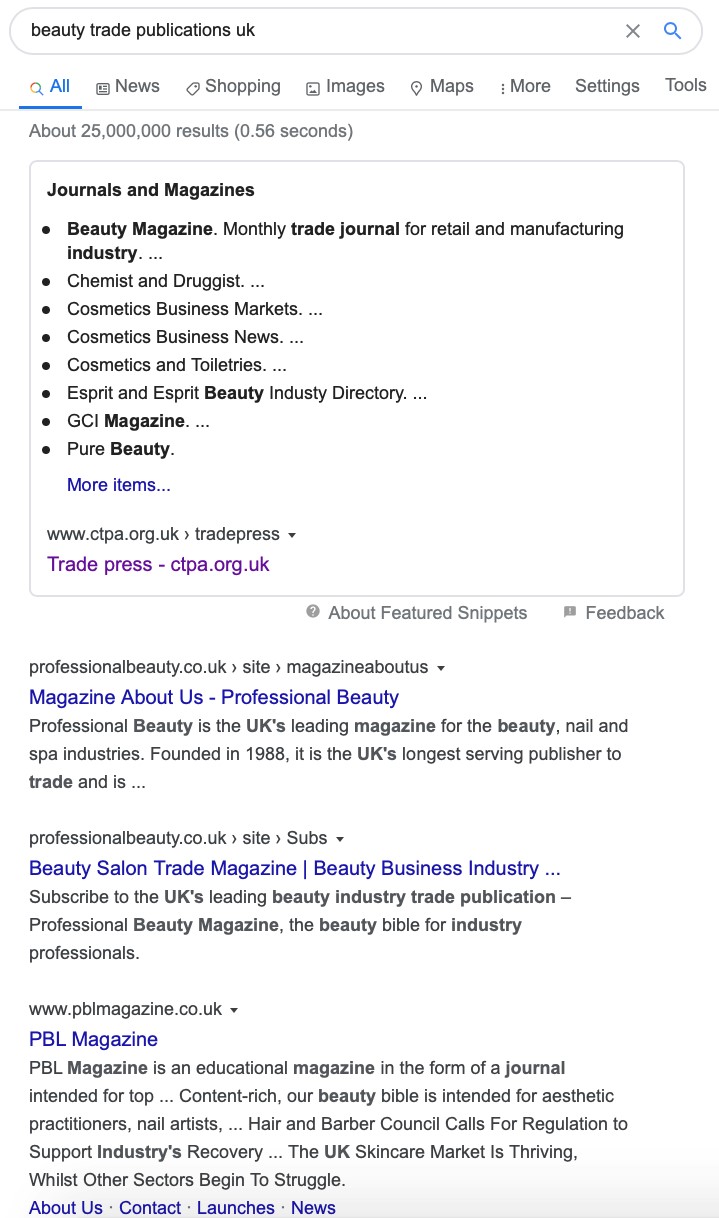 3. Industry-specific individuals
An important part of successful press release distribution is building up relationships with journalists. These are the very people who have the power to get your story into local and national newspapers as well as industry and trade publications.
It can be tempting to target anyone and everyone to increase your chances of success. Quite the opposite is true however. This tactic is unlikely to do more than just take up a lot of your time and it can also be pretty soul-destroying when you don't get any responses.
Be specific when it comes to who you're sending your pitch to. This means searching for journalists who have already written about your topic or industry.
A great tip is to type your topic into Google and then click on the news tab. This will bring up any recent and relevant articles. If you click on an article, you can often find the name of the person who wrote it.
In this case, let's say you're a dentist offering a new tooth whitening solution. Type 'teeth whitening' into Google and this is one of the recent articles which comes up, complete with the author's name.

Usually, you can click on the name and it will take you to other articles the person has written or even straight to their contact details. Even if you have to use a generic contact email, it still helps to have a name for the person you would like your press release to reach.
4. Press release distribution websites
Press release distribution websites are perfect if you're looking to reach a large audience but don't have a lot of time. They act as a database for press releases and are often used by journalists, freelancers, bloggers and reporters who are on the hunt for stories and information.
They can also really help to gain online exposure, improve SEO and many of them are free. Some great free press release distribution websites include:
There are also sites you can pay to use including PR Business Wire and PR Newswire. These offer more features including the ability to target certain markets, reach high quality newsrooms including Thomson Reuters and Bloomberg, add links, include your logo and benefit from social media sharing links so readers can share your content to their channels.
5. Press release distribution services
If you really don't know how to distribute a press release or you're struggling to find the time, you can hire an agency to do this for you.
The downside of using a PR agency is, of course, the expense. There are however big benefits to be had. An agency will be well experienced and therefore know exactly what generates interest. They can also pitch your press release to their list of media contacts, thus ensuring the best chance of publication.
A step-by-step guide to pitching your press release
You've worked hard to write a winning press release and find some great contacts. Now you want people to read your communication and feel compelled to publish it.
A big obstacle is that journalists receive hundreds, sometimes even thousands of emails every day. Crafting a pitch that's going to stand out and get your recipients to pay attention is therefore a very important component of learning how to distribute a press release.
How to put out a press release that will get noticed
According to Cision's 2017 State of the Media Report, 92% of journalists prefer receiving email pitches compared to just 2% who favour a phone call.
How do you ensure your email gets read rather than moved straight to the bin without being opened?
1. Write an irresistible subject line
Your subject line should contain your news hook – the thing that makes your story stand out and demand a journalist's attention. Say you're launching a new app for example. A subject line saying 'We've partnered with Brand X to release a new app to help customers book hotels' doesn't sound anywhere near as enticing as 'New app promises to make hotel booking easier than ever.'
The latter subject line gets straight to the point, sums up what your press release is about and if you're contacting journalists in the travel or hospitality industry, they're instantly going to know this communication is relevant to them.
Although it's important to write catchy subject lines, avoid using underhanded tactics. Subject lines which are over-dramatised and don't have much relevance to the content of the email won't earn you a good reputation. Similar to click-bait articles, journalists will soon learn that your communications are all hype and you will very quickly make it onto their 'ignore' list.
Some more tips for writing great email subject lines include:
Keep it short and sweet. 75% of publishers prefer subject lines with 10 or fewer words
A powerful subject line should be innovative or offer a human angle
Make it specific. More than half of journalists want descriptive subject lines that are tailored to topics they've previously covered
Provide exclusivity. If you have some unique data or research, this can really help to get a journalist's attention 
For more advice about writing email subject lines, have a read of these blogs 'How to write the perfect email subject line' and 'How to win customers with email marketing.'
2. Get straight to the point
With so many emails to get through, a journalist isn't going to read a long-winded introduction to your business. Keep your email brief and get straight to the point so they can identify what the story is about immediately.
Journalists appreciate a succinct message that sells your story in a few words. When deciding what to write, think about what makes your business stand out. What are you offering that businesses similar to yours aren't? 
It's also very important to try to make a connection with your recipient. Reference something they've published recently, compliment them about their work or tell them why you've chosen them specifically as an audience.
3. Don't send attachments
Your job is to make things as easy as possible for your recipients. Opening an attachment simply acts as another barrier to someone reading your press release. Downloading a document from an unknown source can also be a deterrent for journalists. 
Rather than sending your communication as an attachment, copy the body of your press release below the pitch.
4. Structure your press release correctly
Structuring your press release correctly means journalists are more likely to read it and use it because it contains all the information they need.
The same applies to your email pitch. When structuring both your document and email, always try to include: 
A headline – this lets your recipient know what to expect
A lead (or introduction) – this is a brief overview of the story and should answer the who, what, when and why?
The body – here you can go into more detail about the information you provided in your introduction. Always start with the most newsworthy details and then other less important information can go further down
Conclude with a short paragraph about your company as this will help your recipients to understand the nature of your business which makes writing about it much easier
Your contact information or the details of the agency you're using if you prefer queries to go through them
Before pressing send, don't forget to proof-read your press release and email. Even if it contains everything it should, a typo, grammatical mistake or spelling someone's name incorrectly can seriously damage how trustworthy you're perceived to be.
Below is an example of an email which incorporates all of the points mentioned above: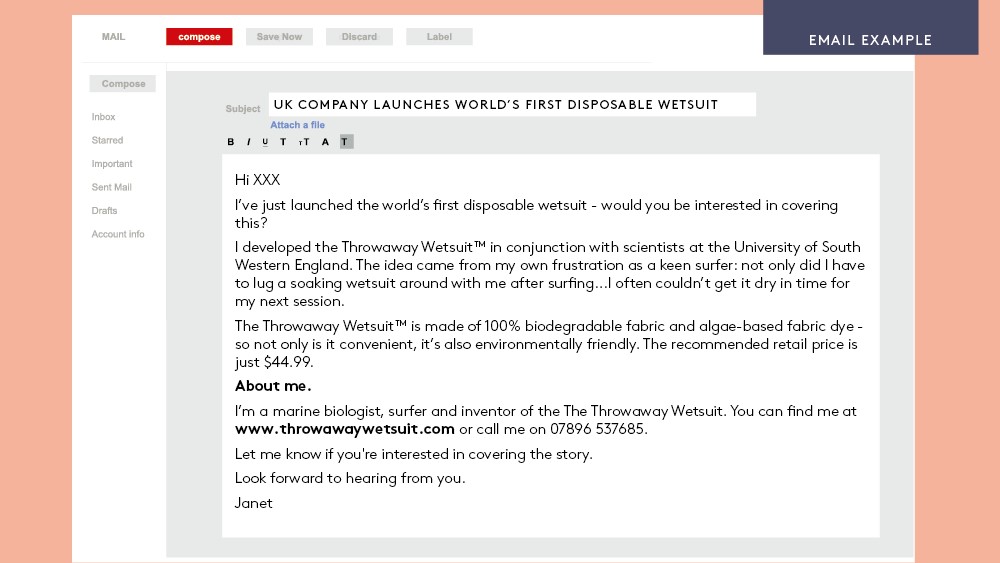 5. Send it at the right time 
If you're writing a press release about an event or product launch, remember to submit your story to the media with plenty of time to spare. Magazines and newspapers often work months in advance so keep this in mind. If you send it the week before your big day, chances are that it won't be covered in time.
When it comes to the best time of day to hit send, research from Business Wire shows that 61% of journalists prefer to receive press releases in the morning. With many opening their inbox to find hundreds of new emails however, it's probably a good idea to avoid sending your press release first thing in the morning. Give it an hour or so for a better chance of standing out.
According to an analysis of over 100,000 press releases, Tuesdays and Wednesdays are the best days to distribute your story. It also indicates that Mondays and Fridays aren't as effective and that you should definitely avoid sending anything through at the weekend.
6. Follow up
A safe way to follow up is to wait a few days and then send another email asking if they received your story. If your second email doesn't generate a response, leave it there. Sadly, there are going to be times you don't get a response from your story. Journalists are inundated with requests so it's likely to come down to the fact that they simply don't have the time or space to fit everything in.
While one polite and friendly follow-up email is perfectly acceptable, you don't want to continue to bombard your recipients and risk annoying them.
Hopefully by now you have a really good idea about how to distribute a press release. If you would like more advice about perfecting your writing technique, why not have a read of this blog 'How you can make your writing more concise'. You can also pick up some proofreading tips which will ensure you send flawless communications every time.