It's highly likely that you have experienced email automation yourself, you probably have dozens of communications in your inbox which have been sent as a result of it, but what exactly does it entail?
Email automation is a simple, yet highly effective tool that even small businesses can use to increase open rates and drive conversions. It uses software to identify predefined rules which trigger email messages based on specific actions your customers do or don't take.
If you've ever signed up to a newsletter or registered to a website for example, chances are you received a welcome email almost instantly. This is because by submitting your details, you will have triggered an action which told the software to send out the relevant communication.
Aside from being incredibly efficient, what are the benefits of email marketing automation?
It's automatic which saves time and ensures you're getting the right message out to customers at the right time
Helps you to connect with your customers by personalising their experience. 91% of people say they're more likely to use a company that sends individualised recommendations and offers
Improves customer service which builds brand loyalty. If someone buys something from your website for example, they expect to receive a confirmation email shortly after
On average, automated email campaigns benefit from higher open rates. The average open rate for welcome emails is 82%, emails with personalised subject lines generate 50% higher open rates and sending three abandoned cart emails results in 69% more orders compared to a single email
It's relevant. When someone receives an automated email, it's because they've taken a specific action. As a result, the message they receive is highly relevant to them
Examples of email automation
If you're thinking of trying email marketing automation, below are some great examples of campaign ideas you can use for your business. We'll touch upon how to set up and send automated emails later on in the article.
1. Welcome emails
A simple welcome email is a great way to reassure customers that they've successfully registered with you. It also provides a great opportunity for you to remind people of all the ways they'll benefit from doing business with you.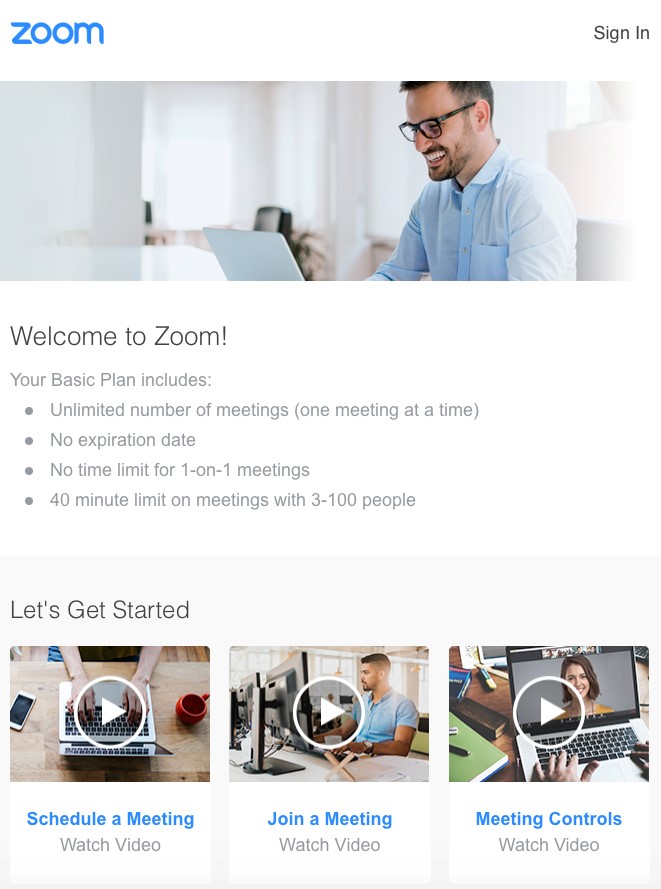 You can find out more about welcoming new email subscribers here.
2. Abandoned cart emails
Abandoned cart emails are a great way to turn a prospect into a customer. If somebody has made the effort to browse your website and put something in their cart, chances are they're very close to making a purchase.
However, a number of things could have caused them to change their mind at the last minute, from shipping costs to simply needing a bit more time to think about their purchase.
Abandoned cart emails are a great way to encourage customers to make a buying decision and complete their purchase.
You can do this by making it very easy for them to go through with the purchase, answering any questions they might have, reminding them why they should buy your product or offering a discount.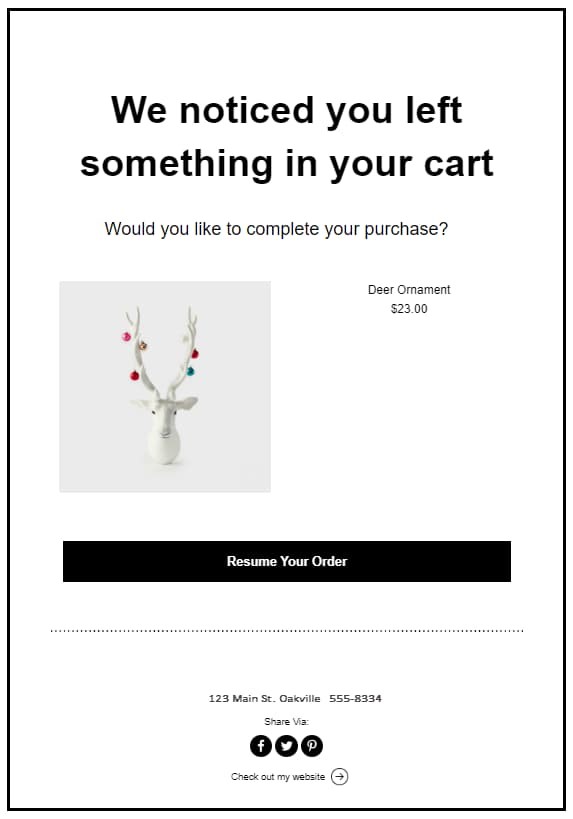 For more tips and advice, have a read of this blog on winning back your customers with a killer cart abandonment email.
3. Exclusive promotions
Reward customers for being loyal and make them feel special by offering exclusive discounts or granting them access to promotions before opening them up to everyone. This could be triggered when someone has signed up or opened a certain amount of email campaigns.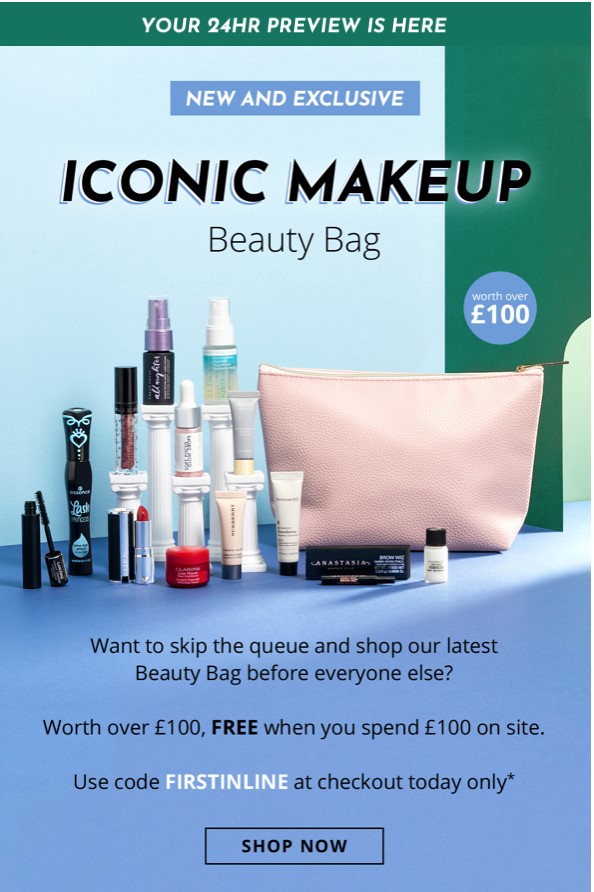 4. Thank you emails 
An email thanking customers for their support is a great way to make them feel valued. If you throw in a special discount, this can also encourage them to make a purchase they weren't even considering before you popped into their inbox.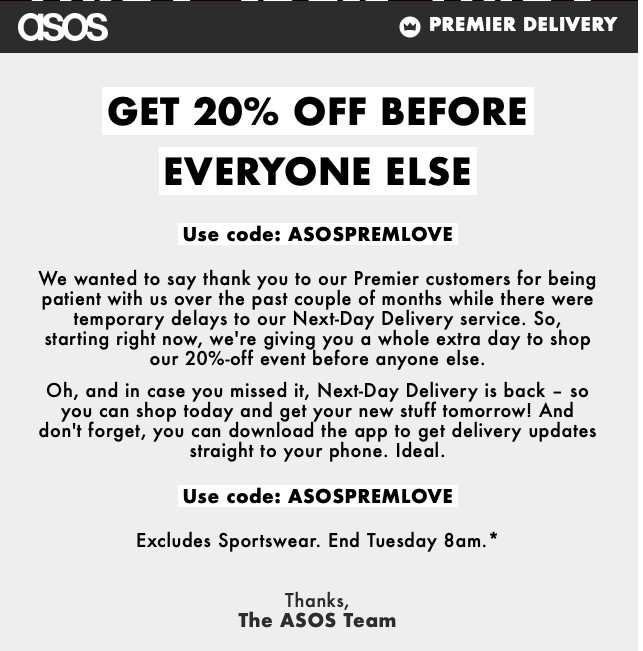 5. Appointment reminders 
Appointment reminders are another great example of email automation. With so many people booking online these days, it enables you to confirm appointments as well as send out reminders.
You can also take this opportunity to provide further information such as your address, payment details, cancellation policy and anything else the customer may need to know before attending.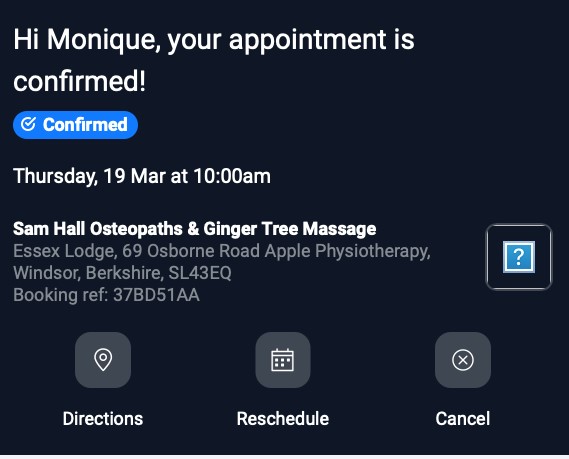 6. Recommendations based on browsing behaviours
Email marketing automation has the potential to be very intelligent and you can even trigger a communication to go out to someone after they've done something on your website. This could be reading a blog, downloading a guide or looking at certain products.
Amazon is notorious for this. When you've looked at something on their website but haven't made a purchase, a day or two later they will send you product recommendations based on what you were looking at. This can be a highly effective way of nudging people in the right direction to reconsider their purchase or tempt them with something similar.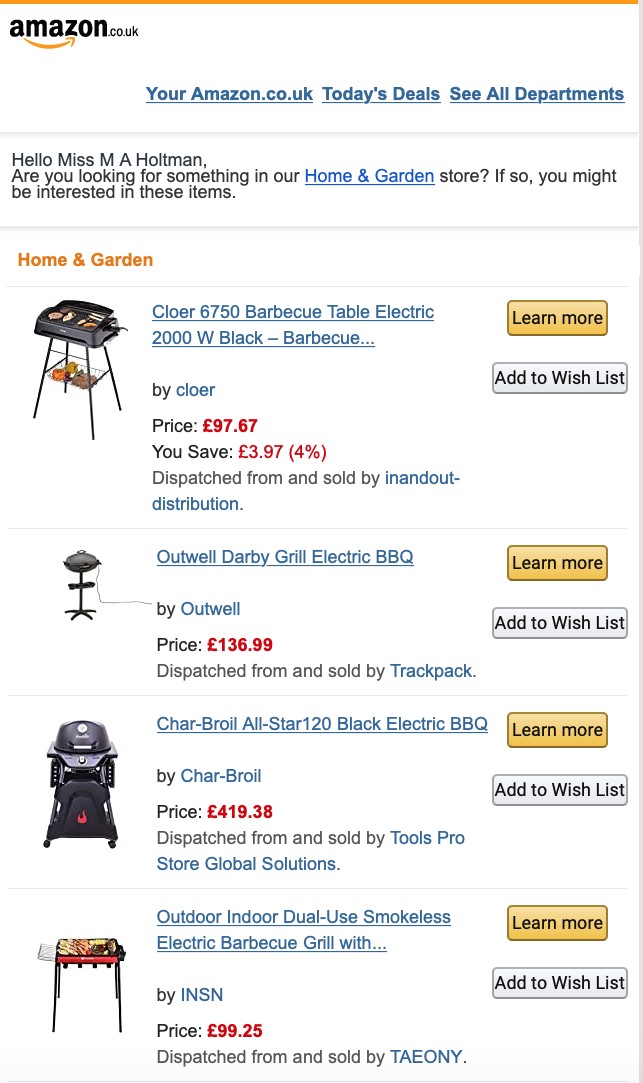 7. "We haven't seen you in a while" emails 
If a customer hasn't made a purchase or an appointment for a while, a friendly reminder that you're here to help can be a great way to incentivise them to use your company again.
If you can, adding a discount with a time limit is also a great way to encourage people to act fast.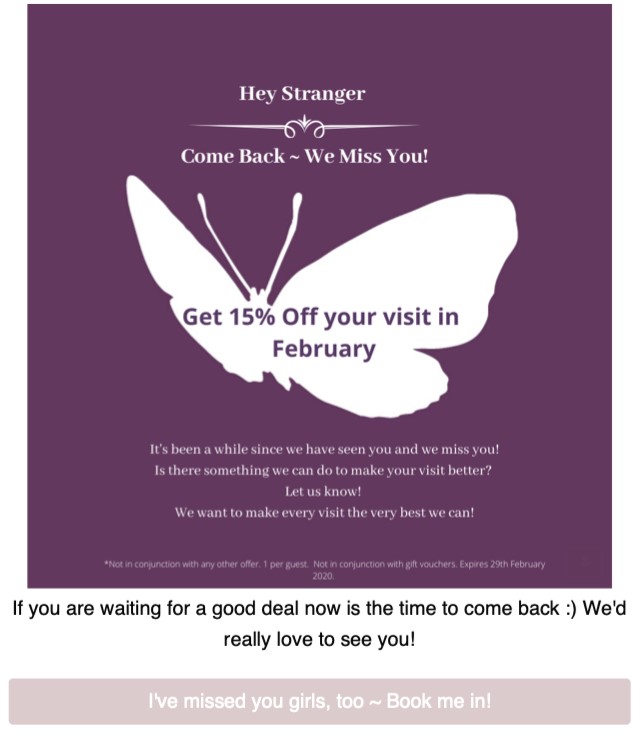 8. Request a review 
Many of us search for and browse online reviews for companies and products before making a buying decision. Having reviews from real customers is a great way to build trust and it can be the difference between a new customer choosing you over a competitor.
Rather than contacting each customer individually, you can set up automatic emails to go out to anyone who has made a purchase from you asking them to leave a review. Remember to make it as easy as possible. If it's hard work or complicated, people are unlikely to do it.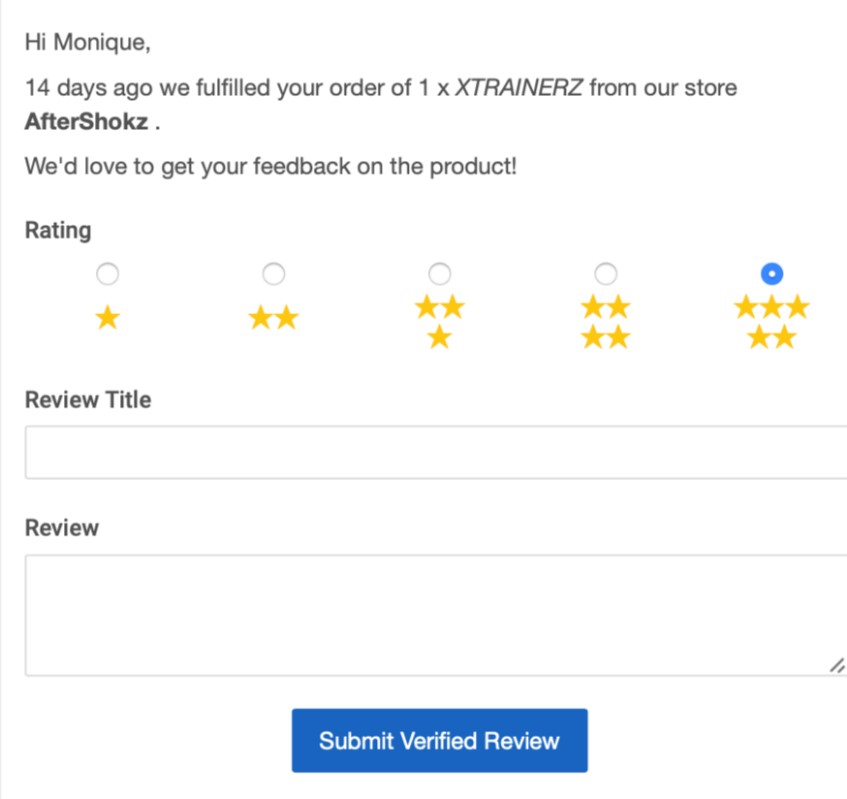 How does email automation work? 
Now you've got some ideas of the type of emails you can send out using automation, let's look at how it works. 
Every email automation tool will of course work slightly differently. They all follow the same basic flow however:
1. Someone visits a website. They may read a blog, download an e-book, fill in a form, browse products, make an appointment or buy something.
2. Providing they've logged into the website, provided their contact details and given consent, that person is added to an email marketing database.
3. Visitors are put into different audience segments based on anything from their location and interests to their browsing and buying behaviours.
4. Using the email marketing automation software, marketers can set rules/triggers so that communications go out to the right people at the right time.
5. The recipient receives emails based on the conditions and campaigns set by the marketer.
As a business owner or marketer, you simply identify and set actions you want to track. Every time someone completes this action on your website, it automatically triggers your software to send out the relevant communication.
Don't forget to check in with your analytics so you can see how effective your campaigns have been. You may want to test your 'we've missed you' emails with and without a discount code. If the discount code communications are much more effective, you know to always try and include one in future campaigns.
How do I set up email automation?
The good news is that there are plenty of email automation platforms out there. Many of them are reasonably priced and easy to use which makes them ideal even for small businesses. If you're already using an email marketing platform, most have detailed guides and step-by-step advice to setting up email automation within their help sections.
Some of my favourites include:
1. SendPulse
From abandoned cart, thank you and registration emails to confirmation, feedback and re-engagement communications, SendPulse is a great platform. What's more, it's free if you have fewer than 500 subscribers. There are various different packages available depending on how many subscribers you have starting from just under £5 a month.
2. MailChimp
Many small businesses are already familiar with MailChimp because their basic yet generous package is free and it's very easy to use. Among many other features, MailChimp also offers email automation to help take your marketing to the next level.
3. Campaign Monitor
Another popular and highly rated platform is Campaign Monitor. You can set journeys that are tailored to a customer's individual interests and behaviours with the added benefit of send time optimisation so you can guarantee you land in people's inbox at the best possible moment.
4. Send in Blue
You can automate your sales and marketing processes quickly and easily with Send in Blue. There are lots of different pricing plans to suit your business, starting from a free package which allows you to send 300 emails a day right up to premium where you can send up to 350,000 emails every month.
If you would like to compare more platforms, head to capterra.com which has an up-to-date review on all the latest email automation software.
Learn more with these video tutorials:
There are some great videos on YouTube which explain everything you need to know about email marketing automation including:
By now you should have a really good idea about what email automation is and how it can benefit your business. Make sure you're always getting the right consent and permissions to send marketing emails to keep GDPR compliant, you can find out more about GDPR in this online guide.