In recent years, charities have been hit with a number of challenges.
Rates of inflation and cost of living continues to rise – putting a squeeze on household incomes and leaving people with less money for charitable donations.
Income generation and financial sustainability is also a big obstacle for non-profits according to the CAF. When asked about what their most pressing challenges are, more than half of charity CEOs said funding and income.
You would think that with the increasing number of ways for people to donate, charities would be flooded with donations. A report put together by the non-profit software company, Blackhaud, suggests that this is actually causing 'choice anxiety,' making it harder for charities to capture and keep the attention of potential donors.
Users now have a 'bewildering and fast-changing array of channels,' causing donors confusion and uncertainty and making them a moving target for charities.
These challenges have led to one in five UK charities struggling to survive and it's the smaller charities which are being hit the hardest.
Blackbaud advises:
"Charities need to better understand who their supporter groups are and which channels they prefer to engage in. This is key to building relationships with them and building a strong fundraising strategy."
Digital fundraising seems like the natural solution. It is after all, the quickest way to engage with donors and generate campaign funds. With the vast majority of us on our smartphones throughout the day, the Internet seems the most logical place to target potential donors.
Email marketing in particular remains one of the simplest, cheapest and most effective marketing methods. It's definitely a channel that small charities can utilise in order to help increase donations and support.
As charities have limited resources, you want to ensure that the campaigns you're executing are going to be worth the time and money. Below are some great statistics which show how beneficial email marketing can be for charities:
Email platform, MailChimp found that the average open rate for non-profit email marketing is 25.96% compared to the universal open rate of just 6%.
Average click-through rates for charities average just 3.05%. When social sharing buttons are added to email campaigns however, this increases by an impressive 158%
60% of non-profit organisations send email updates and fundraising appeals to donors. If you're not doing this, you could be missing out on valuable opportunities for increased support
54% of donors prefer to donate online. Sending out emails with easy links to donation pages allows them to do this
If you're new to the world of email marketing, here are some great resources to help you get started:
How charities can increase donations through email marketing
There are so many different types of email your charity can send out in order to increase donations, encourage ongoing support and raise awareness. Here are six great ideas for email newsletters your charity could easily create and send to supporters:
1. Welcome emails
When you get new email subscribers or someone has donated for the first time, it's important you provide them with a warm welcome. Not only do welcome emails help you put your best foot forward, they can also increase your chances of securing future donations.
According to a study carried out by Experian, welcome emails generate open rates which are four times higher than other emails. Furthermore, they also enjoy click-through rates which are five times higher than traditional emails.
What's most striking for non-profits, is the fact that welcome emails result in eight times the transaction rate compared to other types of promotional emails. The bottom line is that there's no doubt whatsoever that welcome emails should feature as a regular part of your marketing strategy.
The email below from Save the Children is a great example of how effective these campaigns can be. As well as making the donor feel appreciated, it highlights the value of the organisation and lets subscribers know what they can look forward to in the future.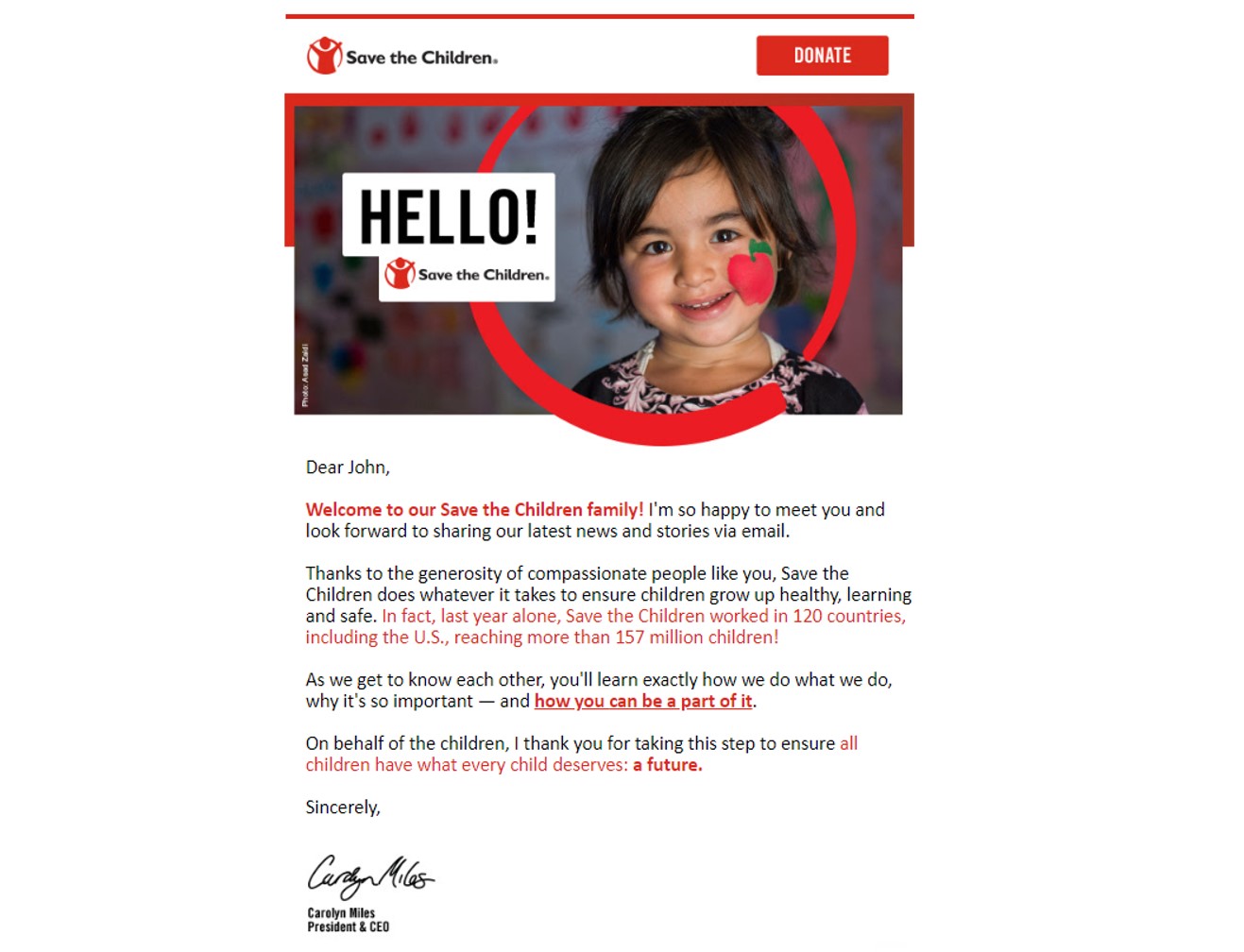 2. Monthly newsletters
Sending out a monthly newsletter is a very affordable way of keeping in touch with your donors. Depending on the size of your mailing list and how many campaigns you send a month, many platforms such as MailChimp are even free.
Aside from affordability, some of the other benefits of newsletters include:
They're easy to create. Once you've designed your template (most platforms even have ready-made templates you can choose from), every month you simply change the text and images
It's a quick way to reach out to hundreds, thousands or even tens of thousands of people at the same time
It's a non-intrusive way to communicate with your readers. They can read your email in their own time
They increase brand visibility. Even if someone doesn't take direct action because of the email, or even if they delete it without opening it, they will have still registered your logo or name and the key message (this will be your subject line)
Top tips for creating great newsletters:
Clean up your email list – make sure you've acquired permission to email your subscribers and delete email addresses that keep bouncing
Be consistent – commit to sending them out every month. The key to keeping supporters informed is frequency and consistency
Make sure it's visually appealing otherwise people won't read it
Use powerful imagery which allows your readers to identify your key message quickly
Create buttons and banners which can be used to help increase donations. For example, you could add a button to donate to a particular campaign you've mentioned that month. Remember not to overwhelm your readers however. One or two buttons is plenty – any more could come across as pushy or desperate
Optimise for mobile – most people will be reading your newsletter on their mobile
Spend time on your subject line. Find out how to write the perfect email subject line here
Produce interesting, engaging and helpful content
Add social media links so people can follow you and share your content
3. Case studies
Donors are more likely to give if there's a personal element to your campaign and this is why case studies are great.
Pick a client your organisation has helped and share their story via an email. Not only does this put a face to your cause and make giving more personal, people are also more likely to donate if they know exactly where their money is going.
Case studies are all about illustrating the change your charity has made to someone's life. Supporters want to read about outcomes and impact, so now is the time to highlight them.
When writing your case studies, remember to include the following elements to ensure your content is compelling:
The case study's situation before they got involved with your organisation (perhaps they were homeless, needed help funding life-saving surgery or an elderly person was isolated and lonely)
How they got involved with your charity and how you helped them
How their situation has improved (they're no longer homeless, enough money was raised so they could have the surgery, or they've joined social clubs)
Include imagery of your subject. If people know who you're talking about, they're far more likely to feel an emotional connection to them. If they're happy to go on video – even better. Videos are a highly effective way of capturing (and keeping) your audience's attention
4. Donation appeals
If you're launching a new campaign, what better way to let people know about it than via email?
As well as sending out your email, make sure you create a landing page on your website where people can find out more information about what you're doing, why you need their help and what you're hoping to achieve.
Don't forget to cross-promote your campaign on social media to ensure you're reaching out to as many people as possible.
The email below from Born Free is a great example of a donation appeal email. The powerful imagery will resonate with any animal lover, they've provided plenty of information about why they're reaching out to the recipient and most importantly, they've made it very easy for people to donate.
Don't rely on people clicking out of your email and then visiting your website or picking up the phone to donate. Have a button on your email that takes readers straight to your donation page – the fewer obstacles there are, the more likely people are to donate.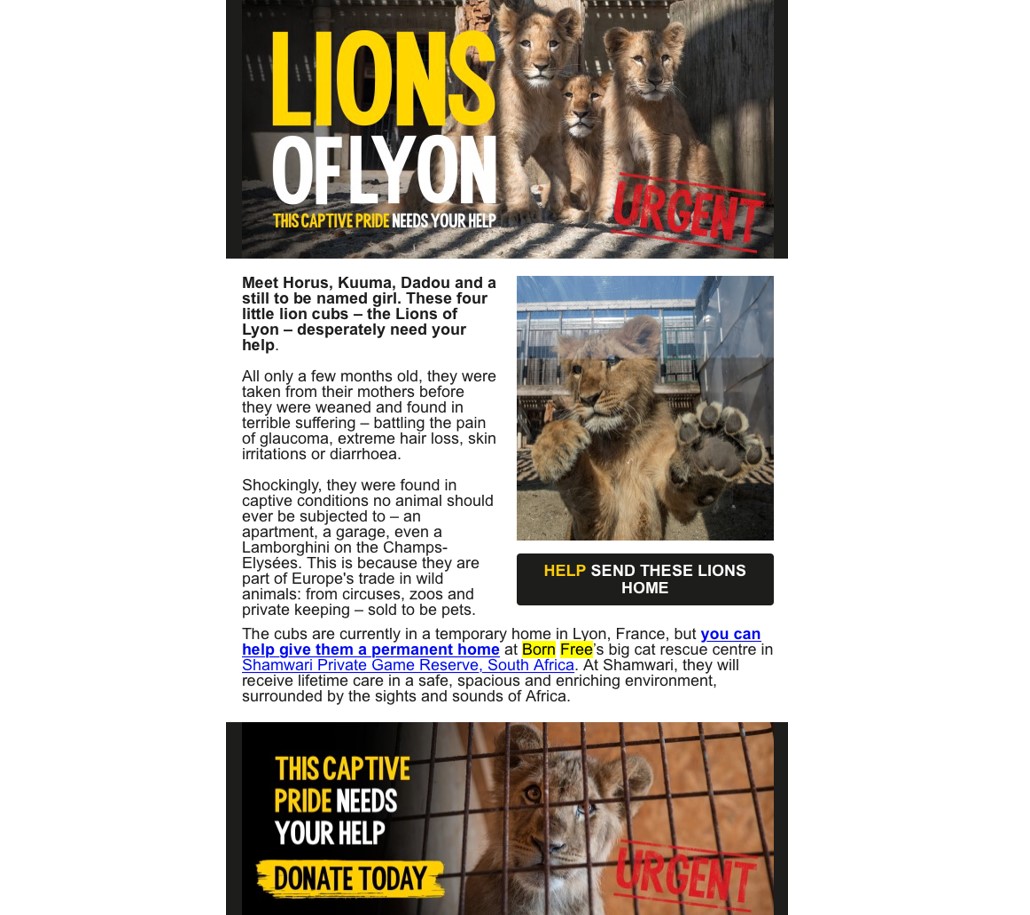 5. Thank you emails
Thank you emails are a great way to let donors know how grateful you are for their support and involvement.
Whether someone made a £5 donation online or ran a marathon and raised £2,000 for your charity, make sure you let them know how much you appreciate their contribution.  
Use the data and information you have to make these emails as specific and personalised as you can. Rather than simply saying 'thank you for your donation,' mention the donation amount and how they raised it.

You can also send out more generic thank you emails. The end of the year is a great time to do this as you can thank people for their support throughout the year and let them know how their gift has made an impact. Doing this can encourage further donations because your readers will feel they've made a real difference which will inspire them to stay involved.
Some other ideas you can use for thank you emails include:
Major milestones for your nonprofit, such as raising a certain amount of money or helping a certain number of people. Remind people that you couldn't have done it without their ongoing support
Celebrating your organisation's anniversary. Again, you can thank donors for their support because without them, you wouldn't be here
New programmes, campaigns or initiatives your non-profit is rolling out
6. Storytelling emails
No matter what your cause is, stories should be a central part of your email marketing strategy.
Because we're more likely to be drawn in emotionally when we know someone's story, this technique makes people more psychologically inclined to donate.
Try not to limit your emails to just text either. You can also use photos to tell a compelling and emotional story which can really help your readers to connect with your subject.
The email below from the WWF is a great example of how a charity can mix imagery with compelling copy.
The first thing you're bound to notice is the striking photo of a snow leopard. Because it's looking straight at you, it makes an instant connection. The email also addresses the reader by their name and towards the end of the communication, they ask a direct question.
The email starts and ends on an emotional note and uses statistics to confirm the mistreatment of leopards.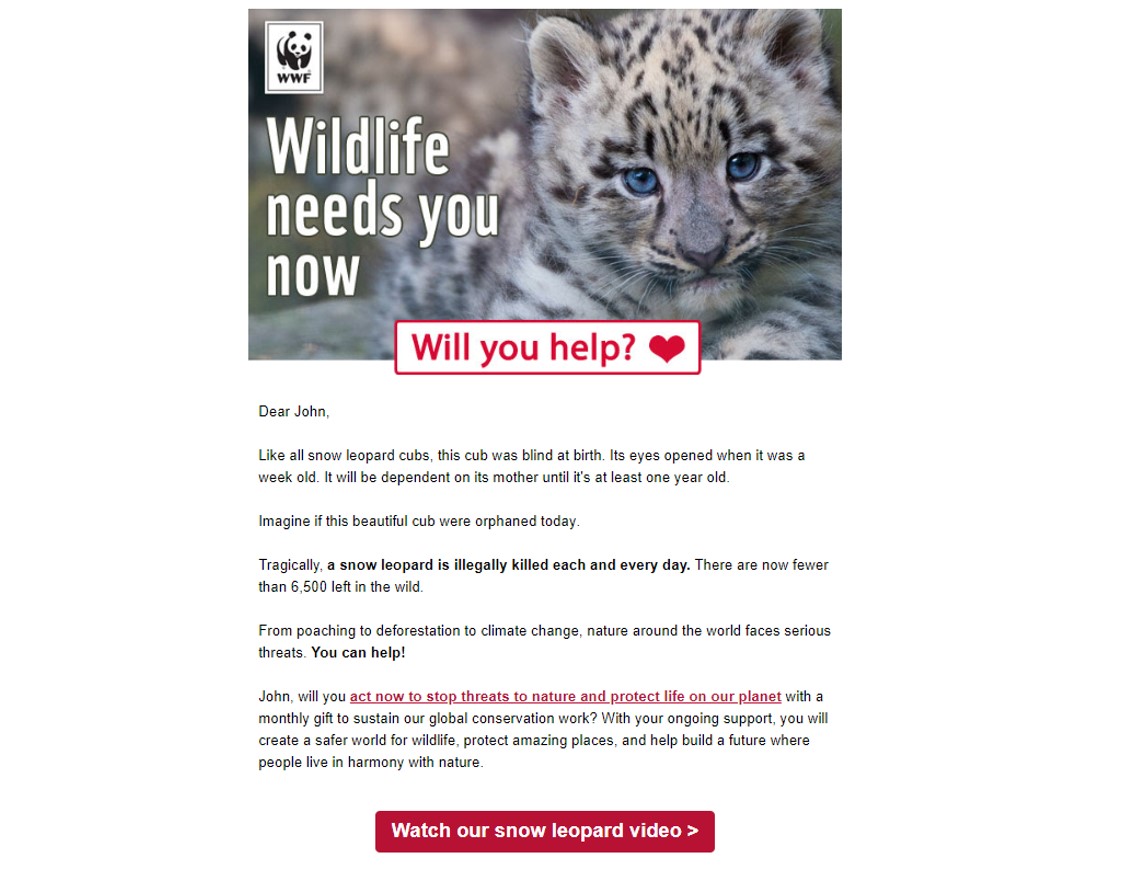 Keeping your charity safe when sending out email campaigns
Because email marketing involves collecting and storing personal data, it's very important that you're compliant with GDPR rules and regulations. A breach can result in big fines as well as damage your reputation.
What is GDPR?
The General Data Protection Regulation came into effect in May 2018 and has replaced the Data Protection Act 1998. It aims to give people more control over how organisations use their data and to streamline data protection laws across the EU.
All organisations must ensure that personal data is processed lawfully, transparently and for a specific purpose. Once the data is no longer required, it must be deleted. Furthermore, subjects must consent to their data being processed.
There are hefty penalties for organisations who don't comply with GDPR so it's a good idea to get yourself up to speed with this. Head over to the EU GDPR page for more information.
Email marketing can really help your charity drive more donations and increase support. Providing the right messages with compelling designs develops your donor base and expands your reach. By implementing these steps and monitoring your email performance, you'll ultimately drive more donations and make a bigger impact.