Facebook is ranked the number one social platform globally. With 2.2 billion active daily users, its potential has long been seen by retailers to promote their products and services online.
Carousel ads are just one of the many offerings Facebook provides for businesses, allowing them to showcase their products and services in a visually engaging format.
However, research shows that 62% of small businesses feel that their Facebook carousel ads are failing.
I'll show you why Facebook carousel ads will benefit your SME's online strategy, and how you can get started today.
1. How Facebook carousel ads work
Carousel ads are one of the options offered by Facebook Ads Manager. They allow advertisers to upload up to ten images or videos – each with their own link – that will appear in your chosen audience's Facebook or Instagram feed.
Unlike other ads, Facebook carousel ads let your audience scroll through multiple images or videos, which means you can maximise your products' exposure. 
Beyond advertising your products, Facebook carousels can help you to tell a cohesive story about your brand and products.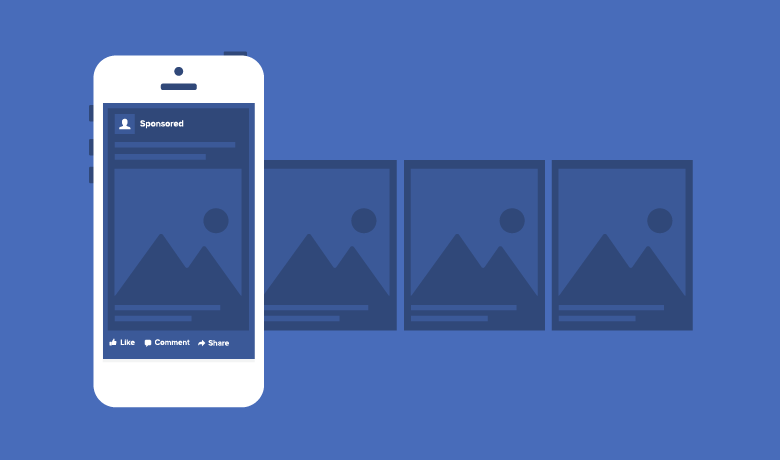 2. The key benefits for your SME
Advertising your products
Facebook carousel ads are a perfect advertising platform for e-commerce businesses to showcase their products. Because you can upload up to ten items at a time, you can drive traffic to more than one product, rather than cluttering one image with several products.
Even better, each image comes with its own unique link which means that you can potentially achieve a higher chance of a click through to your online store.
Some businesses focus on just one product and use a sequence of images to great creative effect. For example, look at how Tieks by Gavrieli use a sequence of three images to reveal just one product – women's flats –  whilst highlighting several aspects of the shoe.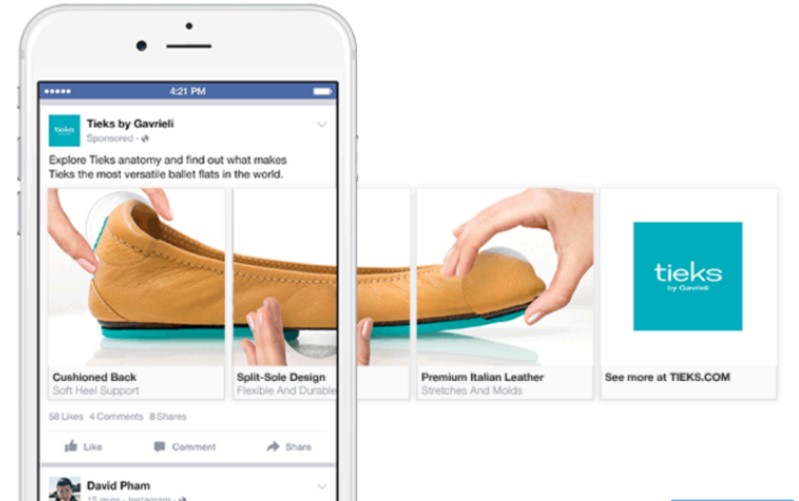 Likewise, Mini use carousel ads to highlight different aspects of their latest model in five image tiles.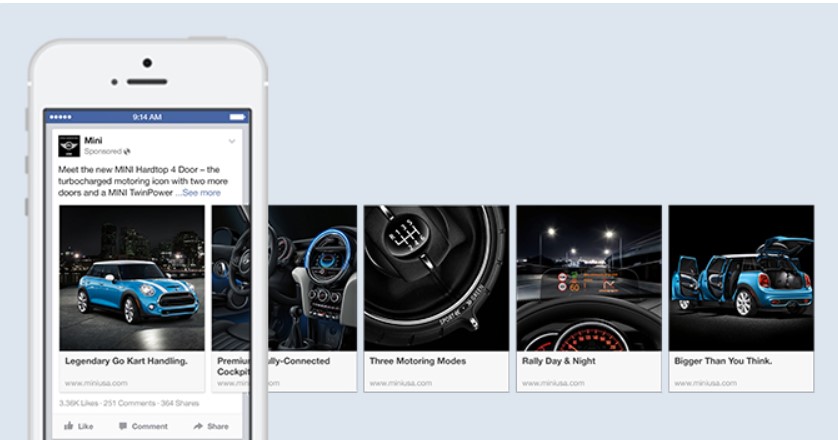 Launching a new range or catalogue
Because you can upload up to ten images, Facebook carousel ads are perfect if you're launching a new range of products. Even if your new range has more than ten products, you can pick your top items and promote these with links to individual product pages.
Demonstrating your products
Carousel ads also lend themselves to demo videos where you can explain how to use your product(s). Check out how Tyme Hair used carousel ads to demonstrate how to use their tongs to achieve "Beautiful Curls in 10 minutes or less!"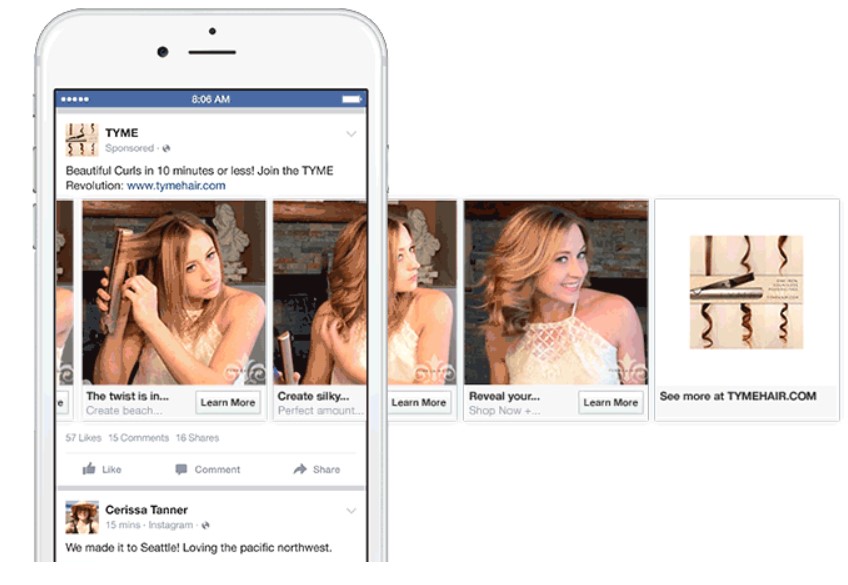 Telling your brand story
We know that storytelling is one of the biggest trends in content marketing. It's estimated that 80% of consumers want brands to tell stories.
Carousel ads tap into this, allowing brands to use short videos in sequence to tell a story, grabbing the attention of their users. Also, it encourages audience interaction, letting the user scroll through the videos and choosing the one they want to watch.
Sharing your content
You don't have to be an e-commerce business to use Facebook carousel ads to good effect. Many service businesses are using them to direct audiences to their online resources.
Precision Nutrition are using carousel ads to share their guides and articles on healthy eating for athletes. This very ad achieved 6,000 more newsletter sign-ups, a 50% increase in CTR, and a 50% decrease in cost per lead: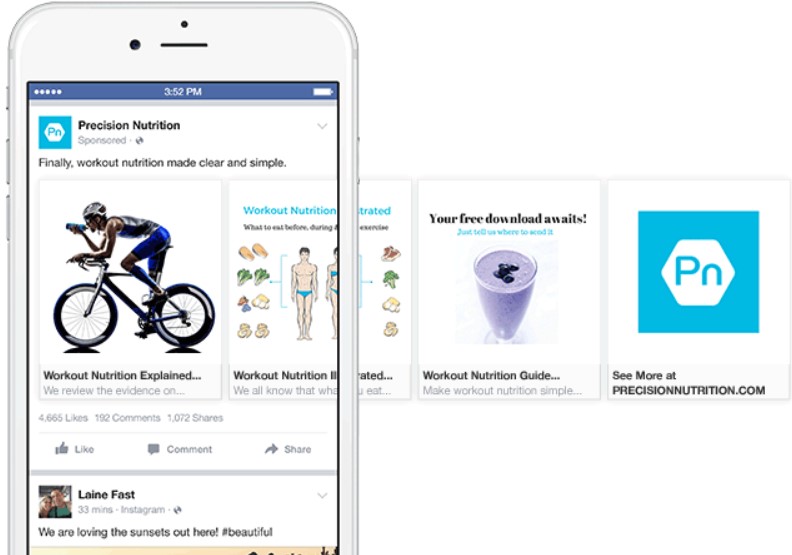 These are just some of the many ways small businesses can utilise Facebook Carousel ads. The trick is to think creatively about how you can really get the most out of them for your brand. 
3. Getting started
Determine your carousel ad goals
Knowing the precise goals for your carousel ad will help you to decide on the best targeting option. 
You might want to use your ad to raise brand awareness or to convert leads. Whatever your goal, it will determine all aspects of your campaign from how you write your ad copy, the images you choose, through to the design of your call-to-action.
Go to Facebook Ads Manager
Within Facebook Ads Manager, click on Create an Ad and choose your main campaign objective.

Choose your target audience
Narrowing down your target audience will help to focus your ad on the most relevant users and will achieve a higher ROI by avoiding a wasted budget.
Facebook helps you to choose your target audience before you set up your ad.
Your audience can be determined using the following options:
Gender
Age group
Location
You can also either include or exclude users by interests, demographics and behaviours to further narrow down your audience. Use the barometer to determine how broad or narrow your audience targeting is. Your audience should sit somewhere in the green area. 
Select placement, budget and schedule
To select your ad placement, it's mostly best to let Facebook automatically choose it for you. However, if you definitely know your target audience is only using mobile devices or are most active on Facebook compared to Instagram, you have the option to pick and choose where your ad is shown at this stage. 
For your budget, it's a case of trial and error. I suggest starting your bid small and gradually increasing it as you achieve conversions. You're not committed to this budget and can change it any time, so it's worth tweaking until you get the right balance between your audience targeting and ad cost.
You can also determine the running duration of your carousel ad, although it can be a good idea to run it continuously to start with as all Facebook Ads go through an initial testing stage. You can choose to stop your campaign at any time and it's really important you regularly keep an eye on your results and spend. 
Next, you'll be taken through to your ad builder page, where you can start to set-up your adverts. It's here that you choose the carousel format: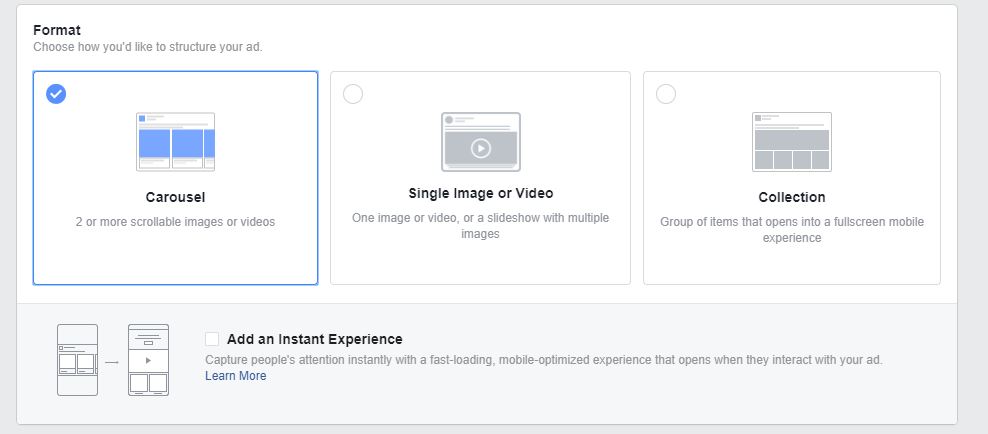 Choose your images, headline and copy
With both your campaign goal and your target audience in mind, you now need to choose your images, videos, headline and copy.
You'll need to pay particular attention to creating a message – using your copy and imagery – to support your ideal outcome. You need to give users a compelling reason to click on your ad.
With carousel ads, you can choose different headings, copy and call-to-actions to accompany each image or video. We'll look at tips for making the best of these further on in this article.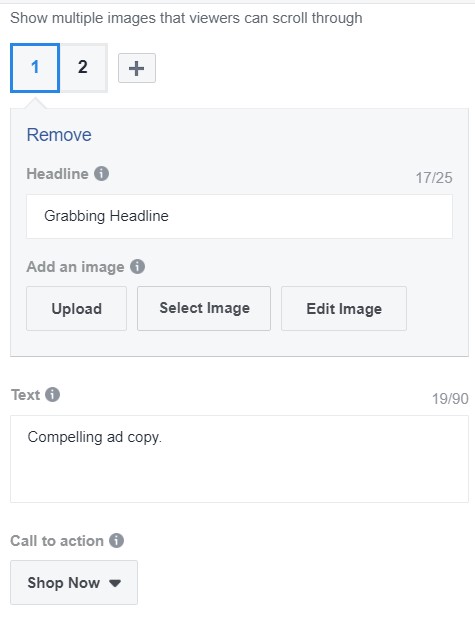 Create your ad
When you're happy you've filled out all the credentials correctly, click Create Ad (depending on your account setup you may need to enter some payment details at this stage).
4. Tips for producing a great Facebook carousel ad
The anatomy of a great ad
The first thing is to make sure you get the basics right:
Headline: Summarise what you're offering
Post text: This appears directly above or below your image and needs to explain a bit more about your image/offering
Media: This is your image or video. They can be uploaded from your device or selected from the library of media you've already used
Call-to-action: Your CTA is a button that appears near the bottom of your ad and will tell your audience what you want them to do next, e.g. "Shop now" or "Contact us"
Concise text
The main benefit of Facebook carousel ads is they use imagery to engage. As such, your ad copy should be kept to a minimum. In fact, each image card only allows space for 125 characters.
Here are a few tips to make the most of your copy:
Imply continuity so that people scroll through to the next card
Use language that matches your usual brand tone and voice
Make sure it highlights the benefits of the product, as well as discounts and offers
Optimise your card order
Use your image/video sequence to tell your story. This means using your first card to grab attention and pull your audience in. Then you need to use both your images and copy to tease people along so that they scroll through your cards to find out more.
When you come to measure your campaign, you can then go back to take out the lowest-performing cards to improve the overall campaign performance.
Perfect your CTA
Your carousel ad needs to get people to do something as a result of seeing it. This means getting your CTA right.
Your CTA needs to be inline with your campaign goal, and so needs to tie in with your ad copy and image as well as the landing page to which you direct your audience.
Work on your landing page
Your landing page needs to be ready to receive the relevant traffic from your carousel ad. Therefore it needs to be optimised with the right content and information, and also responsive for mobile viewing.
In summary
Facebook is one of the most actively used social channels, and with over 2 billion active users has a bigger potential reach than any other marketing medium.
When used well, carousel ads will help your SME achieve a lift in brand awareness, a rise in product sales and increased traffic to your site.
They're particularly helpful for – although not limited to – e-commerce businesses because they allow the promotion of several products at once. But they also give non-retailers the chance to gain exposure through brand storytelling.
The key to Facebook Carousel ads is to use them creatively to suit your brand goals. And, like any marketing activity, they work best when they're monitored, tested and tweaked regularly.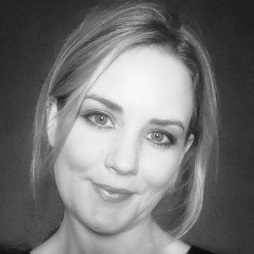 Charlotte Jenkins is an Oxford-based content marketer. She has several years' experience in content writing, editing and digital marketing, helping clients communicate their businesses online.
Read full profile