Over the last few years, structured data has become an important part of SEO. When it's understood and applied properly, it can help boost your website's visibility and click-through rate to achieve higher website traffic.
However, structured data still causes confusion amongst marketers, with a relatively recent study from Bing showing that only 17% of marketers were planning on applying structured data in their SEO.
If like the other 83%, you're in the dark about structured data, this post will help you to understand what structured data is, why it helps towards your SEO and the practical steps you need to take to get started right away.
What is structured data?  
Structured data is the general term for any data which is organised. Say, for example, you have a whole load of numbers about your finances, you might choose to use a spreadsheet to organise the numbers into incomings, outgoings, gross profit and net profit. This is structured data.
In an SEO context, it refers to some kind of markup that you add to a page to give SERPS (search engine results pages) extra detail about the content and context of the page. SERPs then use this information to display the results appropriately (i.e. in rich snippets, rich cards, carousels, knowledge boxes etc).
For example, if you have a web page dedicated to a restaurant, then you can add data to the page to tell SERPS information about it, such as your reviews, price range, opening hours, cuisine, and address (shown in Google Maps). You can then hope to find that your web page appears in search results like this: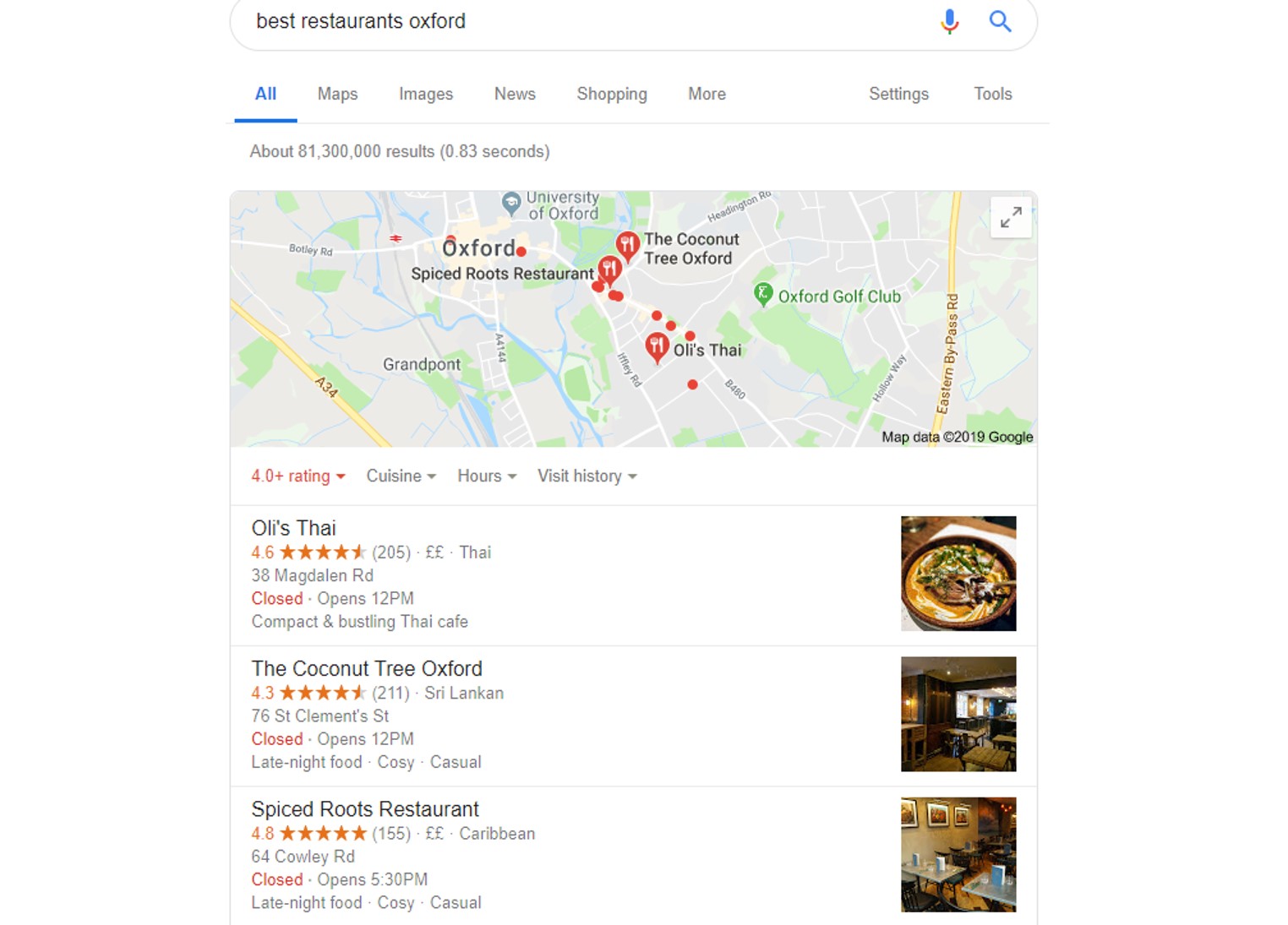 Structured data needs to be understood by search engines as well as people, and so it has its own lingo. It's worth getting your head around these before you get started:
Standardised implementations are known as formats or syntaxes.
Classifications, relationships and terms are referred to as vocabularies. 
The 3 syntaxes search engines support are Microdata, JSON-LD and Microformats. And the 2 vocabularies used within these syntaxes are Schema.org and Microformats.org.
For the purposes of simplicity, I'll focus this article on Schema.org because that's the most common markup used for SEO.
How Schema markup is structured
The Schema.org vocabulary is structured in "types" – recipe, product, review etc – which represent different content types.
These content types have their own "properties" which are the attributes that are specific to them. For example, a product type might include properties such as price, availability, star reviews, returns policy: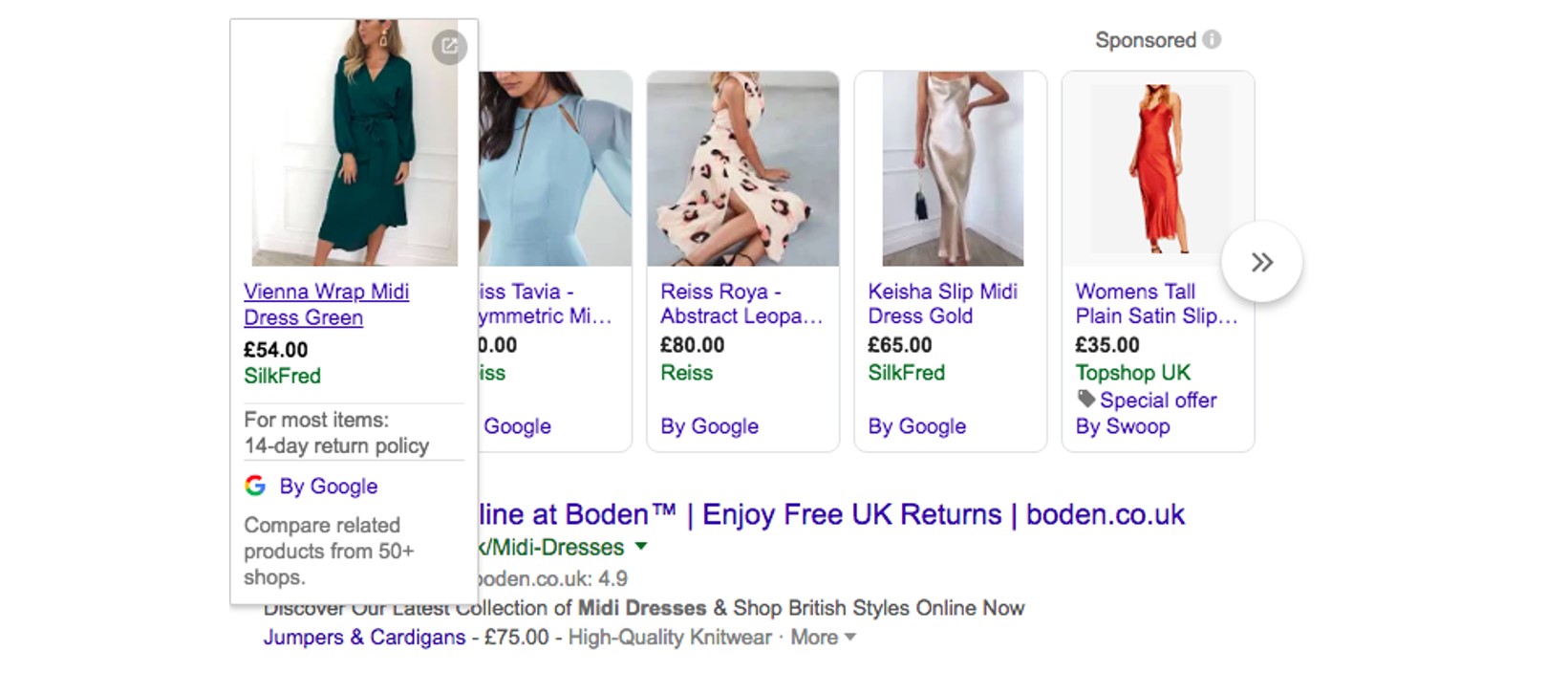 How structured data supports your SEO
Search engines such as Google and Bing encourage businesses to add structured data to their websites because it helps them to display results in an organised and relevant way. In return, websites are rewarded with:
Rich search results – enhanced styling, layout and imagery
Enriched search results – including immersive features
Rich cards – a bit like rich search results but designed for mobile users
Carousel – these hold a collection of rich results inside a visual carousel
These rich results are visually more appealing than standard organic results. This means they benefit from a better click-through rate (CTR) and extra traffic. Higher CTR, in turn, leads – albeit indirectly – to better SEO.
And whilst structured markup isn't in itself a ranking signal to search engines, it does increase a website's relevancy score which, along with a higher CTR, will have an indirect impact on your rankings.
Types of structured data
Knowledge Graphs
If business brands are marked up appropriately, they appear in knowledge boxes on the right hand side of search results.

Rich snippets and rich cards
Rich snippets are the results that include extra context and information about:
Recipes
Articles
Products
Videos
Ratings/reviews
…and many more.
Look at the results for the search enquiry "amazing beef stew recipe" below. Above the organic search results are the rich snippets marked up for "recipe". They include attributes like star rating, cooking time, and calories, as well as an image of the dish: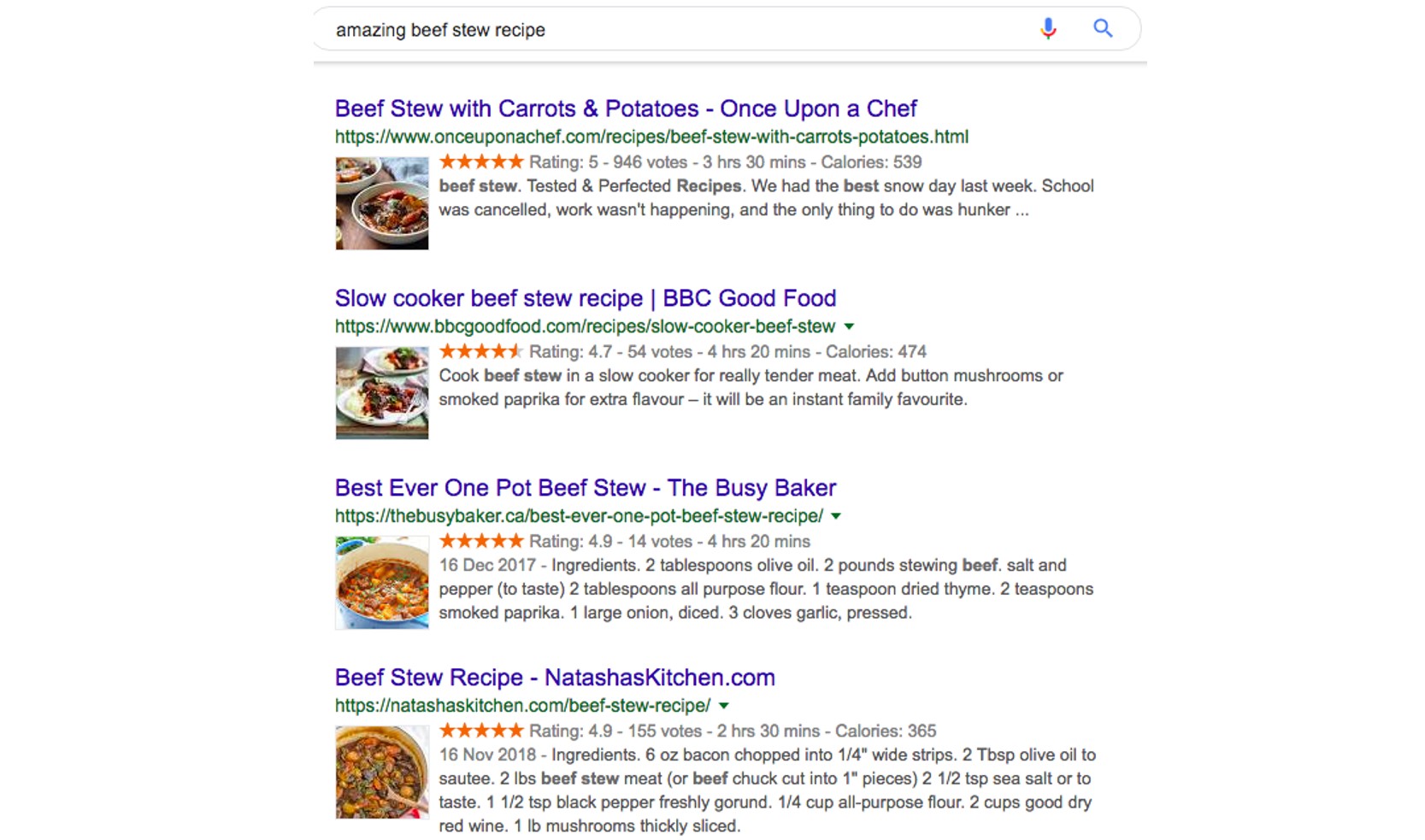 Social cards
If you routinely share your content on social media, then applying social markup will ensure that it looks good (and therefore more likely to be shared) on your social media.
AdWords
You can also add structured data to your AdWords campaigns using structured snippet extensions. This way you can provide extra information within your ad. It allows people to know more about your product or service and gives them more reason to click through to your site.
A comprehensive list of all the many and varied types of schema markup can be found here.
How to implement your structured data
Step 1: Decide your syntax
Here, you need to choose between Microdata (in-line annotations which you add directly to the HTML) or JSON-LD (which uses a Javascript script tag to add the markup to the head of the page).
If you're using WordPress then you can use a plugin which will do the markup for you.
For an easier approach (and one which Google recommends) it's better to use JSON-LD.
Step 2: Identify structured data opportunities
To find out if you already have structured data on your website, you can head to Google Search Console and look for the Structured Data Report.
Here you'll be able to see which pages have structured data on them as well as their errors. You're also able to fix errors using the Structured Data Testing Tool.
If you know you don't have structured data on your website then it's worth going through your site and identifying all the opportunities where markup might help you achieve more traffic.
However, part of the task of implementing structured data/schema markup is knowing when not to bother. If you focused your entire time marking up all your pages and products, you may be under-prioritising other areas of your business.
My advice is to start with one or two pages you want to push – perhaps a new product you want to draw attention to – and use this as a basis to see how you get on.
The key is to keep your structured data simple. Focus on what you want search engines to know. If you have a product, for example, then make sure you mark it up as Schema.org/Product, before you go into the detail of reviews, price availability etc.
Step 3: Mark up your general website first
Most businesses will benefit from the top level basic markup which can gain them visibility in search:
Organisation markup will indicate that your site is a branded site.
Knowledge Graph content: mark up your homepage with information about your brand (e.g. logos, images, social profiles, contact details etc) so that it shows up in a knowledge graph box.
Videos – if you have videos on your site then VideoObject markup will help your videos to show up in search.
Step 4: Generate and test your markup
Once you know which content type you'll benefit from marking up, you can now generate the code, and implement on your site.
Google's Data Highlighter tool will help you to generate the right code for the page you're wanting to mark up.
You can also head to the Structured Data Markup Helper which will ask you for your URL, and to tick which content types apply to that page. So, if you want to mark up a product, you'll tick the Product box associated with that specific product page URL.
Click Start Tagging.

You'll then be taken to your markup tool where you'll see your web page on the left hand side and your data items – relevant to your content type – on the right hand side: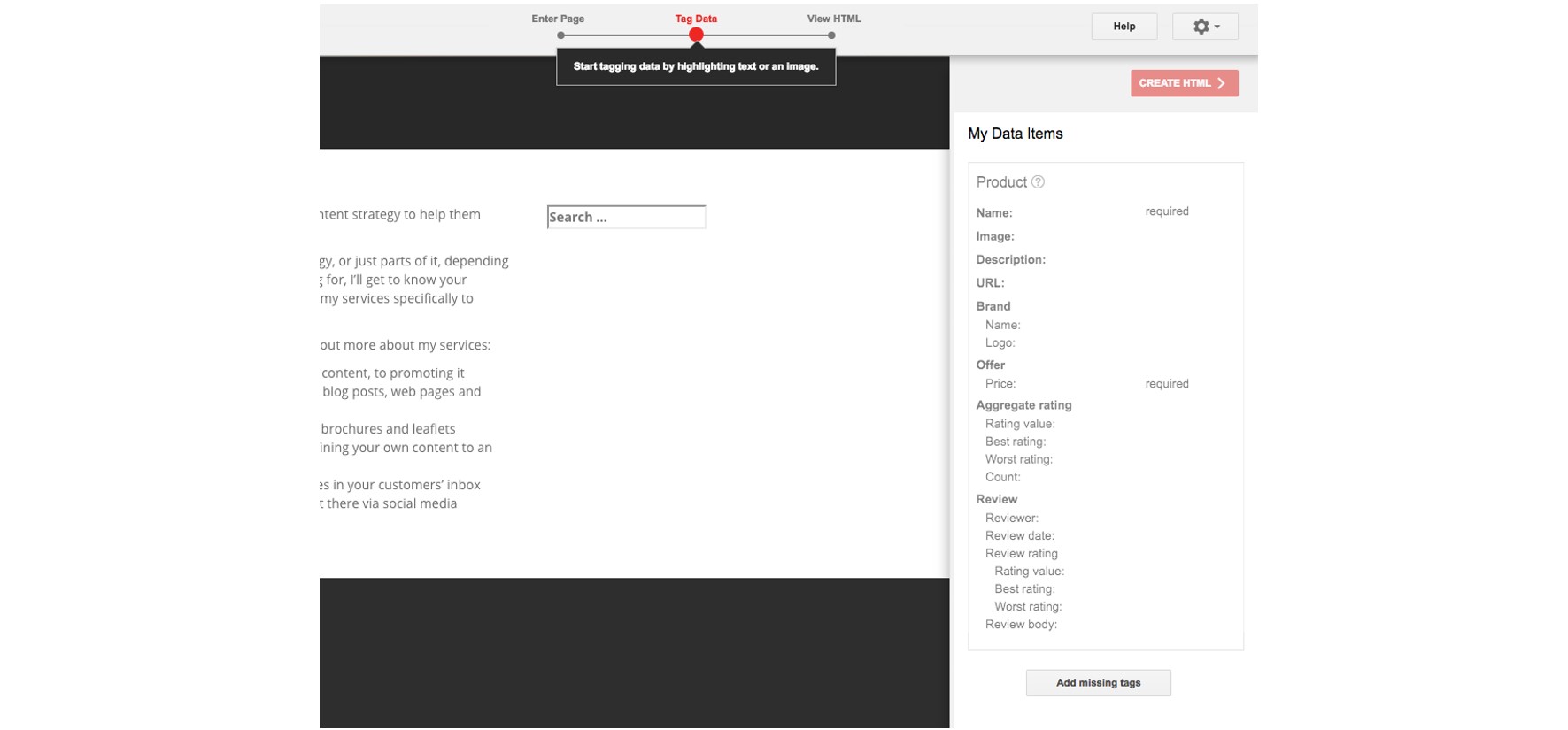 You then need to highlight the parts of your content you want to mark up. Some of the items are required, while others you can choose whether or not to include. When you highlight the relevant copy on your page you'll be given a drop-down menu to prompt you.
For example, if your content is an article then you will want to highlight the article heading, and you'll be prompted to give it a name, and then you may want to include the author, publish data and some of the subheadings: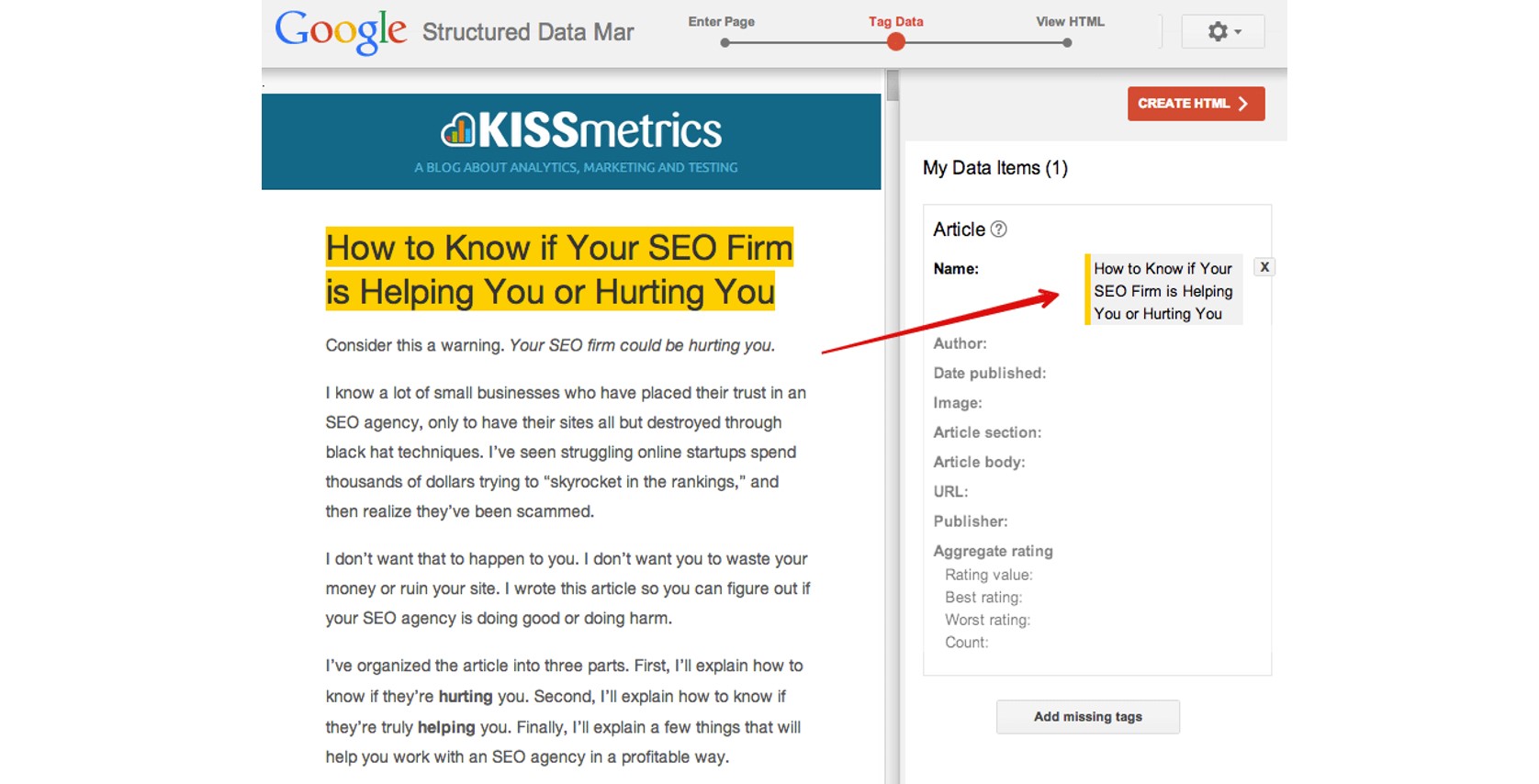 Once you've finished marking up your content, click the Create HTML button, where you'll be shown the HTML for your schema markup.
Copy your HTML to your clipboard or to Notepad and save it in a safe place. Or alternatively, click the download button.
Once you have your code, hold off on implementing it until you've first tested it in Google Structured Data Testing Tool. This is so that you can identify any errors in the code before your markup goes live. You'll then test it again once it's been implemented on your website.
Step 5: Implement your code
Now you need to go into your CMS or source code and add your HTML code into your CMS or source code.
Once your code is implemented then you can test it again using the Structured Data Testing Tool to see how it will look. You paste your HTML code into the box and click preview where you'll be able to see how it will appear in search results.
In summary
There's no doubt that marking up your content will help your pages to gain more visibility in search and an increased click through rate.
Structured data is one of those areas of SEO which sounds intimidating but that, once broken down into steps, can be relatively straightforward – especially with all the helpful tools available.
The first step is identifying what content would be most useful to mark up, and which should be left alone. It's then a simple case of following the steps, using the relevant tools, to provide search engines with the most relevant information about your page.