Video marketing is the process of using video to promote your product, service or business. A powerful visual tool, it's a great way to reach new audiences, educate your viewers and increase engagement.
As well as being a highly effective form of content, video has become hugely popular in recent years. This has come hand-in-hand with the rise of social media and for the vast majority of us, our news feeds are dominated by video.
Nearly five million videos are watched on YouTube every single day and 100 million hours of video are consumed on Facebook daily. Video is even starting to dominate Google's search results.
Often, when you type in a query such as 'how to lay a carpet' it will bring up a video. This is a great opportunity for brands, such as B&Q, to reach new audiences. With video being the preferred choice for many, this search result is going to stand out far more than just a link to a website.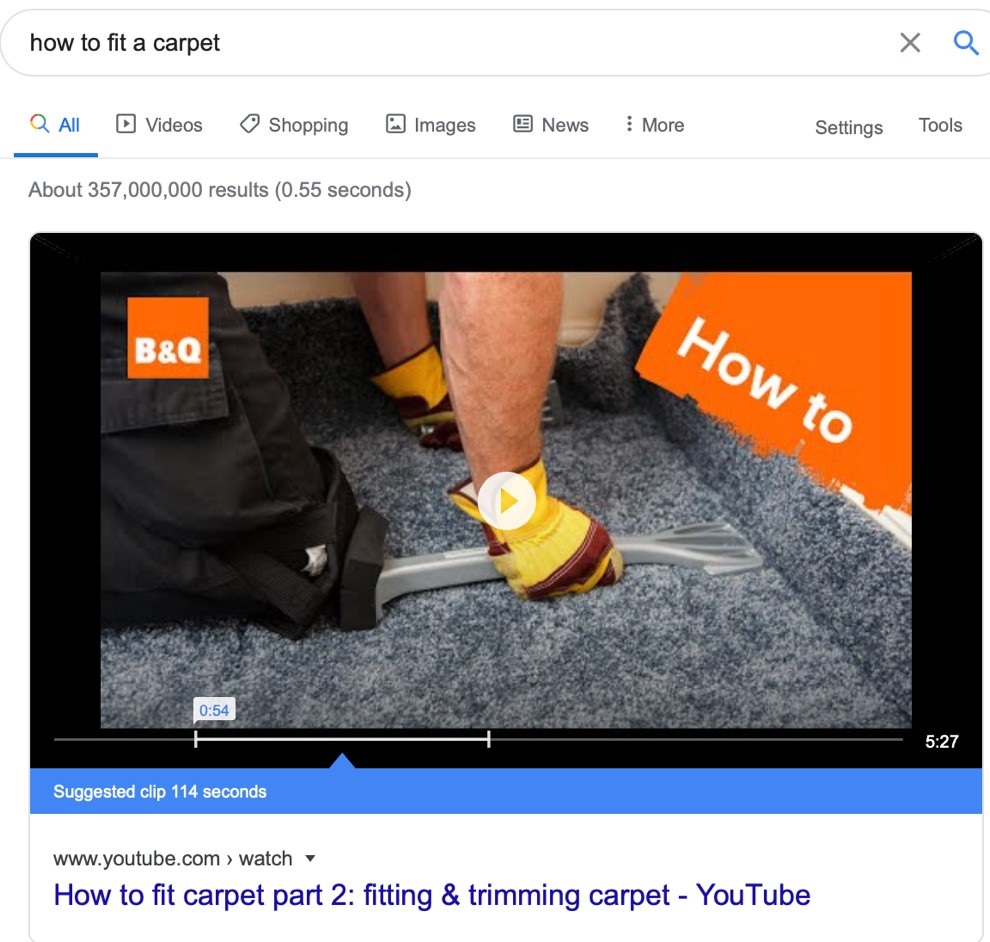 So, we know video is everywhere, but what any business really wants to know is how it's going to improve their marketing efforts and drive those all-important sales.
While video marketing is great, very few small businesses have the budget to produce Hollywood-style content. The good news is that thanks to advancing technology, you don't need huge amounts of cash.
Below I'm going to share some top tips on how you can create professional videos using just your smartphone.
How to make a professional video using a mobile phone: Seven top tips
The quality of the average smartphone camera has improved so much that it has become standard practice for many businesses and influencers to film their content using nothing more than their mobile.
But there's still some skill involved to ensure the videos you're producing look professional. From thinking about your lighting to investing in some helpful equipment, here are seven top insights into how you can create on-brand, professional videos using your smartphone.
1. Film in landscape
Always film your content in landscape orientation rather than portrait. As well as being more aesthetically pleasing in general, it's better for watching on a widescreen or television and you won't get those pesky vertical black bars. You will also be able to fit a lot more into the shot which is ideal if you're filming with more than one person.
2. Ensure the lighting is good
No matter how great your video is, it's not going to work if the lighting is bad. It's important that your audience can see what's going on and lighting also plays a very important role in setting the mood.
Natural lighting will always be superior and it's the most flattering, but if it's not possible, you can buy rings and kits which will help you to create great lighting. You can find five clever lighting tricks in this video for filming with smartphones, from using your flashlight to create backlight to cool tricks to creating atmospheres.
3. Think about your setting
Your setting also has the potential to make or break your film. Some factors to consider when thinking about how to make videos with an iPhone or other smartphone include:
Try to use the same setting or have a theme so your content is instantly recognisable to your fans
Look out for distractions. If you're filming in the park for example and there's someone in the background doing a workout, chances are your viewers will end up watching them rather than paying attention to what you're saying
Does your setting reflect your brand? If you're trying to portray yourself as a fun company, a corporate office probably isn't the right setting for you. On the other hand, if you're a high-end business that charges a lot for your products or services, your viewers don't want to see a budget video filmed in your local coffee shop
Make sure you check out your background setting thoroughly, especially if you're filming at home. Is there any mess in the background? Try filming a quick test and watching it back to see what's included in the shot before filming your whole video.
4. Check the sound quality
It's very important to film in a quiet location so that your viewers can clearly hear what you have to say. If you're shooting a video in your home office for example, the TV being on downstairs or your children playing in the next room can be very distracting. If you're in an office, find somewhere you can't hear phones ringing or colleagues talking.
5. Don't zoom in
It can be tempting to use the zoom feature on your smartphone, but this could pixelate your video and make the quality poor. If you want to get a closer shot, try simply moving in closer to your subject.
6. Use a tripod
A tripod helps to minimise the risk of any movement and allows you to easily adjust the height of your camera, both of which create a much more professional-looking video. Another huge benefit is that you can create your content all by yourself rather than trying to find someone to film while you present.
7. Do a quick test
As I mentioned before, the last thing you want is to spend ages filming something just to realise that your head wasn't in the shot or you can hear the builder's next door. Do a quick 30-second test so you can ensure the layout, sound quality and lighting are all spot on.
Five videos that work well on mobile
When learning how to make a professional video, it's helpful to understand the type of content that resonates well with viewers.
Here are some of the most popular types of video that also work well when filmed on a smartphone.
Unboxing videos
Unboxing is capturing the unpacking of a product on video. The product in question is also explained in detail and where appropriate, demonstrated.
This type of content is a firm favourite among YouTubers which is fantastic news for small businesses.
Not only is it easy to film, what better way to let the world know about your product than demonstrating in real-time how it works? With more than 90,000 searches for 'unboxing' on YouTube every month, it has become a key method for viewers to make purchasing decisions, plus this exclusive 'behind the scenes' feel is perfect for mobile filming. This same format also works really well for the unveiling of new products. 
Interviews
Interviews are a great way to produce interesting and engaging content for your website and social media channels. What's more, the possibilities are endless when it comes to who you can speak to and it's very easy to film yourself conducting an interview. You can even coordinate asking your interviewee to film their responses separately and editing the video clips together.
Some great ideas for video interviews include:
Employees talking about what it's like to work for you
Industry experts sharing tips and advice
Senior members of your business talking about the company, how it's performing and what your hopes are for the future
Customers who have used your product/service
Educational content – such as an expert sharing how to grow your business
Question and answer sessions. These are usually great if you allow people to submit questions before the interview
How-to videos
According to Google, how-to videos earn the most attention of any content category on YouTube. As well as being incredibly popular, it's a fantastic way for brands to showcase their products and services as well as produce interesting and engaging content.
If you sell paint, for example, you may find it difficult to write exciting blogs. With videos, however, you can teach viewers how to paint a room in their house, how to create a mural as well as share design ideas and painting hacks.
Reviews
Most people will look for online reviews about a company or product before parting with their money. This means that trusted reviews are paramount to consumers making a purchase.
Listening to genuine reviews from real people is incredibly powerful because businesses are of course going to be positive about themselves, so hearing someone else sing your praises is more authentic. Could you reach out to customers to ask them to leave a review via video, or even work with an influencer for some honest feedback via their YouTube channel?
Remember, if you're using a new tool as a business, there's nothing to stop you sharing your feedback and ideas via a video for other business owners too. Ideal for more B2B businesses, make sure you keep it relevant to your audience.
Time-lapse 
Time-lapse videos capture key milestones of projects and bring them to life in a short film. It's a fun and interesting way to show potential customers what you're capable of doing and how it can benefit them.
Say you specialise in kitchen renovations for example. A time-lapse video is a very engaging way of showcasing before and after images of completed projects. They work particularly well with big transformations because you can really create that wow-factor. Plus they're super easy to film on your smartphone.
What equipment will I need? 
If you're hoping to make great videos on a budget, you no doubt want to know how to make a professional video with limited equipment. The great thing about today's smartphone technology is that you really don't need a lot. Some recommended additional pieces of equipment include:
A tripod to ensure the camera remains steady
If the lighting in your chosen setting is poor, a lighting ring can be very beneficial
If you're filming outside or you want to improve the quality of the sound, a microphone will make your voice clearer
Whether you're filming in an office or at home, think about the décor. While you don't want to distract people, a few strategically placed plants can improve the setting
It's great if you can get your logo or product somewhere in the video
What about editing my videos?
Editing is an important part of taking your videos to the next level. You can cut out any parts that don't quite work as well as add music, graphics, special effects and much more.
The good news is, you don't need to be an editing expert to do this either. There's plenty of software you can download onto your laptop and apps you can use on your phone. Some great video editing apps include:
If you want to learn more about how to make videos with an iPhone or other smartphone, why not have a read of some of these articles?
While video marketing may seem daunting at first, it's a really great way for companies to have fun with their customers and social media followers. As well as being more engaging than a page of text, video is also incredibly versatile and can be used in emails, on your website and on all your social media channels.
Good luck and happy filming!