For students about to leave university, landing a job can feel like an insurmountable hurdle. How do you stand out from the crowd when there are dozens if not hundreds of other applicants and recruiters may spend just five to seven seconds looking at your CV? If you're in the market for a job, here's some inspiration for how you can make your way into the hearts and minds of potential employers.
1. Liven up your online CV
If you're looking for a job, don't just tell them you're good at what you do – show them. Websites are a great way to show off an array of practical skills, especially if you're a designer, web developer or writer. Few can have done this quite so memorably as designer and developer Robby Leonardi, whose impressive video game-style interactive resume deservedly garnered worldwide attention. The viewer takes on the character of an animated version of Robby himself, scrolling through an old-style video game landscape peppered with facts about his skills and experience. Clearly, not everyone has the coding skills to create something this sophisticated, but the attention it received shows that it pays to take a different approach to your CV.
More attainable is the online portfolio website of journalist Josephine Moulds, josephinemoulds.co.uk, using a simple layout that mimics an online newspaper, splitting her work into five categories. According to Josephine, her site has really paid off: "I didn't realise how much I needed a website until I got one. Before, I had to paste a series of links at the bottom of pitches to editors, and was probably lucky if they visited one. This way, I get to send them one link to a page that shows at least four stories, a brief biography, and a photo, which is handy if you want them to remember you from a meeting. It is part of my email signature and on my Twitter page. I'm always surprised by how many people click through from emails and later comment on it."
2. Make your CV edible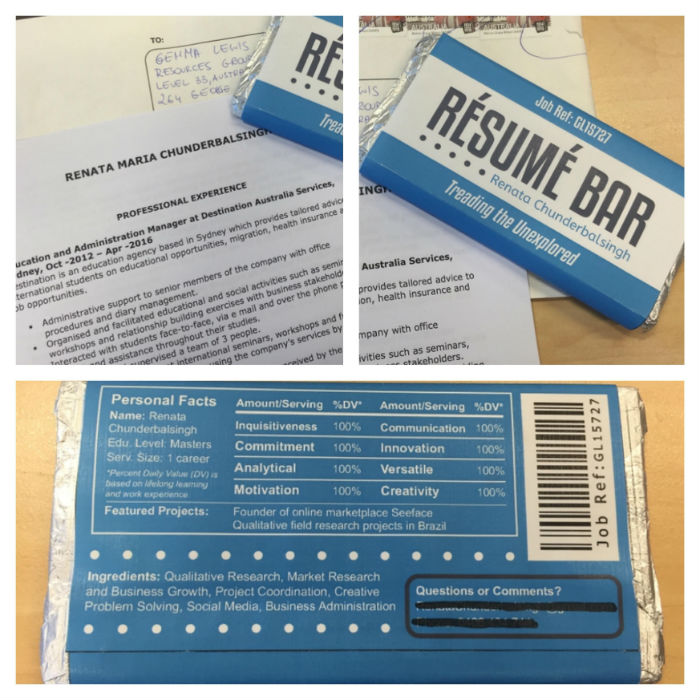 The perfect way for graphic designers to showcase their skills, the internet is veritably awash with examples of creative job candidates sending their CVs to prospective employers in the form of personally branded chocolate bars, pizza boxes, milk cartons… the list goes on. It's one way to ensure that your CV doesn't get immediately consigned to the dustbin, and it's sure to stick in a recruiter's memory. Australian jobhunter Renata Chunderbalsingh printed her CV on a chocolate bar to stand out from the crowd, a move that prompted job offers from all over the world having gone viral on social media. One copywriter even created a pack of painkillers named after himself, with the 'patient information' leaflet inside detailing how he could help the companies he sent them to.
3. Take out Google ads
Imaginative applicant Alec Brownstein figured that the directors of the advertising agencies he was interested in working for were likely to Google themselves from time to time, so he came up with an ingenious way of getting his name in front of them. He signed up for a Google AdWords account and paid for adverts to appear at the top of the Google search results each time someone searched for the names of his prospective employers. The ads led to his own website, where he posted his CV. Sure enough, some of those he targeted responded, and he ended up with two sought-after advertising job offers.
4. Hire a billboard
Graduate Adam Pacitti hit the headlines in 2012 when he took the unusual step of hiring a billboard to beg for a media job. "I spent my last £500 on this billboard," it read, "Please give me a job." Underneath that was the link to his website, where prospective employers could find out more about him and watch an entertaining and informative "video CV" in which he describes his skills and experience. Having previously applied for around 250 jobs with no success, the billboard gained him around 60 job offers and ultimately landed him a job with the agency that promotes programmes such as Hugh Fearnley-Whittingstall's River Cottage series.
5. Turn the recruitment concept on its head
If applying for jobs is getting you nowhere, you could do what Susan did and 'hire a boss' or engineer a reverse job application like Andrew Horner. Both of these enterprising job-seekers built websites designed to allow employers to apply to work with them, rather than the other way around. Both listed desired attributes from prospective applicants, inviting them to apply for the 'job' of being their boss while also selling the benefits of working with them. Susan wrote, for example, that "This will be the easiest and best job you'll ever have. After all, it's not everyone who gets to work with someone full of creative energy and who gets things done." As Andrew wrote on his website, "I have gone my entire life consistently producing excellent results at every task I set my mind to, and quite frankly, employers should be coming to me, not the other way around."
You don't necessarily have to go to the extremes some of these candidates did, but these examples certainly show the potential power of daring to be different.

Ecohosting is offering a great deal on a .uk domain & website package for only £14.99.