As nice as it would be if we could simply ask our social media followers to like and share our posts, unfortunately, this very rarely happens.
Unless you're a celebrity with millions of adoring fans who hang on to your every word, cracking social media is hard work and it will take time. The good news however is that when you get it right, social media can be hugely powerful.
Take the ALS ice bucket challenge for example. What started with just one person tipping a bucket of ice cold water over themselves grew into one of the most successful social media campaigns to date. An incredible 17 million people posted videos of themselves participating in the challenge with over a million pounds raised for the ALS Association.
While asking for a follow or share is likely to fall upon deaf ears, prompting people to actively participate in a well-thought-out social media campaign will help you generate quality interactions and ultimately, better results.
Below are five New Year campaign ideas you could add to your social media strategy, along with examples of brands who managed to get their message spot on.
1. Play a role in people's New Year's resolutions
We all start the New Year with good intentions, so why not use your product or service to tap into people's mentality at this time? Really think about how what you offer can help people to better themselves in 2020.
If you're an accountant for example, you can help people to save money, be more organised or grow their business. Perhaps you're a digital marketing agency and can prompt people to be more proactive with their online marketing efforts.
Joe Wicks promotes his services all throughout the year but tends to ramp things up around the festive period. He starts sharing more success stories, before and after photos of customers who have followed his programme and he will post new workouts to YouTube and even run live Bootcamp sessions.
This is a typical post you can expect to see from Joe at this time of year and you can't argue with his clever marketing strategy. The two most common New Year's resolutions in the UK are to eat better and exercise more so by showing people how he can help them achieve exactly this, there's no doubt that he's going to get a lot of new sign-ups in January.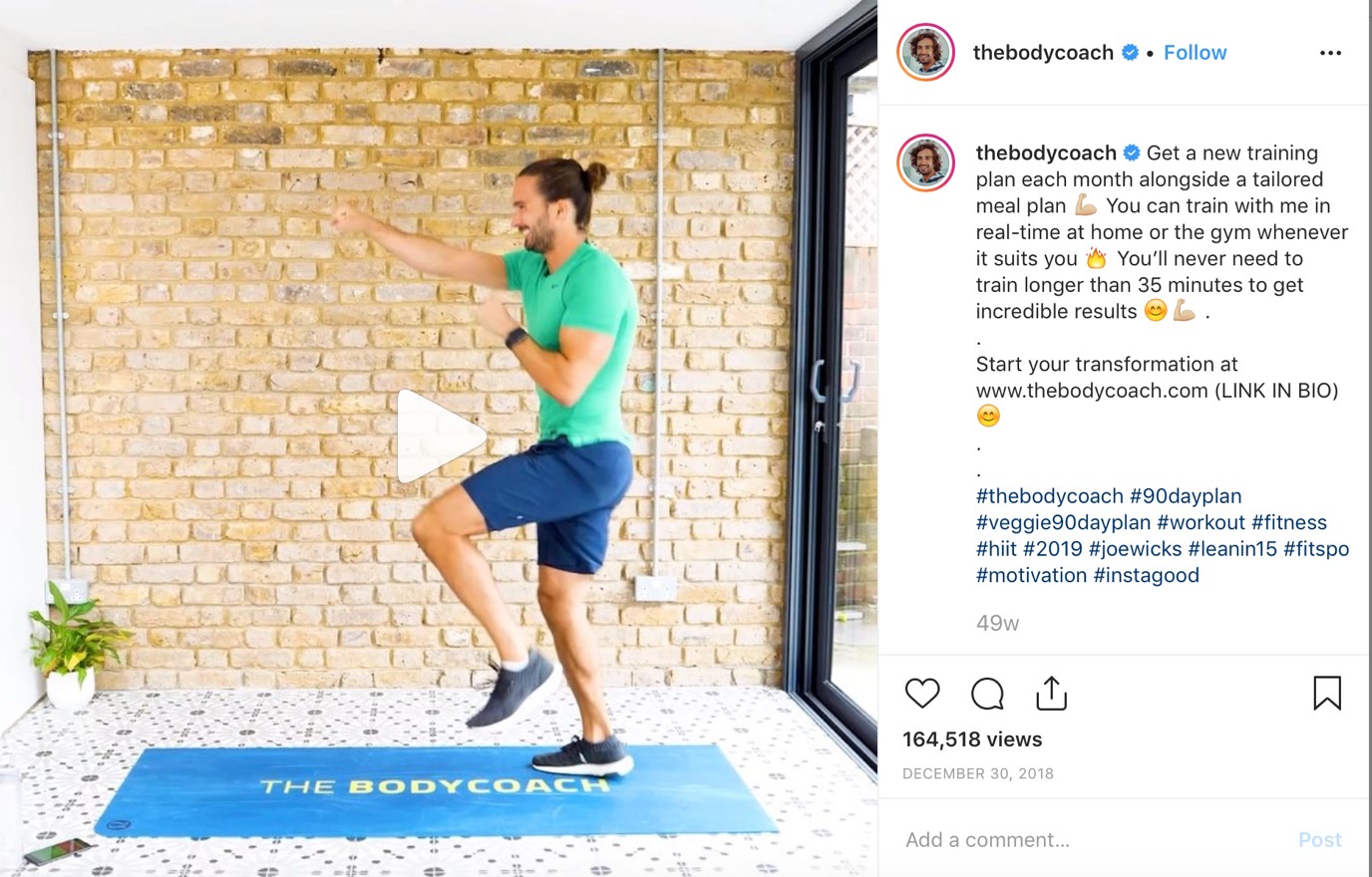 Why this works:
Joe makes it very easy for potential customers to get on board with his plan. By creating training plans for everyone and giving them the chance to participate in short workouts from home or the gym, it's even going to appeal to busy people and those who can't afford a gym membership.
Although customers do need to pay for their tailored programme, Joe posts plenty of free workout videos and recipes on his social media pages. By giving his followers something of value for free, he's giving them a taster of what it would be like to sign up to the plan.
With nearly 165,000 views and 2,500 likes, you can guarantee that many people will have signed up to Joe's 90 Day SSS Journey programme as a direct result of this post.
2. Exchange posts for freebies or entry into a competition
Back in 2014, Marc Jacobs came up with a great idea to get people talking about their brand on social media. They opened a pop-up shop in Manhattan but instead of paying for purchases with cash, customers used 'social currency.' This meant that they received free products in exchange for sending out a tweet, Facebook post or a photo on Instagram using the hashtag #MJDaisyChain.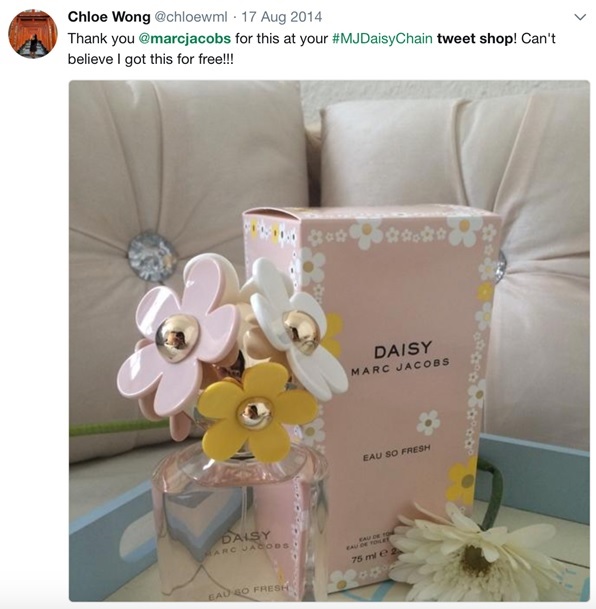 If giving away free samples isn't something your business can do, there are other possibilities you could consider:
Give away your time instead – can you offer people expert advice about something?
Everyone who participates can be entered into a grand prize draw so you only have to give away one thing as opposed to many.
Find another local business to work with so you can support each other. For example, they may be in a better position to give away free samples but don't have the time to run a social media campaign.
For example, online clothes retailer, Vesper247 runs a similar campaign. Customers simply upload a photo of themselves wearing their outfit to Instagram, tag the brand and use the hashtag #myvesper247 and they're automatically entered into a monthly prize draw where they can win £500 in vouchers.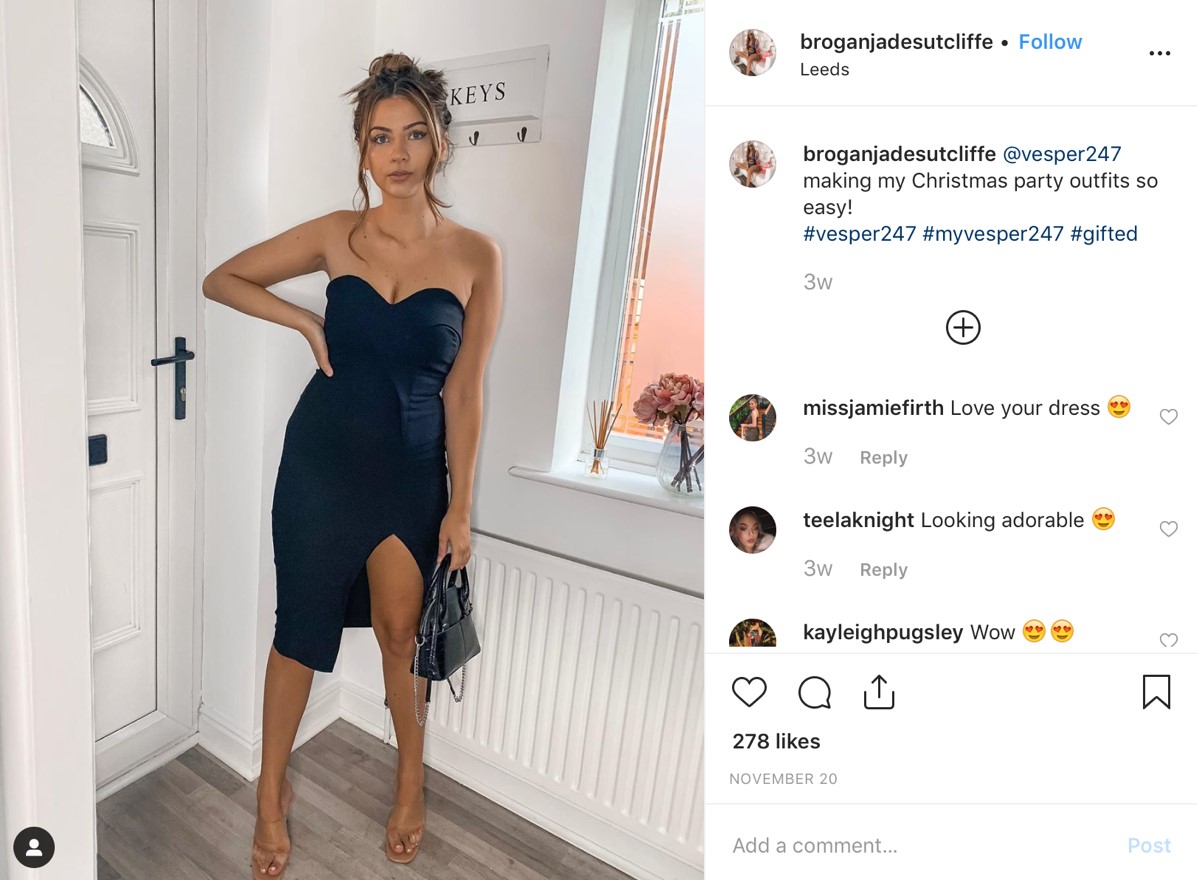 Why this works:
If you're giving something away, people get to try your product for free. If they like it, they may convert into paying customers. If you have a service to promote, you could give away your time instead such as offering people expert advice about something.
You're getting other people to create your social media content for you. Not only does user-generated content make your job easier, it helps to create trust because new customers can see that real people love using your products.
Everyone loves a freebie and if all your followers have to do is spend 30 seconds writing a post about it, chances are they're going to be more than happy to do so.
You're encouraging people to talk about your brand.
Someone posting about your product or brand on social media is as good as a testimonial. Naturally, you're only ever going to say good things about your brand. When other people do it however, it seems more genuine and authentic.
It builds trust. In fact, 76% of people say they trust content shared by 'average' people more than brands.
3. Focus on customer service
Social media is the new platform for customer service. Instead of phoning with a query or waiting for a company to respond to an email, people are turning to social media to get help from the brands they use.
If you're not already doing this, the New Year is a great time to start. An incredible 90% of people say they've used social media to communicate with a brand or business and 63% say they expect companies to offer customer service via their social media channels.
Netflix, for example, has a Twitter page dedicated to answering customer queries. As you can see, they always respond to Tweets quickly, they ask more questions to try and get to the bottom of the problem, send links which may help customers and even respond in multiple languages.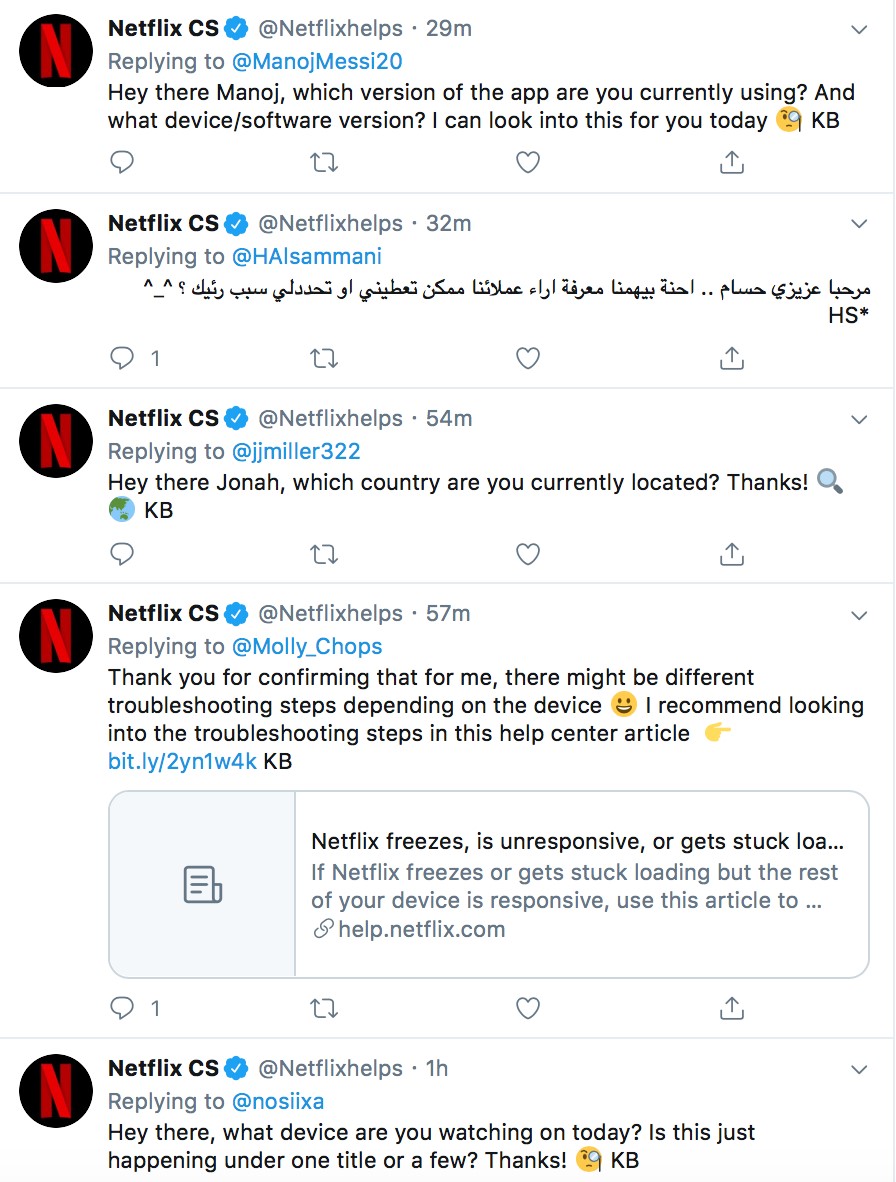 Proving that even small brands can offer excellent customer service on social media is the Milton Keynes barber shop, Hair Masters. Their Facebook page is full of all their latest news, special offers, video announcements and last minute appointment availability. They are in fact so well-known for their excellent customer service that they won the 2019 SME National Business Award for Best Customer Service.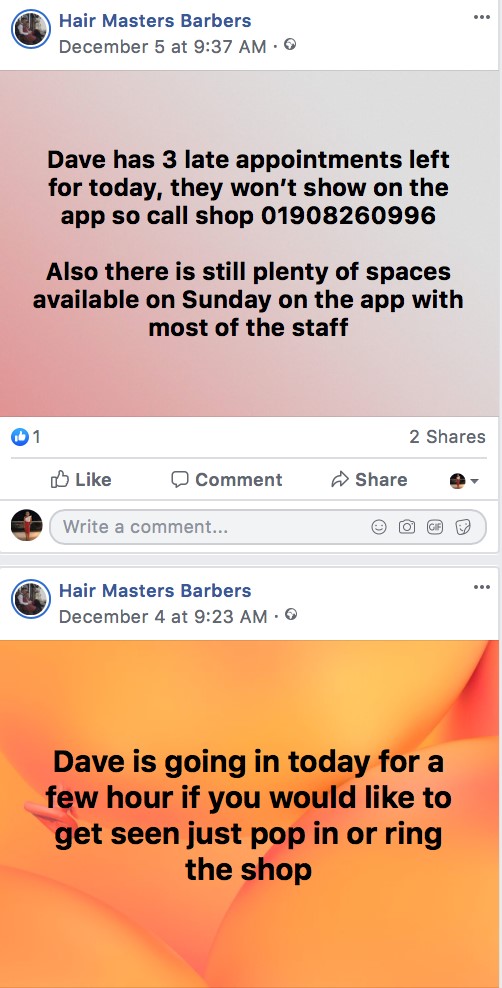 Why this works:
You're overcoming the obstacle which is stopping someone from making a purchase. Make sure you're quick however because if they have a question about a specific product, you need to respond before they go elsewhere.
You can manage unhappy customers. Whether your website is down, someone had a bad meal at your restaurant or their order hasn't arrived, social media gives you a second chance. Although no brand wants anything negative written about them in a public forum, as long as you're seen to rectify problems quickly and efficiently, it won't damage your reputation.
Even just responding to people's comments on your social media pages is a way to offer great customer service. As well as ensuring your customers feel like you really care about them, this also helps to boost your social media engagement.
It enables you to build a community. By using hashtags, encouraging conversations and even setting up special groups for your customers, you're building a community of loyal fans who all have your brand as a common interest.
4. Run a teaser campaign 
The New Year is a great time to encourage customers to try something new. Whether your business has a new product or service coming out in 2020 or you have an existing offering you want to try and drive sales for, use the start of the new year to promote it.
To encourage people to try your new or promoted product or service, you can of course go down the familiar route of offering money off or a free trial. These are both effective techniques but to get more bang for your buck, run a social media campaign which will really help to build anticipation.
A great example is the band Coldplay who announced the release date of their sixth studio album, Ghost Stories on Twitter. To get fans really excited about the news, they ran a fantastic teaser campaign on the social networking site.
Three weeks before the release date, Chris Martin wrote the lyrics of nine different songs from the new album and hid them in ghost books in nine different libraries across the globe. Location hints and cryptic photos were posted and fans were also directed to the band's website for more clues. The prize wasn't just the handwritten note from Chris Martin however. The golden prize was a trip to London to see the band perform live.
The campaign became an international #lyricshunt which encouraged fans to get involved and send in their photos from the hunt. 14,000 tweets with the hashtag #lyricshunt were generated in the first day alone, proving the excellence of this campaign.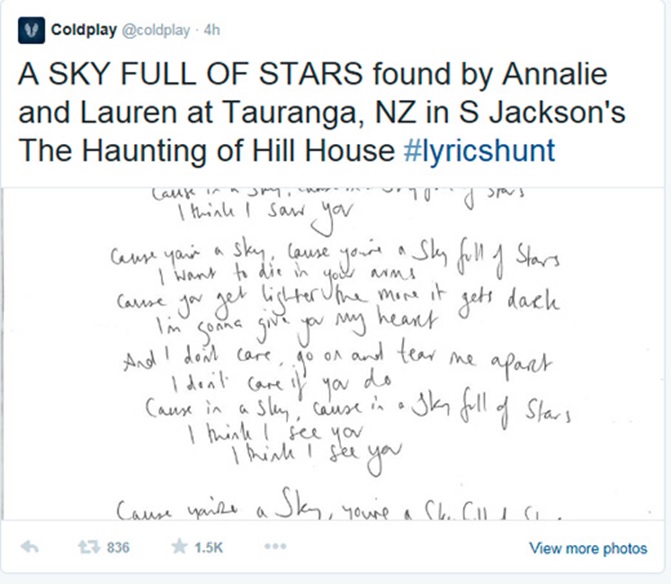 Why this works
Rather than simply announcing a new product or service launch, you're building up anticipation which ensures that people get more excited about it.
It provides you with social media content for days or even weeks.
Depending on the nature of your campaign, it encourages user-generated content.
By getting your followers involved, you can guarantee they will remember you and the campaign even once it has come to an end.
Creating a specific hashtag for your campaign increases brand awareness.
People will regularly check in with your page for updates.
You're also encouraging people to visit your website.
5. Pay attention to trends
One of the best (and easiest) ways to boost your social media presence in 2020 is to piggybank on popular social media trends. This will help to get your brand in front of thousands of users who never knew about you before.
The great part is that you don't even have to run a big campaign for this – simply pay attention to what's trending. For example, Twitter allows you to see the top trending hashtags so it's easy to find something to talk about from this list. Remember to include the hashtag in your post however and it's very important to only talk about things which are relevant to your industry.
It's no surprise that the day after the December general election this was trending on Twitter. Politics is always a risky subject to talk about on social media and is best avoided but if you can offer customers something valuable and relevant, it's ok. For example, companies who trade within the EU will now be worried about how Brexit will affect them which is something an accountant can help with.
How to find trending topics on social media:
In Twitter, simply click on the magnifying glass and it will bring up all the tending topics.
Instagram tells you how many times each hashtag has been used. This is very useful because the higher the number is, the more likely it is people are talking about that topic.
Click on the 'trending' tab on YouTube and it will show you all the current trending videos.
Google Trends allows you to enter a search term and view the historic number of searches on a graph.
Keep an eye on the news.
Read industry papers and websites so you're aware of any big news such as changes in legislation coming up.
Follow influencers in your industry on social media.
Why this works:
When you participate in trending conversations, other users will come across your profile and may follow your page, like your comment or respond. All of this increases your brand awareness.
You're showing customers that you're current and relevant.
It can help you find hashtags which are relevant to your business which is a great way of driving traffic to your page.
It can help you to identify trends within your industry which can help with product or service development.
Social media is the quickest way to discover conversations before they move onto other forms of media meaning you can stay ahead of the competition.
Taking the time to come up with a creative and engaging social media campaign can boost your brand visibility and user engagement and what better time to get started than in the New Year? This is a time when people are looking for a fresh start and to try new things, so putting in the work now can really help you get 2020 off to a successful start.