Email continues to be one of the most effective sales and marketing mediums for online businesses. Its (already excellent) ROI continues to grow, having increased from £30.03 per £1 spent in 2016 to £32.28 in 2017.
Email marketing is important for both businesses and consumers alike. 73% of businesses put email as their number one digital channel for ROI. Likewise, 58% of millennials prefer to be contacted by email than any other form of communication.
One of the reasons email marketing is so effective is because of the array of cheap or free software available to help marketers personalise and automate their newsletters. With one tool marketers can send beautifully designed emails, build a contact database using opt-in forms, build landing pages, set up automations and workflows, analyse their campaign data, and much more.
However, with so many options available, each with their own price points, benefits and specialisations, I'll guide you through five of my favourite email marketing tools that I think suit small UK businesses.
What to look out for in your email marketing software
Because there's such a choice of software available, it's important you list out your email marketing needs, so that you can whittle down the list and match the best tool for your requirements.
First of all, you need to define your budget so you can determine value for money. There are plenty of free options out there, and price points to suit all budgets. However, if you're a small business, most packages will cover your needs with an affordable price plan.
Next you need to think about the type of business you are. For retailers, you'll need to make sure your email marketing tool can be integrated with your ecommerce platform, whether that be Magento, Shopify, WooCommerce, or something else entirely. 
For lead generation businesses, you'll be looking for a tool which will help you to build forms to grow your contact database, and perhaps build bespoke landing pages to direct your email traffic.
Other things to consider are features like workflow development, webinar builders, and SMS messaging.
You'll also need to think about how in-depth your data analytics need to be. Most tools provide a decent level of insight, although the level of data you can access might depend on which price plan you choose.
Also, it's worth trying to match your software with your level of competence. Drag-and-drop tools are useful for absolute beginners, whereas software that allows bespoke coding functionality will allow the tech-savvy more control over their campaigns.
1. Mailchimp
Perhaps the most popular software, Mailchimp are the veterans in the email marketing world, and remain in the top 10.
Since they launched in 2001, they've grown from providing simple email templates to offering integrations with most ecommerce platforms, A/B testing, personalisation, bespoke landing pages and forms for building contact databases.
The in-built designer offers a good selection of templates which can be tweaked for your campaigns. You can add your own logos, text and images and save templates to reuse again. If you're a coding pro, there's also the option to build your own template from scratch.
Mailchimp is a good option for online retailers, with integrations with Shopify, WooCommerce and Magento.
It also does well on the analytics front, with the ability to monitor a campaign's success in terms of delivery, open and click-through rates.
Its support is pretty good on the paid-for tiers, and they have a vast library of tutorials and guides.
From a pricing point of view, Mailchimp is great for small start ups, with a free tier available for up to 12,000 emails a month. The downside of this is that the Mailchimp logo appears in the footer. The Grow package is more expensive – but not by much – at £8+ per month, and the Professional tier offers personalised support, advanced segmentation and testing at £155+ per month.
Price: Free up to 12,000 emails per month; Grow package £8/month; Professional package £156/month (prices vary depending on the USD:GBP exchange rate).
Integrations: Include Shopify, WooCommerce, Magento, BigCommerce.
Email templates: Yes.
Contact database: Yes.
2. GetResponse
GetResponse, like Mailchimp, is a user-friendly and relatively inexpensive email marketing solution.
Its best offering is its marketing automation tool which allows you to create easy or advanced workflows using a drag and drop method.

The drag and drop builder also allows you to build your email campaigns, segment contacts and send content targeted to specific groups.
Other offerings include a landing page builder, A/B testing, tracking and autoresponders (such as cart abandonment emails), as well as a webinar builder.
GetResponse integrates with OptinMonster, SalesForce, Google Docs, ZenDesk as well as ecommerce integrations with Magento, PayPal, Amazon Payments and Shopify among many others.
It also has good support via phone, live chat and email, and their help section includes a decent library of videos, webinars and tutorials.
Price: 30-day free trial and price plans vary from £10/month to £1,199/month.
Integrations: Include Magento, Shopify, Amazon Payments.
Email templates: Yes
Contact database: Yes
3. ConvertKit
ConvertKit's mission is "help creators earn a living online". It wants to help small creative traders grow their email lists and convert contacts into revenue.
Its main focus is "drip email campaigns" which means they major in helping users build workflows and sequencing them to achieve better engagement with their products or services.
It helps users build opt-in forms and will fit into any space on your website. They provide several templates to choose from or you can create your own forms using your own designs. Built by creators for creators, ConvertKits visuals are appealing and so using their templates is no bad thing.
It also has a broadcast feature which will allow you to send time-sensitive messages to relevant subscribers. These are useful for announcements, product launches or the launch of a new blog post.
It offers a wealth of integrations, including Zapier which allows you to set up "Zaps" to automate simple actions, such as adding a new lead from a Facebook ad to your ConvertKit form:

ConvertKit's customer support is good, offering easy access to their support team by raising a support ticket. It also has a decent library of resources and video tutorials. It also offers good advice for those switching from other email platforms like MailChimp and Active Campaign.
Price: 14-day free trial, then £22/month up to bespoke pricing for larger enterprises.
Integrations: Include Shopify, WordPress, Optinmonster, WooCommerce, Zapier.
Email templates: Yes
Contact database: Yes
4. Send in Blue
SendinBlue is a good offering for businesses who rely on SMS as well as email marketing.
It's a user-friendly platform – great for beginners and pros alike – using drag-and-drop design blocks.
Its automation tool helps users send emails, build workflows and segment customers. It also provides 8 workflow templates to work from, or the ability to create your own. It also advises the best time to send emails based on AI algorithms.
Its free plan is offered for up to 300 emails per day, but at the price of including their branding. The paid plans start at £15 per month all the way through to a bespoke package based on your email goals.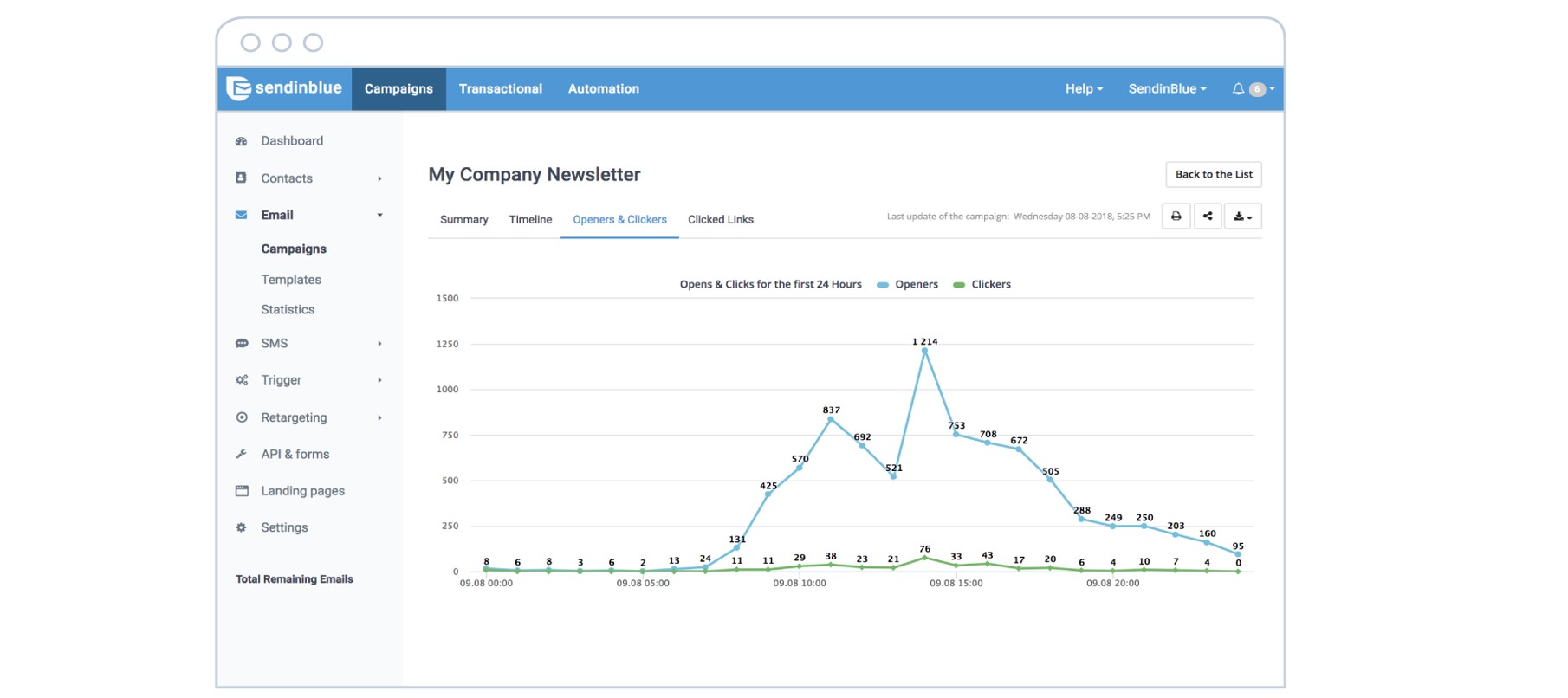 Price: Free to £30/month.
Integrations: Include Shopify, Magento, Drupal, WordPress and WooCommerce.
Email templates: Yes
Contact database: Yes
5. Constant Contact
Founded all the way back in 1995, Constant Contact is an old-timer in the email marketing world.
It's great for beginners, offering easy management of contact lists, email templates, and marketing calendars. Its real-time monitoring and reporting functionality is good, as is their graphics library and social sharing tools.
Their workflow and automation development tool is user-friendly, although its email templates are a bit underwhelming.

Its integrations include Shopify, BigCommerce and Magento as well as Facebook Ads.
Their basic plan at £15 per month is fine for smaller enterprises with modest email marketing goals. However, at £30 per month, the Email Plus plan allows for more targeted campaigns, targeted automation such as a welcome email series, behavioural email series, and A/B testing. Email Plus also offers extras such as coupons, polls, surveys, and online donations.
Constant Contact excels at its customer support, offering a wide range of ways to access help, and a vast library of resources. 
Price: 1-month free trial, then £15/month for Email tariff, £30/month for Email Plus.
Integrations: Include Shopify, BigCommerce and Magento
Email templates: Yes
Contact database: Yes
In summary
There's an abundance of email marketing tools available on the web, and each has different focuses and specialties. And of course they all come with their own set of pros and cons and price points.
This article provides you with an overview of just five of the tools out there, and the five I picked are those which offer the biggest range of functions for UK SMEs.
That said, my advice is to do your research, matching the software with your unique email marketing goals as closely as possible. Make use of the free trials and demos where they're available. After all, it's not until you get to try out a piece of software that you get a true sense of whether it'll work for you.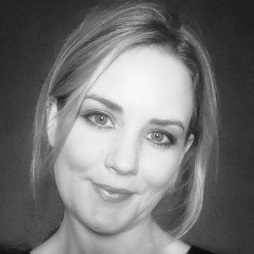 Charlotte Jenkins is an Oxford-based content marketer. She has several years' experience in content writing, editing and digital marketing, helping clients communicate their businesses online.
Read full profile