The way that your business interacts with your employees is very important. Whether it's a Monday morning meeting, reading a poster on a wall or receiving an email, it's these everyday engagements which ensure that everyone knows what's going on within the organisation.
How well a message is communicated is just as important as the message itself however and this is why internal communication channels are so important. You would after all, think long and hard before sending out a marketing campaign because you know it's important to speak to customers in a certain way. Your employees are no different and how you're engaging with them can have a huge impact on the culture of your organisation.
With so many different internal communication platforms to choose from in today's high-tech workplace, how do you know which one to choose? Below I share the pros and cons of five of the most popular and effective options.
1. Email
Email is the simple, effective and obvious choice when it comes to liaising with employees. Yes, it's overused and we spend much of our day trying to clear our inboxes, but for startups and SMEs that don't have a lot of money to throw at an internal communication system, it's perfect.
What are the benefits of email as an internal communication channel?
You can keep your communications as basic or elaborate as you like. From plain text to video and templated emails, how creative you are with your messages is entirely up to you.
A simple email takes seconds to write and send and can reach a huge audience at the simple click of a button.
Everyone knows how email works – you don't have to teach employees how to navigate complex systems.
Employees can access their inbox even when they're working remotely.
You have a permanent record of all communications sent out and you can even set up read receipts so you know when employees have read your email.
What are the cons of using email?
We're inundated with emails every day so it can be easy to miss important messages.
A one-to-many communication approach doesn't promote discussion and engagement. People will probably read your email and then simply forget about it.
Top tips to help you get the most out of it:
Have a dedicated email address where employees can send questions, comments and feedback.
Only send out emails when it's necessary. If you message employees about anything and everything, eventually, they won't even open your communications.
Use analytics to measure the success of your campaigns. Many email providers such as MailChimp tell you how many people opened your message and which links they clicked on. This gives you a great idea about the type of content your employees want to see and whether or not they're taking the desired action.
Some other great email marketing platforms you can use which are well suited to beginners and small businesses include Constant Contact, SendinBlue, ConvertKit and GetResponse. You can of course simply use your existing email account but using platforms like these will give you access to valuable data which will help you to determine the success of your communications.
If you're not sure where to start with your internal emails, you may find some of these blogs helpful including 'Five of the best tools for email marketing,' 'Five common email marketing mistakes and how to avoid them' and 'How to improve click through rate (CTR) on your email campaigns.'
2. Intranet
An intranet is a private network only accessible to your staff. From sharing company information, centralising access to resources, directories and training materials to publishing news, blogs, forms and messages, an intranet provides a solid framework for all your communication needs.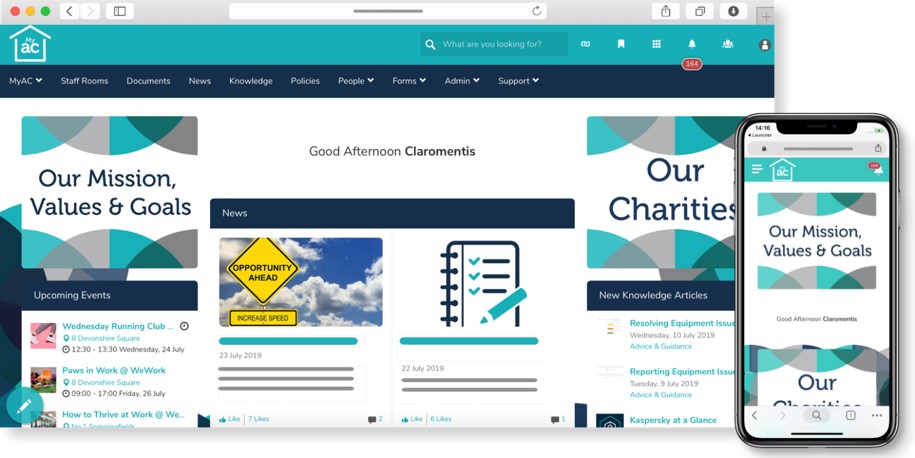 The benefits of using an intranet: 
Employees know exactly where to go to find out the latest company news and information.
With the ability to like and comment on posts, it encourages employees to communicate with each other. By prompting discussions, it can also help you to identify experts within the company who are happy to share their knowledge.
If someone has a question, they can reach out to the whole company to ask. This will lead to a quicker response time compared to waiting for a specific individual to reply so the person can get on with their work faster.
In order to bring out the best in your employees, it's important to create an environment where they feel comfortable sharing their thoughts and opinions. While someone might not feel comfortable asking a question in a meeting or personally praising someone for a job well done, they're more likely to comment on a post on an intranet. When we feel empowered to open up at work, we build stronger relationships with our colleagues – this fosters a deeper understanding of each other, builds trust and empowers individuals to contribute their full value.
It connects your company across different locations and time zones which is great if you have international offices.
It's a valuable tool for onboarding – new employees can find everything they need in one easy-to-access place.
What are the downsides of using an intranet?
They can be expensive and time-consuming to implement and maintain.
If the system isn't user-friendly, it could affect productivity. On the other hand however, if there are a lot of conversations taking place, it could become a distraction.
Top tips to ensure an intranet works well for your business:
Dedicate time to training people on how to use it properly so they can get the most out of it. Make sure new employees are taught how to navigate the system as well.
Think of your intranet as a website – anything your employees need to access should be available to them at any time. Whether they want to read the latest blogs or download training materials, everything should have its own section and be easy to find. The more user-friendly your system is, the more likely people are to use it and the less time they'll waste trying to figure out where everything is.
Encourage people to use the intranet for all internal communications. If everyone knows how the system works, there won't be any confusion with some people using email and others using the intranet.
Softwareadvice.com has a handy list of all the top intranet software for 2020 including reviews and prices.
3. Newsletters
Whether it's in print or electronic form, employee newsletters can be an excellent and highly engaging internal communication channel.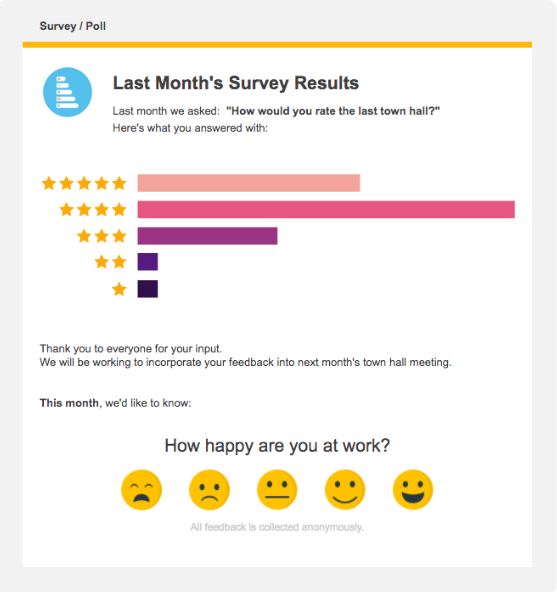 Some of the benefits of employee newsletters include:
Rather than everyone sending random internal emails (which can easily get missed) every time something happens, sending out a newsletter every quarter for example, provides employees with the necessary information they need without inundating their inboxes.
You can reach everyone in the organisation at the same time rather than having individual discussions with different teams.
Employee newsletters can instill the desire to become more active in the company culture and work environment. The fact that their colleagues, superiors (and even friends and family if forwarded on) receive information about their achievements, can be a huge driver which leads to a more motivated and productive workforce.
Internal newsletters are great for setting the tone and culture of your company. When done correctly, your newsletter can reflect your values which makes it easy for your employees to understand.
It's cost effective. Even if you want to get a bit more creative with your design and monitor open rates, sites like MailChimp are free. This is great for smaller organisations or those who don't have a lot of money to spend.
Some of the challenges associated with internal newsletters include:
If you use it as your sole source of communication and some people don't read it, they may have missed out on important information.
If you're putting together a really great newsletter full of interesting information where different members of staff collaborate, it can be time consuming.
Top tips for making newsletters work as one of your channels of internal communications:
Have a good balance of business and social content. While it's crucial to get important messages out there, if it's too serious, people won't even open the email.
Have a range of contributors to increase credibility and readership. People are more likely to engage with your newsletter if lots of different people (including themselves) have played a role in creating it.
Use your newsletter to communicate the goals and visions of your organisation. This allows people to take enough time to think about them and even go over them again if necessary.
Have a section for recognition. This could be birthdays, promotions, new employees, qualifications gained, projects completed or simply a job well done for something. Recognition is a great morale and productivity booster. People are also a lot more likely to read your newsletter if they think there's a chance they could be mentioned in it.
If you're looking for newsletter software, any of the email marketing providers mentioned above will work great. Alternatively, there are a number of other platforms available including Benchmark, Mailjet, MailUp and Campaigner.
4. Video
Video is one of the most effective internal communication channels – especially when they're carefully scripted, crafted and produced for a specific purpose. Internal or external, a video can communicate your message in an engaging, inspiring and memorable way. What's more, people just love to share video content so you're even working on your brand awareness at the same time.
The other great thing about video is that the complexity of them can vary depending on the resources you have available. You could do a simple photo collage with captions and music or you could go all out and have a professionally filmed creation.
Some of the benefits of using video as an internal communication system include:
Being able to see someone's face is more personal which is great for helping employees get to know people they wouldn't normally liaise with.
Because video can combine visuals with sound, it's far more engaging which means that employees are more likely to open and respond to your communications.
People are easily distracted these days but the beauty of video is that it allows you to get your point across in less time so you don't lose your audience.
Producing video is a skill. Once you've mastered it for your internal communication channels however, you can then use your new talents to create video content for your website and social media channels.
Videos can be hard work to create however, some of the cons of producing this type of content include:
From writing scripts, putting together a cast, filming and editing, video can be incredibly time consuming.
Not everyone is comfortable being in front of the camera so you may struggle to find a big selection of people willing to contribute.
Top tips for creating internal video content:
Video is very popular on social media and sites like YouTube and TikTok are dedicated entirely to this medium. Chances are you have a couple of employees who are already experts when it comes to creating video so ask if anyone is keen to help out.
Create help and advice videos because this can save your business a lot of time in the long-run. Say a new employee needs help setting up a particular software system for example. Rather than emailing someone back and forth and sending across various screenshots, only to still be confused until someone physically comes over and helps them, a video allows you to perform this point-and-show manoeuvre without the need for an IT person to even be there.
Platforms like Vidyard GoVideo allow you to store your videos instantly and securely and you can even track when they're being watched and who engaged with them.
Get the whole company involved. Nobody wants to watch countless videos of the CEO talking about profits. By really mixing up your content and the people in it, you're more likely to keep your employees engaged.
Some popular video creation software tools include Promo, Vimeo, Moovly and Renderforest. You may also find this blog helpful: 'What video platform should I use?'
To familiarise yourself with video and how to make great content, have a read of 'How to create the perfect video for your email marketing campaign' and 'How to create marketing videos on a budget.'
5. Apps
Internal communication apps enable your employees to talk, share and communicate with each other beyond traditional channels such as the phone and email.
They provide a fully customisable channel for delivering text, audio and video content and with staff able to access anything from news and blogs to notifications, executive updates and recognition, they can really help to boost productivity too.
Some of the advantages of internal communication apps include:
You can reach staff whether they're in the office, working from home or sitting on a train.
It facilitates group conversations and instant communication.
You can ensure that all staff receive the same information and can access it whenever they need it.
Processes such as requesting holiday leave can be centralised.
You can reduce your carbon footprint. If all onboarding information is stored in the app and new starters can digitally sign contracts, there's no need to print endless paperwork.
They're a great way to get employee feedback as shown in the example below. When it comes to more sensitive topics, it may help to make responses anonymous.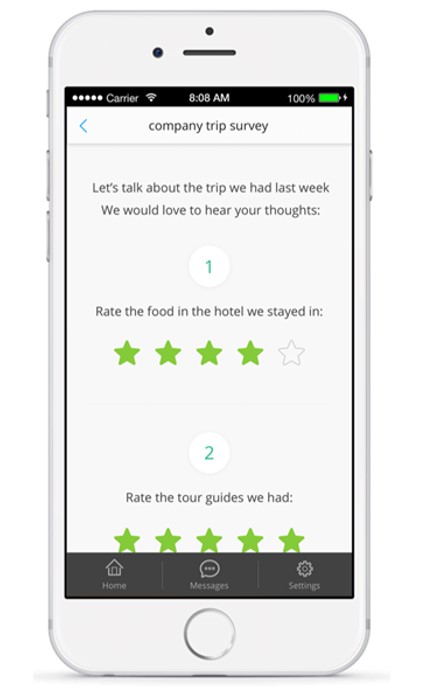 The cons of using internal communication apps include:
It's unlikely to be something you'll be able to create yourself so it won't be cheap.
Apps require constant updates because of bugs and glitches.
Under GDPR rules, you will need to ensure than any sensitive employee details are kept safe.
Some top tips for getting started with your app:
Do your research. Do other businesses use an internal app? Would your employees use it? If you had an app what type of functions would your employees like to see?
Test your app on real users before rolling it out to everyone. This means you can deal with any errors and crashes before it fully goes live. If everyone's first experience is a negative one, they will be reluctant to use it again.
Ensure your app is compatible with all devices so all your employees can access it.
Security is very important when creating an app. Ensure that network traffic between your app and the server is encrypted and involves user authentication and authorisation if you're communicating sensitive information.
Check your app has scope for growth. It might start small but in time, with more people using it and more information being shared, you'll need to be able to scale your app.
If your IT skills are up to scratch and you would like to build your own app, some great platforms include Appery.io, Mobile Roadie, Good Barber and Appy Pie. You can also have a read of 'Apps for small businesses: app-building on a budget' for some more great advice.
Which internal communication system is best for my business?
This handy table can help you to decide which internal communication channel is best suited to your business.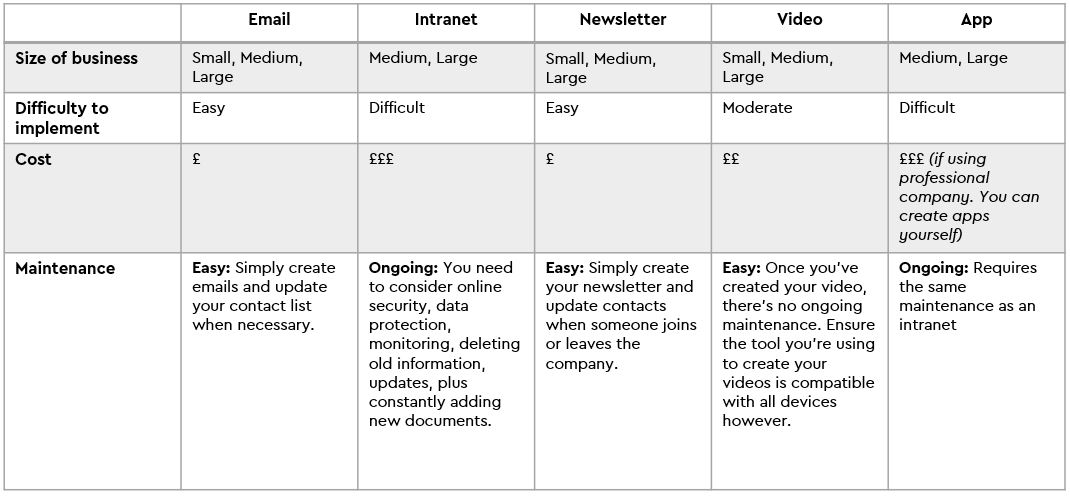 It may feel daunting getting started with your internal communication channels but it's well worth investing the time and money into this area of your organisation. If done correctly, it will even pay for itself in time. After all, a more productive and engaged workforce can only lead to more customers, sales and profits.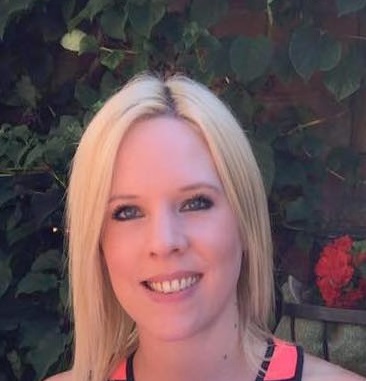 After completing her degree in Journalism, Monique began her career at a digital marketing agency. It was here she discovered a passion for online marketing with a particular focus on content creation for the web. Six years ago Monique set up her own copywriting business, Copyworks Group, which specialises in creating content for websites, blogs, newsletters and social media pages.
Read full profile