While many great things have come from the invention of the Internet, for business owners, one of the best is webinars. This live, web-based video conference tool allows organisations to connect with viewers and listeners all over the world.
According to research conducted by GoToWebinar, 73% of B2B marketing and sales leaders do in fact say that webinars are the best way to generate high-quality leads. As well as this, B2B professionals also said they rank webinars among the top three content types they find most engaging.
Perfect for professional events where you want to deliver presentations to larger audiences, examples of the types of webinars you may host include:
Details of a new product launch
Product demonstrations. 76% of B2B buyers say they've used webinars in the last 12 months to make a purchase decision
Interviews with industry experts about topics your audience will find interesting and relevant. Enlisting the help of a third party can also bring in new listeners who may never have heard of your product or service until now
Q&A sessions. This allows you to show off your knowledge and show customers that you care about helping them
Case studies. Ask clients if they're happy to share their story and give out any tips or advice they have to offer
What are the benefits of hosting a webinar?
You have a number of different options depending on how comfortable you are in front of the camera. You can show yourself speaking the whole time, have only slideshows and demonstrations on display or have a combination of the two
You can reach out to a large audience at the same time
You get to prove that you're an expert in your field
It gives people a taste of how you can help them which means they're more likely to remember you in the future
By offering people something for free, they're more likely to use you in the future because you've already delivered value before they've paid a penny
People usually need to register for these events which means that you can follow up with them to find out if there's anything else they would like help with (with the right permissions)
Interactive features mean that the audience can ask questions which encourages people to engage with you
How do webinars work?
After you've decided on the type of webinar you're going to host, the next step is to set a time and date and promote this to your target audience. There are many great ways to promote your webinar and encourage sign-ups, from promoting it across your social media pages, to sending out an email or adding it to your website and email signature.
A webinar typically begins with anyone who has registered signing in at the time it starts. Please note that you and your attendees will all need a reliable Internet connection and only you will require access to a microphone and camera (most laptops have them built-in).
Once your session has populated a bit, you can begin your live stream. Although all the viewers will be able to see you, you won't be able to see them.
From here, you can get into the purpose of the webinar whether it's you giving a product demonstration, interviewing a guest or providing educational information on a specific topic. There are a number of features you can add to your webinar including:
Videos
PowerPoint presentations
Desktop sharing to show digital graphs, tables, keynotes and photos
Polls and surveys
Recording broadcasts so people can watch later
While this part of the webinar tends to be just the host or their guest speaking, it's important to encourage some form of interaction at the end such as through a Q&A session.
What's the best webinar software to use?
Now you're sold on the benefits of this video streaming service, it's time to find out what the best webinar software is. While this list is by no means exhaustive, the tools below are well suited to SMEs who have time, cost and ease of use in mind.
YouTube Live

Contrary to popular belief, there's so much more to YouTube than funny cat and 'how to' videos and because it's so easy (and free) to use, it's a great place to start if you're new to the world of webinars.
Originally there were two options for going live: Stream Now and Events. YouTube has announced that these live streaming tools are going to be replaced soon with a Live Control Room (currently available in the beta version of Studio), combining the classic desktop streaming tools with more advanced features.
YouTube is now encouraging users to stream using an encoder (device or application that converts your content into a digital format), although you are still able to go live with a webcam without updating any of your software. You can find out more about creating a live stream using an encoder here.
Pros
It automatically makes sure all viewers, regardless of device or network, can watch your stream
Most people already have a YouTube account or are familiar with the platform which means you have the potential to reach out to a massive audience
Live chat option
There's no viewer limit
Benefit from in-depth analytics buried within the platform dashboards
You can stream from a mobile device
API access lets you either stream from within the platform itself or by a third-party client which gives you extra features (for example, Wirecast)
Cons
Any time you broadcast or upload content via YouTube, it gains access to your material in its own advertising
Some companies block their employees from looking at YouTube which could be an issue if you're hosting your webinar during office hours
Getting started with YouTube Live
If you haven't already, simply set up a YouTube account. They will need to verify your identity with a phone number so it can take up to 24 hours to get access to live streaming. Once this has happened however, you can go live instantly. 
If you're new to YouTube Live, these handy instructions provide a helpful guide to get you started with streaming.
GoToWebinar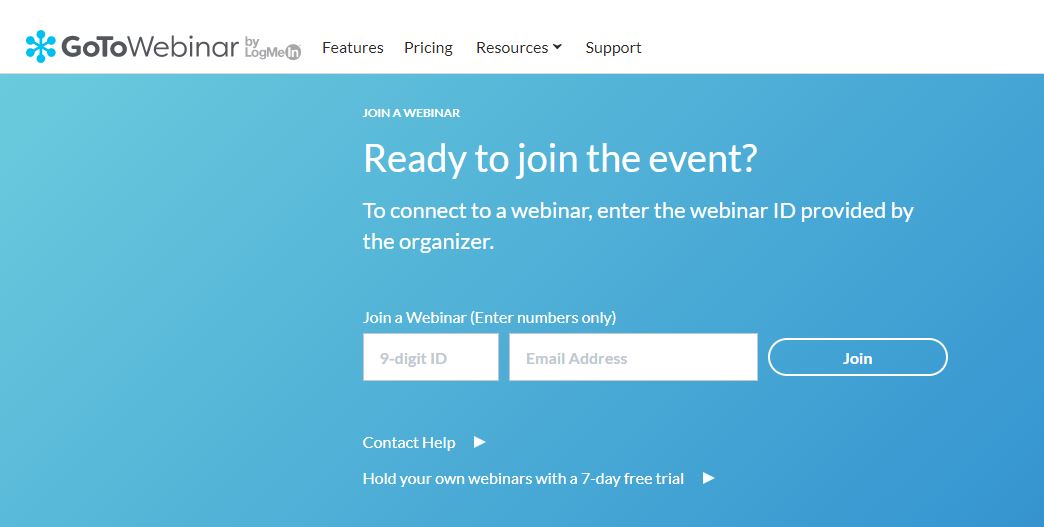 If you're looking for a platform that offers enterprise features and enables you to cater for a specific clientele, GoToWebinar is a great option. It's a webinar-specific platform with enterprise-level security and features that cater to businesses looking to conduct events for potential and existing clients or investors.
It boasts a number of impressive features including automated email reminders, customisable invitations, built-in polls and surveys, automatic recording and options for promoting your event.
Pros
You can add up to 24 panelists 
Dual screen support
You can conduct practice sessions
Custom branding and email invitations with reminder alerts
Analytics
Archived recordings
You have a free 7-day trial and after that, there are a number of paid packages available
Cons
You and your attendees will need to download software before being able to use the programme
You can't host the webinar directly from your website
Getting started with GoToWebinar
Everything you need to know about getting started can be found on the GoToWebinar website. Here you can find plenty of helpful information including FAQs, their resource centre, blogs and sign up for a free trial.
Adobe Connect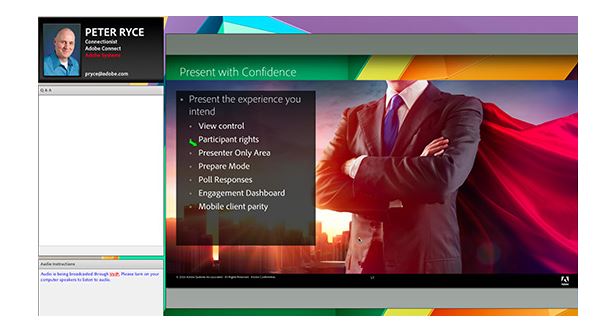 Adobe Connect has a number of online conferencing and training solutions, one of them being Adobe Connect Webinar. Through this platform, you can invite participants to join in even if they don't have the app.
Adobe Connect Webinar allows you to stream presentations, conduct polls, coordinate with multiple presenters, get real-time audience feedback and access an engagement dashboard which analyses audience engagement.
Pros
You can have anything from 100 to 1500 participants depending on the package you opt for
A variety of templates are available so you can customise your webinar
Integrates with a number of CRMs 
Prepare mode allows you to work behind the scenes
Rich multi-media options
High quality audio and video
You can customise your registration forms 
Analytics and tracking
Free trials are available
Cons
One of the highest prices for webinar software
Longer videos can apparently stall, buffer or refuse to play during webinars
Getting started with Adobe Connect
Adobe provides a number of ways for businesses to find out more about their products before committing such as signing up for one of their daily demos, training or on-demand webinars. To find out more about on the Adobe Connect Webinars website.
WebinarJam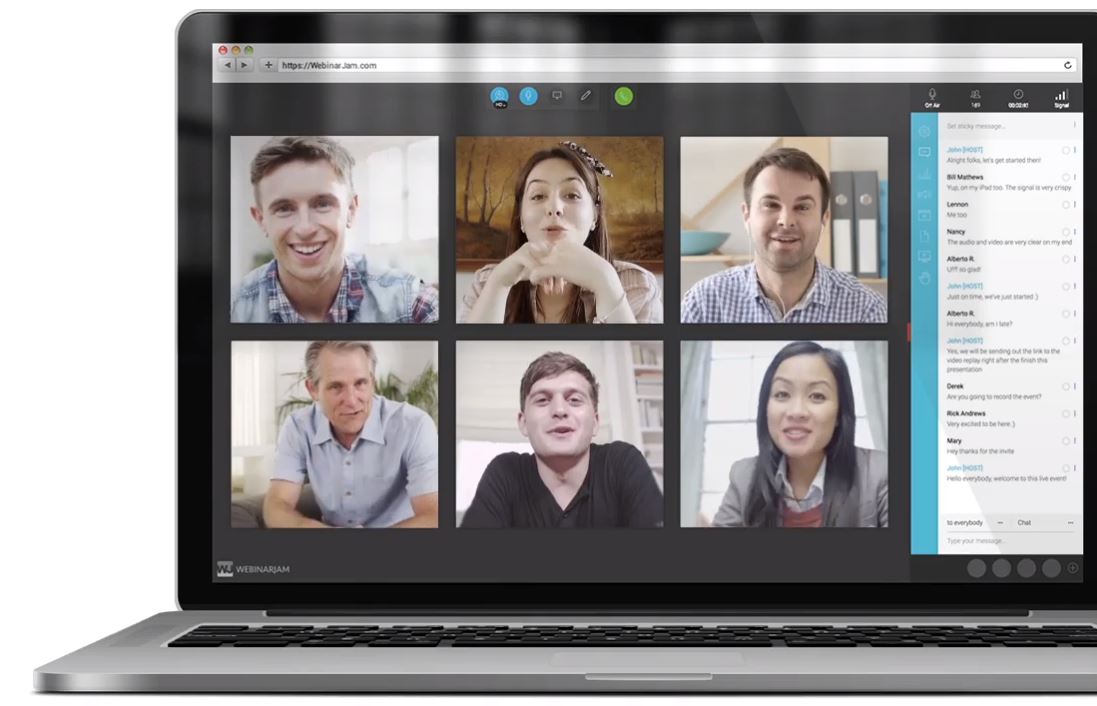 Often hailed as one of the best webinar software programmes available, WebinarJam is perfect for businesses who want to host sessions to sell a product or service. Because it's so simple to use, it's great for those with little or even no technical knowledge.
You can also add pre-recorded videos to your webinar for perfect presentations and each session is automatically recorded so you can add it to your website, social media pages or email it to those who couldn't tune in live.
Pros
Great for those who are new to webinars
You can stream directly to a YouTube page
Secure webinar rooms with password protection
Advanced analytics and tracking
You can add up to six co-presenters
Live chat function alongside virtual whiteboards and polls 
Provides pop-ups which allow your audience to buy the product or sign up to your service directly from the webinar
Cons
It can be a bit more expensive compared to other webinar software programmes 
You can't do too much when it comes to customising landing pages with brand colours or layout
Getting started with WebinarJam
You can find out more on the WebinarJam website. 
Zoom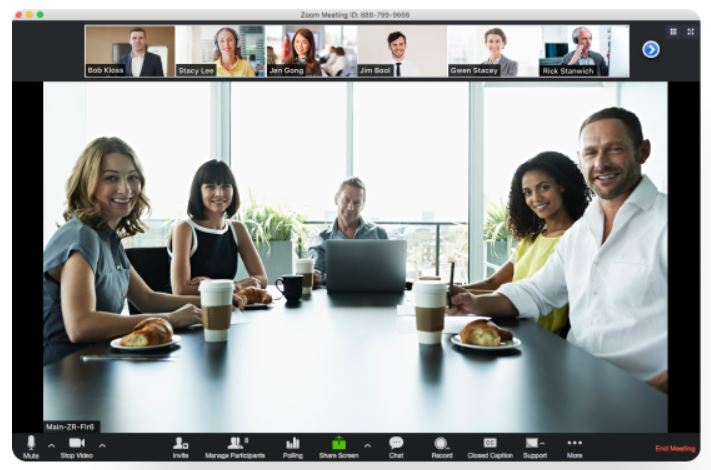 Zoom is intuitive, cloud-based, has a user-friendly interface for easy use and is a great option if you're on the hunt for free webinar software. Just a few of its many features include HD video and audio, screen sharing and live broadcasting. 
You can integrate Zoom with Google calendar and Microsoft Outlook so users can schedule meetings and send emails seamlessly. There are a number of pricing packages available including basic which is free and then Pro, Business and Enterprise which are a monthly subscription. You can find out more about pricing options on the Zoom website.
Pros
Easy set-up and registration
Options to have public or private chats during the live webinar
Free webinar software for up to 100 participants
Several different pricing options are available if you wish to upgrade
User-friendly and easy-to-navigate dashboard
Reports and analytics
Event assistance if you need help hosting or planning your webinar
Cons
Some reviews suggest it's heavy in the use of CPU resources which can slow down your computer and affect its overall performance. If your computer is less than two years old this is unlikely to affect you but older devices might struggle
There have been some concerns over security
Getting started with Zoom
You can schedule a live demo of Zoom which is a great way to find out more about the webinar software and all its functions. It will be held with a product specialist which means that they can also answer any questions you may have.
Alternatively, simply head over to their website where you can sign up and get started for free. If you get stuck at any point, there are a number of 'how to' videos in their webinars and events sections.
Webinars are a powerful tool for any organisation and hosting your own event can be a highly effective business development strategy. From attracting new clients and increasing brand awareness to growing your business, you're sure to reap the benefits in no time – especially with these webinar software tools to lend you a helping hand.