Facebook Live is a must for brands looking to raise their online profile and increase engagement with their fans. The Facebook audience is bigger, more active and better engaged than that of any other social media platform.
We've already explored how SMEs can use Facebook Live to raise their brand awareness. But success can be also measured in other ways such as how well your audience engages with your broadcasts.
Whilst likes, shares and comments don't directly translate into revenue, they're all metrics which can give an indication of how your brand is valued by your audience. High audience engagement usually indicates a loyal and returning customer base and plays an important role in driving sales in the long run.
Facebook Live lends itself brilliantly to those wanting to engage with their audience. And there are plenty of brands out there who are doing it well.
We'll take a look at four of those brands and determine which tactics can be adopted by SMEs as part of their Facebook Live strategy.
1. Starbucks
Community outreach
Starbucks has been active on social media for a long time. It uses it not only to showcase its products, but also to draw attention to its more peripheral work on social and community projects.
Its social feeds, particularly Instagram, Facebook and Twitter, all give us a glimpse of its outreach work with the military and their families, with the deaf community, on gender pay equality, environmental causes, and the LGBTQ Pride movement.
In 2016 we saw it get involved in politics when it went live from Rufus King Park, Queens, NY to celebrate National Voter Registration Day. Its aim: to bring attention to voting and the importance of having a political voice.
The live stream began with two female representatives of Starbucks talking to camera and circulating around the park to talking to volunteers and setting the scene. They were then followed by Starbucks CEO Howard Schultz, and rapper Common, who took to the stage to discuss the importance of voting.
The stream had been trialed in advance to encourage Starbucks' followers to ask questions in the comments section.
Although the Starbucks reps weren't able to respond to the hundreds of comments that came flooding through, they managed to reply to some, answering directly by name.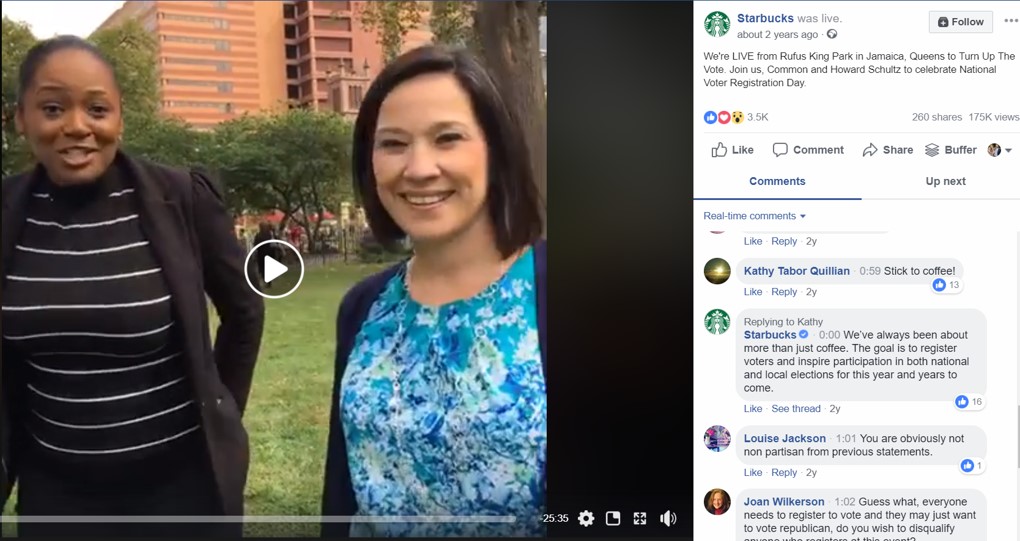 Live creative interaction
More recently, in the lead up to Christmas 2017, it went live to create a giant festive mural based on live audience suggestions and requests:
"Tell us what you look forward to sharing most during the holidays, and it could be selected by our studio artists to be added to our mural—LIVE!"
It was an epic example of audience participation. The result: 1,142 shares and 1.2 million views.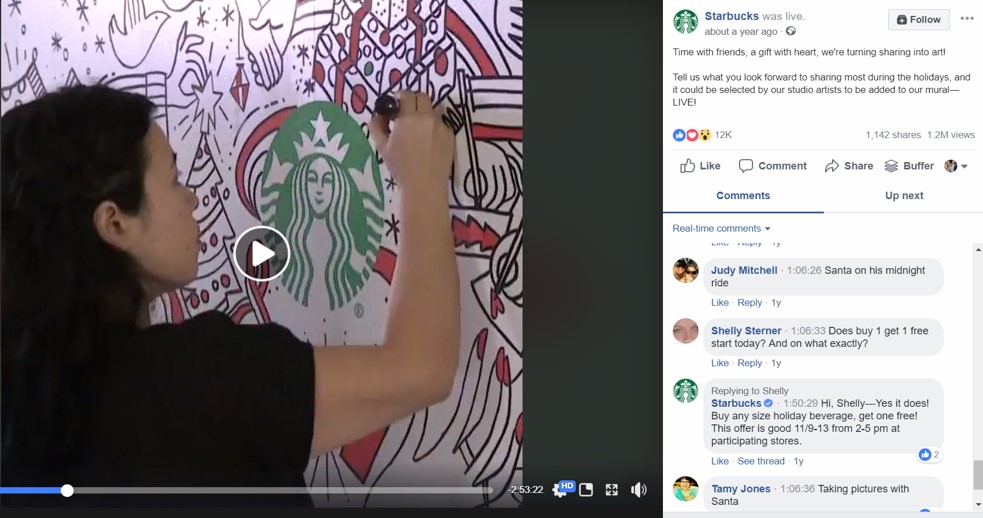 These two campaigns, although different, both allowed Starbucks to demonstrate its community-focused standpoint. It put them on the map as something other than a heartless conglomerate. Rather, a company that's in touch with its customers and the issues they care about.
For SMEs looking for inspiration, Starbucks is a good brand to watch. If your SME takes an interest in community projects, then get involved and showcase your contribution.
Or if you want to engage with your audience around holidays and festivals, then get creative and encourage your followers to participate. It's a great way to have fun whilst encouraging two-way engagement with your audience.
2. Marie Curie UK
For 70 years, Marie Curie has been providing invaluable care and support for terminally-ill patients and their families.
More recently it's been turning to social media to raise its profile and build engagement among its followers.
Live Q and A
Live Q and As are a tried and tested tactic to increase engagement. In the following film, Marie Curie broadcast a live interview between their CEO, Dr Jane Collins, and author and palliative care doctor, Kathryn Mannix, who'd recently published her book "With the end in mind".
They discuss all the difficult subjects around death, dying and bereavement, encouraging the audience to put forward questions that they aim to answer in real time.
20K people tuned in to watch the Q and A and comments and questions flooded in.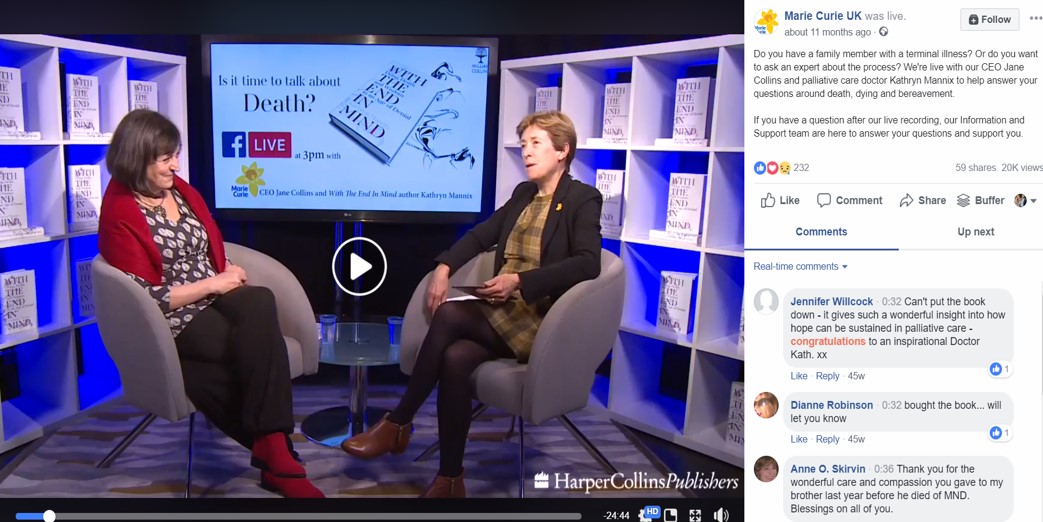 Behind the scenes at a hospice
This video sees Karen, a physiotherapist, showing us around the Hamstead Marie Curie hospice to raise awareness of Hospice Care Week.  Meanwhile, Adam was charged with the task of taking questions live from the audience ready to ask Karen at the end.
The broadcast received 117K views and 223 shares. Along with many live questions and comments.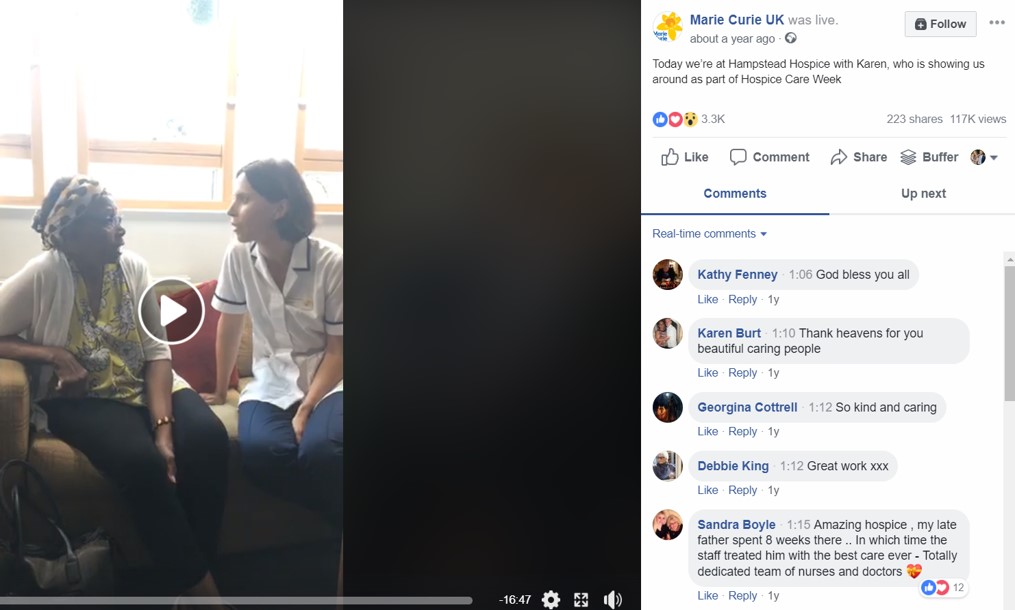 Smaller NGOs can take a leaf out of Marie Curie's book.
Q and As are a relatively straight-forward content type, especially if you happen to be putting one on at an event anyway. There's something about the immediacy of the interaction that makes a brand seem that bit more approachable.
Make sure you encourage your followers to ask questions throughout so that you can respond to them during the session or save them up for the end. You'll need to consider the logistics of this task, however. Trying to multitask hosting a Q and A whilst taking live questions from your online audience might be too much to commit to. Nominate a colleague to deal with your online followers to free you up to deal with the task in hand.
As the second example shows, behind the scenes also work well to engage an audience. People love to see a glimpse of what goes on backstage. Film a live tour of your charity's premises or film the work you do on the ground. If you're clever – and rehearse well in advance – you could respond to questions throughout the piece so you can respond to any requests to check out something that's of interest to your audience.
3. Hello Fresh
Live events and prize incentives
Hello Fresh, known for delivering weekly recipes and pre-portioned recipes straight to customers' doors, have been getting creative with live cooking "events" on Facebook.
In the run-up to Christmas 2016, it hosted a series of "live Christmas parties", where it invited viewers to join in as their chefs cooked up a storm. Viewers were encouraged to post comments, questions, and share their favourite festive desserts in exchange for the chance to win a Nutribullet.
The campaign worked well because it tapped into its audience who, whilst keen on food, aren't necessarily confident in the kitchen and want to have fun while they cook. The live interactive allowed viewers to ask for tips from the chefs directly, and get immediate answers. It also encouraged viewers to cook along in real time and enjoy the fruits of their labours at the end.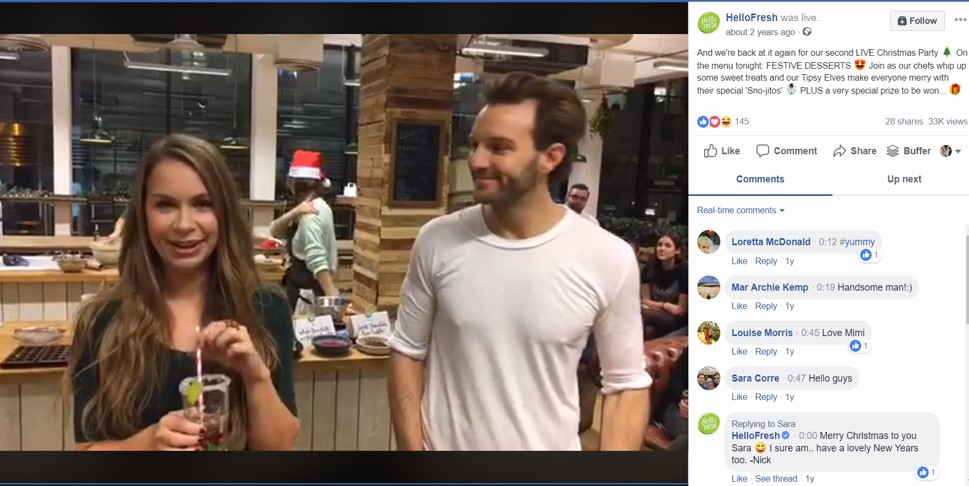 The series not only saw an engagement rate of 74k views and 65 shares but also earned a nomination for the Digiday Awards 2018.
SMEs can adopt some of these tactics too. Live demos are a simple way of creating useful and shareable content. If you have a product or service that lends itself to a demonstration then give it a go. Choose a product you're proud of and give your followers a reason to tune in. This might be the chance to win a prize or voucher for every comment or share.
You might want to consider the host of your demo. They need to be well-acquainted with the product or service because they'll be under pressure from being live, but they also need a stage-presence to encourage engagement. 
4. Benefit Cosmetics
How-tos
A beauty brand that is acing live tutorial sessions is Benefit Cosmetics. In fact, in the few weeks leading up to Christmas this year, it's gone live on Facebook around once a week.
Its most engaging content pieces are the beauty how-tos, such as its live brow wax marking National Brow Day in October 2018. Fans tune in – often with the chance to win a prize – to learn beauty tips and tricks from Benefit experts.
The audience is also invited to type their questions for both the beauty technician and the model and hopefully receive real-time answers.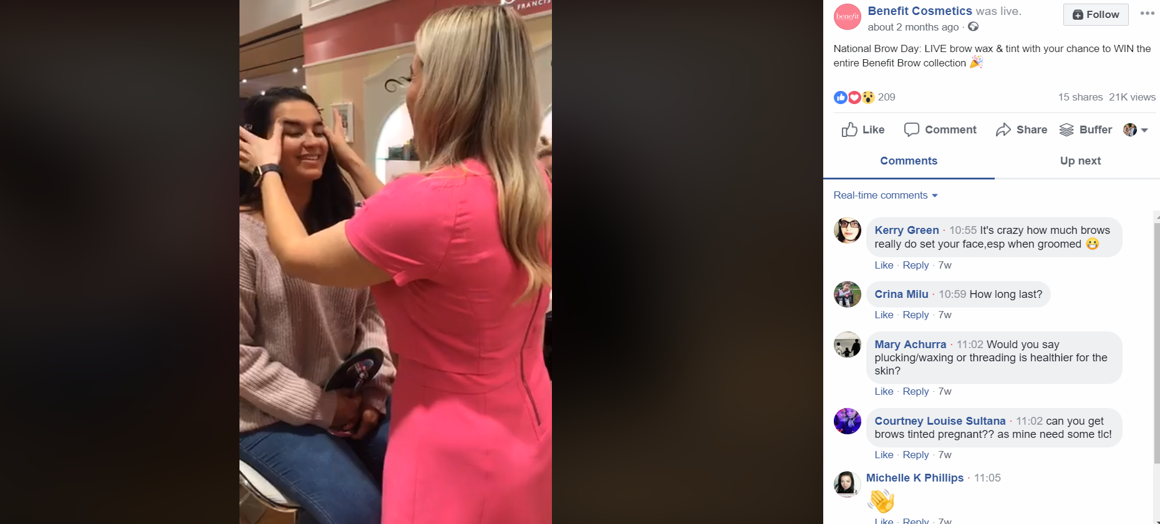 SMEs with some expertise to offer can take advantage of this tactic. If your company provides a service – like hairdressing, beauty, gardening, DIY – then you can show off your expertise on a live broadcast.
Choose your highest selling product type, or use your social analytics to determine your most successful content areas, and this should be your subject. Your broadcast will need to be well-planned, however. Whilst a scripted how-to will come across as unapproachable, you will need a good idea of the outline of your piece, and which topic areas you'll cover. Cue cards will also help you to stay on track as you go live. 
In summary
Over the last few years, social media has become an increasingly immersive experience. Brands are beginning to talk directly to their customers via live Stories on Instagram, and Facebook Live is enabling brands to simultaneously broadcast to – and engage with – their followers.
From live Q and As, to behind the scene tours, to live demos and how-tos, brands are finding new and creative ways of looking down the lens at their customers and giving them a reason to choose them.
How you go about your Facebook Live campaign is really down to you. You can keep it simple at first and take your fans on a behind-the-scenes tour, or you can go all out and host a live "event" to showcase your brand and encourage audience participation.
Whatever tactic you take, make sure you prepare well in advance, and let your audience know you'll be going live. And once you've stopped rolling, make a note of what worked and what didn't. Look at your comments, likes, and shares and use these to determine how you approach your next Facebook Live broadcast.