We've written before about the way the internet has changed recruitment, and one of the things it's done for job candidates is made it easy to showcase work online. We're not just talking about the extraordinarily creative CV sites that pop up from time to time (who can forget designer and developer Robby Leonardi's video game-style interactive resume?). Certain kinds of job – particularly creative ones – require a portfolio, and today we're looking at some fantastic examples to give you some inspiration for your own.
1. The graphic designer
You'd expect a graphic designer to have a great website, and that of freelancer Matt Hollands doesn't disappoint. His sleek homepage immediately showcases an example of his design work in a striking way, with minimal copy 'above the fold' to detract from the flyer image.
The top navigation is simple yet effective, and I particularly love the "Start Your Project" call to action encouraging potential clients to get in touch. Scrolling down to find out more, the site is a great advert for the "Simple, honest and thoughtful" design that is his trademark.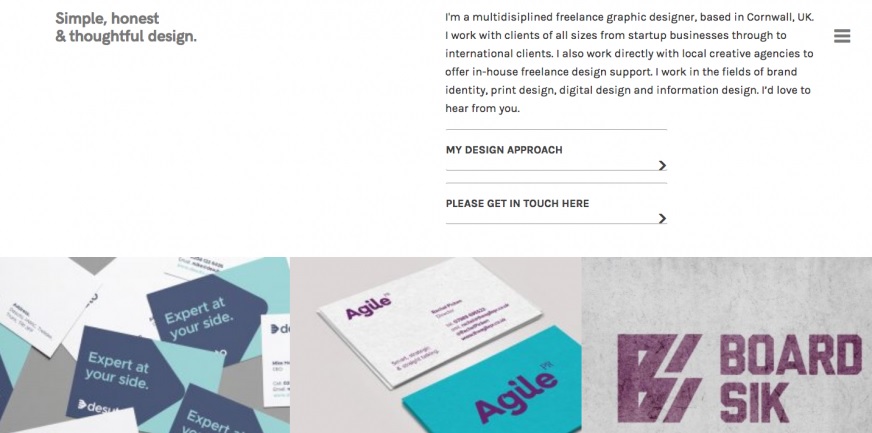 Matt's portfolio is a simple tile layout, with titles and a link to more information appearing when you scroll over each one. Clicking to find out more, readers get lots of helpful insights into each project and Matt's approach to it, such as this one on his work with Agile PR.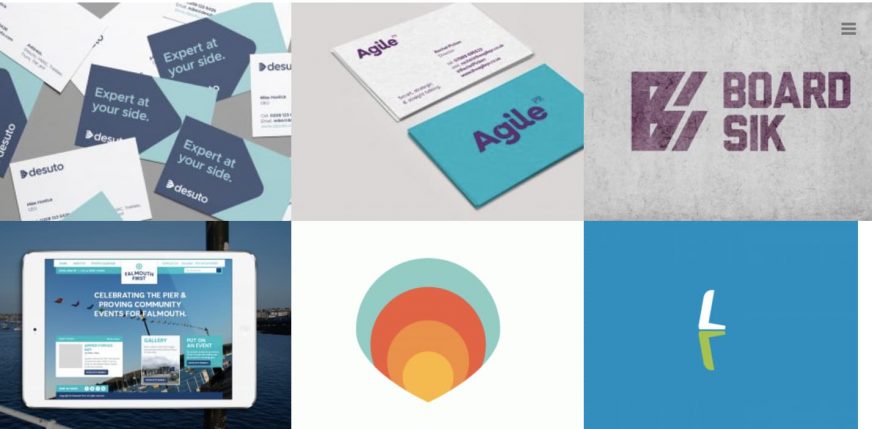 Further pages on Matt's excellent site explain his approach to design in a simple step-by-step format and give potential clients more information about his background and services.
2. The photographer
We've looked before at great photography sites, but here's another quick example. Photographer Matt Thomas specialises in several different kinds of photography, so he's divided his portfolio of work into sections to make it easy for potential commercial clients to see what he could do for them.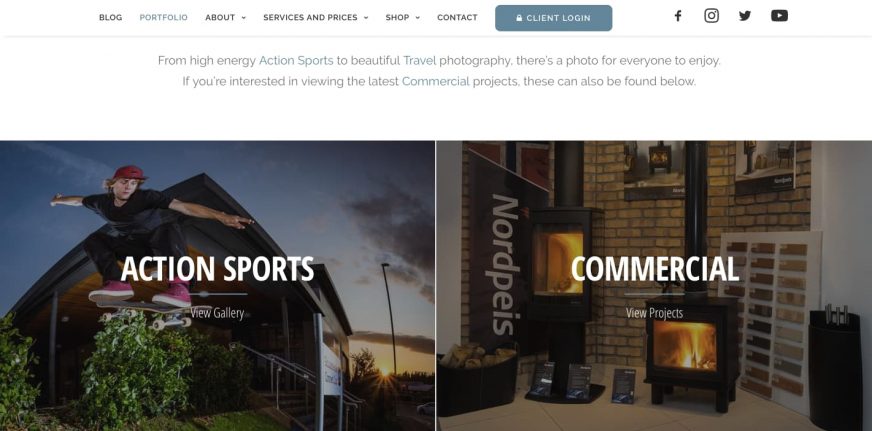 While the action sports, fitness and travel categories simply contain his images, which speak for themselves, he's taken a different approach with the commercial photography section. Clicking on each one, you're taken to further pages with lots more information about each project, including a section detailing the kind of equipment used.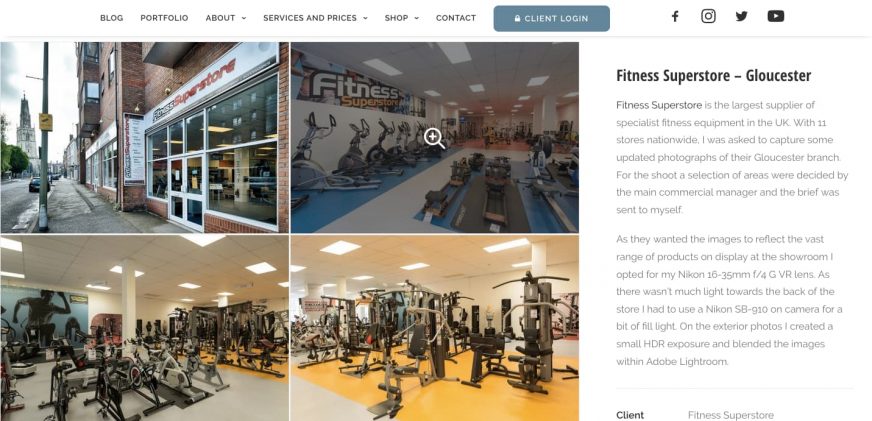 It's a great way to showcase his expertise so that similar businesses can see they're in professional hands.
3. The SEO consultant
While SEO consultancy isn't creative in the way that photography or design are, it does still produce the requirement to showcase work done for clients. SEO consultant Gareth Bull does so in an engaging way in his portfolio, headlining the page with an impressive key statistic followed by the logos of clients he's worked with.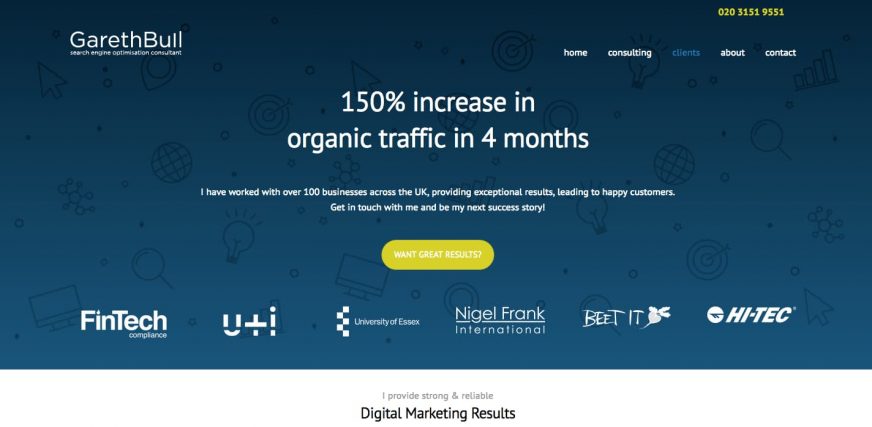 Further down the page, the portfolio highlights some of the projects he's worked on and the results he's achieved. Statistics can be dry and difficult to present, but keeping each entry short and sweet – with just the main results highlighted, along with logos and illustrations – gets the information across in an easily digestible format.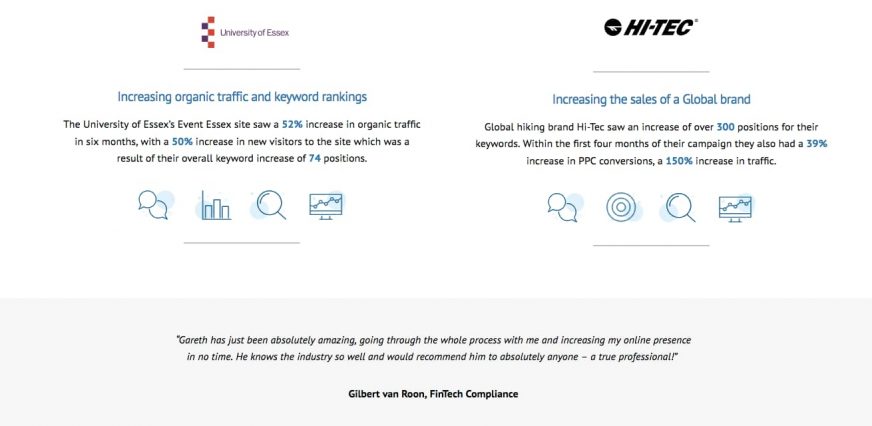 4. The composer
SEO isn't the only industry for which it's more of a challenge to present work in a visually engaging way. It's the same for musicians – we saw some great examples in our previous post in this series – but particularly so for composers, who don't always have the advantage of being able to fall back on pictures of themselves with their instruments, and whose work is more audio than visual.
Composer Claire Batchelor showcases her work with a simple and engagingly designed site with a homepage that takes potential clients to different sections of her portfolio of credits. Along the bottom is a list of big clients who've used her music, and simple sidebar navigation takes visitors to further pages with more information – her credits, about her and a contact page that includes lots of social media icons to make it easy to get in touch.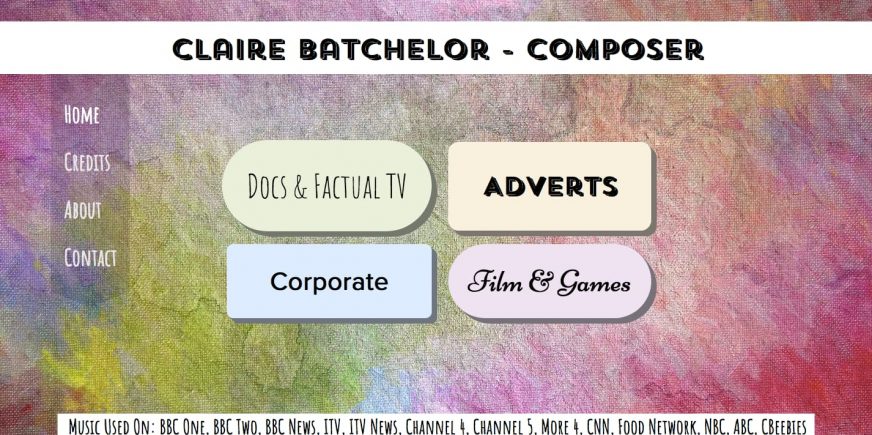 Claire's portfolio is the main focus, the links to it dominating the homepage. Clicking on the Adverts section, for example, embedded videos give visitors a flavour of her compositions for various adverts.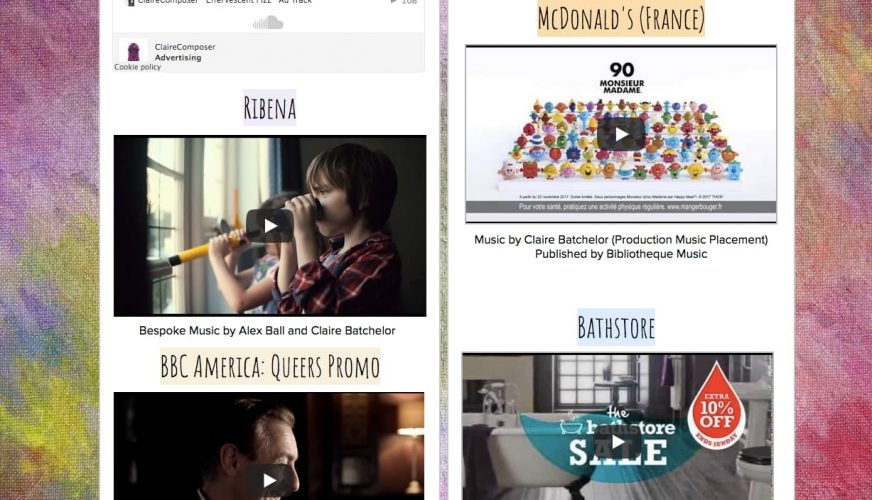 Embedding videos breathes more life into her work than simply listing her credits (which are left to a separate page), impressively showcasing her skills while showing the big brands who've trusted her to compose music for them.
If you've been inspired to create a portfolio site of your own, get started with our online training and find out how to set up a website to showcase your skills to potential clients or employers.