Between freelancers, contractors, remote workers and flexible hours, people are often working further apart than ever before.
And with all that separation, it can seem hard to get things done as a team.
But we've come a long way since the invention of email attachments.
These five collaboration apps can help you streamline the way your teams work together – managing projects and deadlines, sharing files, and connecting people through group chats and video calls.
And the best part?
You can use them all for free.
1. Workplace by Facebook 

If you can use Facebook, you can use Workplace.
That's a solid selling point right from the beginning.
So if you're one of the billions of people who have used Facebook – and by sheer numbers alone, you probably are – then you'll have little to no trouble picking up Workplace and intuitively just clicking around to get what you want.
In particular, the free version is massively useful for things like:
Unlimited different groups, where you can post, chat, and share files with different people. You can create groups based on anything – projects, departments, branches, or even just social events.
Multi-company groups, where you can invite external workers like contractors, freelancers, clients or suppliers into the specific groups and projects you need them for – without exposing your entire company's inner workings to them.
Direct integration with file storage apps (like Google Drive or Dropbox) – so your team can share and collaborate on files directly without needing to switch to external software.
Unlimited file storage, with video calls, phone calls, and chat apps for both desktop and mobile.
In effect, Workplace gives you everything that's good about Facebook, but in a work setting:
You'll have all of your work contacts and useful apps together in one simple platform, and you'll be able to brainstorm, collaborate, share, edit and approve things quickly – across huge distances or even on mobile devices.
(And in case you're wondering, it's a completely separate product from Facebook, with completely separate personal accounts. So there's no worry about anyone seeing your awful photos or dubious personal opinions.)
If you're looking for anything more advanced from Workplace, you'll need to upgrade to the paid Premium version. At the moment, it's only $3 per month per user (or it's free for registered non-profits and educational institutions), and you'll get access to:
A directory of pre-built integrations
Admin controls for your community, and monitoring tools for IT staff
APIs (Application Programming Interface) for creating custom integrations like automated chatbots.
2. Microsoft Teams

There's a good chance you're already using Office 365.
And if you are, you'll have Microsoft Teams already available and ready to go.
But if you're not on 365, there's a free version you can sign up to, where you'll get all of the following for up to 300 users:
Group chat and collaboration with unlimited messages and search – with options for collaboration with people both inside and outside your company.
Direct access to apps like Word, Excel and Powerpoint – so you can create documents, spreadsheets and presentations inside Teams itself, and work on them with others.
More than 140 integrated apps and services – things like Adobe, Evernote and Trello.
Built-in audio and video calls – between individual people or groups for team chats and meetings.
Up to 10 GB of file storage for teams, with an extra 2 GB per user for personal storage.
Hundreds of thousands of businesses are already using Teams. And if you've already bought Office 365, it makes perfect sense to try it out.
But where it differs from something like Workplace is that Teams is intended for small, close-knit groups working on specific projects.
Microsoft has a separate app intended for large-scale, company-wide communications (Yammer, which is also free with 365, but doesn't come included with the free version of Teams).
So if you're looking for something that can give you a company-wide voice for announcements and updates – and you want to keep things free – you might be better off with something like Workplace.
Teams has lots of useful features with its free version. But if you think you'll need some of the more advanced options, you'll need to pay $5 a month per user (on an annual basis) for the first tier of their paid service, where you'll get:
Access to specific Office 365 services – including Yammer, OneDrive, SharePoint and Planner.
The ability to schedule meetings with your teams and colleagues, as well as the option to record your meetings through Microsoft Stream.
High-level security and group admin settings, with options for auditing, reporting and changing user policies.
3. Slack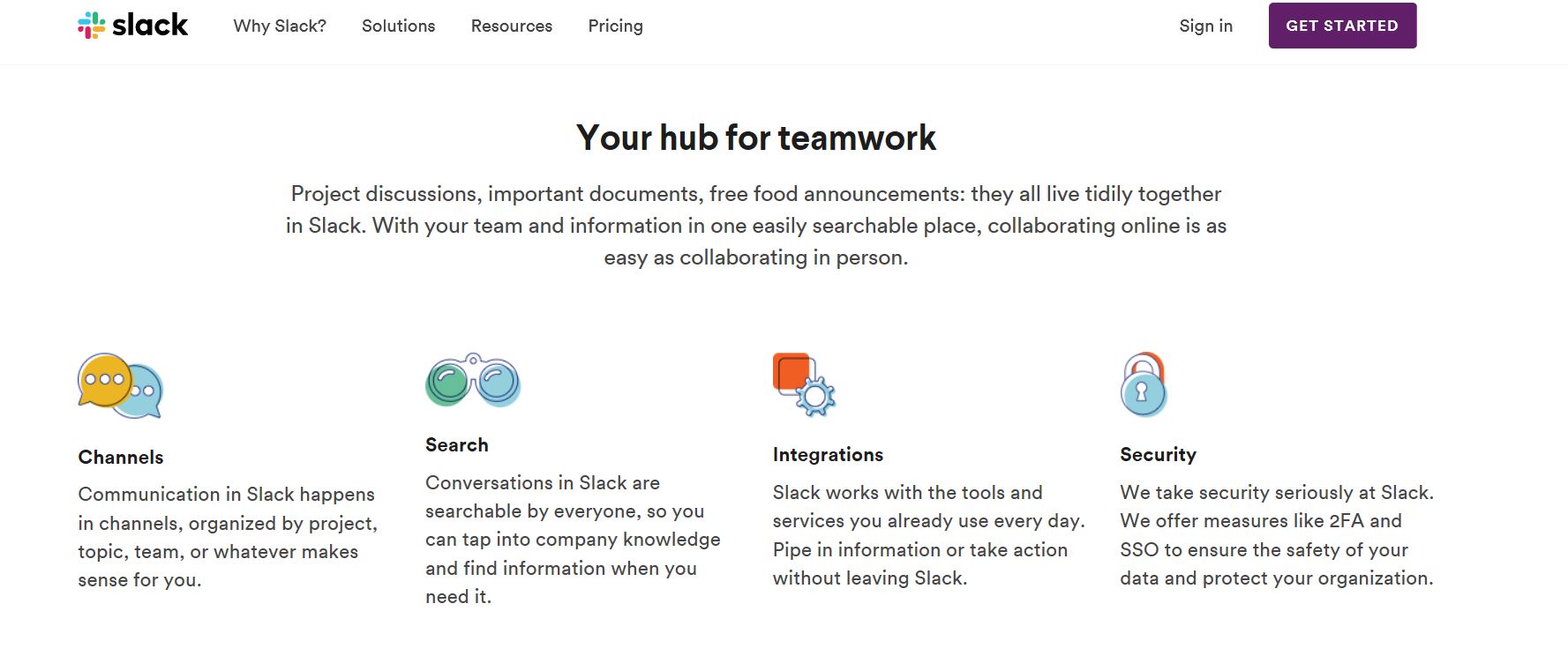 Slack may not have a household-name brand like Microsoft or Facebook behind it, but it's still one of the most well-known and widely-used bits of collaboration software around – and it's designed especially for small and medium-sized teams.
It was originally built as a way to make collective knowledge within a company easily available to everyone (Slack is an acronym for Searchable Log of All Communication and Knowledge). And that makes it especially useful if your company works in a technical field, like web development or IT.
But since it began, it's grown to become a platform that covers all kinds of companies and types of collaboration. With the free version, you'll get:
Archives for up to 10,000 messages, where your team can search for the information they need based on past conversations.
Up to 10 third-party or custom integrations from an extensive directory of available apps – including Google Drive, Salesforce, and various automated bots.
Voice and video calls – but they're limited to one-on-one calls with the free version of Slack.
Up to 5 GB total file storage.
Compared to Teams or Workplace, Slack's free offering can seem limited. But for a small business with few employees and teams, it can still do a lot – and with no time limit on how long you continue to use the free version, there's nothing to lose in trying it out.
If you decide you're ready to upgrade to the first paid package (which starts at £5.25 per month) you'll get:
Unlimited searchable messages and unlimited third-party integrations.
Shared channels and guest access – so you can collaborate with people outside your own company.
Voice and video calls with up to 15 people, with options for interactive screen-sharing.
Up to 10 GB of file storage for each team member.
4. Podio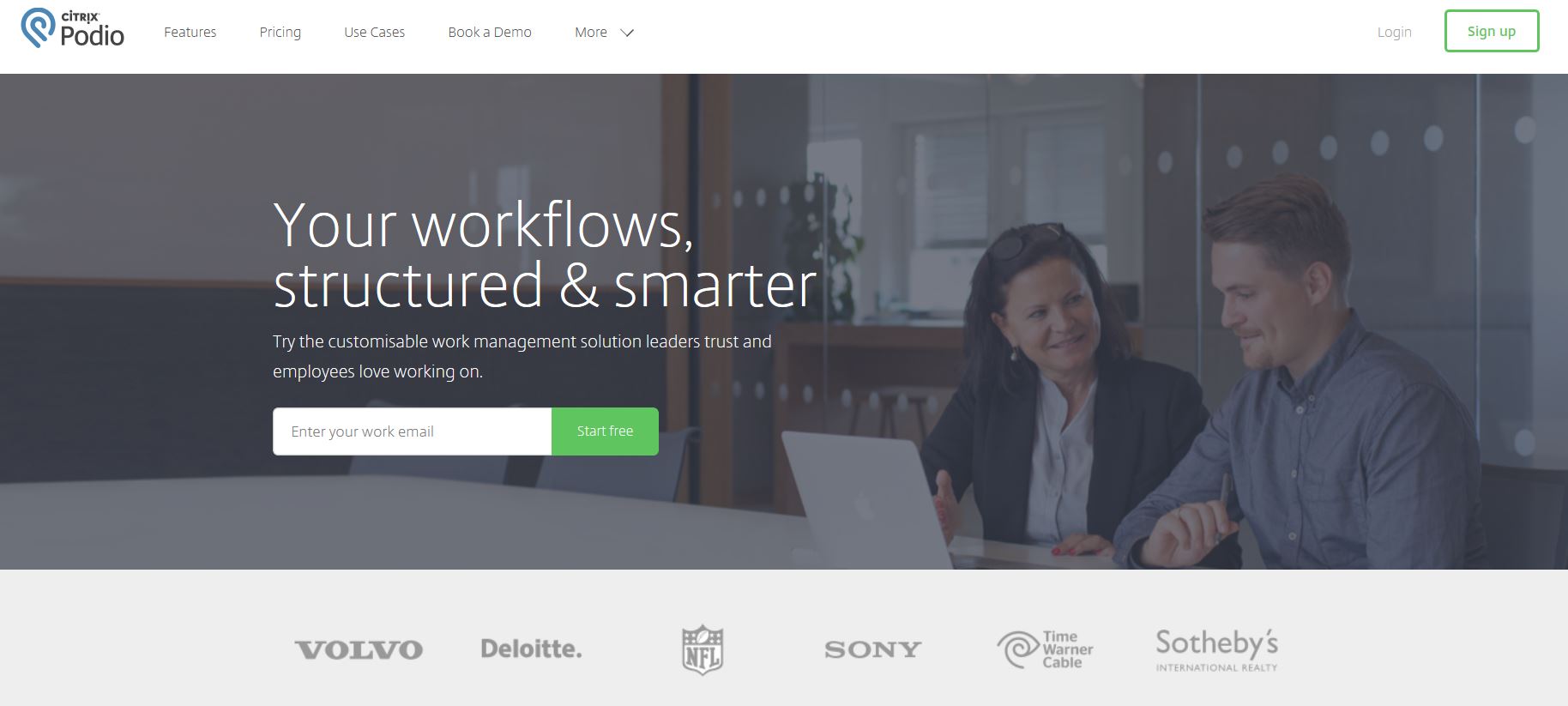 Podio is built around a simple premise: getting absolutely everything onto one platform.
That makes it a powerful collaboration app with plenty of room for customisation – but that also means it might seem overwhelming at first for a small business with minimal needs.
With the free version, you'll get the essential task management, workflows, integrated apps and customisable workspaces you need for up to five employees.
So if you're a freelancer or a small band of close-knit employees, the free version should be enough to help you get started with the basics of managing projects, sharing files, and keeping your teams up to date.
But if you're willing to upgrade (the paid tiers range from $9 to $24 a month), you'll get access to:
Advanced user management, where you can grant admin permissions, and see which users are involved in different workspaces.
Unlimited external users – for inviting contractors, freelancers, and employees from other companies into your workspaces and projects.
Automated workflows to help you save time on manual tasks and better organise your team – for things like updating stages in a sales cycle, or scheduling follow-up calls with your clients.
5. Trello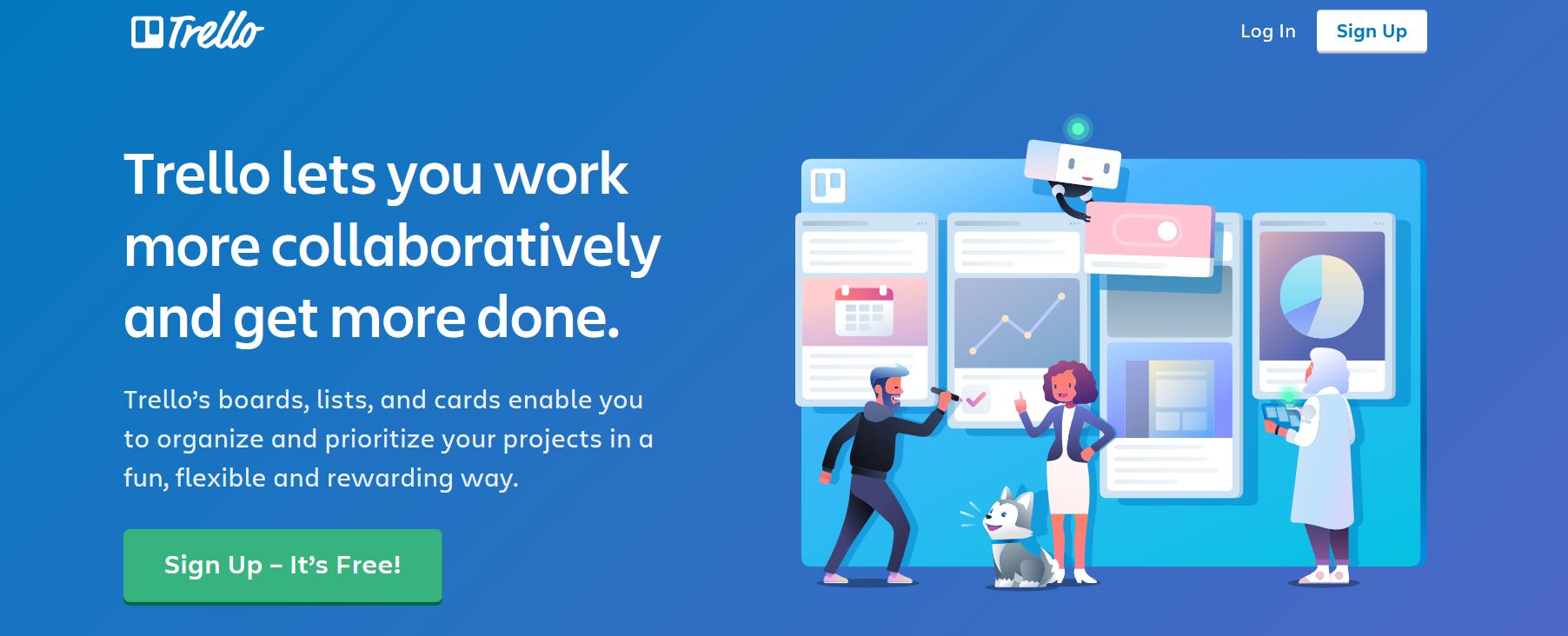 If you're looking for an attractive and free tool that works on a simple, drag-and-drop interface, Trello is a great way for a beginner to dive into collaboration software.
It's built around creating different boards (projects) with various cards (tasks) and checklists for your teams to work through.
But behind the simplicity of its user interface, it's still packed with plenty of advanced features: archiving and search options for old projects and comments, reminders and email notifications, and options to assign individual team members to different tasks.
If you're sticking with the free version, you'll get:
Unlimited projects, attachments, and users
A limit of one 'Power-Up' for each project. These are the integrated apps or automated features you can link up to a project to make things faster, easier, or save time – like pulling in data from other places, or connecting to external apps like Google Drive.
Attached files up to 10 MB in size from your computer – or the option to link any file directly from a storage app like Dropbox.
Depending on how big your business is (or how advanced and well-configured you need your projects to be), you might find this free version limiting. But if you decide to upgrade to the first paid tier (at $9.99 per user per month), you'll also get:
Unlimited 'Power-Ups' (integrated apps) for each project.
Options to attach files as large as 250 MB.
Full admin control – letting you remove old users, and grant permissions to different employees.
So which is the best collaboration software?
As you'd expect, there's no single, clear-cut answer.
Every app here has a free version that can take care of most small business needs. And in many cases, there's a lot of overlap when you lay out the features of each app side-by-side.
But if you need a quick and easy general guide, here's a simplified way to help you decide which app is worth looking deeper into:
For teams that don't want to learn a new interface, give Workplace a go.
For businesses that already use Office 365, try Microsoft Teams.
If you're in an industry where learning from other employees' past projects is important, you should check out Slack.
If you need something highly customisable, try Podio.
If you want something that keeps the user experience simple and accessible, take a look at Trello.
And if you found this article helpful, there's plenty more – so have a look through these useful guides and quick tips in Culture, Tech and Business.