The lifeblood of any website is traffic. Specifically, traffic that is looking to buy the goods or services you sell.
One of the most effective methods of driving traffic, whether you're looking to bring more sales to your e-commerce website or drive leads, is through paid search advertising (those adverts you see at the top of search results pages). The most popular platform to advertise with is Google Ads.
However, you shouldn't just jump into spending money straight away – knowing the basics about Google Ads is integral for bringing the right traffic, to the right ads.
Now before you sound the alarms, don't be put off. Using Google Ads at a basic level is an achievable feat for the beginner, as is learning how to optimise your account to drive more traffic to your site.
This beginners guide to Google Ads will jump start your Ads career so that you can manage your own account all by yourself and take the competition by storm. Let's dive in!
Download your free cheatsheet before you get started! 
Tick off the key steps to setting up and optimising your Google Ads campaign as you go with our free downloadable checklist. Download your copy here.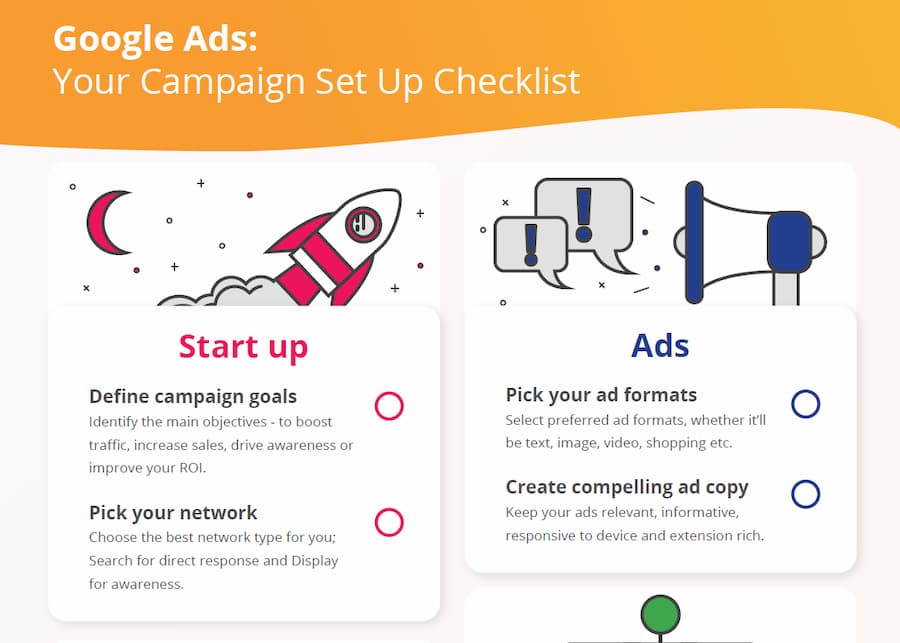 Why Google Ads?
So, you've set up your business, the website is complete, and now you need customers, cue Google Ads. Run by Google, Google Ads allow you to reach billions of potential customers in just a few easy steps. Some of the main benefits from Google Ads are:
Connect with customers: You can target audiences who will be more receptive to your marketing messages, allowing you to have a more personal connection to your customers.
Control your costs: Ads allows you to set monthly budgets that will not be exceeded within a 30.4 day period (the average number of days in a month), giving you the ability to control exactly how much you want to spend. There are also tools to help you forecast spend and project costs. More on them below.
Measure performance constantly: Data is always being collected on your account's performance, you can quickly find what you need, and use it to measure your success.
Still not sure if Google Ads is for you? You can find some more case studies here to help you make up your mind.
Google Ads basics- how it all works
Right then, let's get stuck into the bulk of what you need to know about Google Ads to get started. You can also watch our video which provides a handy overview to the steps in this guide before reading on for further tips and guidance on each stage: 
Networks
Your ads will be displayed on various online spaces, called networks, in order for your customers to view them. There are two main networks to pick from: Search and Display. If you are a newcomer to Google Ads we would recommend starting with the Search network, and most of this guide will focus on using it as a base for your campaign. It's easy setup and management makes it the ideal network choice for your first campaign.
The Search Network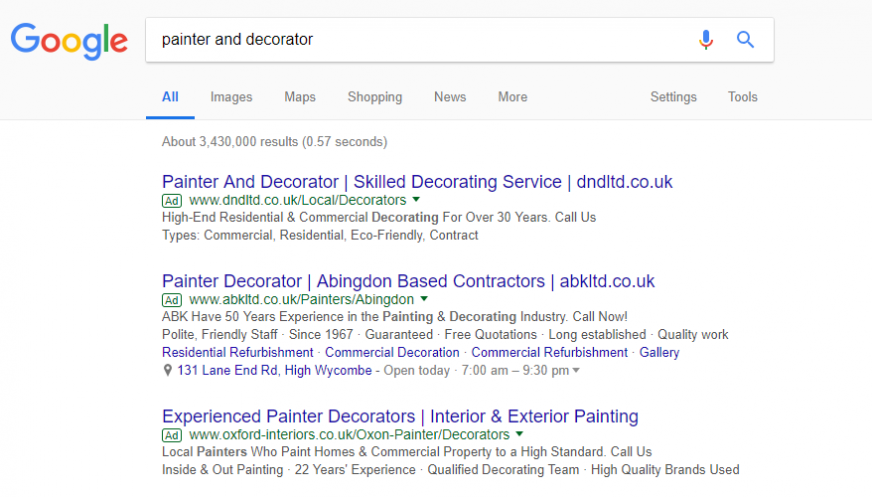 The Search Network includes Google's search engine results pages (SERPs), other Google services such as Maps and Shopping, and search sites that partner with Google to show ads. Which ads show depends on how, and if, your keyword(s) relate to the search term.
The Display Network
Google's Display Network is made up of Google partner websites across the internet, not limited to search sites. Some examples are YouTube, Blogger, and Gmail. This allows you to show various ads such as image ads to potential customers in order to drive conversions, or just simply, awareness.
If you're a newcomer to Google Ads, we recommend starting with the Search Network – It's easy setup and simple management makes it ideal for first-time advertisers. You can find out more about Google's networks here.
Ad Formats
Now we've covered networks, and you have an idea of which one would suit you, we'll look at each ad format available; and where you can use each one across both networks.
We've explained all ad formats here that are provided by Google Ads (as they are definitely worth knowing) but we would recommend sticking with just text ads to begin with. These ads feature heavily on the Search Network and for a beginner, they are a perfect starting place whilst still allowing you to reach huge audiences.
Text ads: Available on both the Search and Display Network, these are made up of three headlines to grab attention, your desired link, and two description lines. We go into more detail about how to best use these later.

Ad extensions: Available on both the Search Network and Display Network, they provide various additional information such as an address or phone number, alongside other ads.

Responsive ads: Shown only on the Display Network, they can be used to build awareness, influence choice, and encourage action. These ads adjust to match the pages or apps that show them, and can blend in with the on-page content.
Shopping ads: Available on the Search Network, Search Partner Network websites, and Google Shopping page. These ads contain product information, pricing, and an image of the product. They're ideal for a large inventory of products.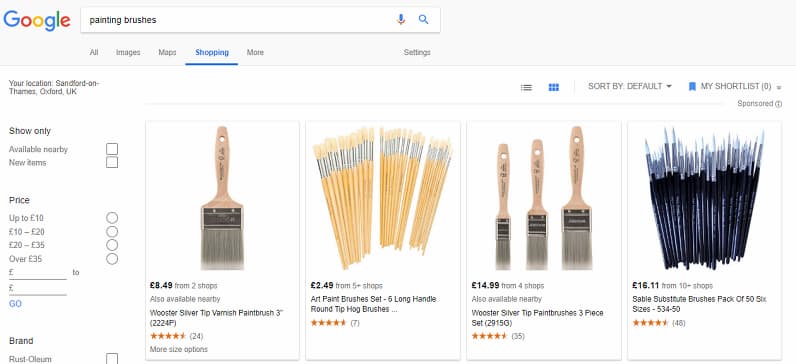 Video ads: Similar to image ads; video ads show on the Search Partner Network and Display Network. They can either be a standalone video ad, or a video ad that runs inside another streaming video.
App promotion ads: Seen on the Search Network and Display Network, these ads can encourage people to re-engage with your app, or send people to specific areas of it.
Call-only ads: Only available on the Search Network, these ads allow customers to call your business directly and quickly get in contact with your company.
Rich media ads: Only available on the Display Network, these ads are engaging and can include animation or other types of motion.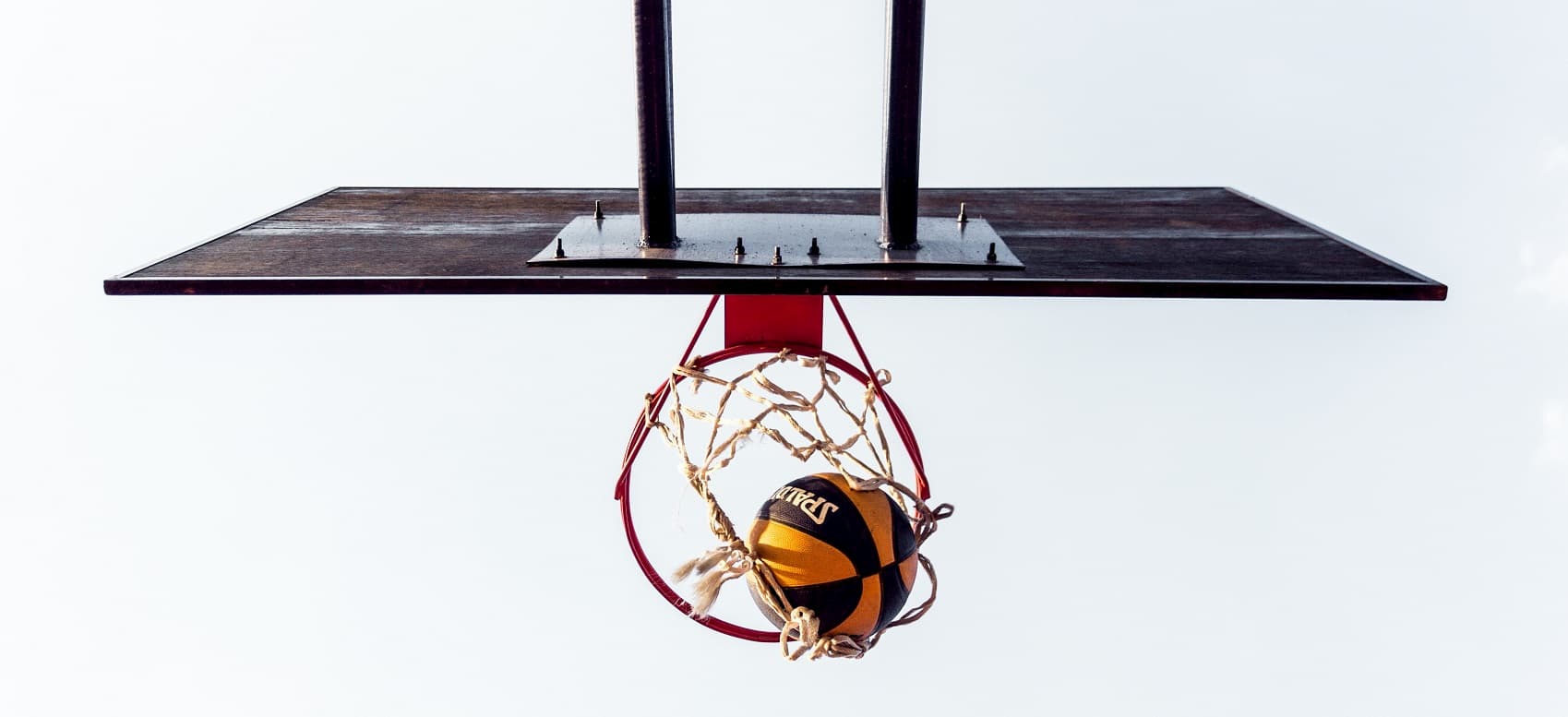 Ad goals
Networks, check. Ads, check. Next on the list: ad goals.
Before any Google Ads campaign is set up, knowing what you want to achieve is essential. Here are the four main goals that you're likely to target and how you can achieve them.
Driving traffic – Your focus should be on clicks, click through rate (CTR), and the search terms for your campaign. Use these metrics to get the best results for you.
Increasing sales – You will want to focus more on conversion data and destination URLs to ensure that you are sending people to the best pages to purchase.
Boosting brand awareness – Impression data will be absolutely key as well as monitoring customer engagement (clicks and conversions) to see how many people are seeing your ads as well as how many were interested.
Increasing return on investment (ROI) – You will want to focus on your campaign's conversion data such as the amount of conversions and cost per conversion. Smart bidding techniques such as maximise conversions can greatly improve results once you feel ready.
Google goes into further detail here if you want to know more.
Best practice for Text Ads
Now you know all about ads, here are some best practices we would recommend for text ads.
1. Create compelling ad copy: You'll want your ad copy to be relevant to the consumer. You want to get across why they should click on your advert and how it will solve their problem better than anyone else. Don't be afraid to get across what separates you from the competition.
2. Create ad text suitable for several devices: As an advertiser, you're going to want to make sure that your adverts are suitable for both desktop and mobile screens, as searches now happen on several different platforms and devices.
3. Set up ads for success: Give yourself more chance to catch people's attention by using ad extensions with your text ads. As mentioned above the extensions come in a lot of different varieties, so pick the ones that you think will work best. Learn more about them here.
4. Test and optimise: It's important to continually test and optimise your account to help save you from wasting money on unwanted impressions or clicks. There are three main ways to do this, updating your ad copy regularly, testing different landing pages and keeping your ad groups to less than 25 keywords.
Getting your campaign off the ground
Campaign types
There are several campaign types available for the Search Network, Display Network, or other channels. Each have their own benefits. When you're starting off with your campaign, as mentioned earlier, it's best to stick to the Search Network campaigns, as it's the easiest way to get to grips with Google Ads.
The Search Network only campaign type shows your ads only on Google's search results page and focuses on matching user's searches to your target keywords. Search network only campaigns are great if you are trying to get people to take action as you interact with them at the point when they are searching for your product or service. See more here.
You can find the other campaign types available within Ads, including display, shopping and app campaigns, here.
Campaign structure
Layout
One of the most important concepts in Google Ads after deciding your campaign type is understanding the account structure. You have different levels of control at each level:
Your Account is associated with a unique email address, password, and billing information.
Campaigns have their own budget and settings that determine where your ads appear.
Ad groups house your ads and keywords.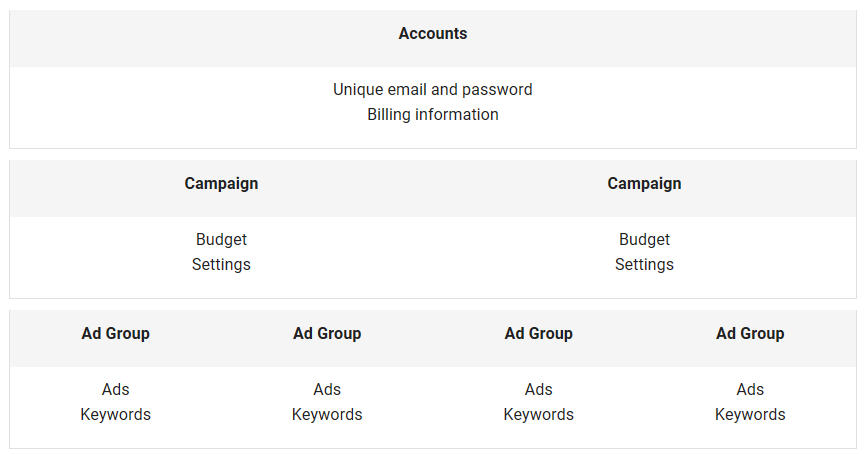 Organising your campaign
When you are setting up your campaign, you'll need to carefully organise your account using the structure above. We find it's often easiest to organise your campaigns and ad groups to mirror the structure of your website. This way they reflect how your business is organised, splitting it into recognisable themes or topics.
Your aim should be to create a narrow theme for each ad group, with keywords and ads all closely related to that topic.
You can also separate your campaigns based on other considerations, i.e. if they are targeting a specific location, or are aimed at mobile or desktop users.
Be sure to do all this when you're creating your campaign as re-organising your account later can cause issues with the data that you have accumulated.
If you want all your ads to share a budget and you want to target the same set of locations, then you can just use one campaign.
Campaign targeting
Upon choosing your campaign type, there are several ways for you to target your campaigns, regardless of whether you have setup your ads to advertise on the Search network, Display network, or both.
Continuing our focus on the Search Network, these targeting strategies are the most common ways to target your account by to reach different audiences:
By keyword: Pick words or phrases which are related to your product, so that your ads appear when customers search using those terms. By having relevant keywords you increase the chances of showing to those most interested.
By location & language: You can select to show within countries, by languages or geographical regions.
By device: You can select to show across all devices as well as mobile, tablet, or desktop in isolation depending on which is the best fit for your marketing goals.
We'd suggest sticking with those types of targeting for now. But you can find out more about remarketing here and audience targeting here.
Conversion tracking
When your Ads account is up and running (stay with us) you'll want to see whether your ads have led to valuable customer activity known as conversions. These can vary from a product purchase to a sign up for a newsletter and act as a key indicator of account success. In order for you to see a conversion you will need to set up conversion tracking.
If you're just starting up with Google Ads, website conversion tracking will likely be your best option. Setting this up will mean you can see when a customer completes a desired action on your website. Google's Ads Help has a really good step by step instructions page that will guide you through the set up.
Read more about conversion tracking here or learn how to setup other conversion tracking here. There's even a handy guide from PPC Hero for you to learn more about it.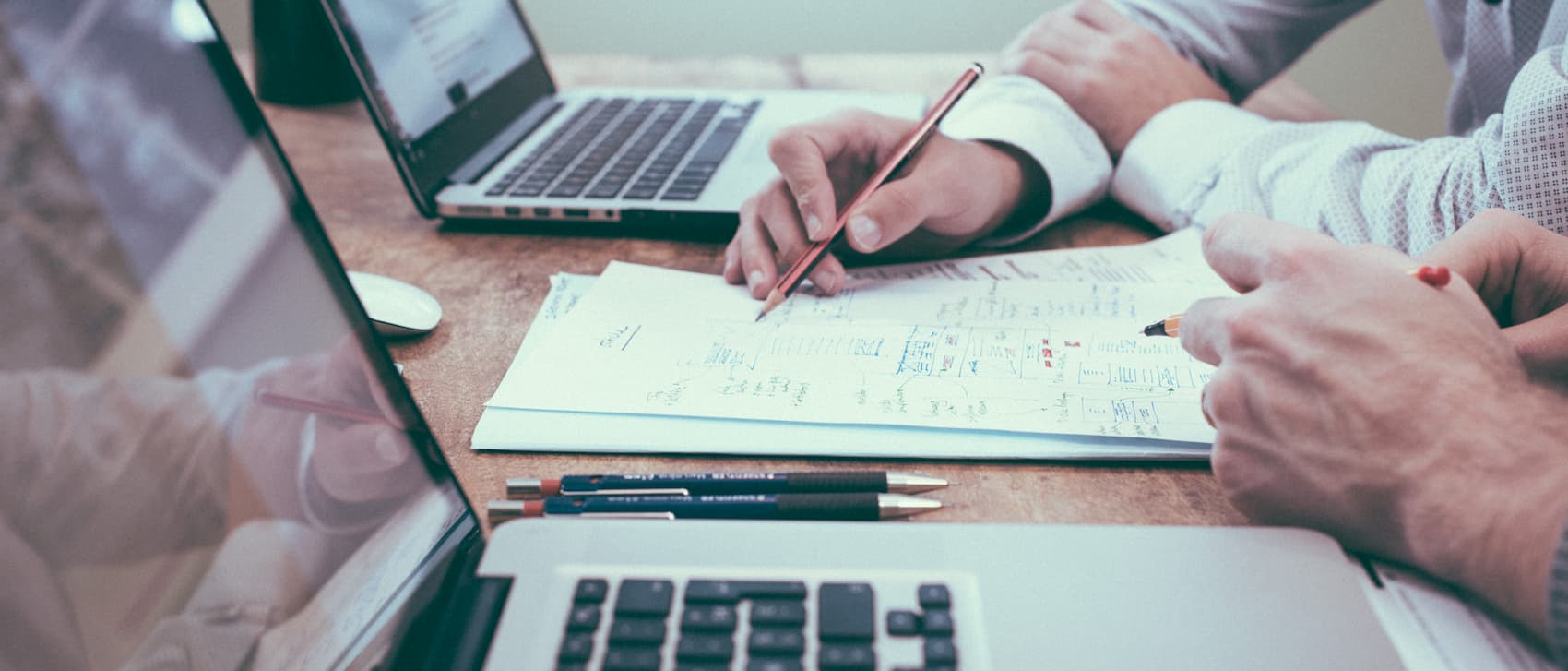 Adding the essentials - building keywords on Ads
Keywords are the base of Google Ads and are vital on the search network. They come in various shapes and sizes which we'll go through below, along with some best practice tips.
Keyword significance
Keywords allow your customers searching for your product or service to view your ads. A great keyword list can help improve the performance of your ads and avoid higher prices. Poor keywords can ultimately cause you to pay more for your clicks and can result in lower ad positions. It is therefore crucial your keywords are well suited to your product or the service being provided.
Keyword match types
There are five different types of keywords, as detailed below. Each has a different role and therefore a different effect on your ad's visibility.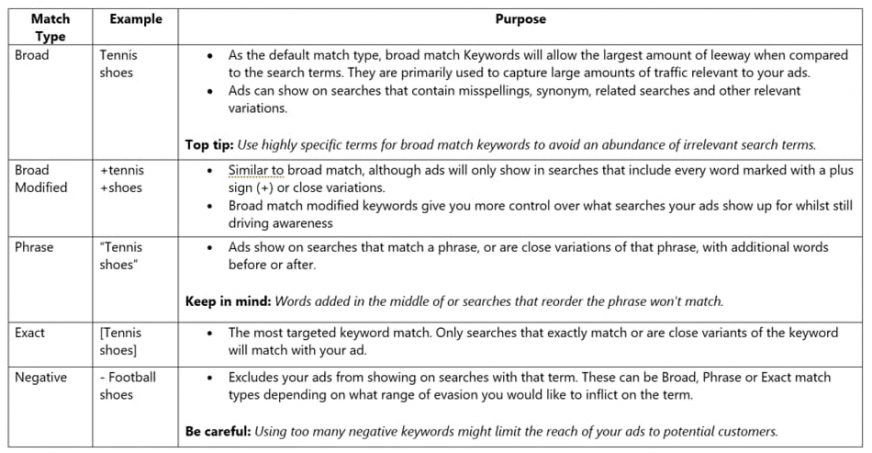 Learn more about each keyword match types here.
Keyword best practices
Producing an accurate keyword list for your ads isn't always the easiest task and may take time to perfect. However, by using the best practices below it should put you in good stead for creating a successful keywords list.
Think like a customer: Include terms or phrases your potential customers would use to describe your products or services.
Group similar keywords: Organise your keywords and ads into ad groups categorised by common themes. This will allow you to match keywords such as 'Men's Trainers' to an ad advertising your men's trainer products.
Analyse your keyword lists & delete low search volume keywords: To help reduce clutter and streamline your campaign management, you should delete those low/ no volume keywords. If they're not driving traffic then there's no need for them in your account.
Manage keyword match types: Use the more general, broad match terms to capture those long tail queries, reserve exact match for your primary volume & value driving keywords such as your company name.  
Pick the right amount of keywords: Using between 5-20 is a widely recommended quantity for each ad group to ensure that your ad copy remains relevant. This is however only a guideline and you can use more or less than this. Example: If you are targeting one specific search term within an ad group you could choose to have just one keyword with an 'Exact match' (see manage match types above) to receive traffic from that term and that term only.
Use Negative keywords: Using negative keywords will help refine traffic and ensure your ads don't appear for irrelevant search queries. Example: On the SERP for a search query of "keyword testing AdWords" an advert for Japanese Knotweed appears, which can lead to invalid clicks and wasting of budget.
For more information on keyword best practice check this out.
Going, going, gone - the Ads auction
Understanding how Google conducts its auctions, and all the moving parts it contains, is no easy feat. Here's a quick guide to explain the process.
The auction in motion
1. The search query
Sam searches for "Goalkeeper gloves". The auction begins.
2. Ads are found
The Ads system identifies all ads whose keywords match the term "Goalkeeper gloves".
3. Ads are then spruced up
Ads that had been previously identified are ignored by the system if they are ineligible as they may be disapproved or are targeting a different location or device. 
4. Ads are ranked (the important part)
The remaining ads are positioned based on a formula called Ad Rank. This weighs up the bid amount, the quality and relevance or your ads and landing page (which, with the expected CTR, makes up the quality score) and the expected impact of any extensions and other ad formats. The greater these components are, the better chance you will have of appearing above your competitors. 
5. Tada!
The ads appear and Sam was able to buy his favourite goalkeeping gloves just in time for the big game. Google Ads saves the day. Unlike Sam, who unfortunately let in six goals.
6. Repeat
This happens for every single search query, every single time. So when Sam is in need of more goalkeeping gloves the whole process will start again, with potentially different results depending on the competition at that exact moment.
Remember: Just because a competitor's bid is higher than yours does not mean it will be ranked higher. If you have better ad quality alongside a landing page with greater relevance, you can still rank higher with a lower bid.
Money, money, money - Ads bids & budget
Bidding strategies
The last step in setting up your campaign (not long now) entails setting your budget and then picking a bidding strategy which will determine how your money is going to be used.
When picking which bidding strategy to use with your campaign it's best to keep it simple. We would recommend you start with one of the following strategies to get you off the ground. Manual bidding is best for those who have time to micromanage and want to remain in complete control, whereas automated bidding is good for someone with less time but who still wants to run their account effectively.
Manual bidding
Manual CPC bidding – You set your own maximum cost per click (CPC) for your ads. Find out more here.
Automated bidding
Maximise clicks – Google Ads automatically sets your bids to help get as many clicks as possible within your budget. Find out more here.
Maximise conversions – Google Ads automatically sets your bids to help you get the most conversions within your budget. Find out more here.
Enhanced CPC – Google Ads automatically adjusts your manual bids to help maximise conversions. Find out more here.
Other bidding strategy options are available, you can find out more about them here.
What metrics you should be paying attention to
By now you should start to have a grasp of what you want to get out of Google Ads, how it operates and how to set up a campaign. Now we'll let you know the key things to look out for to keep your account on the road to success.
Common metrics
There are several key metrics which you can use to monitor performance. The video below from Google explains finding your essential performance statistics, however we've noted some recommended metrics to keep an eye on below: 
Impressions – The amount of people who have seen your adverts.
Clicks – The number of people who have clicked on your ad.
CTR – The percentage of people who click on your ad after viewing it. The average percentage can be different for each industry, check out this article for a suggested, rough guide.
Impression Rate – The percentage of your impressions that are shown above the organic search results while the 'Absolute Top Impression' rate is the percentage of your impressions shown as the very first ad above the organic search results
Conversions – The number of people that have completed your desired action, whether that's a purchase, sign up or a donation.
Keeping an eye on things - how best to monitor your campaign
Measuring your results
Google Ads contains lots of useful reports that help you see how well you (and your competitors) are performing. These reports can be flexible, looking at your account overall as well as focusing on certain areas within your account.
The three reports detailed below can be used to provide more than enough data to give you a good understanding of how well your account is performing.
Side note: Before looking at reporting, always keep in mind your goals and what you are seeking to measure. The types of reports found in Google Ads differ greatly and so you will find that some reports will give a much better measurement of your goals than others.
Find out more about other reports Google Ads has to offer. Check out this video on how to use the Report Editor.
Predefined reports
These reports are often the quickest way to determine your performance across all areas of your account and will be key to realising which ads are performing well and which are not in order to optimise your campaign. These reports can show performance data based on time, conversions, labels, geography, extensions, display and more with the option of various filters for more focused reporting.
You can access these under the reports tab, see how.
Search terms reports
This report is dedicated to optimising your keywords. Search term reports (STRs) show you the search terms that have triggered your ads. It is therefore very useful for determining how effectively relevant traffic is being driven to your ads.  
Search terms reports can be used to optimise your account in many ways such as:
Finding new keywords – High performing search terms (those that rate highly across multiple metrics) can be added to your keyword list to gain additional relevant traffic.
Adding new Negative keywords –To avoid any search terms that you don't want to advertise on.
Altering keyword match types – To increase/decrease the focus of your keywords.
Improving ad text –  Find high performing search terms which can also be added to your ad copy so they stay relevant to what is being searched for.
Auction insights 
You can use this report to gauge how well you are performing relative to your competitors. Not only will auction insights allow you to identify who those competitors are, it allows you to see how often you outrank the competition as well as how your share of impressions compares.
After learning your relative performance, you can then make strategic decisions about budgets, bids and keywords to become more competitive.
Learn more about auction insights.
Reminder: You will need to be patient with most reports to get the best out of them as the more data you have, the greater understanding both you and Google Ads will have of your performance. The more informed you are, the better decisions you can make to squeeze every bit of potential out of your campaign!  
Additional tools to consider
Ads Tools
Other tools can come in very handy when setting up and monitoring your Google Ads account. Both Google Analytics and Google Ads Editor can be used to give you even more control and flexibility over your account. As their names suggest, they are both Google products as well and can therefore be easily linked with your main Google Ads account.
Google Analytics
This free tracking platform allows you to view in depth reporting on how people use your website. This can include how they found your site, how they navigated through it and how long they visited for, giving you ideas on how to optimise your site.
Lean how to link your accounts here.
Google Ads Editor
Google Editor is a great tool which allows you to make changes to your account offline, so if you make a mistake it won't affect your live account until you publish your changes. You can find out more and download the editor here.

Nine top tips for optimisation
1. Always test & optimise your Ad varianty
You should run between three and five different ads in each ad group as Google Ads will pick the best performing ads and show them most often. When you have enough data to show the best/worst performing ads, you should pause the worst performing ads and introduce some new ones. Through frequent testing, you can ensure that you are always looking to improve your return from your campaigns.
2. Modify your Ad Groups
You can increase the relevancy of your ads, by modifying your ads groups with keywords that are similarly themed. This lets you create more specific, better focused and therefore more relevant ads, which helps your ad rank. An example of this would be a florist having ad groups by flower types, instead of just one campaign focusing on all types of flowers.
3. Review your keywords
Make full use of your STRs as much as you can, especially with a limited budget, so that your money isn't being wasted on irrelevant traffic. You should add high performing search terms, with appropriate match types, as they can lead you to more relevant traffic.
4. Bid simulator
The bid simulator within Google Ads shows you estimates of how any bid adjustments will affect your performance. This allows you to see forecasts of how these changes may affect your performance before you make them. Various bid simulators can be used across networks.
See here for more about bid simulators.
5. Adjust bids
Adjusting your bids can be a great way to help your campaign. Increasing bids in high performing areas and lowering bids for bad performing areas is best practice for optimising your budgets. This could include certain times of the day, particular locations or devices as well as specific ad groups or keywords.
More about bid adjustments here
6. Attribution reports
This report not only allows you to see the steps people took in order to make a conversion but also, through attribution models, allows you to see which step had the most influence when completing the conversion. These reports allow you to identify, and direct attention to the important steps in the path to help drive more conversions.
7. Ad extensions
Enhance your campaign with additional formats, such as extensions, to drive performance. Ad extensions are free and as well as contributing to a better ad rank, they offer potential customers a different way to interact with the ad, such as call extensions which allow people to phone your business.
See here for more on extensions.
8. Smart bidding
Automated bidding strategies such as smart bidding are one of the easiest ways to optimise your campaign once you're familiar with Google Ads. After a brief learning period (normally about two weeks depending on traffic) smart bidding can optimise bids based on your goals in order to be most efficient with the budget allocation.
9. Don't ignore remarketing
Remarketing is a form of online advertising that enables sites to show targeted ads to users who have already visited your site. This is a great way to try to encourage them to come back and convert, and is a great strategy you can employ to boost your performance.
You can find out more about remarketing here.
Summary
And there you go. You are Google Ads ready (we hope). Your campaign can be released into the real world and potential customers will be able to view your company within the matter of a few clicks. You did it!
It is now however very important that you don't fall into the common pitfall of new startups whereby you "set and forget" your campaigns. Set aside five minutes of your time each day to monitor your activity so that everything continues running smoothly.
Alternatively, if you just don't have the time, view your account once a week and set up automated rules. This will allow Google Ads to alert you (commonly by email) at anytime should something irregular occur within your account.
Download your free cheat sheet to help with Google Ads set up and optimisation
Good Pay-Per-Click blogs to follow
As a final thing, we wanted to include some links to some blogs. These blogs contain a treasure trove of articles explaining different parts of Google Ads, case studies, and they do a good job of suggesting things you can try out once you get to grips with Google Ads.