With 2.65 billion social media users, we'd hazard a guess that you're at least vaguely familiar with some of these platforms. What we can say with absolute certainty however, is that your customers are using and engaging with these sites on a daily basis. What's more, they actively want to and expect to hear from you via these channels.   
According to research carried out by Sprout Social, as consumers we're 57.5% more likely to buy from a brand we follow on social media and 71% more likely to make a purchase following a positive social experience.
As well as potentially increasing sales and profits, a good social media presence can also work wonders for your reputation. 71% of consumers who've had a good experience with a brand on social media, say they're likely to recommend them to others.
With so many benefits of being on social media, it probably won't come as a huge surprise to learn that more than 70% of small businesses are now using these platforms. While you may think it's impossible to compete with larger brands who have tens of thousands of pounds to throw into their social media strategy, small businesses do actually have a number of advantages over big businesses when it comes to social networking from being more community led to creating stronger relationships with customers.
The first step to reaping these benefits and becoming successful on social is to put together a social media marketing strategy. This guide will help you create your very own strategy step-by-step with some best practices to help your small business get the most out of social media.
What is a social media strategy?
A social media marketing strategy is a summary of everything you plan to do and achieve on your chosen platforms. It includes everything from your goals, who your intended audience is and what your brand's voice is going to be to what you're going to post, when you're going to post and how you're going to measure your performance.
Why do I need a social media marketing strategy?
Whether you're a one-man band, an SME or a large multi-national, your social media strategy is important because it allows you to address and plan what's going to make your brand successful.
For example, if you don't understand your audience, how do you know where they are, what they're interested in or how they like to be spoken to? If you don't know what your goals are, how can you possibly know what content you should be posting?
Even if you set up your social media accounts with the best of intentions, if you don't have a plan it won't take long to forget about them. If you've taken the time to set out your goals and you've already planned what you're going to post and when, you're far more likely to stick to it.

How to create a social media strategy
1. Define your goals
Start by identifying what you want social media to achieve for you because this will determine everything from what you post to how often you post. Also have a think about what you're going to measure so you can keep track of whether or not your efforts have been successful.
Below we've listed some common social media goals and how you might measure their success.
Example Goal: Promote a specific product or service.
Measuring success: Have sales or the number of enquiries you're receiving increased? If you direct your social media followers to a page on your website you can track how many hits it has and whether or not visitors have completed a call-to-action as a result.
Example Goal: Increasing brand awareness.
Measuring success: Your following, likes and the number of comments you receive. If you create a hashtag for your brand, you can also track how many people are using it.
Example Goal: Generating leads or increasing sales.
Measuring success: It's a good idea to have a dedicated phone number, email address and/or website page for each of your social media campaigns so you can identify where your leads and sales are coming from.
Example Goal: Providing a platform for existing customers to communicate with you.
Measuring success: If you notice existing customers are following and communicating with you on social media.
If you need more help with this, have a watch of this short video:
2. Think about where you're currently at
If you don't currently do anything with regards to social media, feel free to jump to the next section, 'understand your audience.'
If you already have one or more accounts however, this information can be incredibly valuable because it will enable you to determine what is and isn't working.
Do you tend to get more likes if you post on a certain day or at a particular time? Do your followers engage better with certain content? What gets the most likes? How do your followers talk to you? Do certain posts fall flat? Have you noticed which hashtags drive traffic to your page?
3. Understand your audience
Knowing your audience is key to putting together a successful social media strategy. Say for example you're targeting the 65+ age range. The type of content you post, the language you use and the platforms you choose are likely to differ wildly compared to a brand trying to attract a much younger audience.
It's also worth noting where different audiences go online for example: 41% of people aged 65+ have a Facebook account whereas a tiny 3% have a Snapchat account.
This means that no matter how great your Snapchat content is, if you are targeting the 65+ age bracket it's unlikely you're going to see the results you want from such a small audience. You can find more social media demographics including gender, income and education here.
Chances are that your social media audience is going to look the same as your typical customer because these are the very people who like to buy from you. Ask yourself:
Who is a typical customer? Think about their age, occupation, gender and location.
What are their interests? Are they sporty, do they need parenting advice, do they like educational content or do they like to consume light-hearted content? Also consider how your customers like to find out more about you – is it through blogs, videos, being sent information about new products or reading case studies?
When are they most likely to be online? If you're targeting professionals, your posts are more likely to be seen on weekends and in the evenings when they can check their social media pages.
Why does your audience use social media? Is it to read the news, follow their favourite celebrity, seek advice, engage with like-minded individuals or buy products?
What type of content do they like to see on social media? Do they like educational or funny posts? Links to blogs or videos? If you're new to social media, a great way of checking this is to look at what your competitors are posting and make a note of what gets the most engagement.
If you need help identifying your target market, here are seven great tips on conducting audience research from Hootsuite.
4. Choose your platform
The platform(s) you choose for your small business are likely to come down to the resources you have and who your audience is. If you don't have a lot of time to spend on social media, you're better off focusing on one and doing it really well. If you're time poor and are trying to manage five different accounts, it's unlikely you'll be able to dedicate the time it needs to be successful.
Below we've listed the most popular social media platforms and the key features of each. If you're already setup on your desired platforms, head down to the next step 'competitor analysis'.
Facebook
With 2.45 billion active monthly users, Facebook remains the most popular social media platform. Founded in 2004, it allows users to share photos, music, videos, articles and opinions. Popular with individuals and businesses alike, companies can set up their very own page which their fans can follow to stay on top of all their latest news and updates.
Key features:
Events: Create events and send invites to your followers.
News Feed Targeting: You can choose who should see your posts in their news feed with News Feed Targeting. You can select audiences based on their interests, age, gender, location, language, marital status and education.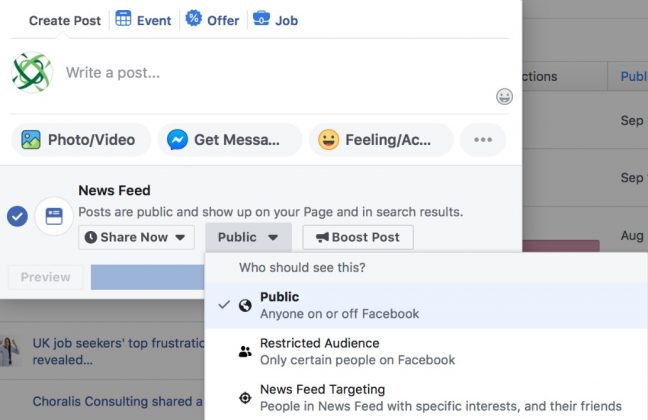 Groups: This is a great way to grow a community who's interested in your product or services.
Pages to Watch: In Facebook Insights, the Pages to Watch Feature allows you to keep an eye on your competitors so you can compare engagement, activity and audience growth.
Facebook Live: Online audiences love to consume video so Facebook Live is a great feature for small businesses. Find out how to use Facebook Live here and how you can use it to increase brand awareness here.
Scheduled posts: You can schedule your posts to go out on a certain date and at a specific time.
Facebook Pixel: This is a snippet code which can be added to the backend of your site. It's an analytics tool which helps you to effectively measure your ads by ensuring they're shown to the right people. You can also track conversions, measure ROI and even create lookalike audiences so you can reach people with a similar profile to your best customers.
Instagram
With one billion monthly active users, Instagram is the second most engaged social media network. An important point for brands to consider is that 71% of Instagram's users are under the age of 35.
Instagram is owned by Facebook and has become incredibly popular since its launch in 2010. It's a visual platform where users can share photos and images along with captions and hashtags.
Key features:
Instagram Live: It's a great way to post real-time content which is often highly engaging. Although you can save your video to share at a later date, your Instagram Live video will disappear after 24 hours. To find out more about this feature, have a read of our blog, 'A small business guide to Instagram Live.'
Stories: Stories are photos and videos you can post but rather than sitting on your usual page, people access them by clicking on your profile photo. Stories disappear after 24 hours and are very popular, being watched by an incredible 500 million users every single day. Find out how small businesses can use stories to reach target audiences here.
Instagram TV: Instagram TV allows users to share videos that are up to an hour long. The longer video length also allows for deeper storytelling that won't disappear from your profile after 24-hours.
Insights: If you have a business profile, you will gain access to Insights. This will provide you with all the information you need to know when it comes to measuring the success of your page and posts. You'll be able to see how many times your posts have been seen, page reach, interactions and changes in follower growth to name a few.
Instagram Explore: Instagram's Explore page can help businesses gain maximum exposure with minimal effort. By clicking on the magnifying glass at the bottom of the app, users gain access to posts and accounts they may like based on the accounts they follow and the posts they like. You can find out more about what Instagram Explore is, why you need it and how to feature on it here.
Find out everything you need to know about Instagram marketing in this guide for small businesses.
Twitter
Twitter has 134 million daily active users and with 63% aged between 35 and 65, it's a great platform to reach out to all different types of audiences. Twitter is widely known as a fast-moving news source. When a story breaks, people will often be able to find out further information on Twitter before the newspapers even get a chance to write it up.
With the use of hashtags, it's easy to search for conversations on Twitter which is great for companies looking to increase brand awareness and attract new followers.
 Key features:
Pinned Tweets: Twitter allows you to pin one tweet permanently to your profile which means that it will always show at the top of your news feed.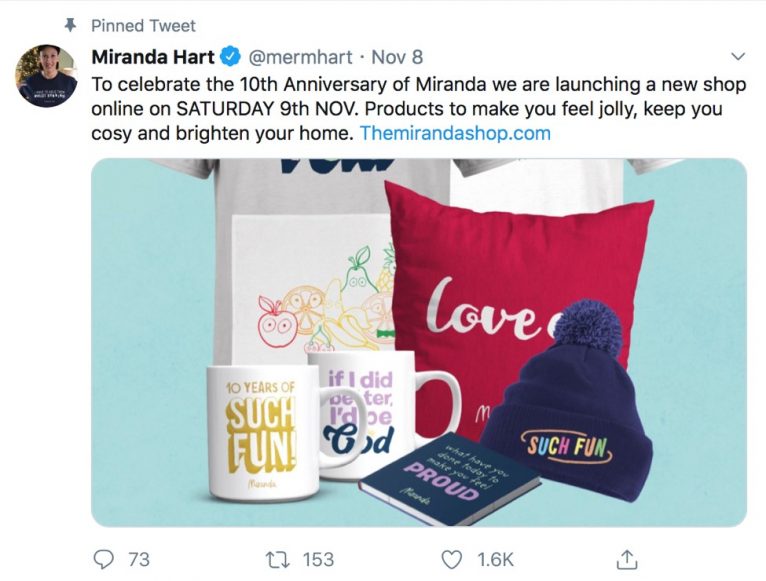 Lists: It can be hard to keep track of the people you're following on any social media platform but Twitter makes it easy with the use of lists. By breaking down the people you're following, this makes it easy to stay on top of the different groups of people you like to interact with.
Twitter Moments: Twitter Moments are curated stories which put together the best tweets and media on certain subjects. By creating Moments for your brand, it means that when other people are using this feature, you're more likely to show up.
Twitter Highlights: The best way to ensure you never miss an important story, trend or conversation, is to use Twitter Highlights. You'll receive notifications on conversations, trends, news and popular tweets.
Here are nine ways your small business can use Twitter and if your business regularly attends or exhibits at events check out these top tips on how Twitter can help promote your presence.
Pinterest
Pinterest is a network people use to find inspiration and even specifically seek out ideas for new products to buy. Content is posted as 'Pins' which can be added to people's collections or boards.
Key features:
Pins: When someone wants to save an image or video, they simply pin it. Every Pin links back to the original source which means they can be a great source of referral traffic.
Rich Pins: Rich Pins use metadata taken from your website to provide extra information about what people will find when they click on a Pin.
Group Boards: Many businesses use Group Boards so they can collaborate with their teams and clients. Anyone included in the group can add and share content, choose reactions to show feedback and sort Pins to prioritise their favourite ideas.
Visual Search: By tapping the magnifying glass in the corner of a Pin, users can look up specific items in the image. This will direct them to the product so they know what it is and where they can buy it as well as show them similar items they might be interested in.
Website integration: One of the best features of Pinterest for businesses is the ability to add a save button to your website. With just one click, it means that your product will automatically be saved to the user's Pinterest account so they can access it quickly and easily at a later date.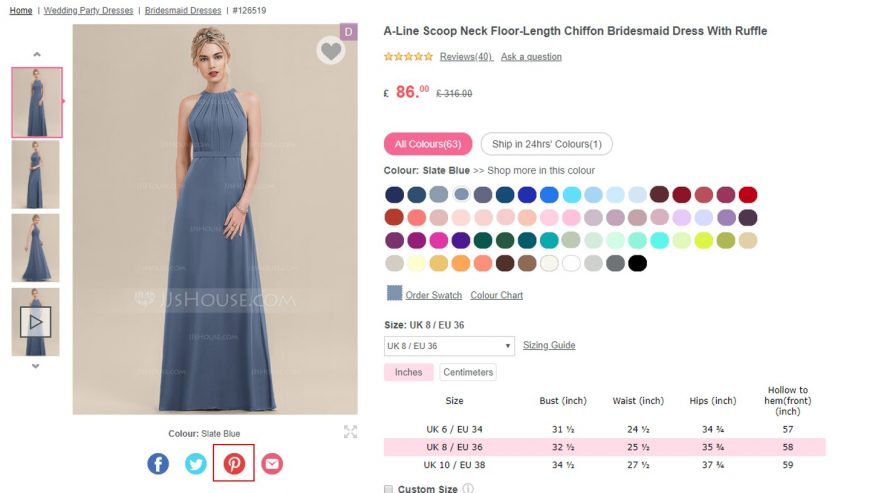 For more information about Pinterest for business including how to set up a profile and create boards, head over to Hootsuite. You can also have a read of our blogs, 'Getting started with Pinterest for business' and 'Is Pinterest right for my business?'
Snapchat
Snapchat is a multimedia messaging app which allows users to share photos and videos with each other. With the use of GIFs, emojis and filters, it's a fun and creative way to distribute content. Unlike other social media platforms, you don't have a profile where historical posts sit – everything disappears either after 24 hours or once someone has seen your snap.
Snapchat may not be the obvious choice for most businesses but it still boasts 188 million active daily users. Of these, 71% are under the age of 34 so it's perfect for companies who are trying to reach a younger audience.
Key features:
Snaps: Snaps are photos and videos you take which you can then send out to your followers. You can create standard snaps, long snaps if you need more than 10 seconds for your video and even 3D photos.
Stories: Just like you can with Facebook and Instagram, on Snapchat you can post stories which disappear after 24 hours. Stories help you to get content out there which will keep your brand fresh in the minds of your followers.
Discover: Allows you to see the stories of people you follow, stories and shows for the pages you're subscribed to and a 'for you' section which has recommended shows, sponsored stories and stories from other creators. Similarly to Instagram's Explore page, Discover is great for allowing users to discover new content like your brand's posts.
Chat: People who follow you can send you messages which is a great way for you to answer questions and engage with potential customers.
Snap Map: Snap Map allows you to see where your Snapchat contacts are, share your current location and view snaps from nearby users or users who are at a specific event or area.
Snapchat Insights: Snapchat has a built-in analytics tool which tells you everything you need to know about your performance on the social media platform, such as how many people have viewed your photos or videos, your viewer's age, location, gender and interests and content fall-off rate to name a few.
Here are some great marketing tips for your Snapchat business account. If you're not sure if this platform is right for you, why not have a read of our blog, 'Should your business be on Snapchat?
LinkedIn
Known as the professional platform, LinkedIn is great for businesses of all sizes. As well as having a personal profile, you can also set up a page for your company which people can follow and interact with.
Key features:
LinkedIn Learning: Although LinkedIn Learning isn't a feature you use to promote your page or business, it's a fantastic tool for learning valuable new skills which can help in every area of your business. You can choose from more than 15,000 online courses taught by real-world professionals who can help you with everything from managing your accounts and implementing new software to improving your marketing and email open rates.
LinkedIn Publishing: Rather than posting a link to an article or blog, with Publishing you can post a blog or piece of written content directly on LinkedIn so you can measure likes, comments, views and reach.
Groups: LinkedIn Groups provide a place for professionals in the same industry or with similar interests to share their insights and experience, ask for guidance and build connections.
LinkedIn Events: LinkedIn Events allow you to share an event, set the agenda, decide logistics, invite people and update any information. What's more, you can organise events based on your audience or the theme. You could for example schedule a happy hour to connect with fellow entrepreneurs, show a product demo or host a workshop.
This helpful video explains everything you need to know about LinkedIn Events:
To get started, have a read of our blog 'How to use LinkedIn as a small business'.
5. Do some competitor analysis
Every business has competitors. While you'll always keep an eye on your competitors in the real world, it's also important to do so on social media. Conducting a competitor analysis is an important part of your social media strategy for a number of reasons:
It's important to understand the strengths and weaknesses of your competition as well as your own.
You can identify who's a threat to your business.
It's a great way to pick up tried and tested ideas which go down well with your target audience.
You can identify gaps in your own social media marketing strategy.
How to conduct a competitor analysis
There are a number of ways you can keep an eye on your competition. You could simply check their profiles and look through historical posts to see how much engagement they've received. This will give you a good idea of what your audience does and doesn't like to see.
Checking the comments section can also be incredibly insightful because it will give you an indication about the type of relationship these brands have with people who could be your customers.
Fortunately, there are also a number of platforms available which can save you the job and complete your competitor analysis for you. Some popular ones include:
Sprout Social: understand competitor performance by tracking fundamental metrics which you can then compare against your own profile. An example of what you can track includes what your competitors are posting, what your average growth is compared to theirs and Advanced Listening which enables you to find out how consumers feel about your competitors.
Social Blade: a simple way for even marketing novices to understand how their competitors are performing on social media. It looks at follower counts, likes and other engagement metrics and then 'grades' the brand accordingly. Another very useful feature is the day-to-day follower update so you can see how many followers your competition is winning or losing.

If you would prefer to carry out your competitive analysis yourself, here's a helpful guide which also includes a free template.
Also, here are five ways to improve and fine-tune your online competitor research to give your business an edge.
6. Create a social media content calendar
A social media content calendar is a working document used to schedule pieces of content you're going to post across all your social media platforms for the week, month or even quarter. How you choose to manage this is entirely dependent on your time restrictions and how far in advance you know what content you'll have.
A content calendar is a key part of your social media strategy for a couple reasons. Firstly, it helps you stay consistent when it comes to posting. If you have to remember to post something three times a week across multiple platforms, there will inevitably be days you forget or simply don't have time.
It's also important that your brand's social media activity coordinates with holidays, celebrations and time-sensitive marketing campaigns. For example, the lead up to Christmas is a great time for brands to promote products as gifts for loved ones or if you're an accountant, December and January is an ideal time to advertise the fact that you can help customers with their tax return.
Most importantly however is that your content calendar revolves around your other marketing activities. If you've published a blog you can post about this with a link. If you're running an email campaign, your social media activity can support this. Perhaps you've got a new member of staff or you've updated your website – all of these things deserve a mention because it's the type of news customers like to hear about.
What should you include in your social media content calendar?
It's a good idea to have a separate calendar for each social media platform so it's easy to manage. With Excel you can keep all the schedules in the same document but have different tabs for each channel.
Alternatively, if you're not going to be posting on a massive scale to start with, a simple table format can work well with a column for each social platform.
You may even choose to use an online platform to manage your content calendar or create your schedule using a document. Here are some great recommendations for content calendar tools and templates.
Include the social platform, date and time your post will be published, the caption, the image or video if you're using one and any hashtags or tags you'll be using. It's also a good idea to have a column at the end where you can make a note of the engagement each post received. This will make it very easy for you to go back and monitor which posts were successful and which don't do too well.
While some platforms such as Facebook allow you to schedule your posts directly on the site, others don't. It's therefore sometimes a good idea to use a scheduling website or tool which can do this for you. For further information on this topic, have a read of our blog, 'How to build an editorial content calendar (with a downloadable template)'.
7. Executing your social media marketing strategy
Following the advice above will help you to execute your social media strategy successfully. If you're feeling a bit overwhelmed with how much information there is however, below are some top tips to help ensure a seamless implementation.
Keep referring back to your social media goals.
Explore social media management tools. There are free tools and others more advanced if your budget permits. There are plenty of platforms out there which are designed to make your life easier. As well as the sites we've mentioned above, Hootsuite is also great for scheduling, posting and monitoring multiple accounts all from one place.
Download a social media strategy template – this can save you hours of work. Complete it and make sure you keep using it to plan and track your social activity.
Keep track of who's posting. If you have more than one person managing your social media, it's very easy for duplicate posts, missed posts and general confusion to occur. Ideally only one person should be doing this but if you need more, make sure everybody knows what's going on at all times.
Don't rush. If you've lasted all this time without being on social media, it's not the end of the world if you take the time to get your strategy right.
Be consistent. This applies to everything from your tone of voice and the type of content you post to the filters you use and when you post. Your audience likes to know what to expect from you.
Measure results. Tracking engagement levels, website traffic and sales generated is the best way to measure whether or not your social media efforts have been successful.
8. Monitoring your social media marketing strategy
An important part of your social media strategy is monitoring performance. Knowing what's working and what isn't will help you to improve your offering to loyal followers as well as ensure you're getting a good ROI.
There are a number of ways you can track your social media success. What you track and monitor will depend on your social media goals, here are some ideas to get you started:
How many new followers you're getting: if this is increasing, chances are you're on the right track. If you're regularly losing followers however, people might be disengaging with your content.
Engagement: this is anything from likes and comments to shares, clicks and mentions. You can find out what a good engagement rate is and how to calculate yours here.
Click-through-rate (how many people are clicking through to your website).
Impressions (how many times your posts are showing up in people's timelines).
Reach (the potential unique views a post can have).
Customer care: how fast you're responding to people, if at all.
When it comes to monitoring your social media performance, you could simply go through your accounts and make a note of the engagement you're receiving. This can be time consuming however and there are also plenty of tools available which can offer a more in-depth analysis.
Some popular tools include:
Each social media website has their own analytics tools available which tell you everything you need to know. Make sure you've signed up as a business account however (which is still free) if you want to access these tools.
Sprout Social – a cross-channel analytics tool which measures everything from page impressions, clicks and growth rate to engagement, content performance and more.
Awario is ideal for brands who want to be aware of the conversations their customers are having about them online. This tool specialises in tracking brand mentions and industry conversations.
If you're thinking of trying influencer marketing, Tapinfluence can help determine the reach, engagement and even potential price tag for your chosen influencer.
Hashtags are an important part of your social media strategy so it makes sense to measure their performance too. Keyhole provides a real-time performance analysis of industry and campaign-specific hashtags on Twitter and Instagram. This will really help you to understand which tags are the most popular among your followers.

Social media best practices: why it's important to be 'social'
Now you've created your own social media strategy, it's important to take some time to consider how your brand appears across your social platforms and explore the ways you could increase your social presence, through options such as advertising and influencers.
Why it's important to be 'social'
Whether you're a personal trainer or a big national company, social media plays an essential role in your marketing strategy. Why exactly is it so important to be 'social' however?
Be where your customers are
Firstly, the sheer number of people on social media makes it an obvious marketing choice. Whether they're on the train to work, sitting in a waiting room, watching television or even walking down the street, people are constantly scrolling through their phones. With the use of mobile devices in all aspects of day-to-day life set to only increase, it quite simply makes good business sense to reach out to potential customers via a medium they're always using.
Customers are using social to influence their purchasing decisions
Social media has started to play a huge role in the consumer decision making process too, particularly on Instagram with users buying products directly from the platform or influencer's feed. In fact, an ODM Group study reported that 74% of consumers rely on social media to help them make purchasing decisions, with another report from Aimia stating that 31% of customers use social media to browse for new products to buy.
Consumers use social media as a customer service channel
Social media plays a huge part in today's customer service. It has become an important and valid channel for people to solicit and receive customer service. In today's fast-paced world, your customers expect to hear from you promptly and if they don't, it's highly likely they'll go elsewhere. Here are some great ways you can offer excellent customer service across your social media channels:
Answer questions: If someone asks you a question or is struggling with something, make sure you reply to them. Don't be afraid to reply publicly either. Anyone looking at your account wants to see that you're being proactive when it comes to resolving issues.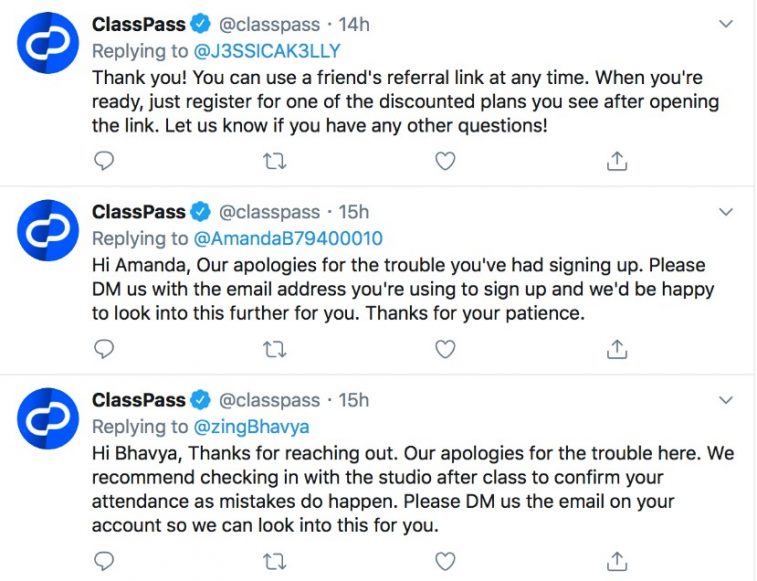 Engage with your followers: If someone has made the effort to communicate with you, it's really important that you respond. Even if it's something irrelevant, as long as it's appropriate, it's still worth taking the time to reply. Zappos is an online clothing shop but still responded to this Tweet and they're well-known for offering excellent customer service as a result.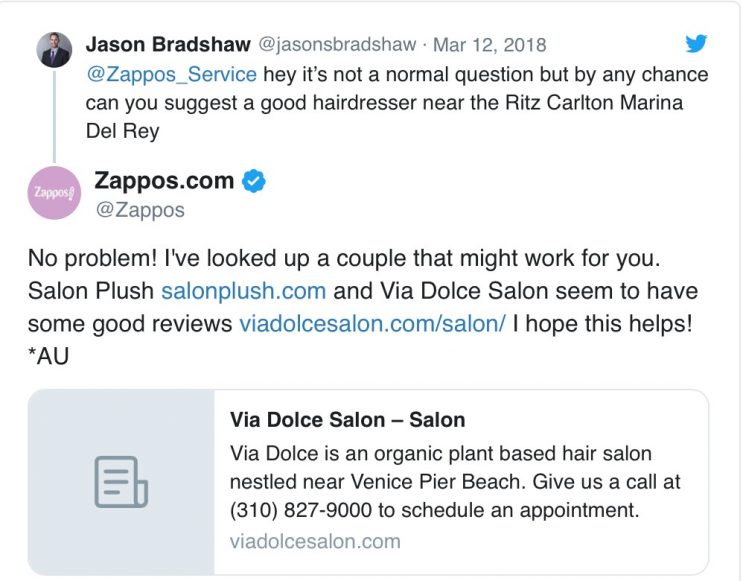 Use it to improve your business: Social media can provide a powerful forum for customer feedback. Make sure you listen to what your potential or existing customers are saying because it can help you to improve your business offering and give people exactly what they're looking for.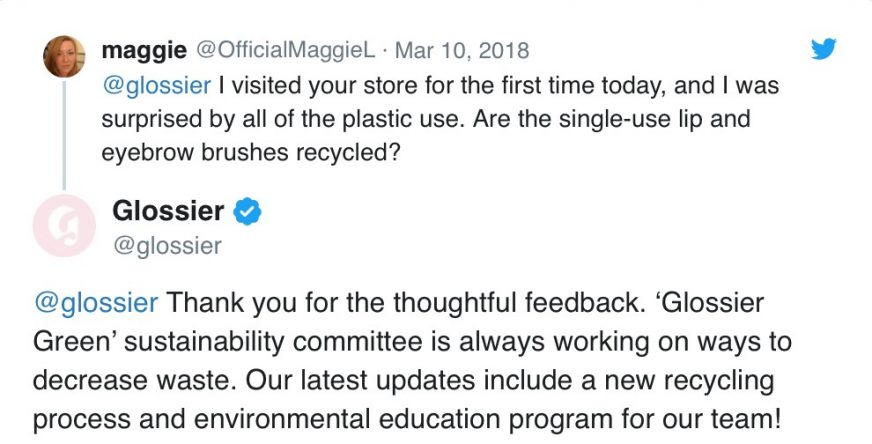 Have fun with it: Don't be afraid to have fun with your social media and show off your brand's personality. People want to know that as well as offering an excellent service, you're also relatable. Injecting a bit of humour also gives people another reason to follow you and they're far more likely to react to and share your posts if they think other people will enjoy them too.

Waterstones did reply saying, 'We're pleased to announce that @DWill_ is a free man once more. Thanks for your concern and tweets!' As well as injecting a bit of humour, with the original post getting 14,000 retweets and nearly 12,000 likes, it was great exposure for the brand.
Building a community on social leads to loyal customers
If you make your fans feel like they're part of a special group, chances are they'll stay loyal to you. Use social media to create a hashtag that people can use to show others that they're part of this group. Not only does this make it easy for you to find out what people are saying about you, it's an excellent way to improve brand awareness and you don't even have to do anything.
Online fitness professional, Diren Kartal coined the hashtag #neatup247 in a bid to get people moving more throughout the day. There are already more than 36,000 posts on Instagram using this hashtag. One of the greatest things about this is that anyone thinking of signing up to his programme will be able to see first-hand that he has genuine clients who really believe in Diren and his brand.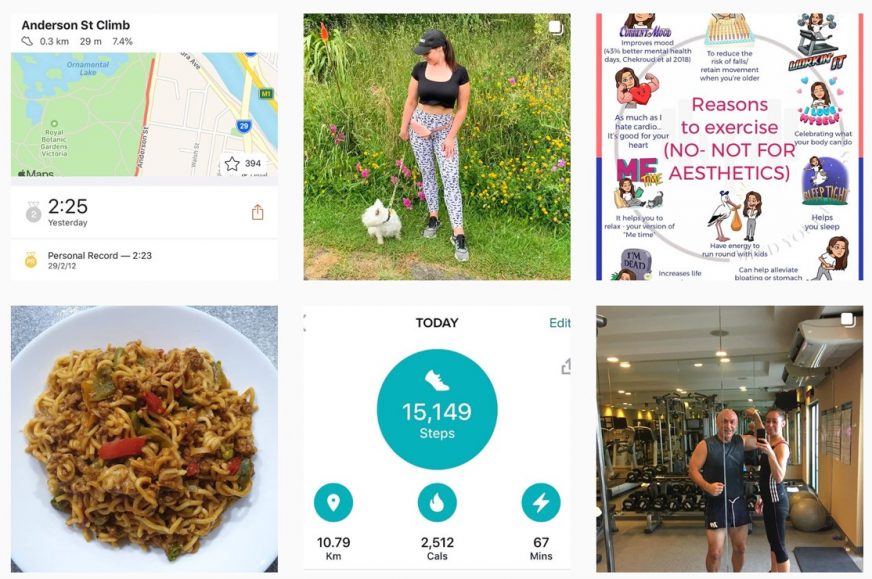 Engaging with other brands
While it's easy to focus your social media efforts on the people who might buy from you, don't forget to engage with other brands too. This is particularly important for small businesses who rely on referrals.
Connect with other local businesses and those who are in a similar industry to you. By showing your support by liking, sharing and commenting on their posts, they're likely to return the favour.
Back in 2017, a Twitter user started a light-hearted battle with all the big supermarkets because of mince pies. It was an incredibly popular thread because all the brands took part and Twitter users found it very funny.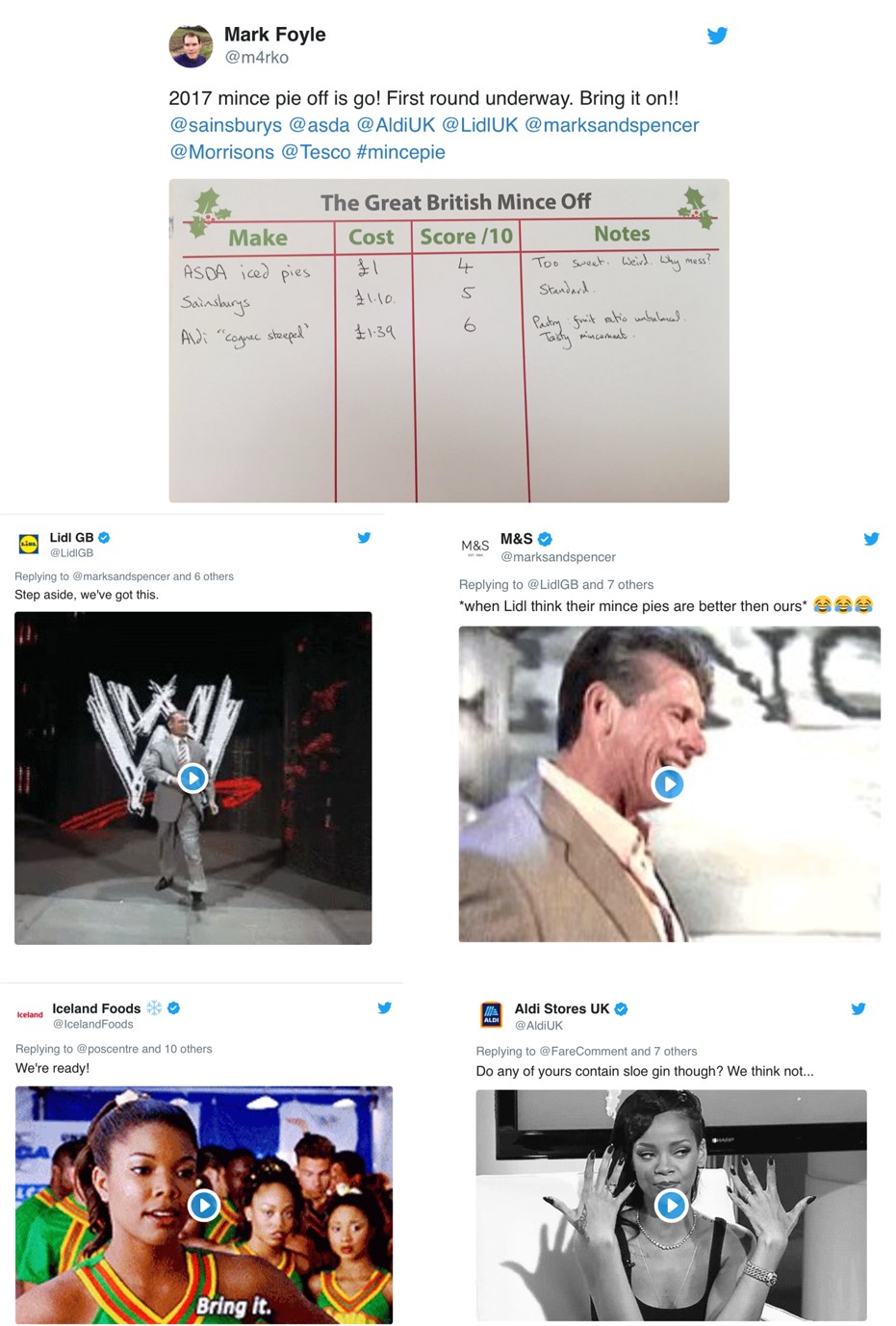 Deciding who to follow
Most accounts want a large following but it's also important to think about who you're going to follow yourself. Following other brands, industry experts and influencers gives you a chance to interact with content, get involved in industry conversations and connect with customers. If you don't know where to start, here are some helpful suggestions:
1. People you know
Start by following the people you already know. This may be loyal customers, companies you work with, suppliers, friends, family, work colleagues, email contacts and people you've met at industry events. This group of people is likely to be interested in what you have to say and should therefore hopefully follow back.
2. Industry experts
It's a good idea to follow people or companies in your industry. Not only does this help you to establish a good relationship with them, they can also provide you with plenty of helpful information. If you're an accountancy firm for example, you'll probably want to follow HMRC, ACCA and CIMA to find out all the latest news and regulations.
3. Influencers
Anyone in your industry with a large following is worth a follow. If you can build up a relationship with them or get them to like or comment on your posts, it's an excellent way of getting your content seen by a large audience.
4. Your local fans
If you notice certain accounts are always liking, sharing or commenting on your posts, reward them by following them back. You rely on these people to get your content seen by others and by showing you've noticed and appreciated their engagement, they're more likely to continue to do so.

Creating a brand image on social media
Strong, consistent branding can boost your image and strengthen the relationship between you and your target audience. It also boosts brand recall which is incredibly important.
If you've done little to focus on this so far, here's some great advice explaining how to build a strong brand image.
If you're confident about your branding, the next step is to ensure this comes across on social media. How exactly do you do this however, especially when you're using multiple platforms?
1. Create a familiar look
Although each social media platform has a different look, you can keep your branding consistent by using the same profile photo and bio for each. Try to ensure your logo, tagline, fonts and colour scheme are also the same on each channel. If you use filters on your photos, this also means using the same ones for each post.
Ensure that your social media branding is consistent with everything else including your website, offices, shop, marketing materials and advertising.
2. Establish a voice
Your voice is how your company communicates its messages and it's very important that this is consistent across all the platforms. If you're serious on Facebook and then silly on Instagram, you're simply going to confuse your followers. You can of course alter the messages slightly and according to the demographic of each platform, but having the same tone of voice helps to reinforce brand recognition.
The language you use should also be the same across every platform. If you've adopted a formal tone for example, always use this. Don't use slang and emojis on one site but not another and if you've created a hashtag for your brand, don't forget to always include this in your posts.
Also try to keep your captions consistent. Do you tend to stick to witty one-liners, two-sentence paragraphs which offer a little more explanation or are your posts typically long and full of detail?
3. Think about the type of content you post
It's good to mix things up to keep things fresh for your followers but there should be a degree of consistency when it comes to the content you're posting. Try to stick to two or three ideas and rotate them. Some examples include:
User-generated content (customers using your products).
Links to blogs and other helpful content.
Case studies.
Reviews.
Meet the team.
Tutorials.
Behind the scenes.
Company news updates.
Your products in action.
Information about your services.
Giveaways and promotions.
Tips and tricks.
4. Publish consistently
Your followers like to know when they can expect to hear from you. If you post every day for two weeks and then nothing for a month, people will soon lose interest and assume you're not fussed about them. Your content schedule will help you to stay on top of this.
5. Use the same hashtags
Hashtags help your content get seen by the right people. They can expose your brand to large and targeted audiences which can help you to attract followers, get likes and improve engagement rates.
As with everything else in your social media strategy however, consistency is key. While there's nothing wrong with occasionally changing things up a bit or tailoring hashtags depending on what you're posting about, have a list of hashtags you always use and stick to them.
For more information about this subject, have a read of our blog, 'How to use hashtags effectively and why they play a key part in your social media success.'

Advertising on social media
If you're looking for a quicker way to boost your content and get your brand noticed, most social media platforms offer various advertising options.
Facebook
There are a number of ways you can use Facebook advertising. You can boost a specific post which is great if you're having a sale or are trying to promote a certain product or service.
You can target exactly who sees your post, how long your ad will run for and what you want your budget to be.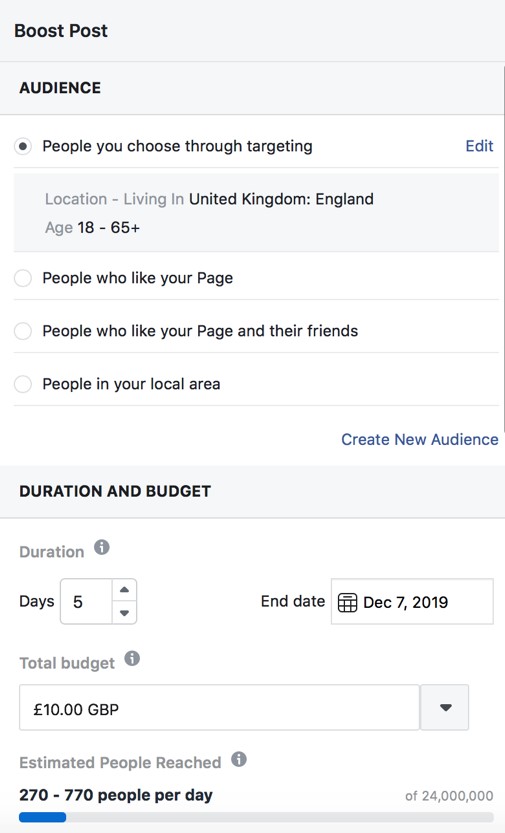 You also have the option to create Facebook Ads which show up on people's pages in a number of ways. It will either display in their news feed which means they're highly likely to see your ad as they're scrolling through or it may show on the right-hand side as you can see below. As with boosted posts, you can target your ads to certain audiences, set your budget and measure and manage your advert.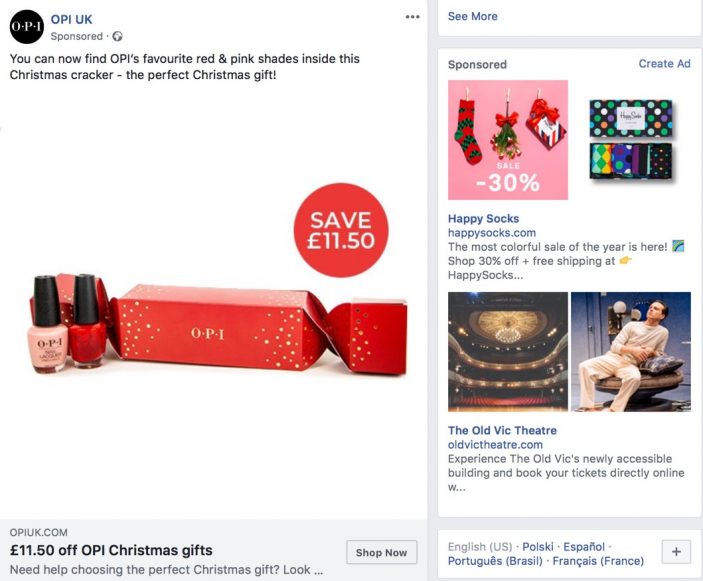 You can find out everything you need to know about Facebook ads here.
The benefits of advertising on Facebook include:
It has the lowest cost per 1,000 impressions compared to all the other online advertising channels.
You can micro-target specific groups, ensuring that the right people are seeing your ads.
Facebook retargeting means you can retarget previous visitors to your website.
It's the biggest social platform and therefore has the largest audience.
Some of the drawbacks include:
It's a social network, not a business site and therefore might not be appropriate for all companies.
You might be advertising to fake or inactive profiles (this is a risk on any social networking site).
Twitter
Twitter's audience is typically keen to discover new brands, products and ideas. With a number of proven solutions which can help your business target your preferred audience, advertising on Twitter is a great way to get your brand noticed.
Twitter ads run in an auction which means that you decide how much you want to pay for each interaction (such as a click to your website). Alternatively, you can use automatic bidding which determines the best bid cost based on your budget and goals.
If you're planning on running a lot of Twitter ads, you can also turn on Promote Mode. This is a flat-rate subscription service which automatically promotes your account, saving you a lot of time and effort.
If you're not sure if this is right for you, why not have a read of our blog, 'Are Twitter ads worth using to grow your brand?'
You can find the best type of Twitter ads for your business and how to get started here.
There are many benefits of advertising on Twitter including:
Promoting your tweets increases engagement and maximises your reach.
You can promote your account to grow your following.
Targeting features ensure your ads are seen by the right people.
No minimum campaign spend and you can choose a daily budget.
Downsides may include:
The reporting tools aren't as comprehensive as the likes of Facebook.
Because Twitter is a constant stream of information, your ad could get lost among all the other Tweets.
Instagram
When you advertise on Instagram, you can choose for your post to display in someone's news feed, in their stories or on the Explore page.
Sponsored post: this will show up in people's news feeds and you can choose to use a single photo, a single video or a carousel (several photos or videos where users swipe to see more).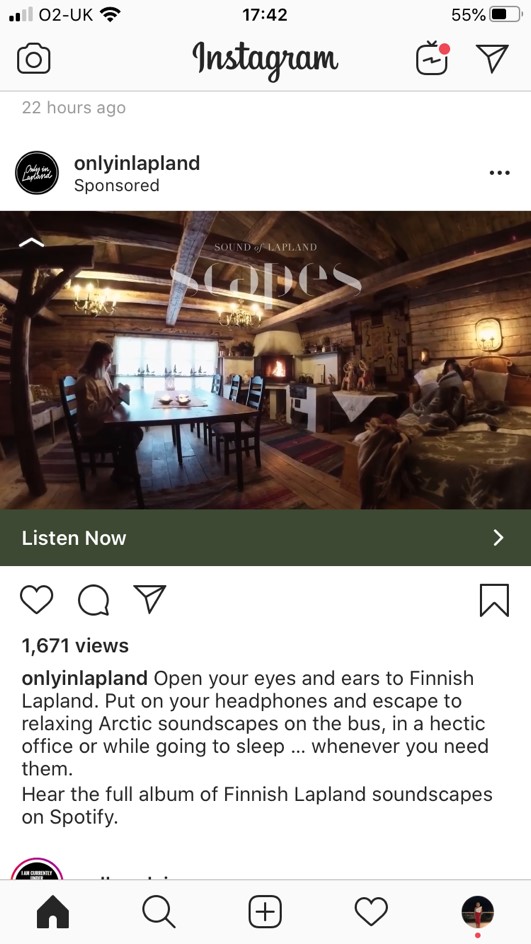 Stories: your advert will show up as a story while users are watching other people's stories. With the ability to 'shop now' people will be directed straight to your website so they can find out more.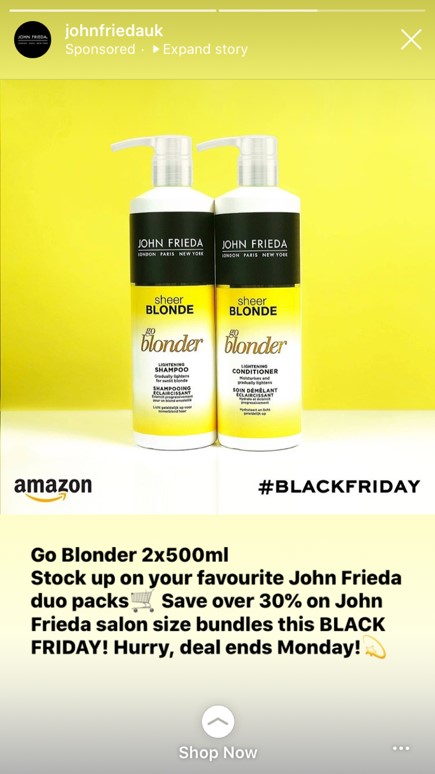 Explore: people will be shown your advert when they're looking through the Explore tab. This can be highly effective because when people choose to look through Explore, they're often trying to find new accounts to follow.
However you choose to advertise on Instagram, you can target your ads by location, interests, behaviours and other demographics to ensure they're reaching the right audience. You can also create custom audiences (if you know people's email address or phone number, you can ensure they see your post) and lookalike audiences. Just a note, Instagram ads are set up using Facebook's Ad Manager.  
The benefits of advertising on Instagram include:
Detailed audience targeting.
Because your ads use images or video, they're very eye-catching.
Unlike normal posts on Instagram, you can include a call-to-action on your ad with a clickable link.
The cons are:
For brands trying to reach an older audience, Instagram ads might not be the best fit.
If your ad is text-heavy, again this might not be the best advertising medium for you.
LinkedIn
As the world's largest professional network, LinkedIn is the number one place to do business. You can promote your company's updates and drive awareness as well as leads to targeted audiences on desktop, mobile and tablet.
The Campaign Manager tool allows you to set up ad accounts, run campaigns and control your budget all from the same place. You can find out more about LinkedIn advertising here.
The benefits of advertising on LinkedIn are:
You're advertising to high quality prospects. Many of LinkedIn's users are influencers, decision-makers and executives who act on new opportunities.
Unlike other social networking sites, LinkedIn is focused on professional experience and development. As a result, you're largely immune to being associated with negative or unsavoury comments or users. It's a much safer space for advertisers compared to other sites like Twitter where people are often very vocal.
You can target who sees your ads down to quite an advanced level, for example targeting specific industries, job titles and companies.
The cons include:
LinkedIn is a professional networking site and therefore isn't appropriate for all businesses. If you're trying to sell fancy dress costumes or children's toys for example, this probably isn't the place for your ads.
It's more expensive than other social networks.
Influencer marketing
Social media is full of influencers with hundreds of thousands of followers all keen to hang on to their every word. They're people who have established credibility and a loyal fan base and can be anyone from a reality television star to a food blogger.
Influencer marketing is a very attractive prospect for any business because these individuals have a huge influence over their following. If they're seen using or promoting a product, you can almost guarantee that a percentage of people who see the post will rush out and buy it.
What this form of advertising involves is finding an influencer who sits in your industry and is appropriate to your brand. While the aim is to acquire someone with as many followers as possible, it's equally, if not more important that this person's values align with those of your brand.
You then pay your influencer to mention your product or service in the form of a review, recommendation, demonstration or a simple shout-out. The post below is a perfect example of how influencer marketing works.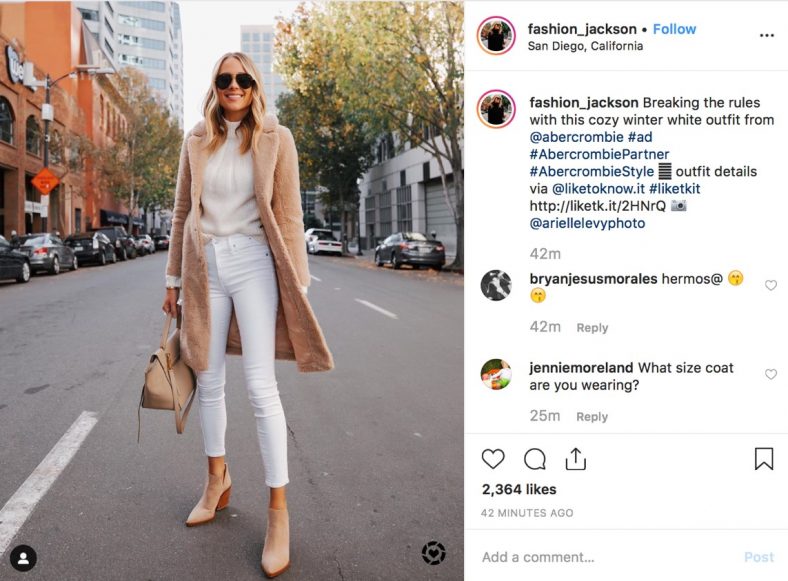 The influencer is fashion blogger, Amy Jackson and with 550,000 followers, she's an attractive prospect for any clothes brand. All her images are high quality, well-presented and she keeps her page very professional so is a good fit for a brand like Abercrombie & Fitch.
You can find out more about influencer marketing in our Instagram Marketing for Small Businesses Guide. We also have a number of other blogs which may help including 'Should your business or brand be considering influencer marketing?' and 'How to tell if an influencer's followers are real.'
Useful tools
We hope you've enjoyed our social media strategy for small businesses guide and are now equipped with all the information you need to put a successful plan in place.
Below are links to some other helpful tools and resources you may find useful. 
Putting together your social media marketing strategy
Getting followers
Social media content
Making money out of social media
Advertising on social media