For any business, an online presence has been essential for some time, even if they don't sell directly online.
A website can help to raise awareness and drive customers into physical stores and provide useful information on products, opening times and customer reviews.
However, if you can sell products or services online, then it can add an extra revenue stream and help your business reach a larger audience.
The importance of an online presence has also been amplified by the COVID-19 pandemic and the restrictions placed on shops and businesses as a result.
Many businesses have been unable to trade for large periods of time over the past year, while a lack of customer confidence has meant a drop in footfall even when shops have been open.
In these challenging circumstances, some businesses have been able to use their websites to generate extra revenue, to keep customers informed about changes resulting from differing lockdown restrictions or simply to keep in touch with their customer base.
In this article, I'll look at the benefits of adding e-commerce functionality to your website and some best practices for offering products and services online.
Advantages of e-commerce
A website with no e-commerce function can still be valuable for businesses. It can raise awareness of a business and help to drive leads and visits to physical shops or provide useful information.
For example, a website for a handyman business can do a lot to drive interest by displaying information on services, pricing, pictures of work and reviews, even if it doesn't sell anything directly online.
However, adding the ability to sell online can have several key benefits:
E-commerce opens up potential revenue opportunities for business. Even if your shop is successful, the ability to sell online opens up further options to increase revenues
It can help you to survive difficult trading periods. COVID-19 is an obvious example, but with the trend towards buying online, e-commerce is a way to future-proof your business and ensure it can continue to run even when you can't sell offline
It broadens your potential customer base. With a physical presence only, your customer base is limited mainly to those within a certain distance of your stores or other premises. Online means you can potentially sell to anyone around the world
E-commerce means you can sell 24/7. With physical locations, you're limited to standard opening hours, and how much time you or your staff can spend serving customers
It helps you to learn about your customers. One big advantage of being online is the data you can gather on visitor behaviour – their product preferences, buying habits and more. All of this enables you to market your business more effectively
E-commerce can be more cost-effective. It offers a way to expand your business' income without the extra costs of staff and premises
It helps you to build up a marketing database. Capturing emails and product preferences from online shoppers helps you to build up a useful list of interested customers to market to in future
Best practices for adding e-commerce functionality
There are various options when thinking of adding transactional functionality to your website – you could sell directly online, taking orders and handling delivery to customers. Or you could go for a click and collect option, where you can broaden your appeal but avoid the costs and time dealing with shipping.
A third option, which is relevant for businesses like cafes and restaurants, is to deliver locally and add extra revenue beyond that generated by diners.
Adding an online shop
Depending on the platform you currently use for your website, it can potentially be very easy to add e-commerce functionality online. Here are a few areas to think about.
Choice of e-commerce platform
An e-commerce platform allows you to manage your e-commerce activity, and there are plenty of options for all skill levels. This article looks at some e-commerce platform choices for new online retailers. It's important to choose a platform that matches your budget and skill level.
Product range
It isn't always necessary to sell every product online that you stock in store. Indeed, it can be more advisable (initially at least) to sell a limited range, or to consider things like profit margins and delivery costs before deciding what to stock online. For example, it may help to sell only products that offer a good margin once packaging and delivery costs have been accounted for.
Website design
E-commerce website design is important, as it creates an instant impression to visitors and affects how easy it is to find and buy products. It pays to start with a simple design and to match the experience on other sites as closely as possible. This means customers can instantly see how the site works, and don't have to work hard to shop.
The example below is a site from a local small butcher, but it looks professional, with clear product images, useful tools like filters and a good overall user experience. This can make the difference for small businesses.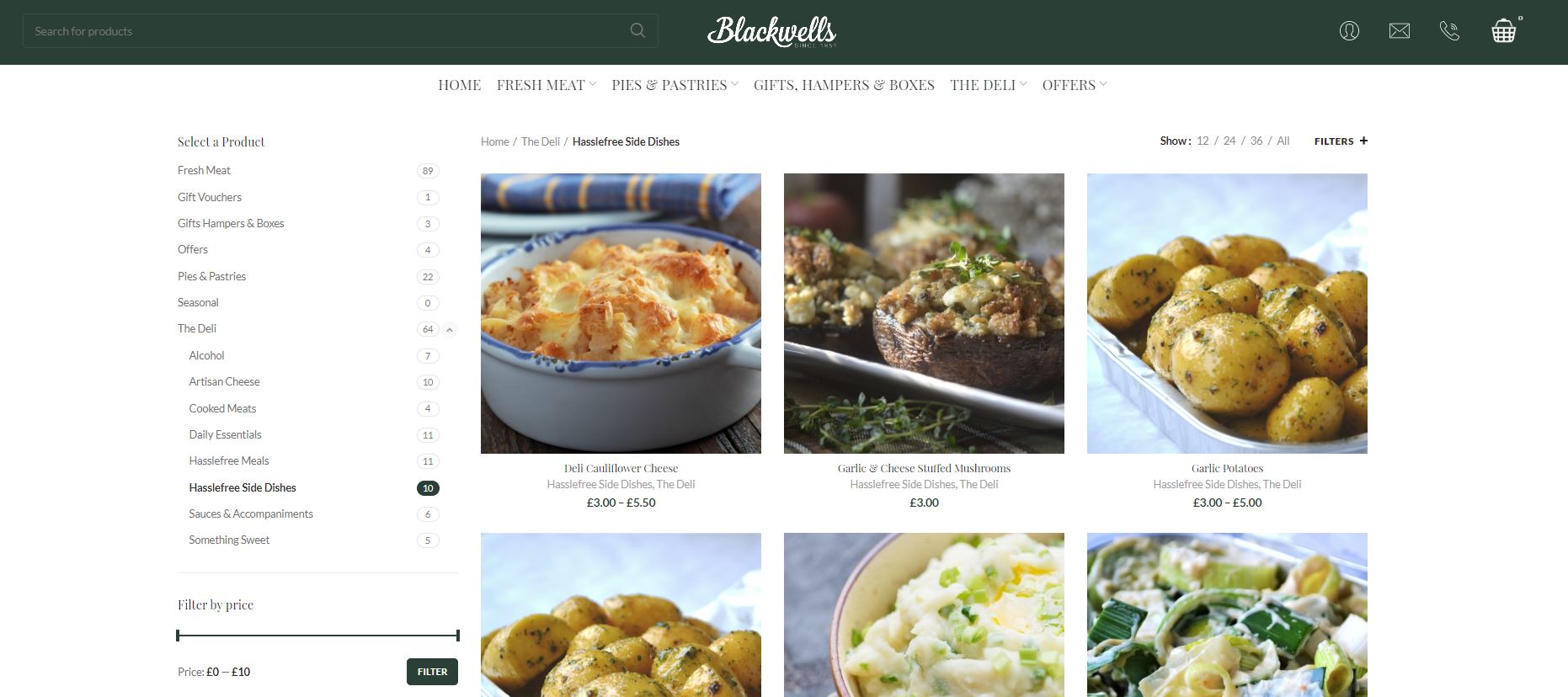 Payment/checkout
A simple checkout is important for converting online shoppers. A good checkout that works on mobile makes your site look more professional and will minimise the risk that shoppers leave at this point.
It is also wise to offer alternative payments like PayPal. If customers have any concerns about payment security, PayPal and similar methods can reassure them, as well as reducing effort in entering payment details.

Delivery
It's important to think about delivery and the options that suit your business and products best. Fast and convenient delivery options are attractive to shoppers, but they can be expensive for retailers.
If you're selling larger products, then packaging and delivery can become expensive so consider e-commerce shipping options carefully.
It's important to be clear with customers about shipping timescales, as disappointments and delays around delivery can deter customers from buying again. Be clear and don't over-promise.
It's also important to think about the environment when packing goods and choosing materials for use in packaging. Avoid excess packaging and use recycled and renewable materials where possible. This is not only good for the planet but can also be a selling point for customers.
Click and collect
Click and collect is a useful option to offer customers. Some shoppers find it more convenient to collect in person and it can be a good way to sell more online without having to deal with shipping and the associated costs.
In the past year we've seen a lot of shops and restaurants take this step, as it does offer a way to appeal to local customers.
Here are a few points to consider when offering click and collect:
Advertise the service prominently
Click and collect can be a sales driver, so it's important to make the option clear on your website so customers can take advantage of it.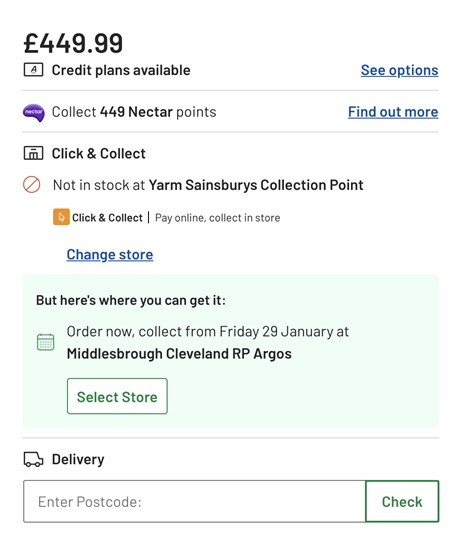 Check stock availability information
Customers need to be able to order with confidence, so up to date stock information is vital. Even just a contact number so customers can call will help.
Fast click and collect options
If you are fulfilling click and collect orders from store stock, the ability to collect quickly can be a key selling point.
Clear information on the pick-up process
It's important to make the collection process clear, from time slots to in-store collection points. At a time like the present, it's also vital to clarify any safety procedures, such as limits on the number of people in stores.
Delivery
Offering a range of delivery options can allow small businesses to expand their reach beyond their local customer base, but there are some key considerations and different options.
Delivery and packaging
You could simply start by fulfilling orders yourself through Royal Mail, as a low cost way of testing the service. As order volumes increase, you can look at different delivery options which are more cost-effective.
Packaging is important, both to ensure that products arrive intact and in good condition, and to leave a good impression. If packaging looks professional, this can build trust and convince customers to place future orders.
Again, it's important to look for environmentally friendly delivery options where possible.
Offer local delivery
This is an option that especially applies to businesses like restaurants, cafes and those who can deliver locally but are unable to offer wider delivery options.
With the pandemic leading to cafe and restaurant closures and reduced demand, delivery has provided a valuable extra source of income in difficult times.
Offering local delivery or takeaway/click and collect can be very easy to do and can be as simple as advertising options on a Facebook page and taking orders by phone or Facebook messages, as this pizza restaurant does.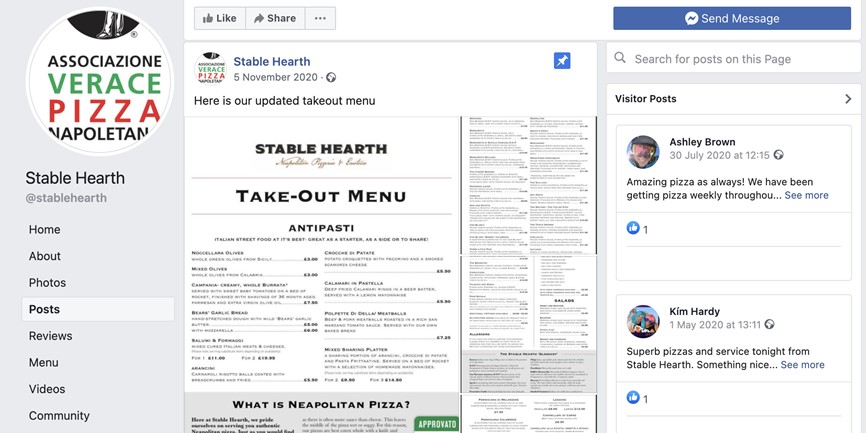 This is a good short-term solution, but it's preferable to sell direct through your own website where you have more control. Here, you can provide better e-commerce functionality and display menus more effectively.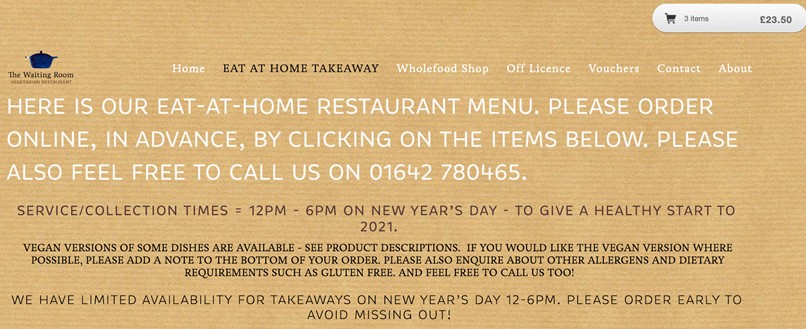 Clarity of information
For small businesses taking their first steps into e-commerce or providing limited offerings like local delivery or collection only, then customers need to understand their options.
Clear information, like that shown in the Waiting Room example above, avoids confusion, and helps customers to make orders without unnecessary hassle.
It's also vital, in difficult times, to provide clear information to customers looking to visit stores or physical locations. Some shoppers need clarity on whether shops are open, as well as reassurances on measures to ensure customer safety – social distancing, use of masks etc.
The importance of security
It's vital to consider security options when selling online and taking payments from customers. Trust is key to customer confidence when placing orders, especially when they're unfamiliar with the business. Just a few tips include:
Ensure the site is secure. Security should be a key consideration when choosing e-commerce platforms and payment providers. It's a good idea to choose a platform that handles security or a hosted payment gateway that handles security
Provide trusted payment options. Options such as PayPal and Amazon Checkout are secure and well-known by customers, with saved details and guarantees for shoppers. Familiar options like this can encourage them to make a purchase
Clear security information. Trust badges and logos can help to show customers that you have security measures in place and reassure them that it's safe to shop with you
Understand your legal obligations. If you're selling online for the first time or adding payment functionality to your existing website, it's important to understand what laws and key legislation will apply
In summary
Difficult trading conditions caused by the pandemic have emphasised the importance of an online presence, with online traffic and sales growing faster than ever.
According to ONS data, e-commerce in 2020 grew by 46% year on year, the biggest rise since 2008. At times during the year, online sales accounted for between 30% and 40% of all retail sales.
However, this isn't the only compelling reason to sell online. E-commerce has grown steadily for more than a decade and isn't showing signs of slowing yet. It offers a valuable extra channel for small businesses and can provide a way to keep pace with customer expectations and expand your customer base.