Google My Business is one of the easiest ways to improve the appearance of your site in search results, yet many businesses fail to use it to its full potential.
In this article, I'll look at why small businesses should have a Google My Business listing, and why it's worth taking the time and effort to make the listing as useful and effective as possible.
What is Google My Business?
Google My Business (GMB) is essentially a local business listings service, and it's widely used. For example, you'll sometimes find listings for multinationals like Starbucks alongside local cafes and restaurants.
The big guys may already have Google My Business listings, but every business has a chance of achieving a prominent listing if they get the basics right and deliver value to customers.
You'll see these listings on many Google searches, and your business can appear in different ways. Most obvious is a search for your business name.
Here's an example for a Cambridge cafe, on a direct search for the brand name. The Google My Business listing appears on the right of the page.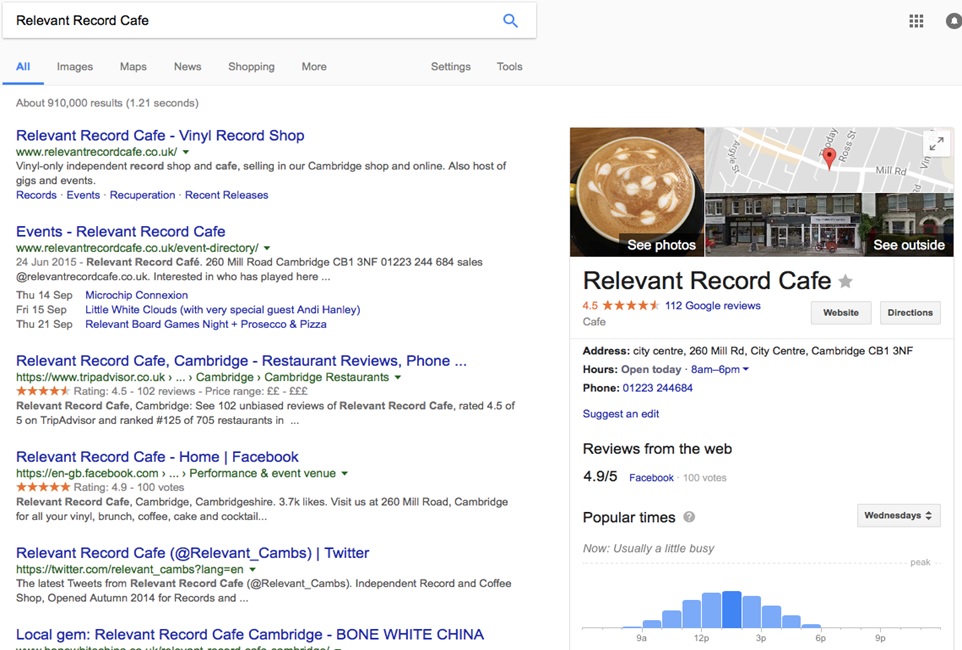 If someone has searched for the business name like this, it's probable that they're looking for information about the cafe, and GMB listings can provide very quick answers.
For example, they can see the address, opening hours and a contact number straight away, as well as a summary of reviews. There are images, and a link to directions – handy if the searcher is a few minutes' walk away looking for a coffee.
So the searcher finds the details they need quickly, with the only potential drawback being that they have found the information in the listing rather than the business' website.
However, the benefits of the listing are likely to make up for any loss of web traffic. Besides, they'll still click through for more detail on products (or menus in the case of cafes).
Another way a business GMB listing will appear in searches is for local searches on a business type.
This is perhaps what makes GMB so powerful – these listings dominate the first page of search and the three cafes listed in this case are likely to benefit from being in such a prominent position.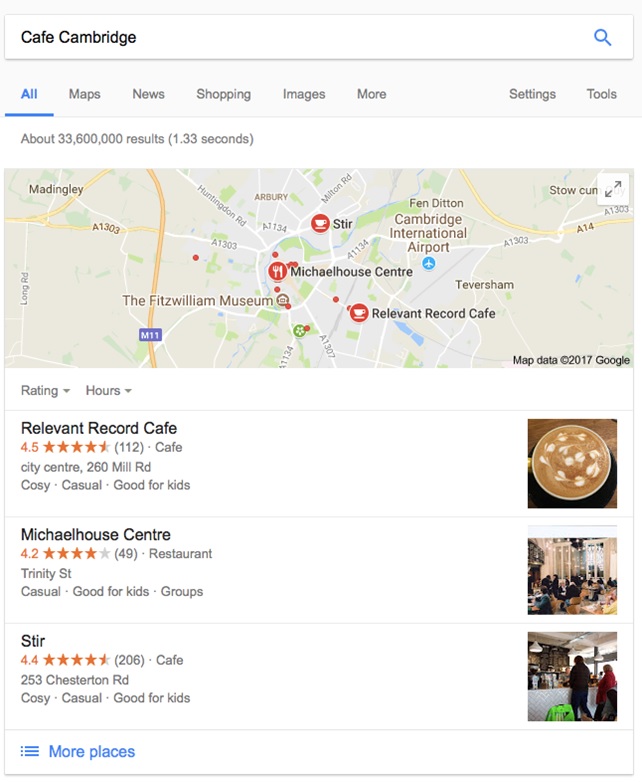 These GMB results are often referred to as the 'three pack', as Google picks out the three best or most relevant local listings for these searches.
Why do you need a Google My Business listing?
If you're doing business in any way, you need one of these. Here's why…
Prominence in search results
As the example above for Relevant Records demonstrates, a listing can help your business to stand out in search results, and can help people to find your business, whether it's online or offline.
While listings will guarantee that you'll appear in brand name searches, such a prominent position isn't automatic for 'business type' results.
This can depend on the level of competition in your local area for your business type, and factors such as review scores, but there are ways to maximise your chances.
However, if you can get into the top three results, it's a great way to drive people to your website or physical location.
The importance of local search
Google My Business is all about local search – this can include searches made near your business, and searches made outside the area with the location added.
For example, if a user is in Cambridge, they may just search for 'cafe', but if they're heading to Cambridge later, they'll search for 'cafe Cambridge'.
According to stats from Google, 46% of all Google searches are local, while the GMB 'three pack' of results appear in 93% of all local searches.
These stats are backed up by a 2018 survey from Uberall, which found that 'near me' searches – those with local intent, were used by 83% of smartphone shoppers.
These searches fell into the following categories:
Food – 84%
Entertainment – 56%
Banking – 50%
Clothing and shoes – 41%
Personal care – 38%
The survey also found that 60% of mobile users were 'very likely' to click on the first two or three results they see, which is significant given how GMB results appear in mobile searches.
If you want to improve your chances in local search results, then a Google My Business listing is the key.
The importance of mobile search
For the major search engines, mobile search has now overtaken desktop. In Q1 2019, 62% of Google searches were mobile, and 50% of those on Yahoo. Only Bing has a minority of searches on mobile (23%), probably thanks to the fact that the dominant mobile operating systems default to Google search.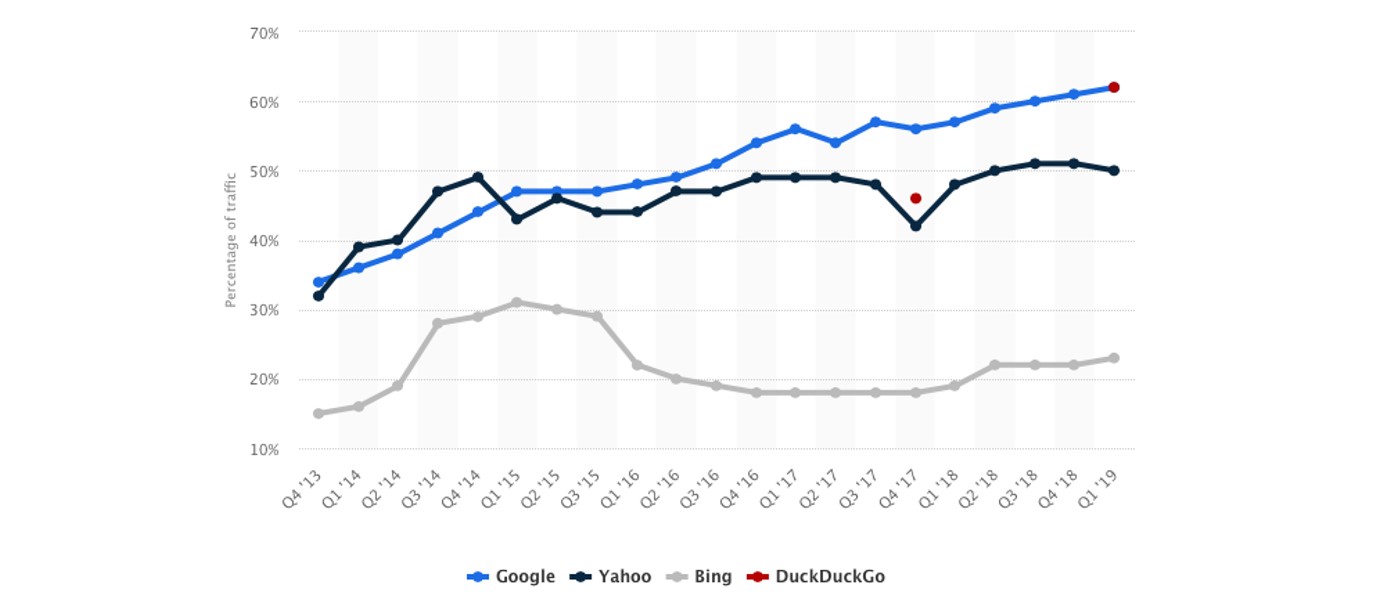 As we can see from the 'near me' search stats, a significant portion of mobile search activity is likely to be local.
This makes mobile visibility ever more important, and Google My Business is key to that, as these listings dominate mobile search results, to the extent that it's impossible to avoid them on many local searches.
For some business types, cafes and shops being the most obvious, mobile search can be more powerful, as the location of the searcher and the query mean they have a real intent to purchase or make a visit.
Your competitors may be on it…or not
This could work in a couple of ways. Firstly, if your competitors have GMB listings, people are going to have to work harder to find your site in local searches.
You'll be less visible, and people will have to scroll down the search results page, past the more prominent GMB listings, to find your site. Having your own listing helps you to compete on a level playing field.
However, if your competitors don't have a GMB listing, this is a chance to gain an advantage. Your mobile and local search results will stand out more, and searchers will be more likely to see your listing.
It makes it easier for customers to find you
Listings provide key information quickly for searchers which can help them to find a business and decide on a visit.
Opening hours, popular times to visit, and maps to help with directions all make it more likely that searchers will visit the store.
Credibility
Web users will now be accustomed to seeing these profiles, and it can lend some credibility to your business.
The listings look professional and provide key information that helps people to decide whether you're a credible business or not through address information and reviews for instance.
Reinforce your search presence
Even if you don't have a physical store presence and you conduct business online, these listings still help your overall search presence.
For example, the company I work for doesn't have a store or sell directly, but the GMB listings which appear for brand searches help to improve our search presence.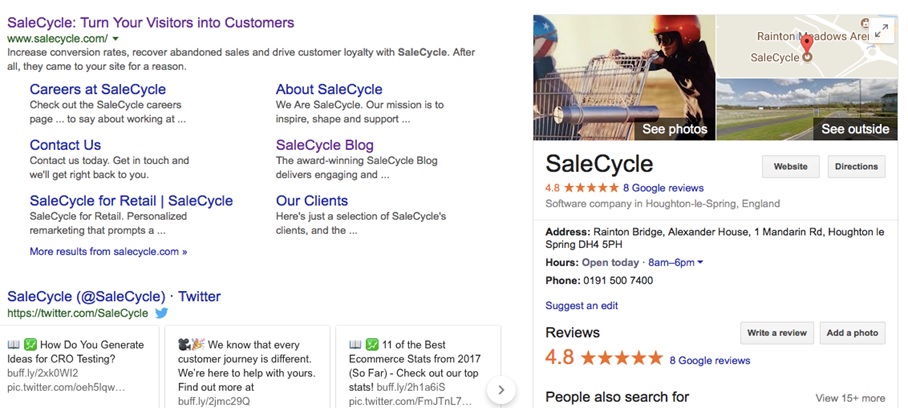 The listing helps us to dominate the results page, while the information reinforces our credibility to any potential clients searching for us. We have a good review score, use professional photography and display clear contact details. It all helps.
It's free and easy to set up a listing
A GMB listing has many potential benefits, and even a relatively basic listing can help to improve your search presence, so it's worth setting one up.
Indeed, if customers search for your business and don't see a listing, that could be a problem in itself.
Find insights into customer behaviour
Google provides some useful data around your listings which you can use to gain insights into customer behaviour.
For example, you can see how people found your listing (through web searches or maps), and information on the actions taken after viewing the listing.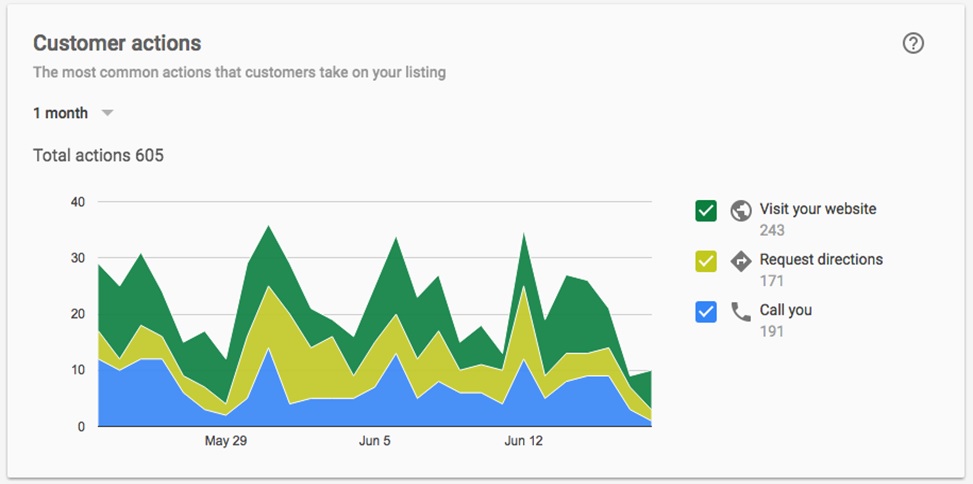 This can help you to understand how customers find you, and help you to provide the kinds of information they're looking for.
Setting up your Google My Business listing
I'll summarise the process here, but this really useful guide to local SEO contains more detailed advice on creating or claiming your Google My Business listing.
To add, or to claim, your GMB listing, follow these steps:
Open Google My Business and click start now at the top right, before signing into your Google account.
Enter the name of your business and click Next.
Choose whether you want your location to be visible on Google Maps, before entering your business address.
List your business type.
Enter the contact details (phone number, website URL etc.) that you want customers to use.
Finish and verify your listing.
Once set up, you can access and view your GMB dashboard via the Google My Business homepage. You'll find it under the 'Home' tab under 'Performance'.
This will show details of how people find your business, where they're seeing it (maps or search results) and details of actions taken by users – visits, calls, bookings made, and so on.
It's a useful way to see how your listing performs, and how any steps you take to optimise your listing affect performance.
How do you optimise your Google My Business listing?
Once you have your listing set up, there's plenty you can do to make it stand out in search results, and to provide useful information and features for your target customers.
Get the basics right
Follow Google's guidelines, and make sure you have the NAP information correct and keep it up to date. NAP means business name, address and phone number.
It's also important to choose the right category, as this affects the searches your business may appear in. It can be a temptation to go broad to attract more searches, but you are likely to have a better chance of ranking for more specific terms – 'nail salon' rather than 'salon' for example.
Add the information that customers find useful
Think about what you would want to see on a listing. For example, many businesses don't add opening hours, but this can be crucial if customers are deciding whether or not to pay you a visit.
Make sure you describe the business, as this burger restaurant does. It can help to attract visits, while adding relevant links to the menu and reservations makes it easy for customers to decide on a visit or order based on the listing.
Monitor and update regularly
GMB listings don't have to take too much work, but it is important to keep information and links up to date. For example, adjust opening hours for the Christmas period if you need to.
Also, make sure the photos match what customers will find. If you've just refreshed the store and it looks great, make sure the photos reflect that.
Make use of new features
Over the last two years, Google has added some useful extra features to GMB listings. Depending on the type of business, these can help to drive footfall and capture the attention of searchers.
Appointment bookings
The ability to add bookings can be very useful for some business types, restaurants being one obvious example. Google explains how to add bookings here, and these will appear as call to action buttons in your GMB listing.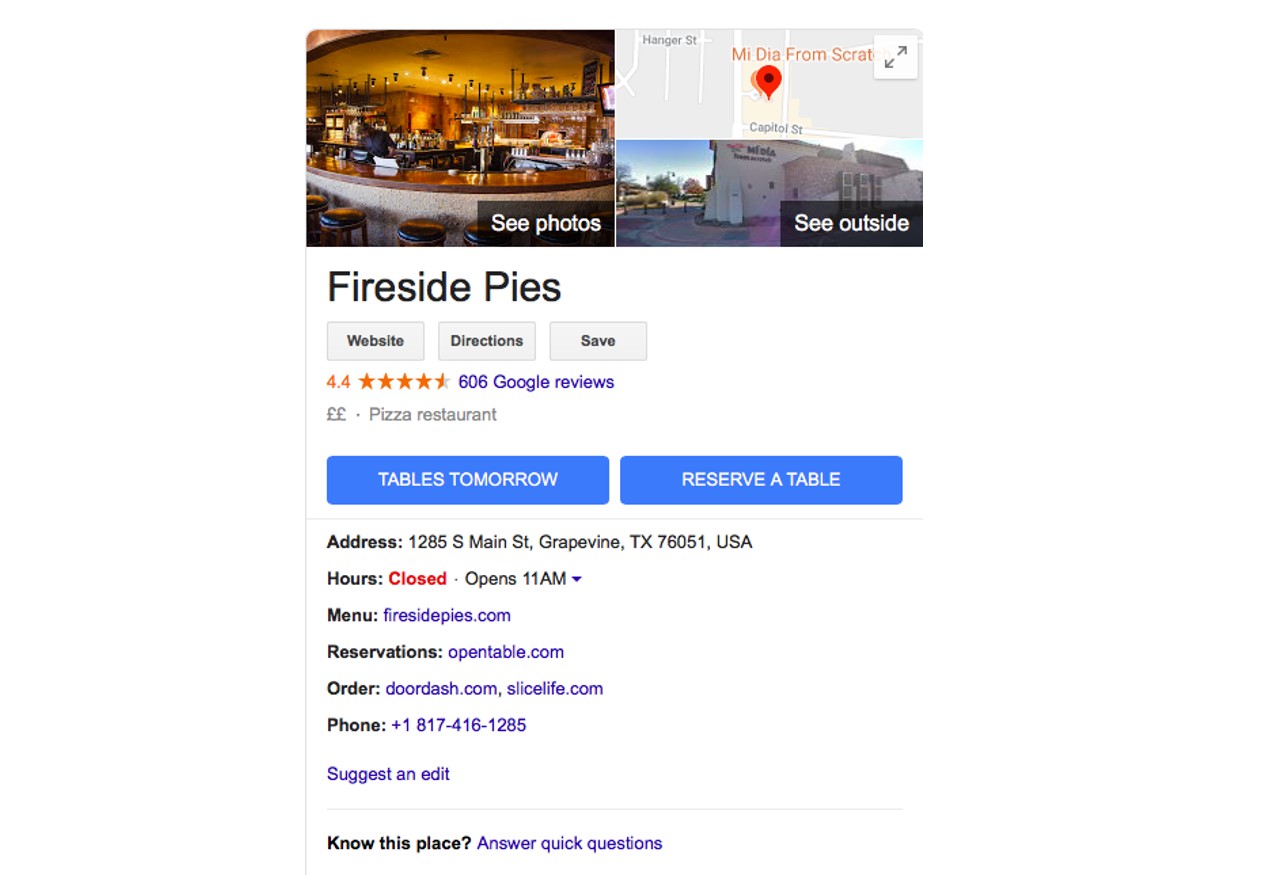 Posts
Businesses can add details and links to forthcoming events, as Waterstones does below. Posts can also show text, video or photo content. Google has a guide to adding posts here.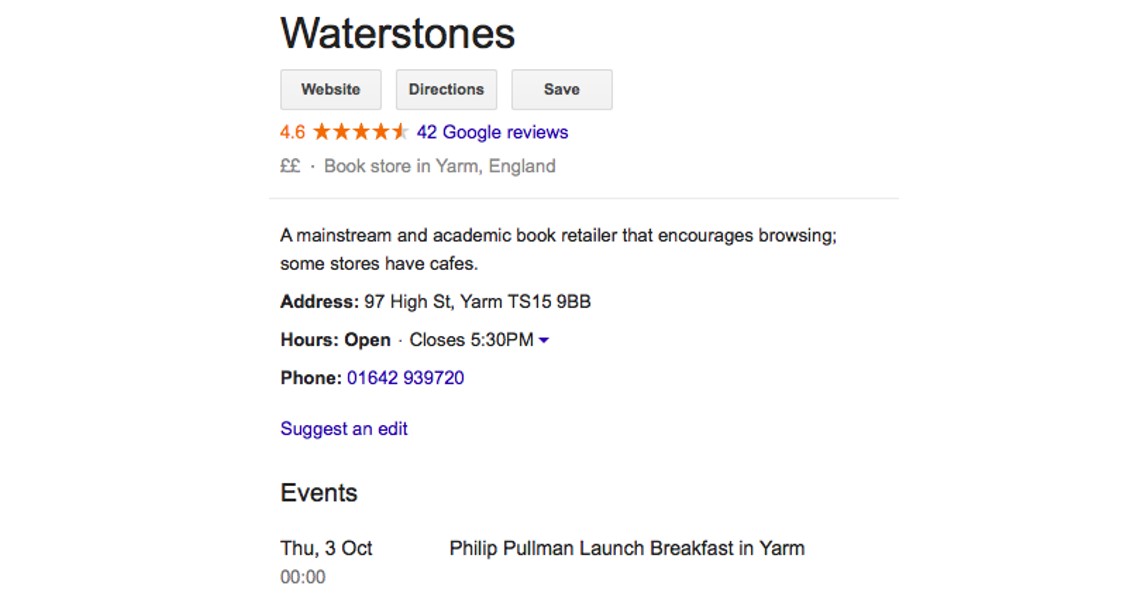 Questions and answers
These can be added (Google guide here) to allow customers to ask questions via listings. This allows customers to get some useful information, and also for the business or other customers to provide answers.
In addition, it's a good way to find out what information you may need to add to your listing.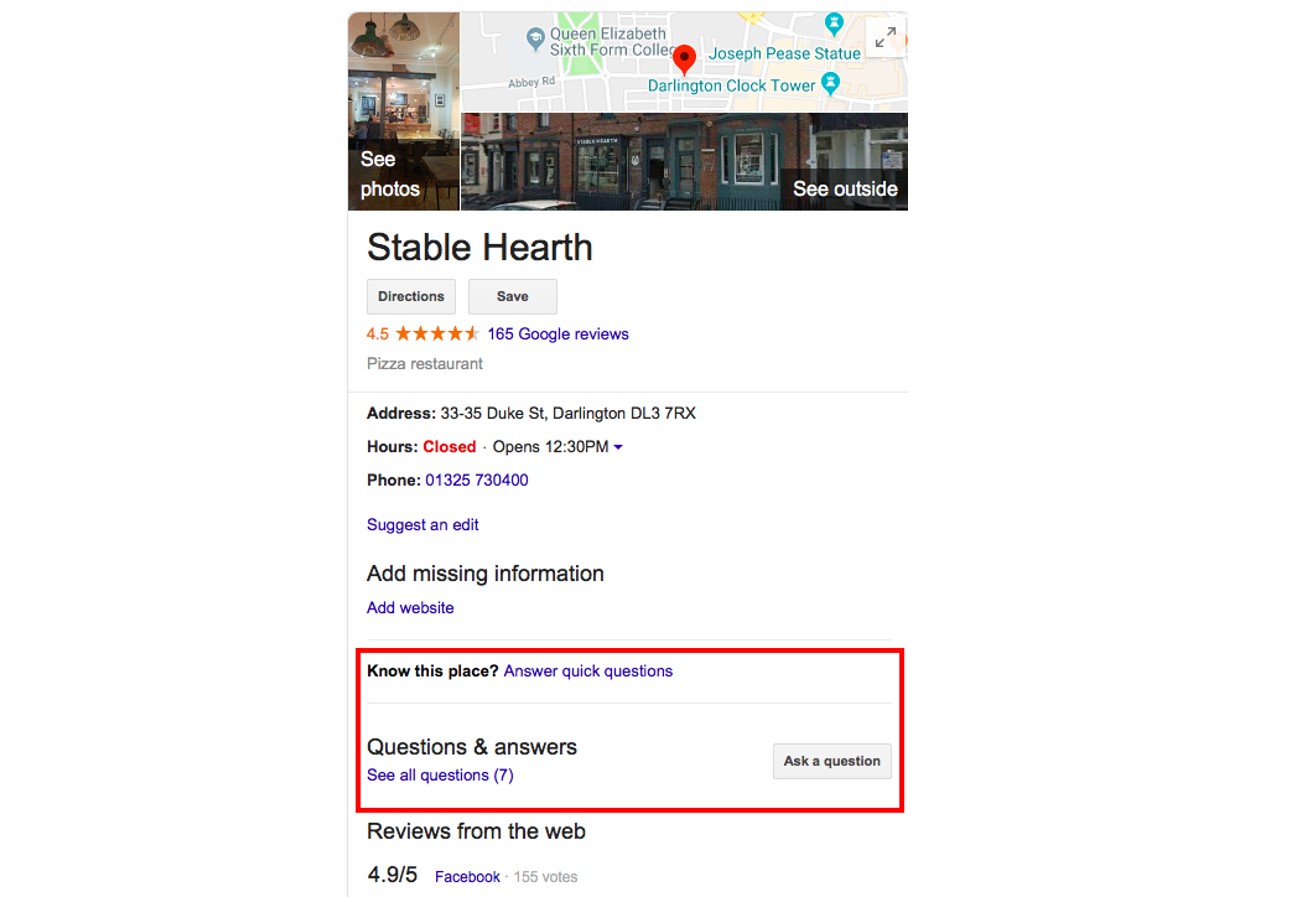 Build citations
Citations will help you to improve the ranking for your GMB listing, as long as they are relevant and accurate.
You may already have some on sites like Yelp and Foursquare, as well as local listings sites. These help Google to decide whether your business is relevant to local queries.
The key is to ensure that any listings with NAP details are correct, and to add your details to any listings sites that are relevant to your business. Relevance is key here – for example, if you run a restaurant, there may be local guides listing places to eat.
Reviews
Reviews are a ranking factor in GMB listings, and a good average review score will help you to increase your chances of featuring in the all-important 'three pack'.
These reviews also increase the chance that people will investigate your listing further, clicking on links and maybe visiting your store.
Encouraging your customers to leave positive reviews can help here, as well as making it easy for customers to review you.
However, it's more about doing the kinds of things that motivate customers to leave positive reviews. This includes giving value to customers through your products, and providing great all-round service.
In summary
A Google My Business listing is a must for businesses of any size. It's free, and it's one of the easiest and fastest ways to increase your visibility on search results.
As the stats quoted here show, mobile search with local intent is becoming increasingly popular, and a GMB listing appears front and centre for mobile searches.
To make the most of GMB listings though, it's important to go beyond the basics and work to create a useful and eye-catching listing which will encourage searchers to visit your stores, your website, or get in touch with you.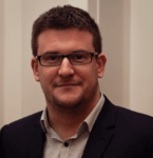 Graham Charlton is Editor in Chief at behavioural marketing company SaleCycle. He has previously worked for Econsultancy and Search Engine Watch, and has written several best practice guides on e-commerce and digital marketing. Follow him on Twitter
Read full profile