With most of us accessing emails on the go and the average person checking their emails 20 times per day, it's no wonder businesses have been so eager to include email marketing in their promotional efforts.
From company updates, monthly newsletters and promotions to cart abandonment, renewal notifications and re-engagements, the type of emails that can hit our inboxes is extensive. While you may think this makes email marketing less effective, this simply isn't the case.
The statistics show that emailing remains a highly effective method of reaching out to and engaging with consumers:
If you're looking for some inspiration for your campaigns, below I share five great email marketing examples and what your small business can learn from them.
Top B2C email marketing examples
1. Welcome emails
By far one of the best email marketing examples is welcome emails. Companies that fail to send them could be missing out on huge opportunities.
Welcome emails have an 86% higher open rate compared to other marketing emails
Consumers who receive a welcome email show 33% more long-term brand engagement compared to those who don't
Below is a great example of a welcome email from Borrow My Doggy.

Why it works:
This is a friendly welcome to Borrow My Doggy and one of the reasons it works so well is because it focuses on the customer. Rather than talking about why the platform is so great, they share tips and tricks to help the customer get the most from their account.
As well as providing helpful information, the steps prompt users to log into their account and use the website. Welcome emails like this are a win-win for everyone. The better a customer's profile is, the more likely they are to find a match and to continue to use the platform.
What small businesses can learn:
Show enthusiasm
Showing new customers or subscribers how excited you are to have them on board will help them to feel valued. Rather than simply saying 'welcome,' take inspiration from Borrow My Doggy who tell their customers they're 'so happy' they've joined the site.
Explain the next steps
It can be really helpful for subscribers to know what to do once they've signed up to your website, newsletter or service. It may be as simple as letting them know they've successfully subscribed to your newsletter and will be receiving it shortly.
As you can see with Borrow My Doggy, they let customers know exactly what to do next from completing their profile to finding a dog to take on walks.
Break the text up with imagery
The email includes a lot of images which helps to break up the text and makes it very easy to read.
Include a call to action (CTA)
You want your recipients to read your email and then head to your website. This may be to browse products, learn more about your services, download something or complete their profile. Always include a prominent call to action, such as the 'search local dogs' CTA in the above example, so readers know exactly what to do next.
Offer a discount
If appropriate, offering a discount in a welcome email is a great way to encourage new subscribers to make a purchase. It could also entice them to open future communications from you in the hope of seeing another promotion.
2. Newsletters
Sending email newsletters is an effective and inexpensive way for small businesses to keep in touch with their customers. Even during times when people might not actively be making buying decisions, they're a great way to grow or maintain your relationships.
What's more, consumers enjoy receiving them. When asked to opt in to receive updates from a company, only 10% elected to do so through Facebook while 90% chose to receive email newsletters.
Some great ideas include:
Company updates
A round-up of recent and/or popular blogs and videos you've posted
New products
Sales, promotions and competitions
Best practices and tips
Industry news
Photos or stories customers have shared
Below is a good example of an email newsletter from Pets at Home which customers who have signed up to their VIP loyalty card receive every month.

Why it works:
The great thing about this email is that it's relevant and timely. Sent in June when it was very hot, the newsletter is packed full of products and tips for keeping pets cool. It's well balanced with promoting products and offering readers valuable information with plenty of imagery and calls to action.
What small businesses can learn:
Have a great subject line
Your subject line is possibly the most important sentence in your whole email because this is what determines whether or not someone opens it. In this example, Pets at Home used 'How cool is your VIP? Beat the heat with these summer offers.'
As well as engaging readers with a question, they create an emotional link by talking about the recipients' pet and then really lure them in by mentioning special offers. Here are some great tips for writing the perfect email subject line.
Break it down into sections
If you have a lot to say, break your newsletter into sections. This means readers can easily skim the email and read the parts they're interested in. By including a combination of news, updates, tips, offers and product information, it also means you're likely to appeal to a wider audience because there's something for everyone.
What's in it for the reader?
Ensure your newsletter offers value to your readers and they'll always be excited about opening future editions. In the Pets at Home newsletter, they include links to products which are currently 25% off and blogs which explain how to keep pets safe and happy in the heat.
Make life easy for your subscribers
Whether you want your readers to head to your blog or buy a product, make it incredibly easy. Don't expect people to head to your website on their own accord and then search for a particular story or product. Include a visible link which takes readers straight to where you want them to go.
3. Promotional emails
If you're looking for some of the best email marketing examples, you can't go wrong with offers and discounts.
55% of consumers say they like receiving emails with money-off deals and 75% say they search their inbox just to look for relevant discounts. Furthermore, an impressive 7 out of 10 people say they've used a discount that was emailed to them.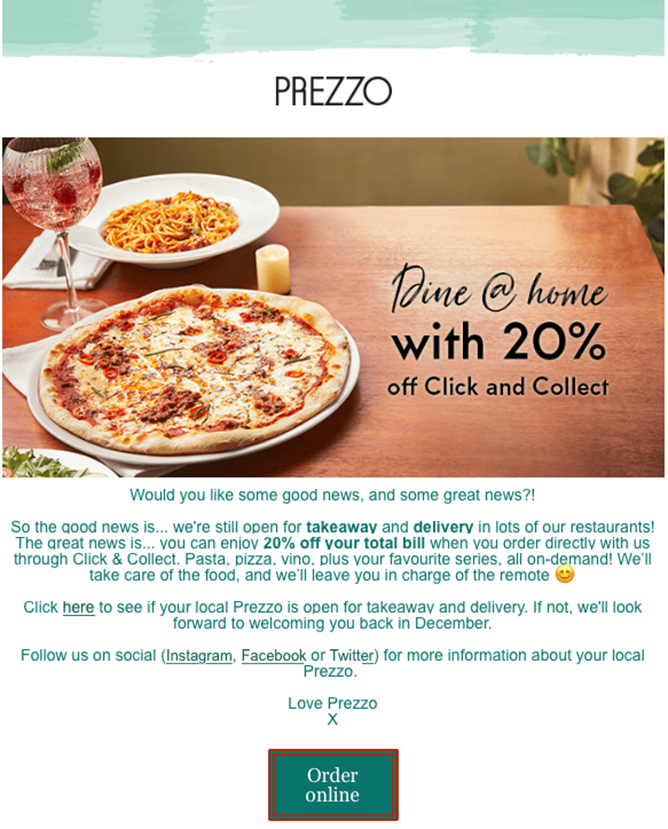 Why this email works:
The first thing Prezzo got right was their subject line which is 'Dine at home with 20% off click and collect.' It's simple and you know exactly what's in the email. They also sent it at 6pm which is around the time many people might start to think about dinner, increasing the possibility someone might see the email and decide to order takeaway instead.
As with the other examples we've seen, Prezzo is being timely and relevant. With England in lockdown, dining out wasn't an option so restaurants were instead focusing on takeaway options. By offering a 20% discount, it gives recipients a reason to choose Prezzo over a competitor.
They've used some great imagery which helps to set the scene and with the food looking so great, it's enough to tempt anyone into placing an order. Last but not least, there's a big 'order online' button which makes it quick and easy for customers to go ahead with the transaction.
What small businesses can learn:
Time it right
23% of email opens occur during the first hour of delivery and after 24 hours, an email's chance of being opened drops below 1%. This means that timing is everything.
Discovering the best day and time to send your emails will take a bit of trial and error because it's likely to differ from brand to brand. Think about your customers and when is the best time to catch them.
With Prezzo for example, they sent their email at a time when people are thinking about eating dinner. Another great time could be a Friday or Saturday evening as people often treat themselves to a takeaway at the weekend.
Here is a guide to the best days and times to send emails. It's important to use this as a guide however. Play around with your schedule for a few weeks until you have enough data to determine what works for your business.
Make your recipients feel good
Something that really stands out with Prezzo's email is their positivity. They talk about good news, great news, welcoming everybody back in December and they even use a smiley face emoji.
If you make your customers feel good, there's a better chance they'll remember you and want to do business with you now and in the future.
Use A/B testing
If you want to know whether your customers prefer a flat rate discount (such as two courses for £14.99) or a percentage discount (20% off orders), use A/B testing. This will allow you to test different variations and how they affect open rates, clicks and conversions. Find out why you need to be A/B testing your email marketing and how to get started.
4. Re-engagement emails
If a customer hasn't purchased anything from you in a while, a simple email can entice them to re-engage with you.
The best part is that you don't have to manually search through customer data either. As long as you have certain information such as the customer's last purchase date, it's easy to set this up as an automated campaign. You simply enter a timeframe (three months for example) since someone last purchased something from you and then as soon as that given timeframe hits, customers will automatically receive your re-engagement email.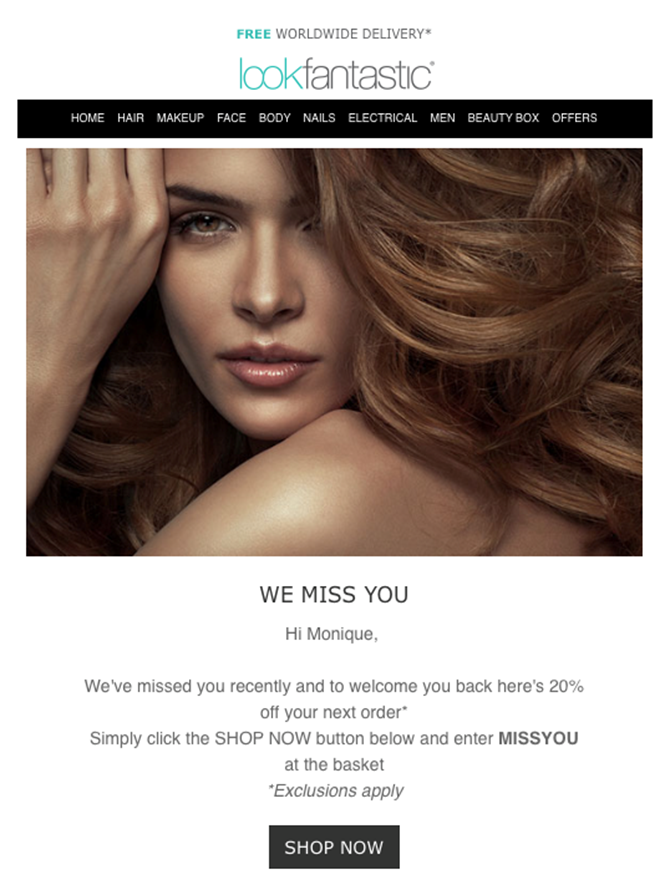 Why this email works:
This example from Look Fantastic is a good re-engagement email. It's simple, they're not being pushy and by giving dormant customers an exclusive offer, it gives them an extra incentive to purchase again.
What small businesses can learn:
Keep it simple
If customers haven't been engaging with you, it's unlikely that they're going to read a lengthy email. Keep it short and sweet and don't forget that all-important discount.
If you can't offer a discount, let customers know what they're missing out on. You could tell them how many people have signed up to your service recently, share testimonials or alert them if a certain product is selling fast and is unlikely to be available much longer.
Send follow-up emails
It's unlikely you're going to win someone back with one email so it's a good idea to have a structure for your re-engagement campaign.
You can start with a simple 'hello' to remind people you're still there. Sometimes a little nudge is all it takes. If this doesn't work, an incentive such as the discount mentioned above can really help to convince people to give you another chance.
A 'last chance' email can help to create some urgency and make people act. You could for example say the discount is time-limited.
Due to GDPR regulations, you can't keep personal data for longer than you need it. A final email giving recipients a chance to confirm they still want to hear from you could prompt them to engage with you again.
5. Reminder emails
Some of the most overlooked, yet best email marketing examples, are reminders. This can be anything from alerting customers that they have a subscription which needs renewing or that they have an appointment coming up.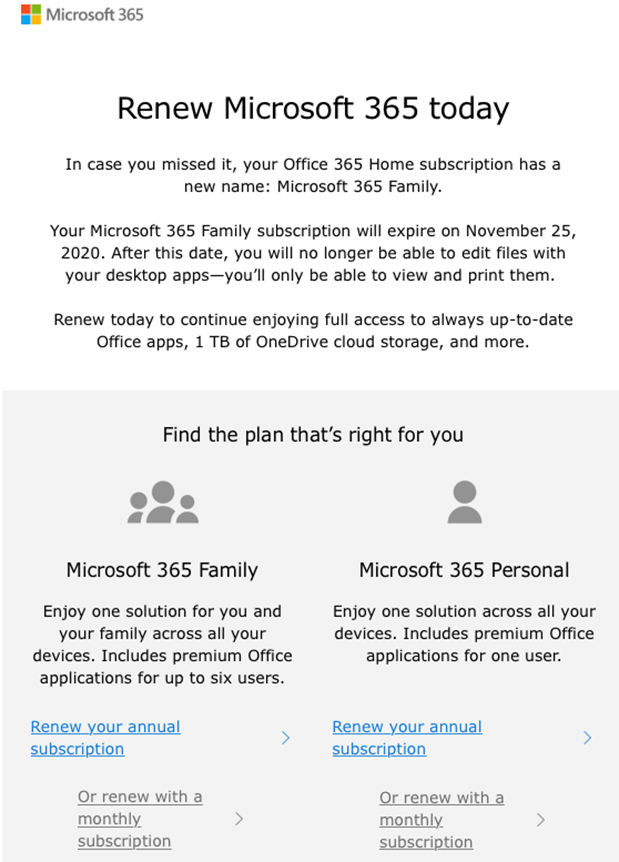 Why this email works:
This image above shows a great example of an email reminder from Microsoft. It works really well because it tells you the exact date the subscription ends, it lets the customer know that the name of the product has changed and it informs them what will happen if they don't renew.
They then provide different options along with their benefits and a link which takes you directly to the renewal page so it's quick and easy to complete the action immediately.
What small businesses can learn:
Highlight the benefits
If you're reminding customers that their subscription is about to end, highlight the benefits of renewing. As the example above identifies, customers need the subscription to continue to edit files and have full access to up-to-date apps and cloud storage.
Most people use Microsoft both professionally and at home so they don't have to do much to persuade people to stay with them. If you're in a more competitive market however, offering a loyalty discount can stop people trying a competitor.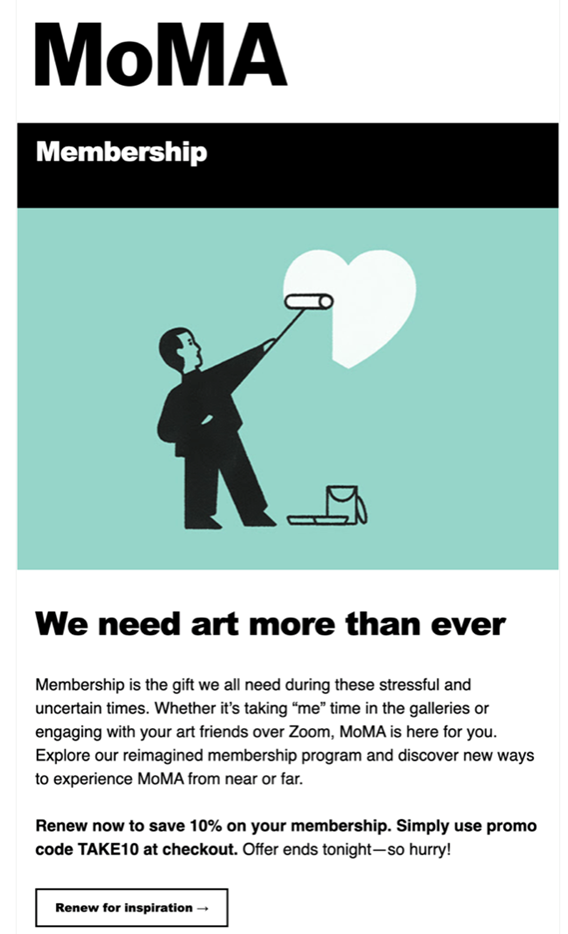 Be flexible
People's wants and needs can change significantly over a longer time period like a year so if possible, be flexible and provide different options. In the example above, Microsoft offers different packages so customers can choose the one that's right for them at this time.
Make it easy
If you make it incredibly easy for someone to renew their subscription or re-order a product, they're far more likely to do so. Below is an example of a replenishment email from Purina which acts as a great reminder for busy owners that their pet is about to run out of food.
It's also important to provide all the information people need so they can act now. In the Purina email for example, there's a button which takes the recipient straight to the page they need to re-order their food.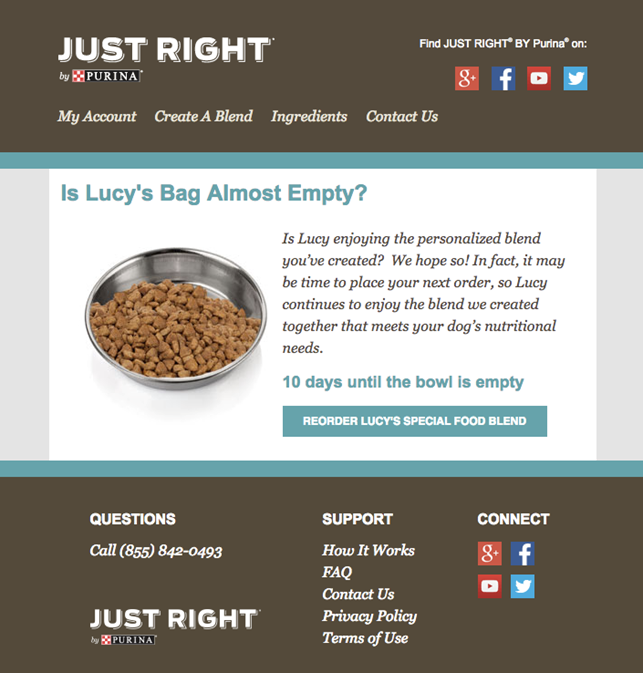 Send a follow up
If the customer doesn't renew or re-order, send a follow up email in case they missed the first. Let them know time is running out and they could miss out. If you can see they've opened the email and haven't responded, offering a discount or free delivery on their next order can give them the nudge they need.
Now you've got some great email ideas, why not have a read of some of these other blogs and guides?