As a small business, growing your email list is crucial to building your online presence. First-time customers take approximately 25 days to complete a transaction, and so capturing their details is one of the most effective ways of making sure they return. Email is proven to be far more trustworthy than marketing ads, with click through rates, according to Criteo, of 4-14% versus 0.51% respectively.
Sign-up forms are often overlooked by online shoppers. As a marketer, you have limited control over how your sign-up forms appear on the page. Pop-ups, on the other hand, give you more flexibility because they allow you a lot more freedom to target where, when and by whom they are seen.
However, building your email list using pop-ups isn't straight forward. Get it wrong and you risk annoying your visitors and turning them away from your website for good. Get it right, however, and you will benefit from a valuable contact database with which to grow your online business.  These tips should point you in the right direction:
Know your target audience
As with all marketing activity, a good starting point is in knowing your audience with a bit of customer persona research. Even though pop-ups are essentially about you – after all, you're simply grabbing data from your audience – you need to keep your customer in mind. As you go through the process of designing your pop-up, always keep coming back to your customer:
When will they be most receptive?
On which page would they expect to see a pop-up?
What headline will grab them?
What's in it for them when they sign up?
Get the timing right
Timing is everything when it comes to pop-ups, and getting it wrong can seriously irritate your visitors. We've all clicked on an enticing-looking link, and immediately been met with a loud obnoxious pop-up demanding we input our details. It's enough to make you click off the site. A recent study by Sumo demonstrated that the best performing pop-ups didn't appear straight away. Of the best performing pop-ups, only 8% appeared within the 0-4 second mark.
To find the best time to fire your pop-up, do some basic research:
Google Analytics time on page – On the page you want your pop-up to appear, go into Analytics and check the average time visitors spend on that page. Then you should be able to time your pop-up so that it doesn't appear immediately, but also captures your visitors before they'll likely to have moved on.
User testing – You can either do this manually by observing how long a test user looks at a given page of your site. You could also set up A/B testing with one of the many pop-up tools such as Sumo's List Builder.
Once you have an idea of when to fire up your pop-up (either immediately or a defined amount of time after the page loads), you might also want to consider which other triggers might influence when your pop-up fires. For example, your pop-up might appear:
when the user scrolls down the page;
when the user moves the cursor to the close button in the browser tab (this is known as an "exit pop-up");
constant, sitting at the side of the page waiting for engagement.
Make sure it appears to the right people
As well as time-based triggers, you can also identify which segments of your audience you'd like to target. For example, you may not want to hit everyone who lands on your home page with a pop-up demanding their immediate loyalty. But, with just a little extra work – and the pop-up software will help you with this- you can determine that your pop-up will only fire to those visitors who have arrived from a defined domain(s), such as your Facebook Business page or Twitter feed. This way, you know that they have already had their interest piqued and aren't completely new to your brand.
You might want to avoid overcrowding your visitors by ensuring that your pop-up only appears when some user-engagement is detected and only once per browsing session, or to first-time browsers only, or to those who haven't already subscribed.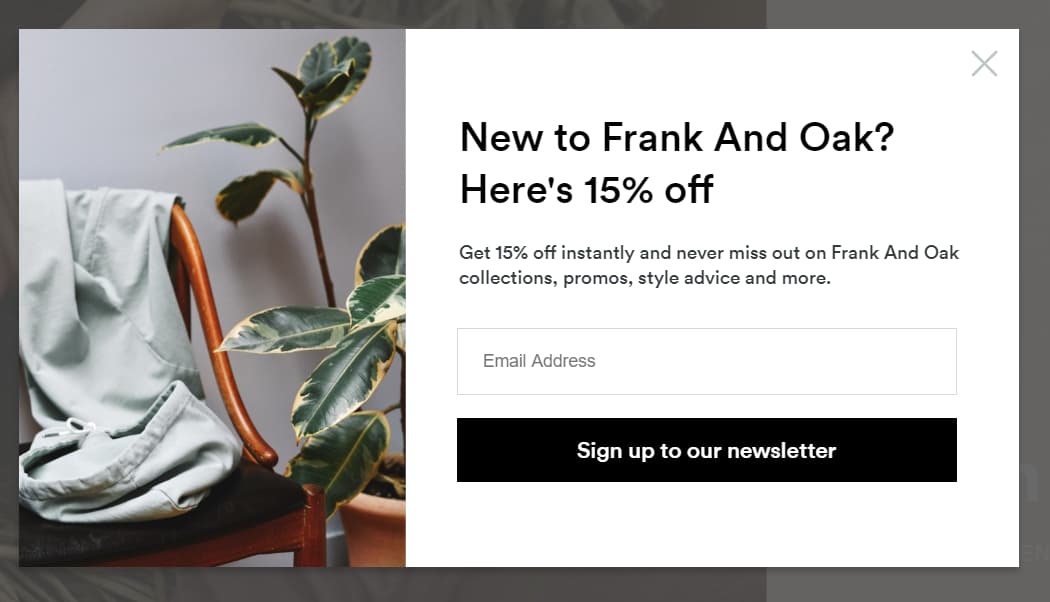 Get the positioning right on the page
Pop-ups that appear out of context run the risk of confusing and ultimately deterring your web visitors. But positioning your pop-up in the right place on your page or the right page on your site allows you to surround it with the kind of context that will encourage your audience to input their details.
For example, if your pop-up is a discount on a specific product, then if it appeared on your homepage, your audience wouldn't be ready. However, if they were already scrolling through your products and demonstrating an interest, they'd be far more receptive to the pop-up and will be more likely to sign up.
Keep the design and branding consistent
A sure-fire way of annoying your web visitors is flashing up a badly designed pop-up that's completely at odds with the rest of your site. For those who are already unhappy with pop-ups, these can seem extra spammy. Not only will they force people to click away, but they will likely drive down sign-up rates.
Instead, revisit your site's look and feel. Make sure your pop-up matches your colours, fonts and typeface, but be careful that it doesn't blend in so much that it becomes invisible. One way of making it stand out is by using your secondary colour as the pop-up's main colour.
Also, consider your messaging. Rather than just plainly asking for a sign-up, why not inject a bit of humour? Pop-ups with a personality are proven to convert better.
Source: Shinesty.com
Be clear about what you want, and what you're offering in return
It seems obvious, but many pop-ups fail because they are simply too vague or ambiguous, failing to tell their audience what it is they want, and what exactly they get in return.
You don't need to go into detail; in fact, it's better you keep it clean and simple. But use your headline to grab people to sign up and focus on conveying what's in it for them.
Smart Insights, after a long time of avoiding using pop-ups, finally gave in after the evidence proved their benefit. They now use the well-tested rule of three as a tactic to persuade their customers to sign up.  You'll also notice their headline is abundantly clear in demonstrating why you should sign up: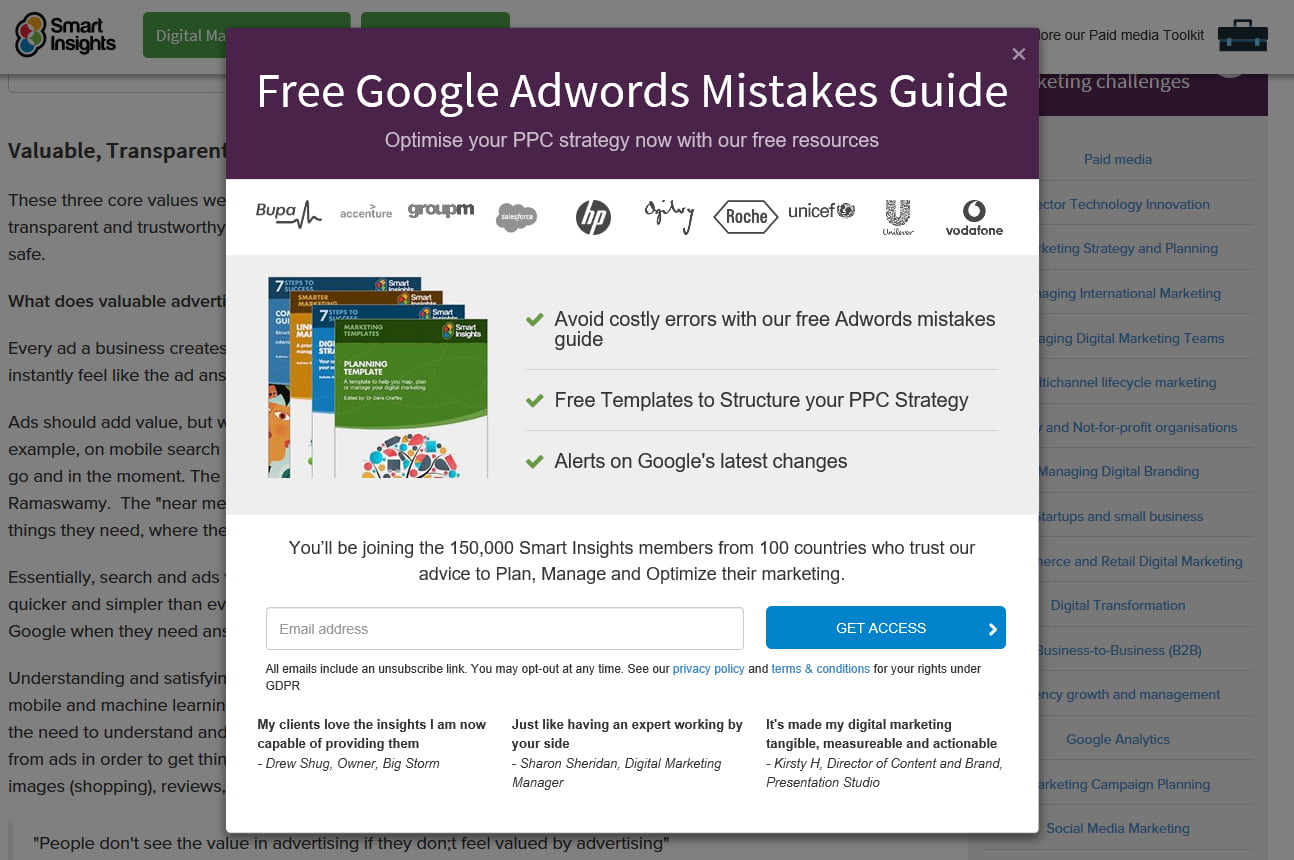 The call-to-action must also be clear and stand out on the page, matching what it is you're asking people to do.
Keep the form fields to a minimum
By nature, pop-ups need to focus on being short and sweet, which extends to the effort taken to fill them in. Expecting a user to spend more than a few seconds signing up is a big ask, so keep it simple and just ask for a name and an email address.
Even better, allow people to sign up via social media. This way, they don't even need to enter an email address, but you still gain their data.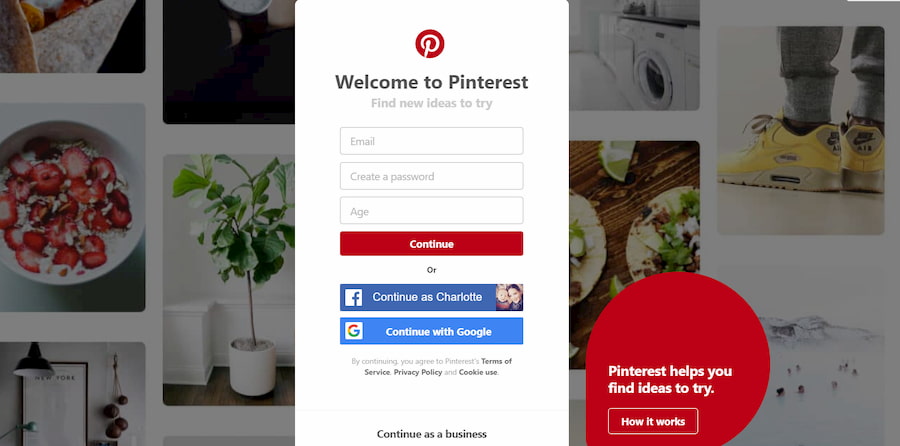 Make it easy for people to close the window
No matter how hard you try, some people will just never be convinced by pop-ups, so the least you can do is respect their wishes and allow them to close it. A simple "x" in the top right-hand corner is usually where people would expect to go to close the window. Make it any more obscure and you risk people clicking off your site and losing them forever.
As a half-way house, you can even include a "remind me later" button, which means you don't lose potential customers altogether and can retarget them at a later date.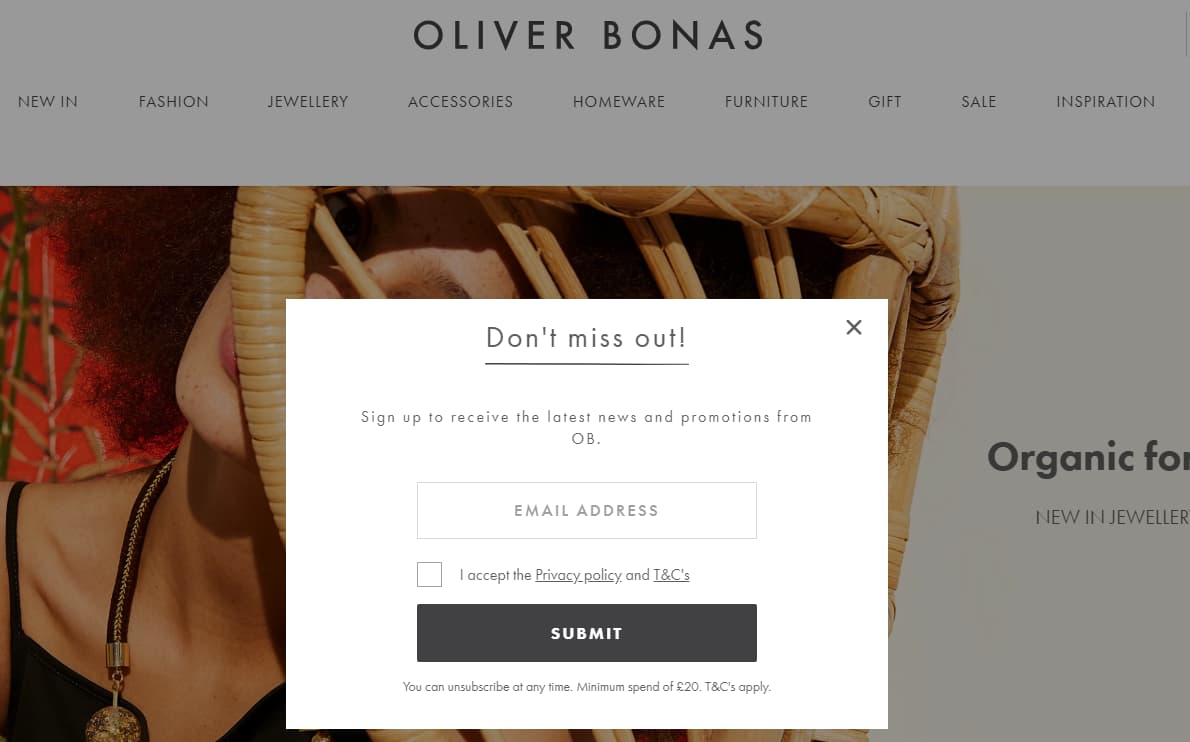 Nurture your leads
Don't forget, the customer journey doesn't end when they enter their details. A study by BlueHornet showed that 79% of consumers expect a welcome email of some kind, so don't miss your opportunity to nurture your lead, and showcase what you're all about. In fact, if people don't receive a welcome email, you risk confusing and annoying them.
There's an abundance of tools out there to help you automate this process, so make sure you send out an immediate "thank you for signing up" email, and then a follow-up sequence over the following days and weeks.    
Be careful with mobile pop-ups
Ever since October 2016 when mobile browsing first took over desktop browsing, digital marketers have had to adopt a "mobile-first" mindset. This applies to pop-ups too, since most of your audience will be seeing your site via a mobile or tablet.
However, where pop-ups are concerned, this is slightly tricky since Google has now begun penalising websites who have "intrusive interstitials" (i.e. pop-ups). They punish specifically:
Pop-ups that obscure main content.
Pop-ups that are standalone but that a user must dismiss to access the main content.
Layouts that have an above the fold dedicated to an interstitial, but the main content only appears as your scroll down below the fold.
However, Google states that they do not penalise:
Pop-ups that are needed for a legal reason, such as age verification.
Pop-ups that are required for login for non-publicly accessible content.
Banners that take up minimal screen space and easily closed.
So, whilst Google is acknowledging how detrimental pop-ups can be for the mobile experience, there are ways to use banners to garner leads without inhibiting the user experience. After all, the mobile and tablet market is just too vast for you to forego.
Take Misguided, for example, who seem to get the size, position and messaging just right: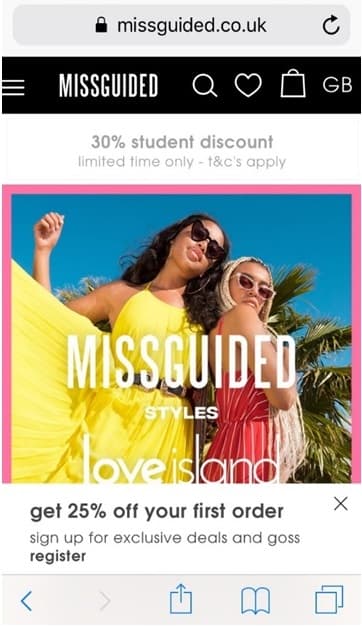 So, whilst applying pop-ups to your mobile site is far from straightforward, there are creative ways in which to make the most of your mobile audience without getting penalised. As a starting point, consider the following:
keep the design small so that it takes up no more than 15% of the page;
keep your content snappy and mobile friendly;
position your pop-up at the bottom of the page;
delay your pop-up so it's not the first thing your mobile visitor sees;
and make it easy to close.
GDPR: Stay on the right side of the law
The General Data Protection Regulation, or GDPR, is an EU law which came into play on May 25th 2018 concerned with regulating all European Union data protection and privacy. It affects every company that's either based within the EU or stores the data of EU citizens. It stipulates certain rules about how to behave around asking for and storing people's details.
You must provide clear, free, specific and unambiguous "consent" to contact your subscribers, which means you have two options:
1. Provide double opt-in
A double opt-in is where customers enter their details to subscribe, and then receive a follow-up email to confirm their subscription. This both makes sure that subscriptions are valid, and also means you don't need to change your existing pop-ups if they don't already adhere to GDPR guidelines.
Your double opt-in email must include:
The purpose of the email (e.g. "you're receiving this email to receive our weekly newsletter")
A link to your privacy policy
Clear instructions as to how to unsubscribe
2. Include tick boxes
Updating your existing pop-ups is more time-consuming but shortens the sign-up process for your customers. Your pop-up must include:
Information about what kind of email the subscriber should expect to receive
Ideally a box for people to tick to agree to your privacy policy, or a statement that says that by subscribing, they are agreeing to the privacy policy
A link to your privacy policy
And finally, keep testing and tweaking
With all digital marketing, nothing's ever set in stone. To make sure you're keeping on the right track with your pop-up strategy, keep testing and tweaking until something works.
Whether it be your timing, triggers, design, branding, messaging or incentive, test out which perform best. Make sure you start out with your baseline numbers (i.e. how many people are subscribing per day) and then compare your future sign-ups against those numbers. You'll then be able to hone in on what's working and what's not.