Delivery is a key area in online retail. The price and convenience of delivery options can affect the decision to buy in the first place, while the delivery experience can have a real impact on whether customers return to buy again.
So, delivery options need to appeal to shoppers in the first place, so they're willing to buy, but then there's the issue of fulfilling orders.
Much of the hard work in acquiring and converting the customer has been done already, but how retailers handle the last step can make or break the experience for the customer.
The difficulty for most businesses is that this 'last mile' is out of their control. In most cases, it's left to a mail or courier service to ensure that goods are delivered in time as promised, and in good condition. However, if there are issues with delivery, the customers tend to blame the retailer, not the courier.
It's therefore important for retailers to plan their delivery offering carefully, considering customer expectations around options and costs, packaging, and the various options for delivering goods to customers.
What customers expect from delivery
As the ecommerce market has grown, so have customer expectations around delivery. In a competitive market, retailers need to be able to offer the right options.
Expectations are driven by what is already offered by other retailers, and big players like Amazon have an impact on consumer attitudes to delivery.
For example, as a recent survey by Alix found, Amazon Prime members have greater expectations around delivery time than non-Prime members.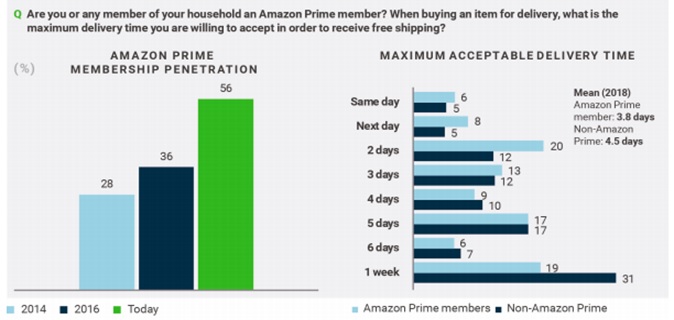 Having become used to fast delivery from using Amazon, they're less tolerant of other site's delivery options.
An Ampersand survey found that next day delivery was the preferred option for most consumers, though this changes when customers consider cost.
50% of survey respondents wouldn't be prepared to pay extra for next day, but 38% would pay up to £5 for this faster option.
The lesson here is that customers are looking at cost and speed when considering delivery. Some are prepared to pay a little extra to receive items faster but others will choose free rather than fast.
So, speed of delivery matters, as does cost, but there's also convenience to think about, as customers look to fit deliveries on online purchases around work and personal life. This is where options like click and collect, one or two hour delivery slots, weekend delivery, and collection points can help.
The ideal delivery offering would cater for these various shopper preferences, allowing them to choose the best combination of speed, convenience and price. It would look something like Schuh's delivery options, all seven of them!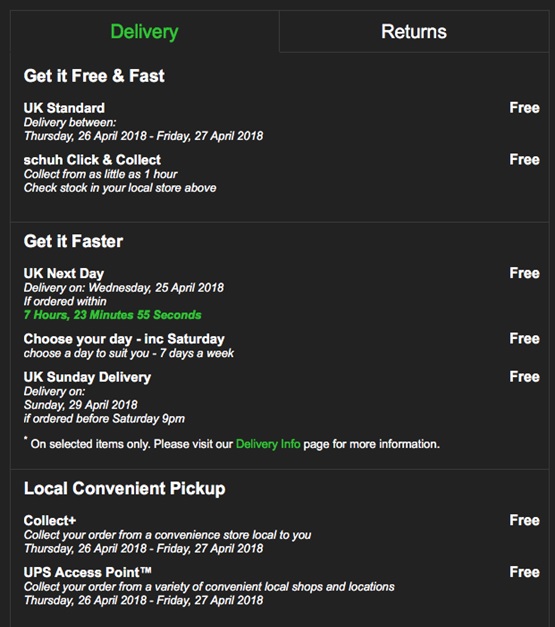 While bigger retailers have the resources to offer such a range of delivery options (and for free) this won't be possible for many small businesses to replicate.
However, it may still be possible to offer some choice. A free, or relatively cheap standard delivery option could be paired with a more expensive next day option. Services such as Collectplus can allow you to deliver orders to convenient locations like local shops and petrol stations.
Other options include offering free delivery for customers who spend a certain amount. This ensures that you aren't losing out by shipping lots of lower value orders free of charge, and gives customers an incentive to spend more on your site.
Much will depend on the types of products you sell, as well as budgets and resources, but as customers become more demanding offering choice is essential in a competitive online marketplace.
Presenting delivery information
Once you have decided on the delivery options you'll offer, it needs to be effectively communicated to shoppers on your site.
It's a key concern for users, so it should be easy for them to find. If you have a clear delivery offering, such as free delivery or a threshold for it, then it can be communicated with messages in the site's header.
Delivery information should also be linked to from various pages on the site, the footer for instance.
Customers will also expect to see delivery information and charges on product pages, shopping cart pages, and during checkout. This way customers are well informed as they're deciding to buy, and can see reminders as they complete the purchase.
Packaging
Packaging is first and foremost about ensuring that products arrive with the customer in good condition.
Another consideration is size and weight. As third party couriers and mail services will charge according to size and weight, packaging should be as small and light as possible.
This will help to ensure that delivery and packaging costs aren't impacting too heavily on your margins.
Another aspect of packaging to consider is the customer experience.  For ecommerce sites, packaging is one of the few ways they communicate with their customers in the real world, and this first offline impression can make a huge difference to customers.
Packaging should at least look professional, well wrapped and labelled clearly. This gives the impression that they are receiving items from a 'serious' retailer, and makes them more confident to buy again.
There's also the opportunity to impress with packaging. If you are selling expensive or luxury products, this is even more important.
According to research by Keenpac, 61% of customers say that quality packaging makes a brand seem more upmarket, while 50% of consumers are more excited about receiving or opening a package if it comes in premium packaging.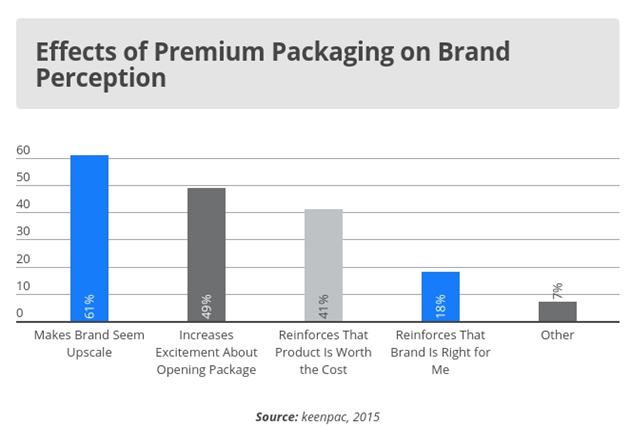 Delivery choices
Choosing a delivery partner will be a key decision, as their performance can make or break your business.
Factors to consider include:
Price. Does the courier fit within your budget? Are you willing to pay more for a faster and more comprehensive delivery service, such as express delivery?
Courier reputation. We've all heard plenty of criticism of certain courier services, and it seems that reputation for reliability can vary. It's therefore important to do some research here, and online feedback can be an excellent way to gauge the reliability of different services.
How long are your customers happy to wait? Which delivery options will they expect?
How many orders do you expect to deliver? If you deliver a large volume of parcels, then discounted rates may be available.
Can the courier also handle returns?
Tracking facilities can vary between couriers. Some, for example, offer detailed tracking and services which allow customers to reschedule or change deliveries. Detailed tracking and real time updates can mean a better experience for the customer and better visibility for the retailer.
When choosing a courier or other delivery options, it's important to look beyond price, and consider the overall customer experience.
It's about finding the balance between cost and performance. If cheaper delivery options result in problems with deliveries, than any savings made will be pointless compared to the lost repeat business and bad reviews from dissatisfied customers.
It's also important to monitor delivery performance to ensure the quality of service is consistent and customers are happy with the service.
Returns
Though retailers can attempt to minimise the problem there will always be a certain level of returns of online purchases.
Research from Barclaycard last year looked into the effect of returns on online retailers. It found that:
According to 31% of retailers, managing the returns process has had an impact on their profit margin.
30% of shoppers said they deliberately over-purchase and subsequently return unwanted items.
19% of shoppers admit to ordering multiple versions of the same item to make up their mind at home.
Returns pose several problems for retailers. There is the cost and time spent in processing returns, while products returned may not always be resold easily, all of which can impact on profit margins.
Retailers can attempt to minimise returns rates by ensuring that customers make an informed decision when they place an order. This means providing plenty of product information, images and/or videos which show products clearly, while extras like consumer reviews can help a lot.
It's unrealistic to expect no returns, but an informed customer is less likely to change their minds after purchasing.
Returns policies also make a difference in customer acquisition. In the Barclaycard study quoted earlier, 58% of shoppers said a retailer's returns policy impacts their decision to make a purchase online.
This means that, as with delivery options, returns policies should be clearly shown on product pages and elsewhere so customers can find them easily.
Retailers also have to make decision about whether to charge for returns. Offering free returns can be costly, especially for sectors like fashion which have higher returns rates, but this needs to be balanced against the risk that customers will be deterred from purchasing in the first place.
Customer service
Delivery (and returns) will generate a good deal of contacts from customers which retailers need to be able to handle effectively.
Contact options should be clear to customers, and staff handling queries should have access to up to date information on the progress of deliveries or returns.
Good customer service should aim to solve customer's issues quickly and ensure that they're happy to buy again from a retailer.
In summary
There's a lot to think about for online retailers when choosing delivery options and deciding on the partners to use.
The challenge for retailers is that customer expectations around delivery are now higher than ever, and they expect the levels of service and costs they're used to from bigger retailers, even when shopping with businesses whose resources are more limited.
It's about finding the right balance between what your budget allows and providing the best possible customer experience you can.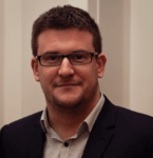 Graham Charlton is Editor in Chief at behavioural marketing company SaleCycle. He has previously worked for Econsultancy and Search Engine Watch, and has written several best practice guides on e-commerce and digital marketing. Follow him on Twitter
Read full profile