The UK Domain has written before about the many ways in which you can use LinkedIn to promote your small business, and today I'm going to expand on that by introducing you to something that wasn't covered originally: LinkedIn advertising.
You may already have dipped your toes into the world of LinkedIn and discovered its uses for connecting and building relationships with professional contacts, following companies in your industry or gathering testimonials from colleagues and clients. But if you run a small B2B business and want to get even more from this professional social network, LinkedIn advertising is the way to go.
LinkedIn advertising: the basics
If you're new to social media advertising, LinkedIn is a good place to start if you're a B2B company. That's because as it's a professional network, and the people using it are doing so while they're in a work frame of mind, you're more likely to reach people who are serious about what your business has to offer.
The marketing possibilities are limitless, but to give you a few examples, you could use LinkedIn ads to raise brand awareness, generate leads, build relationships, boost poorly performing posts or get even more attention for posts that have performed well, spread good news about your business or advertise a job vacancy.
LinkedIn targeting
That's without even mentioning one of the major benefits of LinkedIn Ads: targeting can be to a very specific demographic. Targeting options include: 
Location – you're required to set a location to target, which could be nationwide or specific locations if you're after local clients. If you have more than one branch, you can add multiple locations, and you can also specifically exclude certain locations
Company – among other things, reach people who work for companies of a particular size, industry, category or growth rate, and target employees of or people who follow a particular company or even by job title
Demographic – you can target LinkedIn members by their age and/or gender
Education level – you can target people with specific educational achievements, including degrees, fields of study and which institution they attended
Work experience – you can narrow down your targeting as far as particular job titles, functions or levels of seniority. You can also target people with particular skills and endorsements, or those with a certain number of years' experience
Interests – target people based on what groups they're members of, or what interests or traits LinkedIn thinks they have based on what content they've interacted with
Another targeting option is known as 'matched audiences'. In LinkedIn's words, "advertisers can also use Matched Audiences to match their website visitors, company lists, and email lists with members on LinkedIn." This is essentially LinkedIn's version of retargeting.
It's also worth noting that you can make your ads stand out by adding images and videos, increasing their likelihood of success.
So how do LinkedIn ads work?
LinkedIn ad placements – what's available?
There are several types of LinkedIn ad formats that you can experiment with according to your goals and target audience. Types of LinkedIn advertising placements include:
Sponsored content 
This appears directly in people's news feeds and essentially gives your normal posts a boost so that more people see them. These appear on desktop and most mobile devices and take the form of single image, carousel, video and single job ads. They're great for boosting your traffic because they resemble normal LinkedIn posts, which can hold compelling copy to drive visitors to your website. You'll just see the word 'promoted' under the name of the company whose ad it is, like so: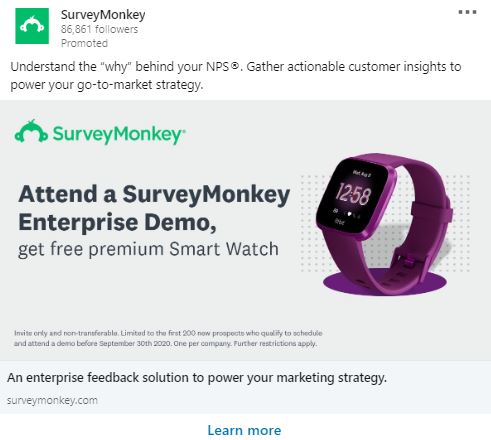 Text ads 
These are simple ads along the top of the site – just a line of text. They're only visible on desktop, not mobile devices, and they look like this:

Message ads
These are messages that go direct to people's LinkedIn inboxes, increasing the likelihood of a direct response or conversation. This makes them ideal for lead generation. Find out more about setting up and running Message Ads.
Dynamic ads 
These are eye-catching, premium ads that appear in the side bar, and they appear on both desktop and mobile. They include spotlight ads – ideal for driving traffic because they're so noticeable – and follower and job ads, which are great for boosting your LinkedIn page follower count or advertising jobs. Here's an example of a follower ad: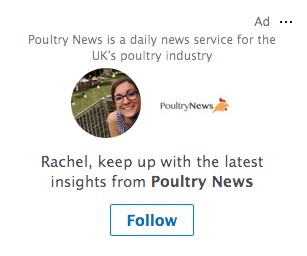 As mentioned, the ads themselves can take a number of different formats depending on their position, and can include video ads, text ads, single or carousel image ads, spotlight ads or message ads.
The formats available to you will depend on the campaign objective you set when you're creating your campaign, which I'll come onto shortly. There's some useful information from LinkedIn on the best types of ad format for different objectives.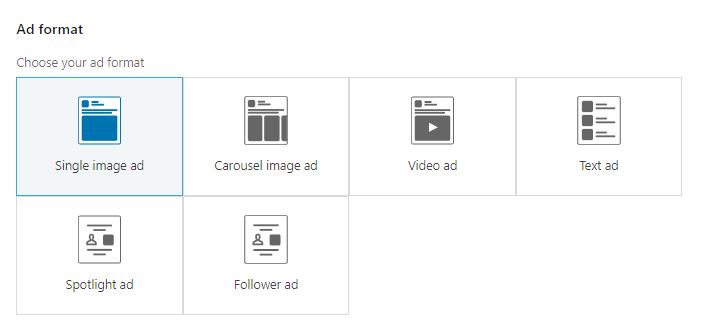 Importantly, there are two different ways of advertising on LinkedIn: self-service ads, and managed campaigns that involve partnering with a LinkedIn team who'll work with you to run your campaigns.
Dynamic ads are only available through this option, but these are premium ads and more suitable for bigger budgets, so I'll be focusing on self-service ads for the purposes of this article.
LinkedIn advertising costs
LinkedIn advertising costs as much as you want it to cost: you can set your maximum spend, and ads are sold automatically in an auction-type process in which your ads are competing with bids from other advertisers for a similar target audience.
It's worth noting that advertising on LinkedIn does tend to verge more on the expensive side when compared to other advertising platforms like Facebook, due to the extensive targeting options. So, while you may not be able to achieve as many clicks for the same budget, those clicks should be from a really relevant audience.
The advertising platform will automatically recommend a bid price for your target audience, and as it's an auction, a better bid price gives you a better chance of success.
It's also worth noting, however, that it's not just about how much money you throw at your ad campaigns; LinkedIn says: "LinkedIn uses an auction system for bidding that rewards engagement, meaning you can win an auction without being the highest bidder." In other words, creating engaging ad content is important too – you can't rely solely on a big budget.
Pros and cons of LinkedIn advertising
To summarise what I've covered so far, here are the top strengths and weaknesses of LinkedIn's advertising offering:
Pros
LinkedIn is the largest professional network – it claims to have an active audience of 630 million professionals, making it perfect for B2B advertising
Clear targeting – LinkedIn's highly refined ad targeting helps you reach professionals by job title, function, industry, location and more
Flexible pricing – it's easy to control your budget
Cons
Cost – LinkedIn advertising can work out more expensive than other social media advertising, though this consideration should be balanced against the increased likelihood of success with a highly targeted professional audience
Message ads can feel intrusive – to those who receive message ads, it can feel like receiving more email spam that's quickly deleted or ignored
Business audiences don't suit all products – you'll need to have the right type of business and content to really benefit from advertising, so make sure you have thought carefully about who you're trying to reach and what messaging you'll use
How to set up your first LinkedIn ad campaign
Ready to give LinkedIn ads a try? Then follow this simple step-by-step guide to getting your first LinkedIn ad campaign up and running.
1. Set up your company page
A company page is like your own LinkedIn profile, but for your business. If you haven't already set one up, you should do so before you start trying to set up your LinkedIn ad campaign, so follow these tips to get your company page up and running. It should have plenty of information about your company, including your specialities and a link to your website.
2. Identify who you're targeting and what your goals are
As with any marketing project, it's important to start with a defined strategy. What are your objectives from this LinkedIn ad campaign? Are you trying to raise brand awareness, for example, or generate new leads? What kind of audience are you trying to appeal to? Being clear about this from the outset will give your campaign the focus it needs to succeed.
3. Set up the campaign
Next, you'll need to create a Campaign Manager account, which will give you the option of linking your company page with it or setting up a new one.
Click 'Create Campaign' and follow the instructions to start setting up your campaign, including naming your campaign for your own reference and setting your objective, such as 'website visits'; hover over the options for more information on each of them to help you pick the right one for your business. There are also some options specific to certain objectives, such as conversion tracking for website visits.
In order to create a new campaign, you'll need to enter some billing details. You can simply add a company credit card here (invoicing is available, but only for larger accounts).
4. Set your audience and budget
You can now set the parameters of your campaign, such as your target audience and budget. You'll see detailed audience targeting options, so take the time to narrow it down and you'll see an estimate of how big your audience will be with the options you've chosen as you go along.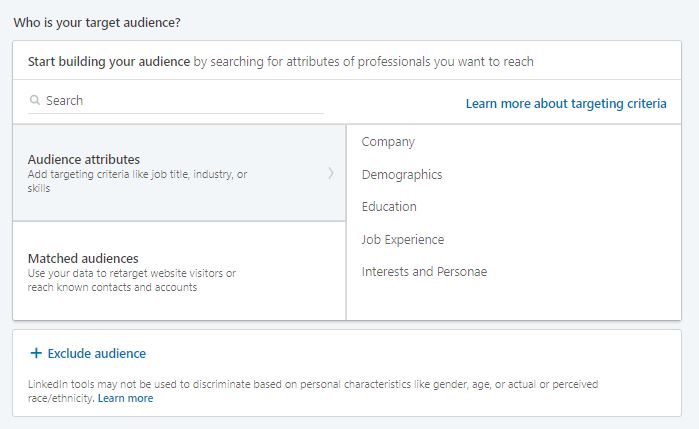 Finally, when it comes to budget, you can choose between different bid options – Cost Per Click (CPC), Cost Per Impression (CPM) or, for Messages, Cost Per Send (CPS). CPC is the best option if your goal is lead generation, while CPM is better for brand awareness campaigns. You'll be able to set a daily budget, start and end date, maximum spend and suggested bids to keep your spending under control.
5. Create the ads
It's now time to start creating your ads. You'll find that there are different ways of creating ad content, including promoting existing posts or updates and creating ads from scratch.
Choose the one you want and the Campaign Manager will guide you through the process of creating them – it's all clearly labelled and self-explanatory, with simple rules such as character limits and pixel sizes for images that you'll find easy to follow (it's 25 characters for a headline and 75 for the ad copy on a text ad, for example).
You'll be able to create multiple versions to allow you to A/B test and find out what works best for your business.
You can find lots more information 'from the horse's mouth' about how to set up your first LinkedIn advertising campaign.
LinkedIn advertising best practices
Not all ads and ad campaigns are created equal. Here are some best practices to keep in mind when you're creating an effective LinkedIn advert and advertising campaign.
Concentrate on your copy – make it compelling and easy to read, writing in the language of your target audience. What keywords and phrases are likely to capture their interest? Don't forget a strong call-to-action to encourage the action you want them to take, such as 'download today' or 'sign up now'
Provide an incentive – why should someone click your ad? What's in it for them? If you can offer a benefit such as a free trial or whitepaper, they may be more likely to click to find out more
Include an image – these help your ad stand out more in people's news feeds. If you need to display more than one image, try a carousel ad
Keep it fresh – if you're running a campaign over a longer period of time, it's worth changing the ad copy and image every so often to keep it fresh
Test – test multiple versions of your ads and monitor click-through rates to see which perform best
Rotate – ad rotation allows you to set your campaign to show your ads an equal number of times or to display the best-performing ads more often
It goes without saying that it's also important to make sure you adhere to the LinkedIn Ads Policies.
Monitoring the performance of your LinkedIn advertising campaign
Having launched your first LinkedIn advertising campaign, you'll have access to performance metrics, which will enable you to track how well your campaign is doing and spot areas for improvement. You'll see stats such as the amount you've spent, the number of impressions and clicks your ads received, the click-through rate and the average cost per click.
Keep a close eye on the performance of your ads and experiment by making tweaks and seeing whether this improves their success rate.
As with any kind of online advertising, the best approach is to start with a small budget and test different types of ad and different wording to see what works best for you. You can then throw more budget at the ones that get results until you have a finely tuned campaign that's performing well for your business.
From there, you can create further campaigns with the knowledge you've gained, so that you're even more successful next time.