When small business owners are looking at marketing their business on search engines, it's understandable that Google is the one that comes to mind.
Its market position is so dominant that many companies will be tempted to ignore smaller search engines and concentrate on Google.
However, this ignores the potential to drive traffic from other sources, or to tap into different audiences.
In this post, I'll look at the arguments for and against marketing on Bing, some of the key features of this search engine, and the basics of SEO and PPC for this platform.
Bing market share
Bing is the second biggest search engine based on UK market share, though it's way behind Google.
Google has a 92.4% share of the UK search market, followed by Bing with 4.4%, and Yahoo with 1.67%. Worldwide, it accounts for 2.61% of all searches.
4.4% still represents a significant amount of searches, and its worldwide share makes Bing the obvious search engine to choose if you want to extend your reach beyond Google.
The Microsoft Search Network audience, which includes Bing, MSN, Yahoo, AOL and other partners, claims to have a 22% share of the UK desktop search market, with 407 million searches per month through its network.
Key features of Bing
Launched by Microsoft in 1998, Bing was originally known as MSN Search, and was Windows Live Search before the rebrand to Bing in 2009.
At the same time as this rebrand, Microsoft struck a deal with Yahoo, under the terms of which Bing powers Yahoo search results as well as its own.
The connection between Yahoo and Bing does enable advertisers to target both platforms under the same account, and means that optimisation techniques for the two search engines have a lot in common.
From a user perspective, the two search engines work in much the same way. Google has perhaps been more of an innovator than Microsoft in terms of search, but Bing has kept pace and incorporated many features from Google.
The Bing homepage is distinguished by its background images, a deliberate contrast to Google's plain white space. It does make the search bar the most prominent feature, but further down the page it becomes more of a portal to news and other content.
Some key features of Google are used but displayed in a different way. Local searches, for example, will produce map results but are also shown in a carousel across the top of the page.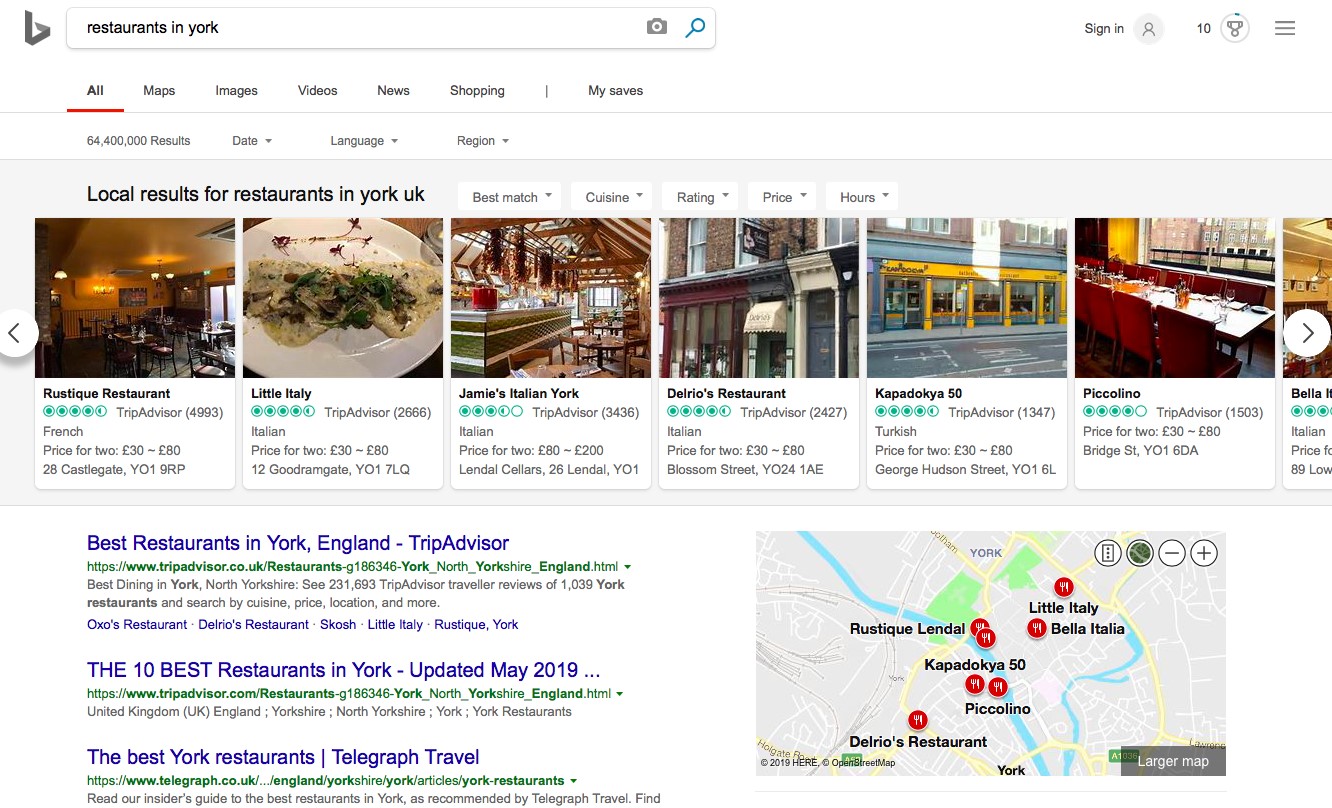 A key feature for small businesses, and those with a high street presence, is Bing's version of Google My Business, known as Bing places for business.
It works in a similar way too. Businesses need to create or claim their listings, which can then be expanded, with key details on opening times, facilities, menus and so on.
The case for targeting Bing
With more traffic and a greater range of advertising options, it would be understandable for many small businesses to target Google exclusively for search traffic and paid search ads.
With limited time and resources, it may make sense in most cases to target Google, but there are some good reasons to put some effort into targeting Bing users too:
Reaching the second biggest search audience. Yes, Bing is a way behind Google, but it's audience still carries out millions of searches in the UK every day.
The ability to target other platforms through Bing. When you buy search ads on Bing, you can also opt to target other search engines through their partnership deals with Microsoft. This includes Yahoo and smaller search engines like DuckDuckGo. 
Less competition. Your competitors may well decide to concentrate on Google, so this can make it easier to optimise for Bing organic traffic or to buy the best positions for your search ads.
Lower CPC. Partly as a result of the lack of competition on Bing (in some areas) the costs of advertising can often be lower, meaning greater ROI. Indeed, some sources

suggest cost per click is less than half that of Google Ads.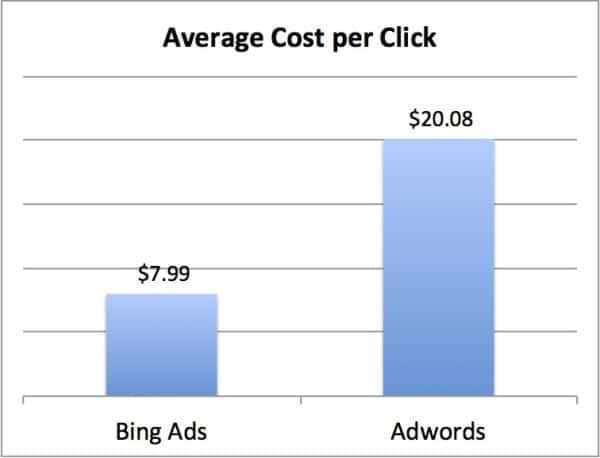 Improved CTR. This may depend on the niche you target, but some reports suggest higher click through rates for Bing Ads (now Microsoft Advertising) when compared to Google. For example, a study by Blue Corona saw click-through-rates 34% higher on Bing over AdWords (now Google Ads).
Advertising on Bing
Through Ads on Bing, businesses can advertise on Bing, and partner platforms including Yahoo and AOL.
Bing's ads work much like Google Ads, with bidding for keywords which are then displayed to users in related search results. The more competitive the search term, the higher the cost per click.
The ads are displayed in the same way. They look almost exactly the same as organic ads, distinguished only by a small white (and barely noticeable) 'ad' symbol.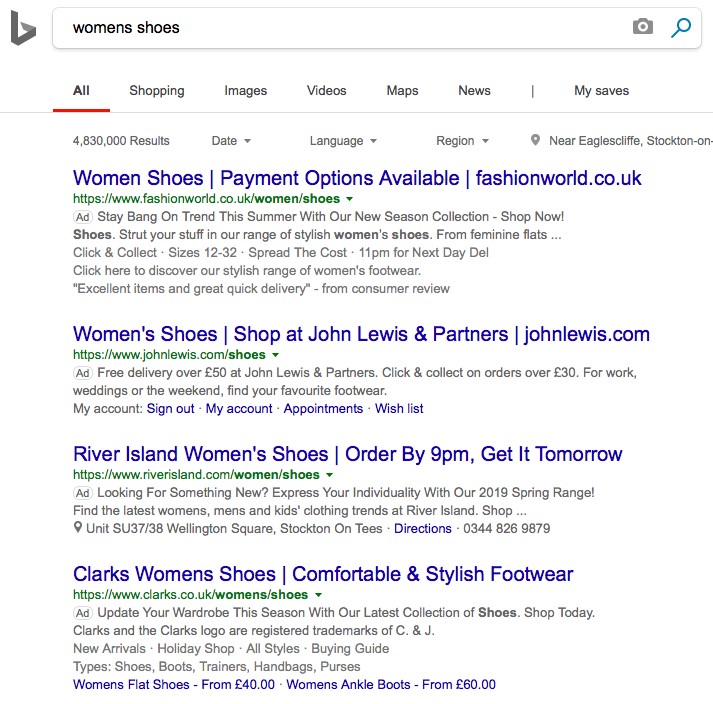 Getting started with Microsoft Advertising is relatively easy. Bing clearly understands that many people will already be targeting Google, so it allows people to import their existing campaigns directly from Google Ads.
If you take this approach, there are some differences to reconcile. For example, minimum bid and budget requirements are different, as are location and time of day targeting options.
Quality Score, which determines the relevancy of your ads, can impact costs and positioning and is also different from Google. Here's Bing's guide to how its own scoring works.
To start from scratch, take the following steps:
1. Create a new Microsoft Advertising account
You can create a Microsoft account here. You'll need to create a Microsoft account if you don't already have one, or sign in with your existing email.
2. Choose your account settings
You'll be prompted to import Google Ads settings, for which you'll need to sign in to Google. If you don't already have a Google Ads account, or don't want to import these settings, then select 'create a new campaign'.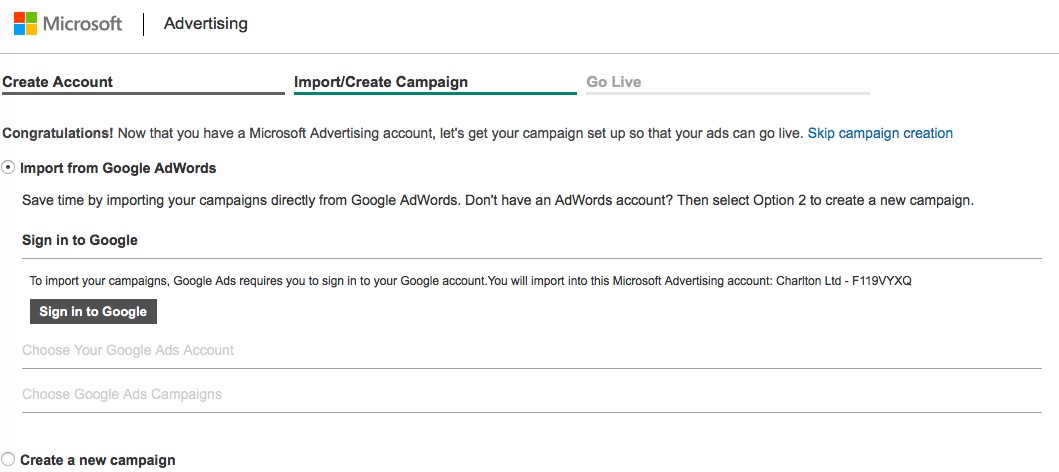 3. Select ad targeting options
Next, pick a name and language for your campaign and then choose where in the world you want your ads to be displayed, and which languages to target. It's advisable to pick specific locations so you can limit the range of your ads and the budget. You can be very specific in the areas you target, a 25-mile radius from the centre of a town or city for example.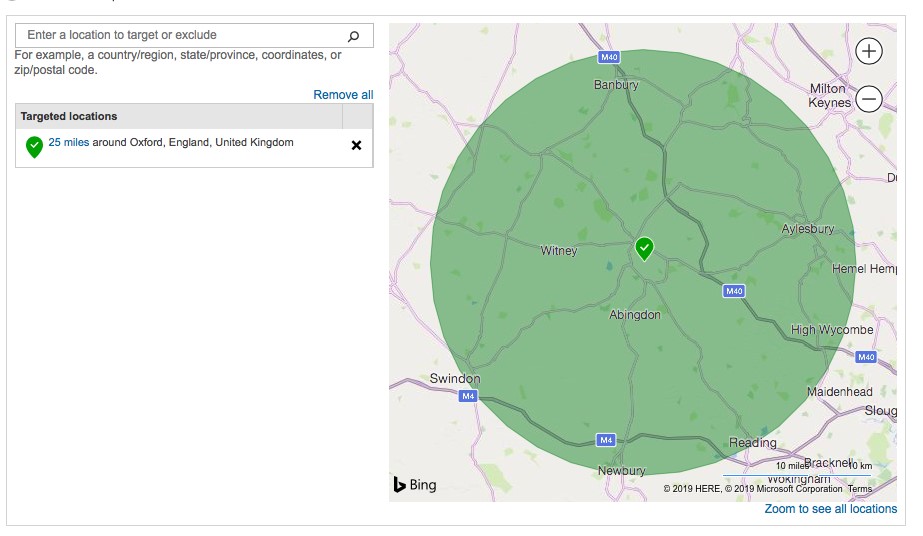 4. Add target keywords
You may have already done some keyword research, or have existing keywords from previous campaigns. If not, the ad platform generates some ideas for you based on the keywords you enter and your website. You can see monthly search volume for your target area, average cost per click and the level of competition for each keyword. This allows you to adjust your campaign, and perhaps find some valuable terms to target.

5. Pick a match type for your keywords
This allows you to choose how precisely you want to target your keywords.
Broad Match is the default match type. If Microsoft Ads think a search matches your keyword, they'll display your ad. This allows broad targeting but you could end up showing ads on searches which are less relevant to your products.
Phrase match provides more control over which queries your ads are displayed against. Putting quotation marks around your keyword or phrase tells Microsoft to only show your ads if your keywords show up in the same order as they do inside the quotation marks. This allows you to avoid your ad showing up for less relevant searches.
Exact Match. By putting your keyword or phrase in brackets, your ads will only show for that precise word or phrase. This allows for much more precise targeting, but may reduce the volume of searches that your ad is displayed against.
6. Create your ad
You have just 140 characters to play with, so keep your ad copy focused and make sure you use your target keywords. It's also important to add key details like location, offers like sales or free delivery, and to ensure that you have a strong call to action.
7. Set your budget limits 
The final step is to select your budget. In this way, you can limit spend if you need to, and get an idea of potential costs and average ad position based on the budget you've selected.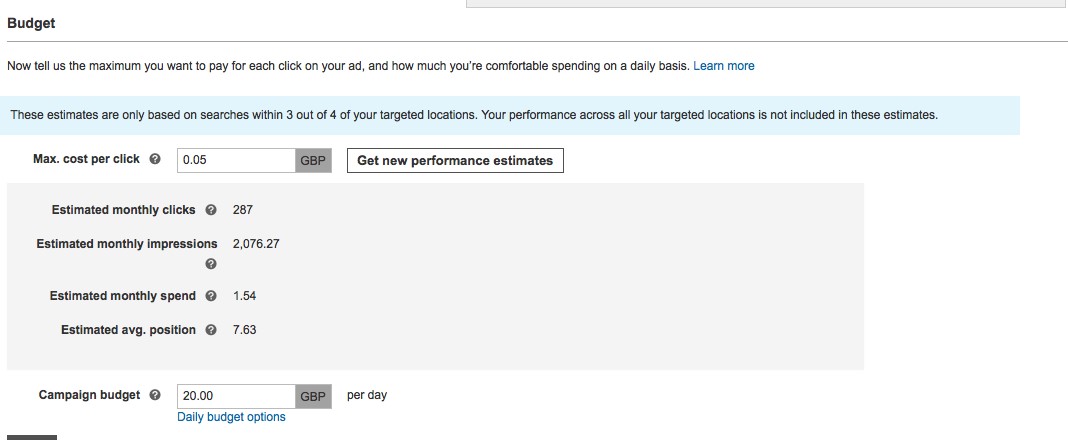 Search optimisation for Bing
Optimising for Bing requires much of the same approach as you would use for Google. Indeed, it may not be worth doing much different to target Bing, if Google sends the vast majority of your search traffic.
For Bing, on-page SEO should be a priority, so make sure title tags and anchor text for internal links reflect the keywords you target. Bing is generally more open about its ranking factors than Google, and there are some differences, such as:
Bing gives more visibility to brands in search results, compared to Google.
Bing is less 'strict' about backlinks than Google, though that's likely to change. It's generally more permissive about link building.
Content with more social media signals is likely to be favoured.
It's slightly less sophisticated than Google and looks more at keywords, titles and meta tags than context when delivering results.
Local SEO on Bing works more around proximity to the searcher than the 'authority' or size of the business.
In summary
It's likely that, for many businesses, Google is the primary focus for search optimisation and advertising. If it's sending the vast majority of traffic, then your focus should remain with Google.
However, Bing can offer a chance for growth, by targeting the next biggest source of search traffic. It can have advantages in terms of reduced competition, lower cost per click and the relative ease of optimisation.