The internet is a crowded place. Consumer behaviour is constantly evolving. Customers are savvier and more sceptical. With so much saturation online, how do your customers know who to trust?
It's all down to how you present your business (and why owning your own space is so important) and how you choose to communicate.
Here are the six essentials of building trust for your business online. Can you confidently tick these all off?
1. Use your domain name to make a good impression
2. Make sure your website design is right
3. Showcase what your customers say about you
4. Create helpful content
5. Offer great customer service
6. Be user friendly
1. Use your domain name to make a good impression
Your website address is often the first impression online visitors have of your business, and is a pretty big factor when it comes to encouraging a click through on search engines.
To make the right first impression secure a domain name that is your business name (or matches very closely) to show customers looking for your business they are in the right place. It's best to avoid hyphens, numbers and words that are difficult to spell too.
Choosing a country specific domain can be great to show customers where you are trading, for example UK businesses can use a website address ending in .uk to show customers where they are based, plus this helps to enhance trust too.
While you're at it, it's also a good idea to set up a professional email address that matches your domain to keep consistency throughout your business's online presence. You'd be surprised how much having a .co.uk email address can influence a customer's impression of your business.
Find a domain
2. Make sure your website design is right
The look and feel of a website goes a long way when it comes to how trustworthy your business is online.
With a whole host of professional templates available on web builders it's easier than ever to create a sleek website that clearly shows what your product or service is.
Try to avoid large volumes of text or an overwhelming display of images and instead show high-resolution images of your product or service and keep text easy to read by adding paragraphs, headings and different formats such as bullet points.
Make sure your images load relatively quickly, if a image takes too long or won't load 39% of people will stop engaging with that website.
You'll also want to make sure your business name and logo are visible as soon as someone visits your site and your contact details can be found easily to install trust into your online customers; according to a recent post by Hubspot, 44% of visitors will leave a business's website if there's no contact information or phone number.
Finally, your website is the perfect place to showcase any awards your business has won and what security and product guarantees your business has (if you have e-commerce functionality).
By showing your business is award-winning and your website is secure you'll install confidence in visitors, get rid of the worries they have about purchasing online and increase website traffic.
3. Showcase what your customers say about you
Online reviews are fundamental to building trust online; after all, there's not many of us who will now purchase a product without looking at the star rating or reading a few of the most recent reviews.
And while it's easy for businesses to shout about what makes them great, online reviews from customers offer real-life examples placed right in front of all your website visitors. So, showcase what people are saying about you on your website and mention any big brands or names who use your product to give your online credibility a boost.
Take high street clothing giant Next for example, who display a star rating as one of the top three pieces of information when someone is browsing a product category, alongside product name and price.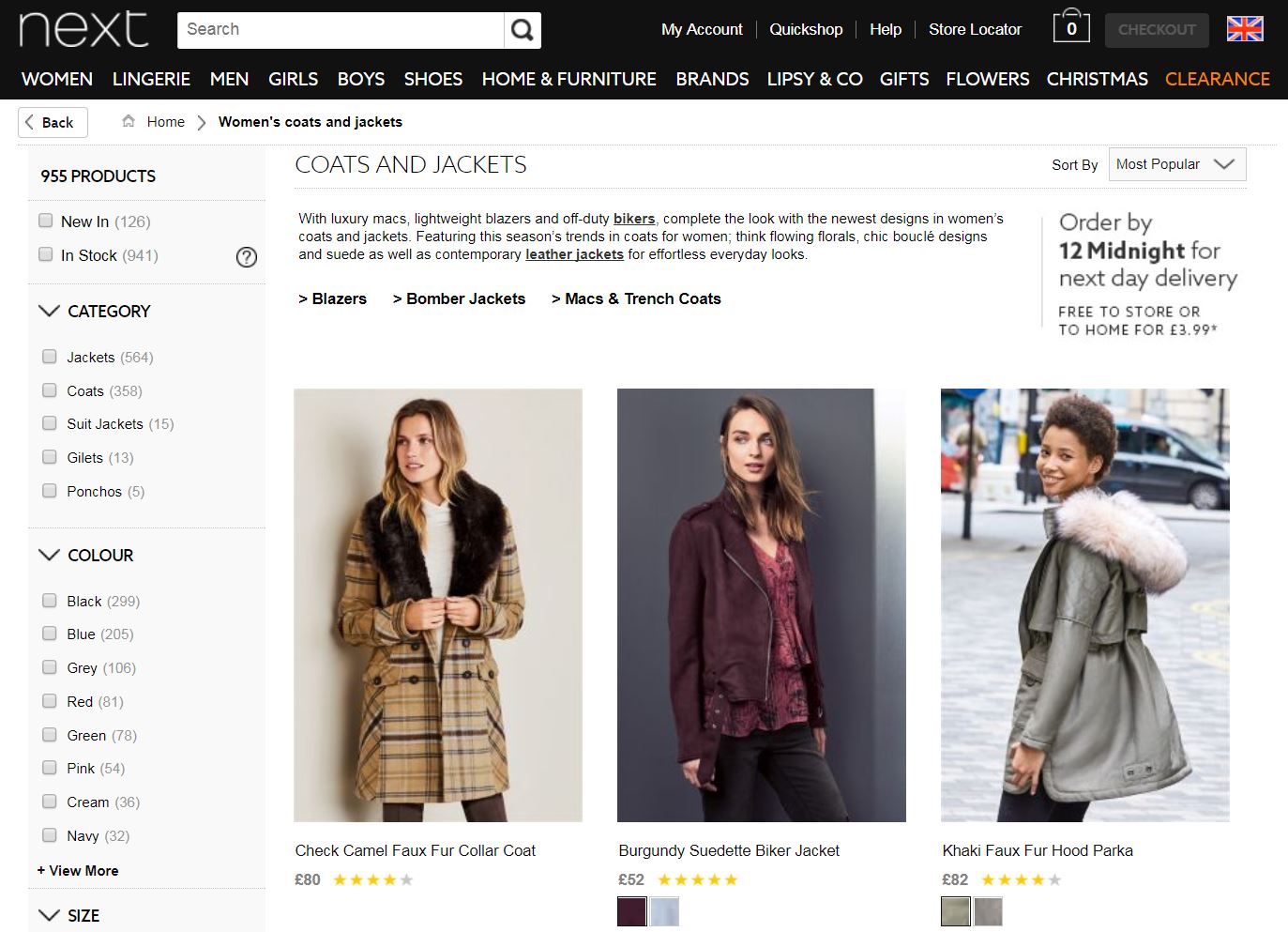 And, don't worry if you haven't got any reviews yet, there are some easy ways you can start generating them which you can find in our previous post here.
It's common for business owners to have concerns about enabling reviews in fear of bad publicity but customers won't expect 100% positive reviews and if dealt with in the right way, negative reviews can be used to showcase great customer service.
By encouraging customers to leave reviews you'll be showing people you believe in your product and business, all of which can help build trust with online customers.
4. Create helpful content
A blog post or content piece is a great platform to show online customers your knowledge and expertise in your industry and allows you to talk naturally about your product or service.
By providing helpful content without coming across too sales orientated you'll build your business's reputation online and you get a great opportunity to showcase the personality and human side of your brand.
Top tip – make sure you proofread all your content as spelling and grammar errors can be a sure-fire way to lose trust online.
5. Offer great customer service
Following on from our point above, by showing who the people are behind your brand and by being willing to help you'll reassure your online customers.
If you haven't already, create a FAQ page or make sure yours is up to date to allow customers to quickly find answers to common queries, such as delivery times or returns policies.
Perhaps you have scope to also set up and offer an online chat service that allows customers to talk to your team while on your website, like popular online marketplace Not on The High Street does for gifting advice. After all, a huge 83% of consumers require a degree of customer support when making an purchase online.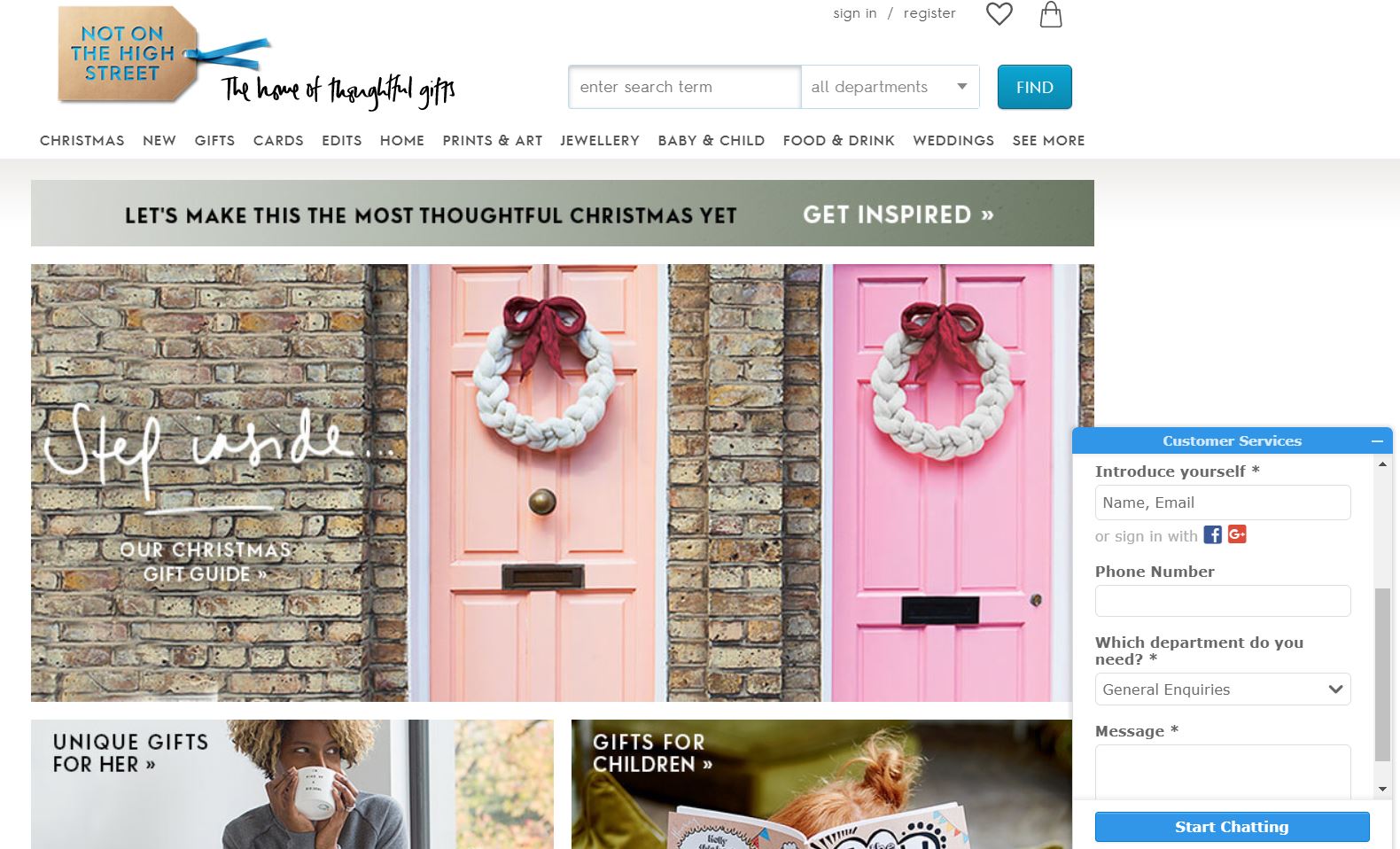 This also extends further than just your website too, as customers are turning to social media more and more when it comes to interacting with businesses, especially to ask questions or to get a quick response.
So, make sure you're responding to questions and interacting with people on social media to build their trust in your business.
6. Finally, be user-friendly
It won't come as a surprise that how user-friendly your website is will affect how trustworthy your business is online.
A customer's journey through your website should be as smooth as possible and this includes making sure your pages load quickly and ensuring your site works across all devices including mobile, tablet and desktops. A slow website that doesn't optimise on mobile will make your business appear less reliable and trustworthy.
If you have an e-commerce website the checkout process must be trustworthy to encourage customers to part with their money.
A great place to start is to make sure you're displaying information about delivery costs and times, return policies and FAQ's about the purchasing process. However, the checkout screen is not the place to show these, instead make this simple, clear and crisp in design and only show customers what they need to know.
And of course, ensure your e-commerce website is secure, you may want to check with your website host as some cover this for you.
Building trust online is something all businesses should be thinking about when looking at their online presence. By keeping these points in mind when you're building or updating your website and social media you'll become more trustworthy to your online customers.
Remember this is more of a process (especially with social media) so you'll need to monitor your online platforms and make changes when necessary.
Lastly, don't forget to look out for good ideas when you're visiting business websites or purchasing a product online yourself!