Big name brands and huge social media audiences seem to go hand in hand. Starbucks has 16.8 million Instagram followers, Nike has 80.1 million and National Geographic a very impressive 90.6 million.
Head over to Facebook and you will see that Samsung Mobile has 45 million people following their page, Red Bull 48 million and Coco-Cola a whopping 107 million. These brands aren't shy of followers on Twitter either. YouTube, Instagram and BBC News (World) have a notable 131.4 million followers collectively*.
By now you've probably noticed that the one thing these brands have in common is that they're all B2C. While companies that sell directly to customers seem to be able to amass social media followers like there's no tomorrow, B2Bs have always had a tougher time.
Why exactly is this? The first problem is that you're not selling to consumers – you're selling to hardcore business people and it's unlikely that these individuals are going to be scrolling through their Facebook news feed instead of paying attention at the Monday morning meeting. The audience you're trying to reach is busy and chances are that they don't want the distraction of social media during working hours.
Secondly, B2C marketing probably is easier. If you have a beautiful product or service people will naturally want to like and share it on social media. British Airways posting a photo of a stunning Caribbean island as one of their destinations is going to pique people's interest a lot more than a photo of Sage's latest accountancy software.
B2B lead generation is a lot more complex, however. Long sales cycles and lead nurturing processes don't make for exciting social media content and it's rarely a quick process either. While you could probably convince someone they want a can of coke by putting an advert in front of them, even Microsoft, one of the world's most valuable B2B brands will struggle to persuade a company to install its software on all its computers in just one post.
Do the difficulties surrounding social media and B2Bs mean that these organisations should ignore this platform altogether? Absolutely not. It may take longer to get to where you want to be but there are plenty of benefits to be enjoyed from putting the work in. 
Why B2B brands need to be on social media
Businesses of all sizes are executing Twitter campaigns, building Facebook business pages and creating stories on Instagram in a bid to capture the attention of new and existing audiences. While we know this can very successful when targeting customers, can it really work when you're trying to reach out to other businesses?
Below we have listed just a few of the benefits your B2B stands to gain when using social media correctly.
It builds brand awareness
For many B2B businesses, the problem they face when it comes to marketing is a lack of brand awareness. It is after all, difficult to market to entire businesses or industries instead of individual consumers.
This is probably one of the main things that puts B2Bs off social media but remember, the businesses you are trying to attract are made up of normal people who need to know who you are if they're ever going to work with you.  
Take Oracle for example. The tech company has 735,000 Twitter followers, 139,000 Instagram followers, three million Facebook followers and a further three million LinkedIn followers. Had they decided not to have a presence on social media, that's an audience of nearly seven million people they would have lost out on.
It can help to build relationships
Social media is all about building relationships and making connections. By being present on these platforms, you can facilitate relationships and cement your name in customers' minds.
Whether this is done by responding to every mention you get or posting good quality content on a regular basis, everything you do in the public eye helps you to position yourself as someone that consumers and businesses can trust.
It helps with SEO
When we're deciding whether or not to use a product or service for the first time, the majority of us will do our research beforehand. This usually means heading to a search engine like Google so it's imperative that your businesses is showing up when people are searching for it.
Believe it or not, being active on social media can help to raise your website's rankings. Not only that, your social media pages will also show up in Google which means that people can't help but notice you.
It helps you to understand your customers
Understanding your customers and their buyer personas is crucial if you want to enjoy success. You can use the relationships you're developing on social media to understand your customers better and adapt your messages to meet their needs.
A great way to do this is to use a social media monitoring tool so you can see which posts are generating the most likes, shares and comments. This tells you exactly what your customers want to see and the types of products or services they're most interested in.
How can B2Bs enjoy success with social media?
If you've decided that social media is for you, after all, there are a number of ways you can enjoy success with your chosen platforms.  
Have a clear strategy
SMEs often believe that they don't need a strategy when it comes to social media. Instead of taking the time to plan how each post will move followers closer towards becoming customers, they simply share whatever relevant content they happen to come across. Some are also guilty of going weeks, even months without updating their profile.
Unfortunately, this approach rarely attracts the attention that's needed to truly grow a business. Developing a social media strategy before you begin posting can help you to be more productive and successful on your chosen platforms.
Factors to consider when planning your social media strategy include:
What are your overall business goals?
How can social media help you achieve these goals?
Which social media platforms are appropriate for your business?
What resources do you have available to you?
Do you have an in-house team or will you be outsourcing to an agency?
How will you generate content?
How many times a week will you be posting?
Who will be monitoring your social media?
How will you measure ROI?
Identify who you're targeting
When planning your B2B social media strategy, it's important to remember that while businesses are your direct customers, it's the people within the company who are in charge of making decisions that you need to be connecting with.
Within most organisations, there are typically decision makers and influencers. While decision makers do of course have the ultimate say, it's the influencers that truly understand the problems the business faces day in and day out.
By connecting with these influencers, you have a cheerleader inside the company who will push your product or service to the people who make the decisions. Say for example you're selling HR software. The MD of a company is unlikely to pay any attention to a social media post about HR software because this isn't something they deal with. Put it in front of HR Managers however and you're likely to see engagement increase.
Choose the right platform
Many companies jump into social media because they know they need to be there. The problem with this is that rather than taking the time to consider which platforms could be truly beneficial to them, they sign up to all the most popular ones. Aside from creating a lot of unnecessary work for yourself, this approach rarely yields great results either.
For a B2B brand, providing education and information is much more important than being entertaining for example. This means that platforms such as LinkedIn are more appropriate to your business compared to the likes of Snapchat.
Another key aspect to consider is where your customers are. Spend some time thinking about who you're trying to attract, what they're looking for online and how they spend their time on social media. 
Generate user-friendly content
B2B social media is more about education than emotion. It's about building thought leadership and providing answers to the buyer's questions rather than talking about how great your product or service is. You should be focusing on how you can help your customers solve their problems.
Avoid generating content that's complex. Say you're a technology company for example. You and your team will naturally be passionate about the industry and would happily sit through an hour-long talk about the latest technology tool but is this really what your audience wants?
Intel is a great example of a tech company that uses social media well. Its Instagram account is predominantly focused on reaching new and current audiences and they do this by posting interesting photos and commentary. It proves that B2B companies can engage in a photo-based network in a lighthearted manner, while still keeping a strong focus on its core business.
In the example below, Intel has tagged HP who has over one million followers, Odesza who has 379k followers and they mention a major event, Coachella which has over four million posts with the hashtag #coachella. Even B2Bs can use current affairs to reach huge audiences while still keeping their content relevant.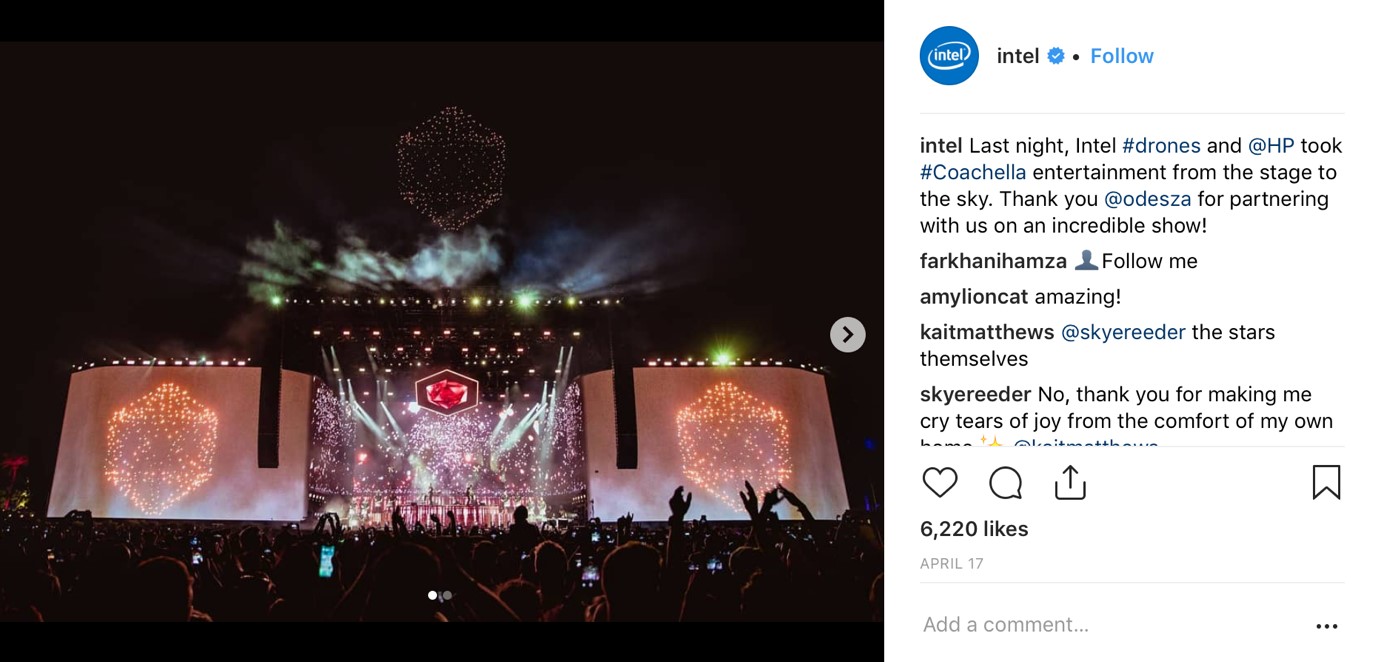 Get your branding right
Thinking that you don't need a face in the online world is one of the most common mistakes B2B companies make. Regardless of the type of business you're running, people want to connect with other people.
Whether it's your CEO, sales director, marketing manager or customer service representative, you need to have real people present on your platforms. They will demonstrate your values, the expertise of the company and help to build trust among prospects, customers, suppliers and even future employees.
You can also use your brand to create a personality for yourself. This will help you to stand out and encourage followers to engage with you. Your personality should reflect who you are and what you do. A great brand personality humanises your content and shows that there are real, genuine people behind your company.
If you're struggling to identify your personality, think about what your target audience is looking for. Consider things like the kind of language they use, the content they enjoy and other factors that can help you to connect. For a B2B brand, this typically means remaining professional but still allowing yourself to appear fun, friendly and conversational. 
Take the global real estate firm, CBRE. What could be a very boring, corporate Instagram feed is instead a beautiful showcase of architecture from around the world. They do a great job of making a name for their business with audiences that might not traditionally engage with them.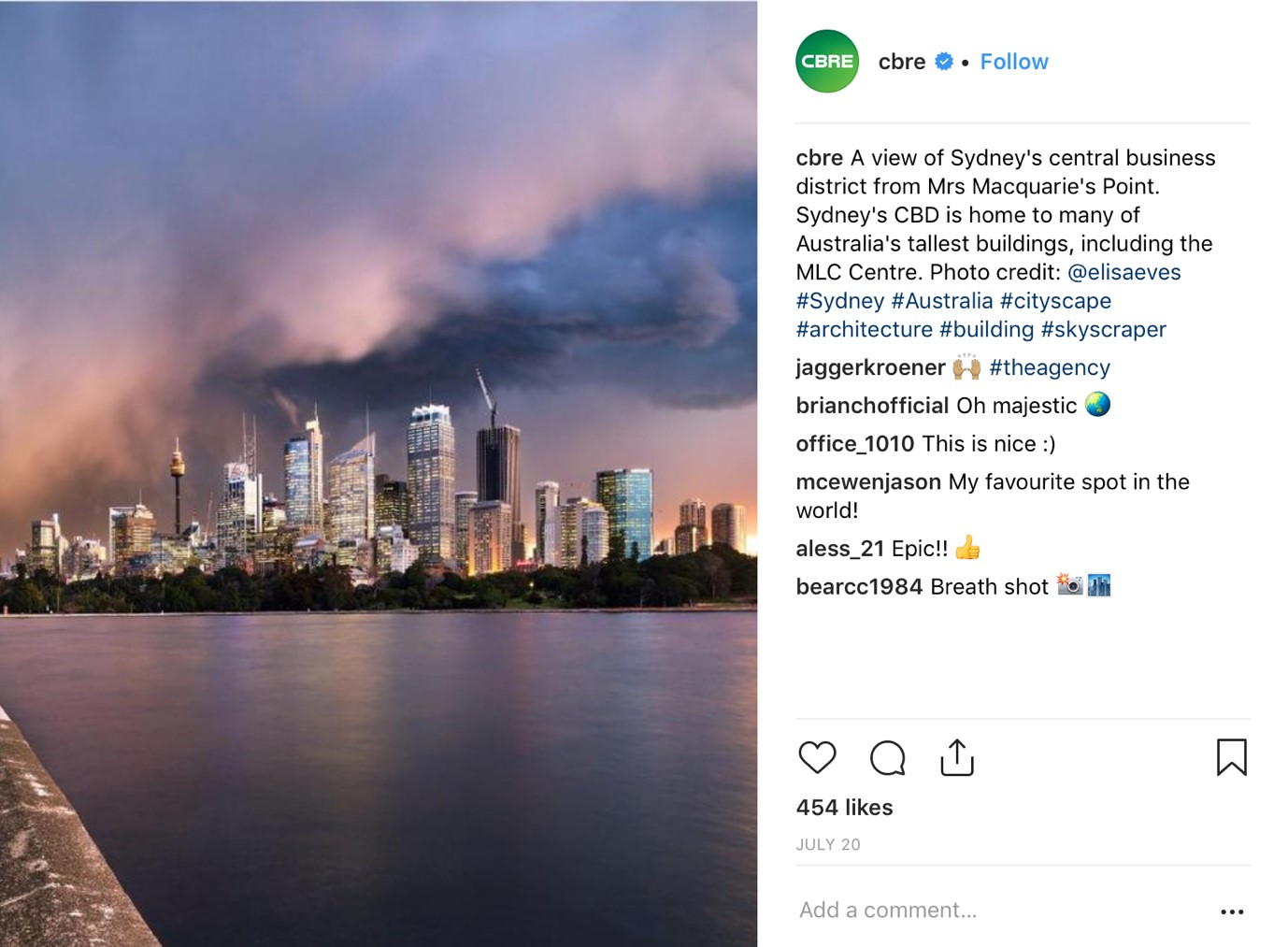 Another great feature of theirs is their meet the team videos. This shows the people behind the company and also gives you a glimpse into their corporate culture.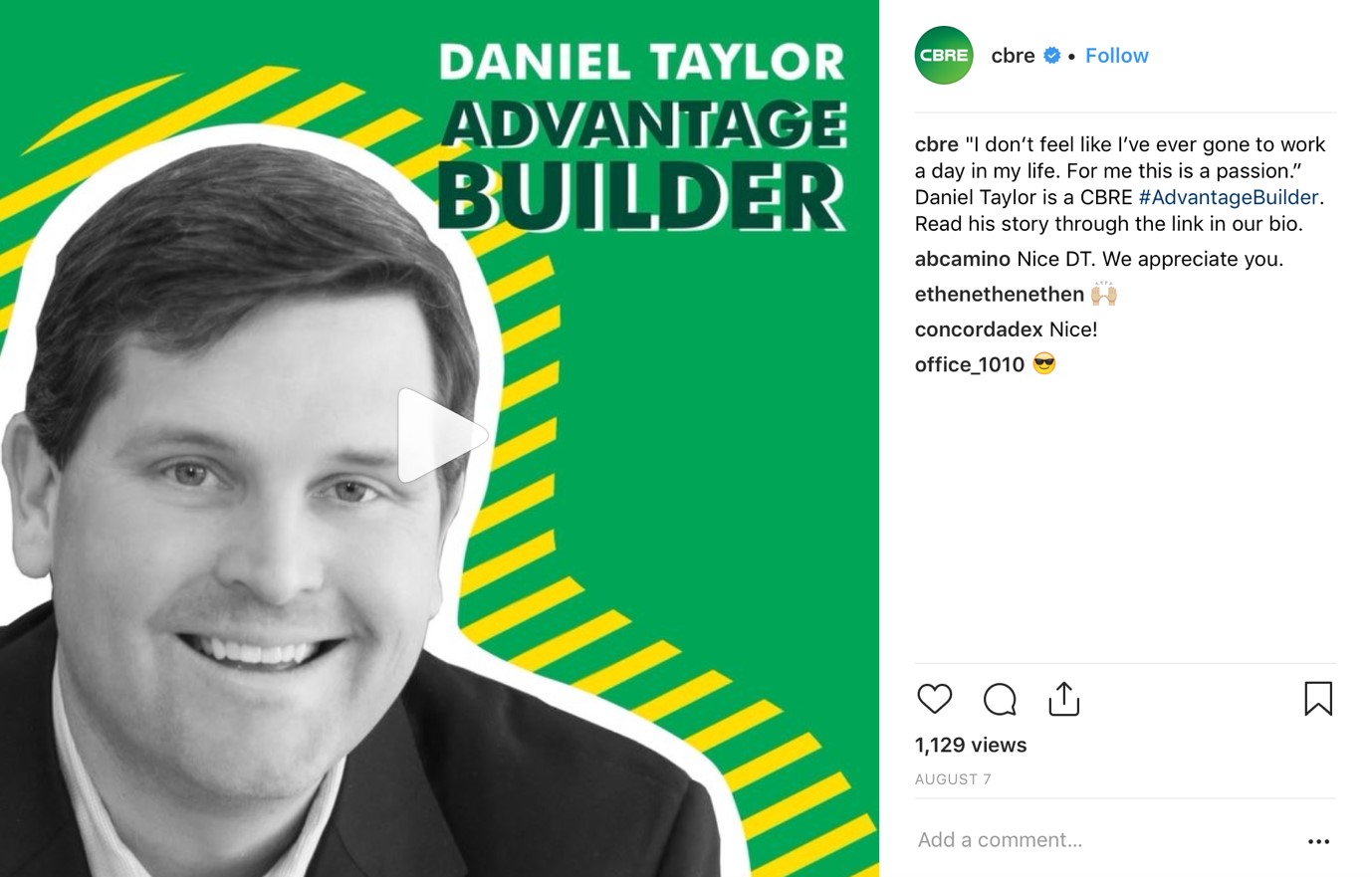 While many B2Bs rush to get themselves onto social media just so they have a presence, making poor choices on these platforms can seriously hurt your business. Most people will search for a company online before deciding whether or not to work with them so when this is the first impression people are getting, it's important to get it right. The good news, however, is that by taking the time to do this, you can bring real value to your target audience, make genuine connections and attract more potential customers.
*social media followers sourced September 2018.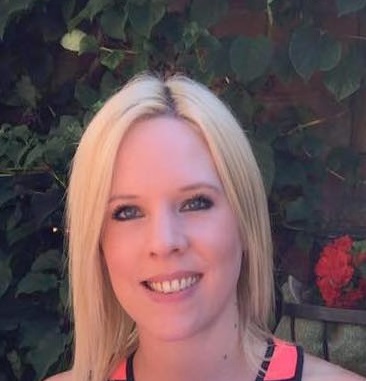 After completing her degree in Journalism, Monique began her career at a digital marketing agency. It was here she discovered a passion for online marketing with a particular focus on content creation for the web. Six years ago Monique set up her own copywriting business, Copyworks Group, which specialises in creating content for websites, blogs, newsletters and social media pages.
Read full profile