As social media platforms go, Twitter is a powerful tool for promoting your small business. Just one of the infinite ways it can help bring in new customers is to drum up some publicity when your business is exhibiting at an event. We're talking events such as trade shows, conferences and craft fairs – in other words, offline events that may not have an obvious link to social media activity but that, when you know how, can provide a valuable source of extra online exposure.
The great thing about using Twitter to support your attendance at an event is that you don't need a big budget, or indeed any budget, to use it to get even more from being part of an offline event. Here's what you can do to use Twitter to promote your presence at events – before, during, and after.
Before
Before the event, you can use Twitter to let your followers know that you'll be at the event. You could tweet a few times in the run-up to the event, sharing information about when and where the event is, and where to find you – what hall will you be in, or what stand will you be on, for instance? Here's an example from glass art creator A Heart of Glass promoting its attendance at the Dundee Art Fair: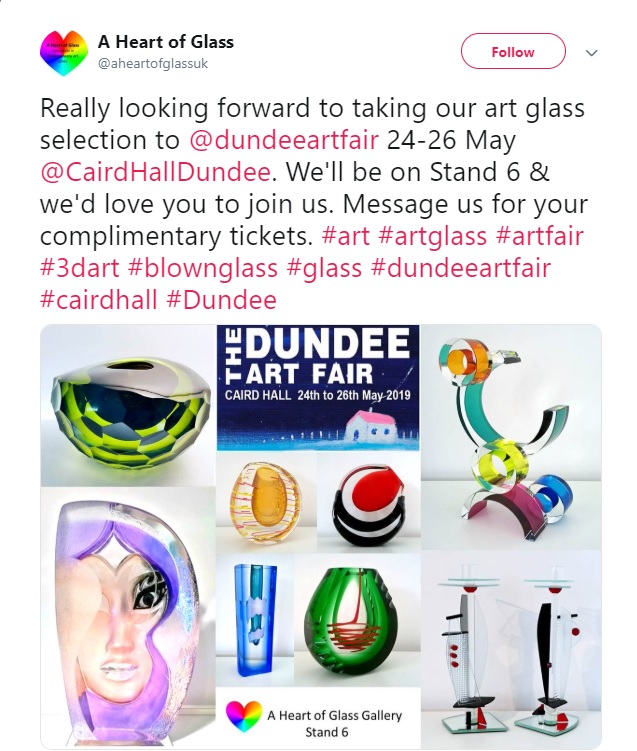 As you can see, they've used an image (known to garner higher levels of engagement on Twitter) that includes pictures of their products, the name and dates of the event and what stand they'll be on. They've included some relevant hashtags in the tweet to widen the audience of the post, as well as mentioning the official Twitter handle of the event. This is a great way to spread the word and may well be retweeted to followers of the event by its official Twitter account. They've also included a call to action to encourage people to get in touch for complimentary tickets, increasing the chance of attendees and potential customers engaging with them.
As A Heart of Glass has done with their product images, you might also want to give your followers some sneak previews of what they can expect from your attendance at the show, particularly if you have something fun planned to draw people to your stand. Here's an example from crane company MPS Cranes encouraging people to come and put their crane skills to the test on their stand at the specialist 'Vertikal Days' trade show: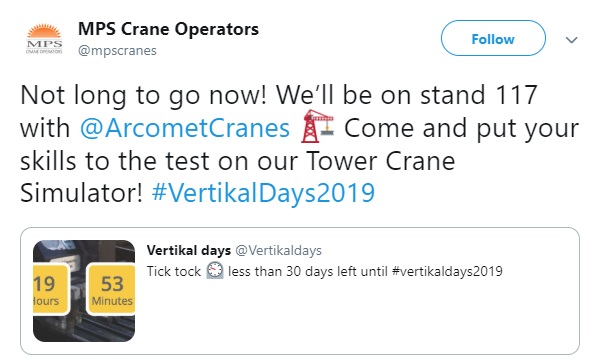 You'll notice that they've quoted a tweet from the event organiser – which will notify the organiser and may therefore get the post retweeted – as well as using the official hashtag (#vertikaldays2019) to make sure they're found by people already following the event.
Arranging and booking meetings with attendees is another way you could use Twitter in run-up to the event; it's a great way to get some leads confirmed before the show even starts. While you'll be relying to a large degree on passing trade on the day, if you're running a service at your stand – such as a website audit – you could offer timeslots for attendees to book in advance to be sure they'll be able to take advantage of what you're offering.
What's more, if you have the budget, you could also pay for some Twitter Ads to promote your attendance at the event. This will help boost your tweets to a wider audience of people who might be interested in coming to see you at the show.
During
Once the event gets underway, there are even more great opportunities for using Twitter to promote your business. You can use it to give your followers a live stream of what's going on, using the official event hashtag to ensure that attendees can see what's happening at your stand. Try tweeting photos of your stand, particularly with people milling around it, to help create a buzz and encourage people to stop by and see you.
If you can tweet a great reason for people to come to your stand, even better. At the BrightonSEO conference, one of the exhibitors doing a great job of social media was AccuRanker, which was giving away free T-shirts and using the official #BrightonSEO hashtag, as well as one of their own, when tweeting photos of attendees showing off their freebie: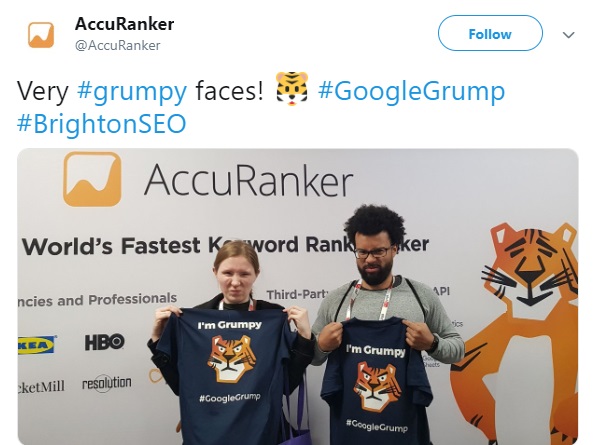 This was a great way to draw attendees over to their stand during the event. Indeed, offering freebies or some other kind of promotion is a fantastic incentive for getting people to stop by, and ties up well with tweeting on the official hashtag to drum up publicity. SEMRush took this approach at BrightonSEO, inviting people to come to their stand to find out how to win a big prize: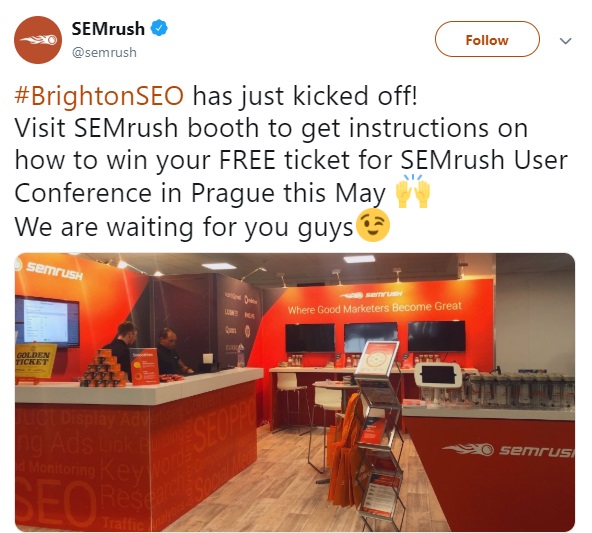 In a similar way, if you've bumped into someone interesting at the event – a key industry figure, perhaps – you could tweet that it was great to meet them, mentioning their Twitter handle and even asking them if you can include a photo; they're likely to retweet this to their own followers and this will get you even more exposure from the event. Here's an example from an education summit.
You don't have to tweet solely about your own involvement in the event; other people's efforts might be just as worth tweeting about, and this is a great way of networking as well as providing you with more Twitter content to draw attention to your business in a less direct way. If you're attending a talk at the event, for example, why not live tweet some of the key takeaways using the official event hashtag? This is a particularly popular thing to do at conferences, as other attendees may retweet you and thereby put your company in front of a bigger audience. Again, BrightonSEO is a great example of this, with many small digital marketing agencies and consultants using the platform to gain attention by tweeting useful points made by speakers at the event, like this one.
After
The opportunity for using Twitter to capitalise on attention surrounding an event doesn't stop when the event itself draws to a close, but you'll need to act quickly while the event is still fresh in attendees' minds. For starters, you can tweet when the day is over saying how much you enjoyed the event. If you've given a talk at the event, you can use Twitter to share your slides and perhaps encourage people to get in touch to continue the conversation about what you talked about.
Straight after the event is also a good time to use Twitter to follow up on leads gained from the event, when people are most likely to remember you. For example, you could follow people you met and send them a tweet saying it was great to meet them. If you can add a personal touch, such as a reference to something specific you talked to them about, even better.
You could also take the opportunity to use Twitter to reiterate any special offers you might have had running during the event – perhaps there's still time to enter your competition, for example, or to get 10% off with a special event discount code. If you have lots of photos to share, you could link to an album or create a blog post on your website with some of your favourite images from the event.
If you attended a talk rather than gave one yourself, you can create content based on a round-up of what you learned from the event, as DeepCrawl did here, mentioning some of the speakers featured in the hope that they'll retweet it to their followers. Claire Carlie did a similar thing here with a bumper blog post full of all the best round-ups from BrightonSEO: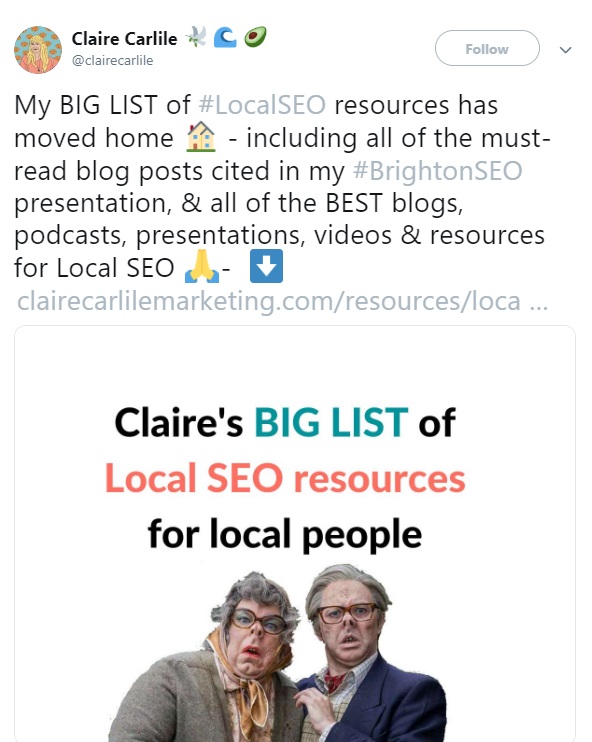 If blogging isn't your thing, how about vlogging? If you took video footage of the event, another option is to edit it together into a video that you could share on Twitter, as performance marketing business Spletnik did here. As always, don't forget to include the official event hashtag to make sure it gets picked up by anyone looking for content about the event.
Finally, a tip that applies equally before, during and after the event: keep an eye on the official event hashtag, and search for mentions of your business (otherwise you may miss these, if your Twitter handle hasn't been included in someone's tweet about you). These are great opportunities to engage with attendees, as well as giving you additional content to retweet about the event. If you spot any questions about the event (or your presence at it) that you can help with, or conversations you can contribute to, this is your chance to get involved.
You'll find lots more advice and tips on using Twitter to promote your small business in these articles: