Running a competition is a popular method used by companies to attract customers, generate interest and promote products or services.
Although they've been around for a long time, competitions have come back in a big way since the introduction of social media. With the ability to increase brand awareness, grow your followers and improve engagement rates all with one post, it's no wonder businesses of all sizes are choosing to participate in contest marketing.
This post by Kiko Milano is a great example of how companies are embracing contest marketing in the online world. They ran a social media campaign on Instagram on International Women's Day which consisted of a series of three posts telling their followers to tag a woman who inspires them.
In return, the winner receives a prize for themselves and the person they tagged. As well as encouraging people to engage with their page, they're extending their reach because people who have never even heard of the brand or who don't usually deal with them are likely to get tagged in the post.
Over the three posts, there were a total of 2,542 comments. Typically, their posts only receive a couple of comments which shows how powerful contest marketing can be, even if you don't normally get high engagement rates.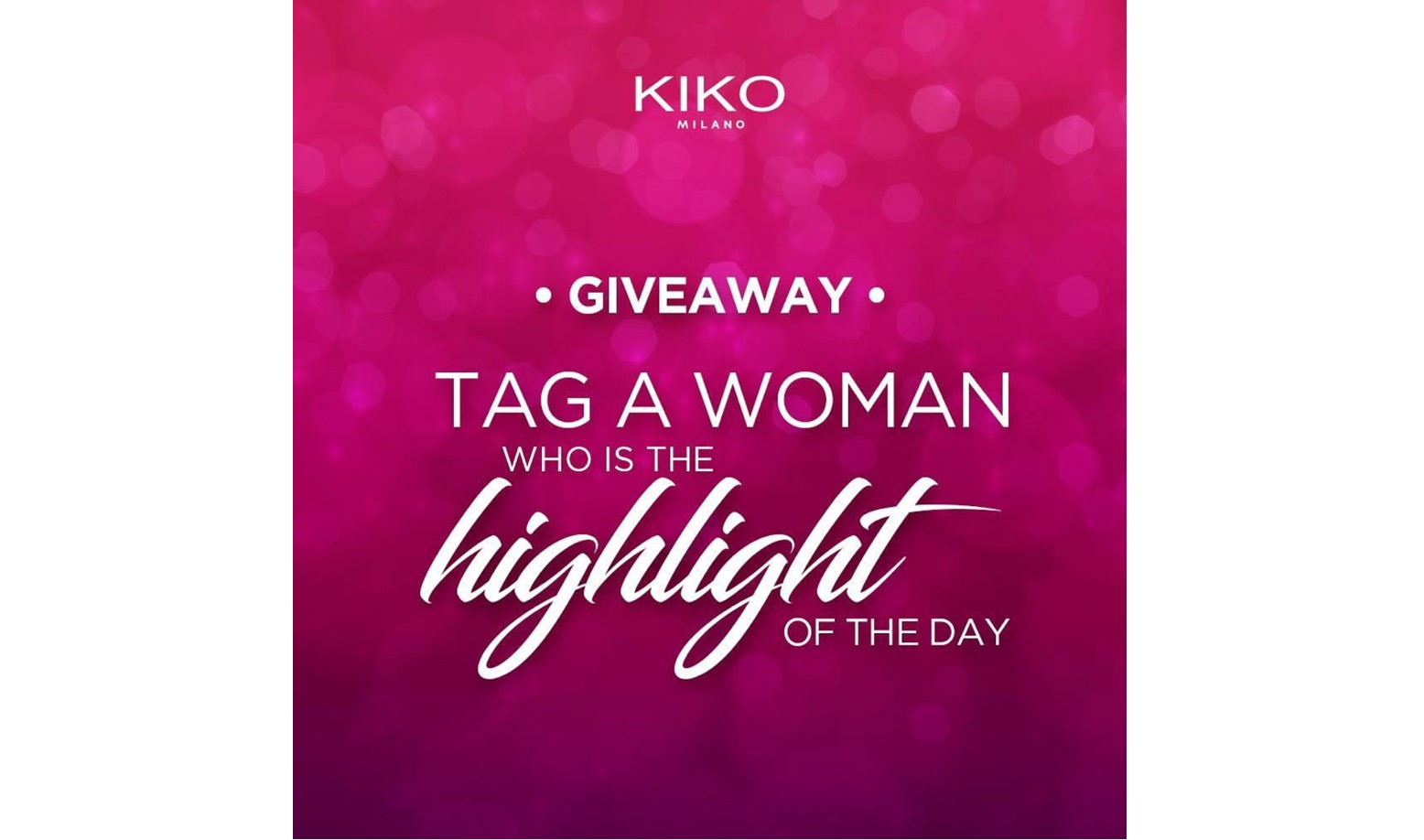 Contest marketing is also great if you need to promote a particular product or service or you're launching something. To celebrate the release of the new Captain Marvel film, Vue Cinemas ran a Facebook competition. Again, this dramatically increased the number of likes and comments they received while also promoting the film. In turn, this generates excitement which will lead to more people visiting their cinemas to watch it.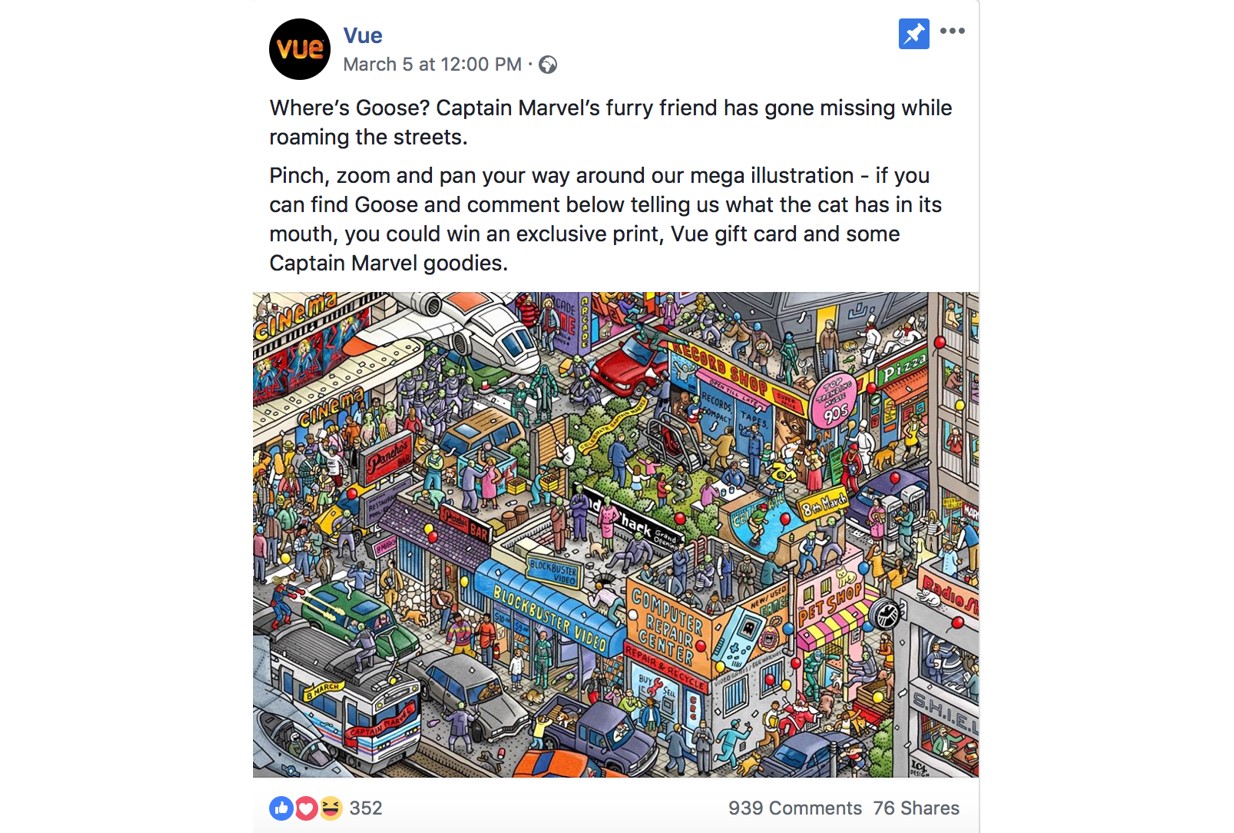 While these are both examples of big companies executing contest marketing, it's also great for smaller businesses who typically struggle to get followers and engagement on their social pages. Aside from providing a big boost to your social media efforts, how else can contest marketing help your business?
The benefits of contest marketing
Contest marketing offers a number of benefits and there are so many reasons why SMEs should be incorporating it into their marketing strategy.
It's effective
Competitions aren't just successful because people get excited about the thought of winning something. There are actually a number of psychological reasons behind its effectiveness:
They give away something for free – this is a concept which increases our oxytocin levels and makes us feel happy.
They leverage the power of urgency which persuades readers to take action in order to satisfy their need for instant gratification.
They create an environment that taps into our strong desire to win.
They enable you to collect valuable data
With the lure of a prize on offer, most of us are prepared to share personal information with companies as part of the entry process. While you don't want to introduce too many barriers, this is a great time to collect valuable data about potential and existing customers.
The most obvious choice is acquiring contact information such as an email address as this will enable you to send out future marketing communications. It's also a great opportunity to ask questions such as how people heard about the competition or what their favourite product of yours is. Armed with this data, you will be able to tailor and personalise future communications far more effectively.  
They engage your audience and empower them to do your marketing for you
As well as increasing the number of people engaging with your brand, competitions provide a means to deepen that connection. Opting for a contest that relies on user-generated content (such as a photo competition) allows you to do exactly this while encouraging your followers to do your marketing for you.  
UGC contests tap into the human drive to compete. More importantly, when participants upload their photo to your promotion, they're naturally invested in your brand. Furthermore, every time someone engages with you on social media, it leaves a footprint which is visible for all their followers to see, thus extending your reach.
For more information on this topic, head over to "Why marketing contests should focus on user generated content, not just email addresses."
How SMEs can succeed with contest marketing
The most common mistake companies make with contest marketing is acting without planning. Instead of running competitions in isolation, think about creating a contest marketing strategy that aligns with your entire business as well as your other marketing activities.
Your strategy will serve you well because it forces you to identify your audience, establish your goals and map out a timeline of events that integrates with your social media, content, SEO, email and any other marketing campaigns you run.
Creating your contest marketing strategy
1. Define your audience
You want to make sure that your competitions are designed to attract your ideal customers (people who want to buy from you), not just people who want something for free.
If you take the time to research and define your target audience, you can use this information to create a profile of what your ideal customer looks like. This should include their demographics, problems, goals, interests and online activity.
You can even state in your terms and conditions who is eligible for the competition to stop time-wasters.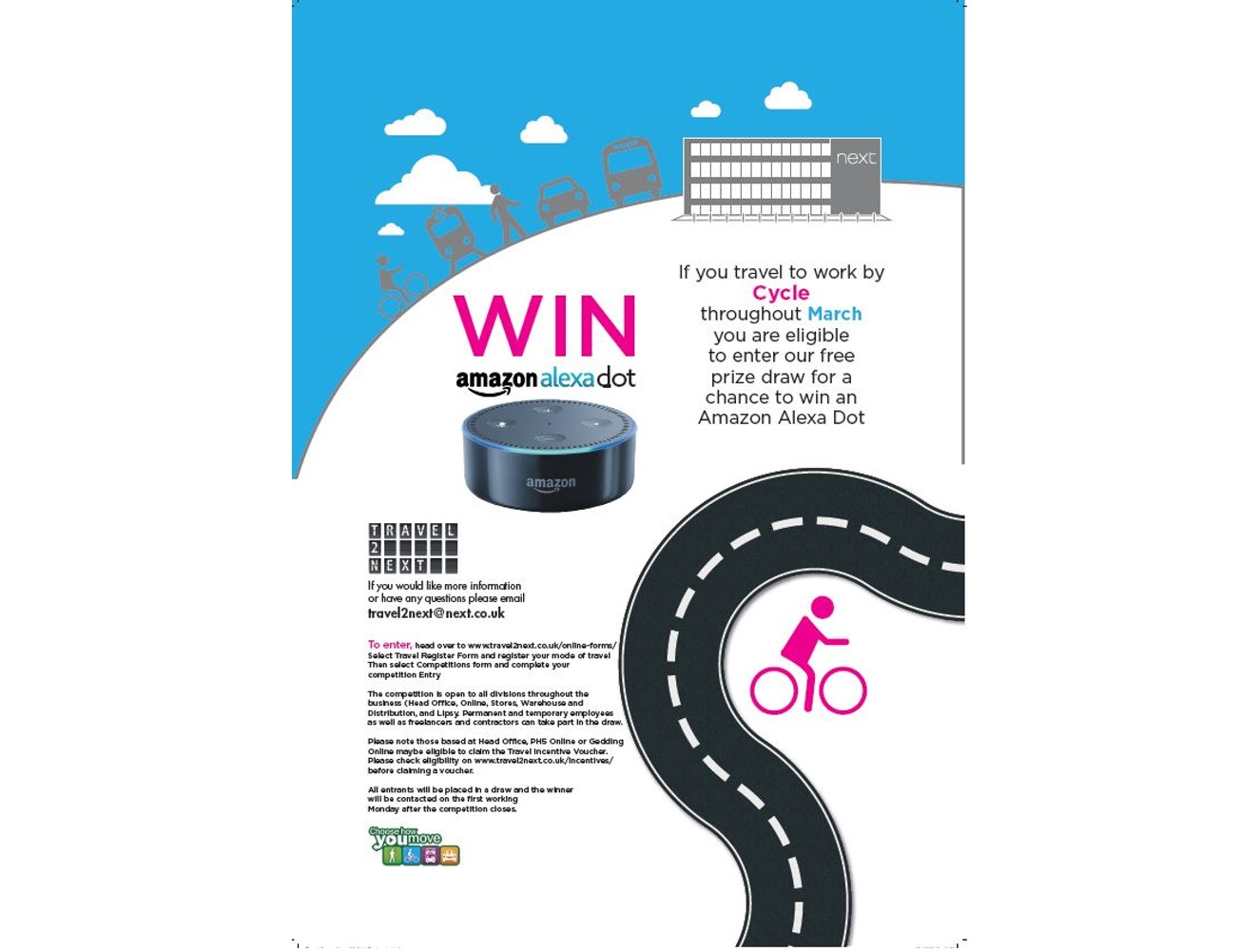 2. Set goals
You need to set goals so you know whether or not your campaign has been successful.
Are you looking for a set number of entrants to your competition? Do you want to drive traffic to your website? Are you after leads for your sales team? Are you trying to increase your social media followers? A clear and quantifiable goal will help you to plan and deliver your strategy successfully.
It's also a good idea to think about budget and resource allocation at this stage. How much do you want to spend on the campaign? Who will be responsible for running the competition and how much time do you want them to spend on it?
3. Make yourself aware of any rules and regulations
Social media competitions are tightly regulated so it's important to check platform rules so your contest doesn't get shut down.
It's a good idea to find out what you can or cannot do before you decide on the type of competition you want to run otherwise you could spend a lot of time planning, only to find you can't execute it.   
4. Decide on the competition you want to run
Now you can start thinking about the type of competition that's going to complement what you have on offer and encourage the most sign-ups.
When deciding, consider your audience. Where are they most active online? What content do they engage with? What sparks their curiosity? 
Considering that 90% of adults in the UK are Internet users, chances are that you're going to run an online campaign. You can do this on your social media pages or on your website.
Below are some great contest marketing examples which can help you to acquire new leads effectively.
Event-based contests
Events happening throughout the year provide great opportunities to run competitions and engage your audience. They're topical and newsworthy which means that people will be encouraged to participate.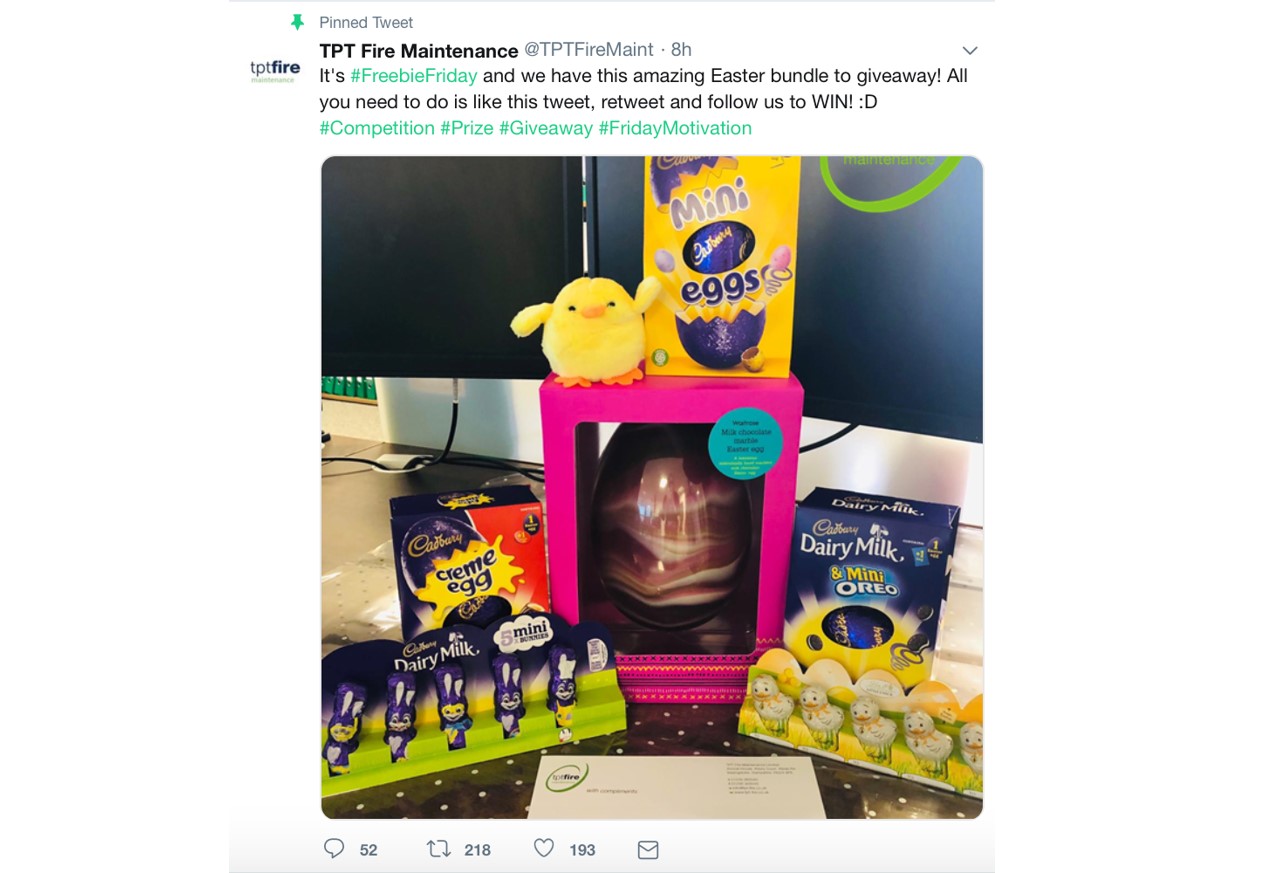 Pick a prize
A really great way to encourage people to enter your competition is to give them the freedom to pick their prize (within reason of course). If you team this up with a poll/survey, you can gather valuable insights into your audience's opinions, interests and desires.

Giveaways
Giveaways are a fun and interactive way to attract leads by offering them the chance to win a prize with a high perceived value. If you're a travel agent the prize could be a holiday, a dentist might offer free teeth whitening, a restaurant could offer a three-course dinner with wine or a gym could offer free membership for six months.
The great thing about giveaways is that because such a great prize is on offer, the winner is likely to become a loyal customer even after they've claimed their prize.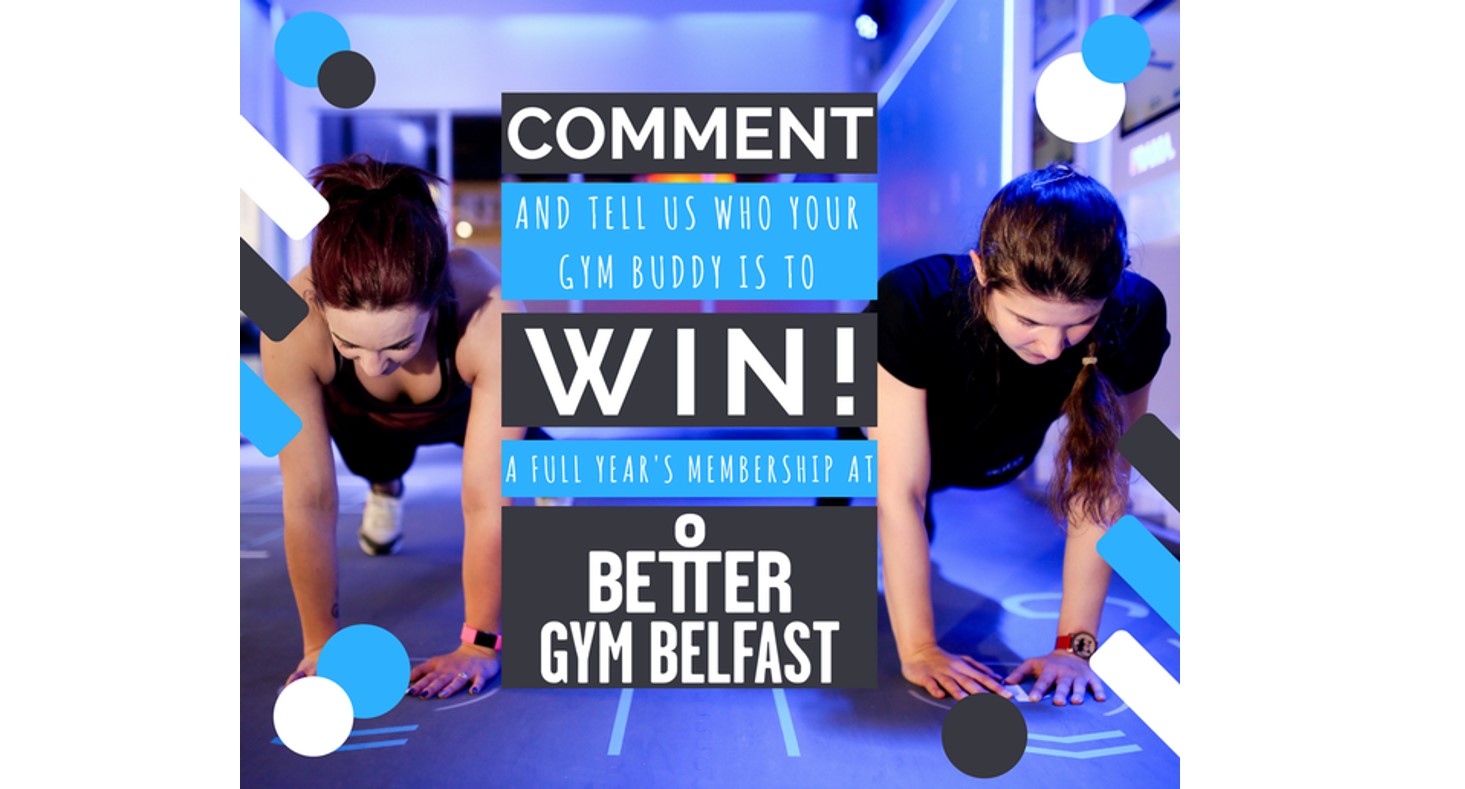 Gift cards
Gift card competitions are a fantastic form of contest marketing because they offer a number of benefits:
It's a great way to get people who have never shopped with you before to try your products
The winner may love your products and become a loyal customer
If they use their gift card to make an online purchase, you acquire details such as their email address
They may decide to buy more while they're there so even though you've given something away, you're actually making a sale that you otherwise wouldn't have
Quizzes
Quiz competitions encourage entrants to engage with your brand which is great for your social media engagement rates and creating a personal connection with your audience. Not only does it feel great to see your posts receiving likes and comments, it also helps you to get seen by a larger audience.
You can take your competition a step further by asking questions that encourage participants to visit your website to find out the answer.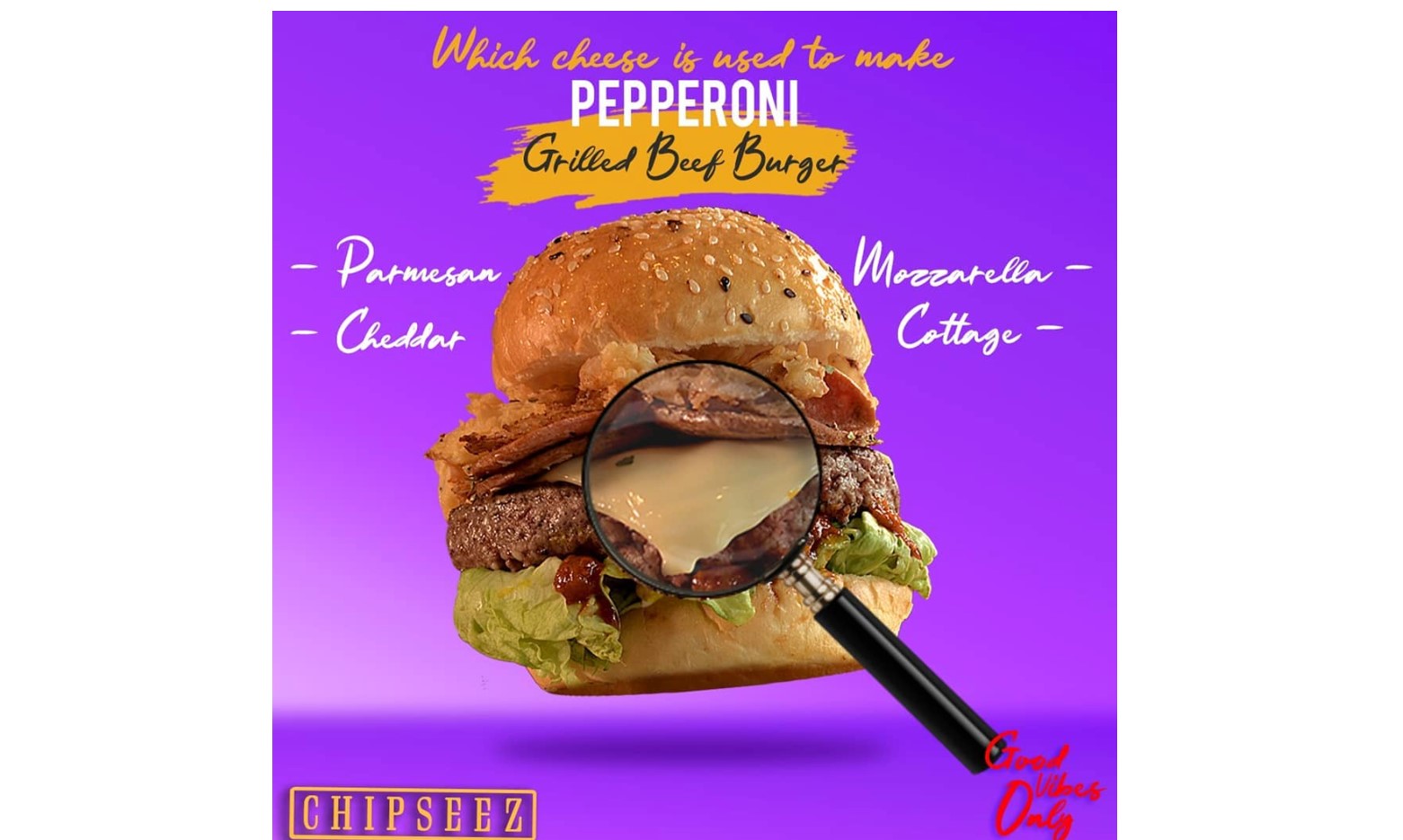 Photo competitions
Similarly to quiz competitions, photo contests are a sure-fire way to get people to engage with your brand. As well as enabling you to learn more about your customers, perhaps the biggest benefit is that you're utilising user generated content.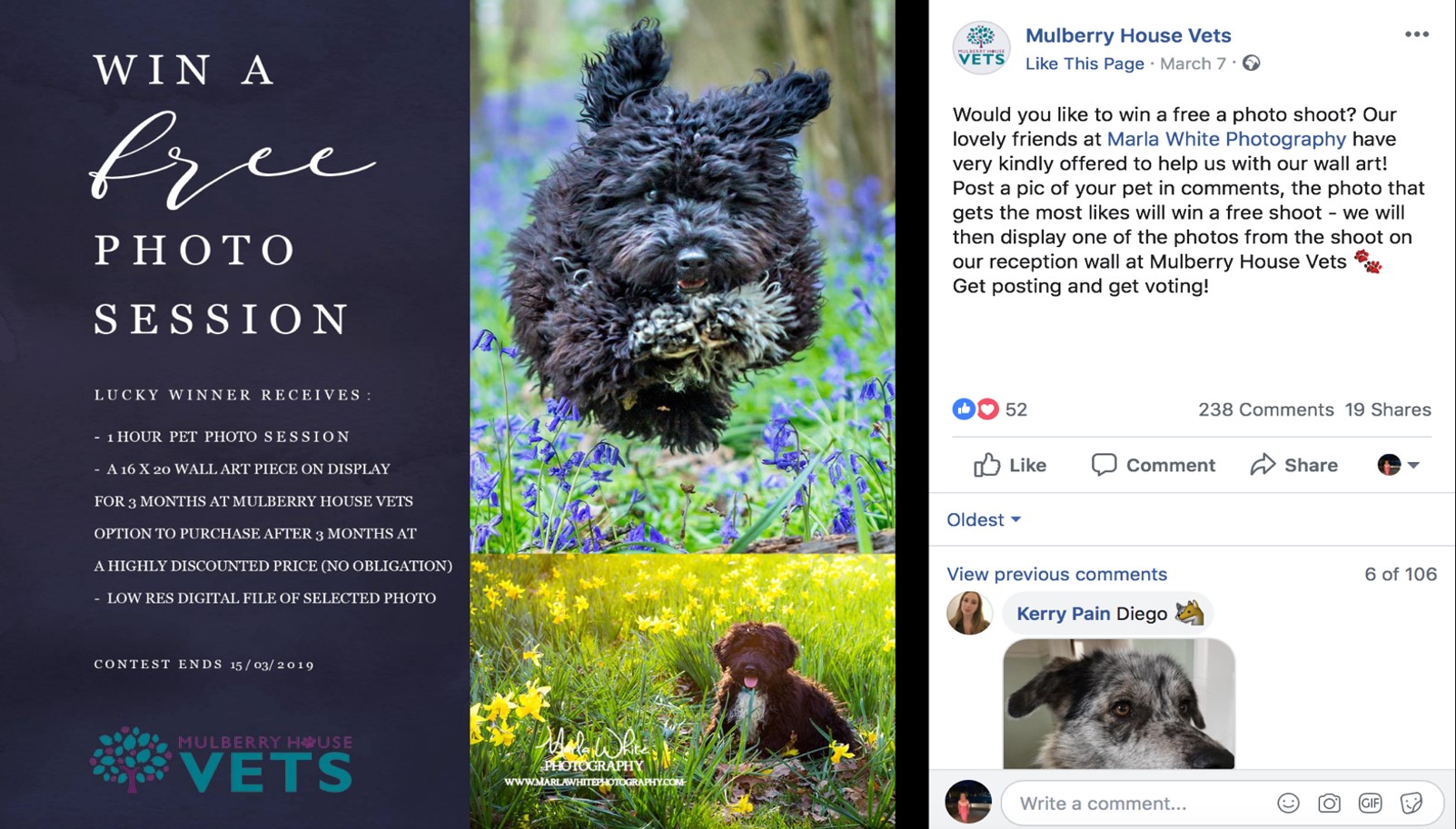 5. Define your key metrics
You may have already done this in step two where you defined your goals for your contest but it's important to set out key metrics so you know whether or not your competition has been a success. Remember, return on investment doesn't have to mean solely financial return. If your aim was to increase your social media followers and you did this, your contest has been a success.
Here are some key metrics to consider when running your competition:
How many people visited your promotion? How much time did they spend engaging with it?
How many actively participated in your competition?
How many shares did you receive?
What type of content generated the most interaction?
How many new likes or followers did you get?
What was the redemption rate of any coupons or offers?
How many users opted into your email list?
If you included any outbound links to drive traffic, what was the click-through rate?
Can any new business be attributed to the promotion?
Contests provide an interactive way of engaging your audience, collecting leads and increasing your digital presence. What's more, they can also provide shoppers with a positive experience, create an affinity for the products you're selling and help you to collect information about shoppers that can help with future sales-oriented marketing campaigns.
The idea of giving anything away can seem a daunting prospect for SMEs but when these promotions are executed properly, contest marketing can be a truly effective approach to acquiring loyal customers.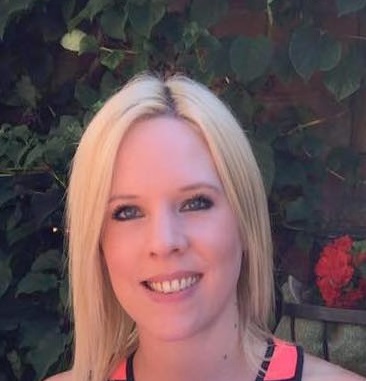 After completing her degree in Journalism, Monique began her career at a digital marketing agency. It was here she discovered a passion for online marketing with a particular focus on content creation for the web. Six years ago Monique set up her own copywriting business, Copyworks Group, which specialises in creating content for websites, blogs, newsletters and social media pages.
Read full profile