Loyal customers are often a retailer's most valuable segment. They spend more, can often be effective brand advocates, and provide useful data which helps retailers learn and improve their products and services.
All too often, retailers can be more focused on attracting new customers, and budgets are spent on acquisition channels like paid search, with less attention paid to taking care of existing customers and keeping them happy.
There has to be a balance of course, as retailers need to grow their customer base, but existing customers are often the most valuable, and it's therefore in retailers' interests to look after them, ensuring they're satisfied and happy to purchase again and again.
Here's a few statistics which underline the importance of looking after loyal customers:
Customer loyalty leads to profits. Increasing customer retention by just 5% boosts profits by 25% to 95%. (Bain & Co, 2015)
23% of customers who had a good customer experience told more than 10 people about it. (Harvard Business Review)
80% of future profits will come from just 20% of existing customers. (Marketing Metrics)
In addition, stats from a Monetate Ecommerce Quarterly Report from 2017 show how site visitors who have purchased from a site before behave compared to new visitors – they're more likely to add items to their shopping baskets and to make a purchase.
Measuring customer loyalty
It's important to identify and understand your most valuable customer segments, for many reasons.
You can find out more about their behaviour in order to improve your offering for other customers.
Understanding loyal customers helps you to improve their experience and further secure their loyalty.
You can track changes in loyal customer behaviour and take action to retain wavering customers or address any problems.
We often talk about retention when discussing customer loyalty, as this is generally about looking at behaviour which is an indicator of customer loyalty, such as repeat purchases.
There are a number of metrics retailers use to measure customer loyalty, and thereby identify the most valuable customer segments.
Customer Lifetime Value
This is the revenue you make from any given customer over the course of their relationship with you, minus any acquisition or retention costs.
Companies will estimate lifetime values and factor this into acquisition costs – this is why you'll often see companies such as broadband or digital TV service providers offering generous new customer incentives.
They know that six months of half price broadband will pay off over the long term if they retain that customer for several years.
Lifetime value is a broad measure, but it does give retailers an indication of how many customers they manage to retain. By keeping an eye on these numbers, retailers can understand customer behaviour and know how much budget and attention to pay to acquisition and retention.
RFM
The RFM model (recency, frequency, monetary value) is a great way to identify valuable customers segments and keep an eye on customer behaviour.
It's a great starting point for identifying loyal customers, and provides a model to monitor changes in behaviour and find out where action may be required.
Recency refers to how recent the last interaction (purchase) with a customer was. This will vary according to type of product and retailer, but gives an idea of how fresh a relationship is.
Frequency looks at the number of purchases in a defined period of time, and can help retailers understand purchase cycles.
Monetary value, of course, looks at how much a customer has spent in this period. Some loyal customers, who purchase frequently, may not actually be as valuable as others.
Here's an example RFM matrix from ecommerce expert Mike Baxter. It sets out recency, frequency and values of orders, then classifies customers using the data.
So we have the frequent, recent and high spending customers flagged as heroes, than other categories like 'lapsing heroes' which may require some action to try and get them back on track.
This action could be something like an email with product recommendations to prompt them to come back and browse your site, or perhaps a special offer to give them extra incentive.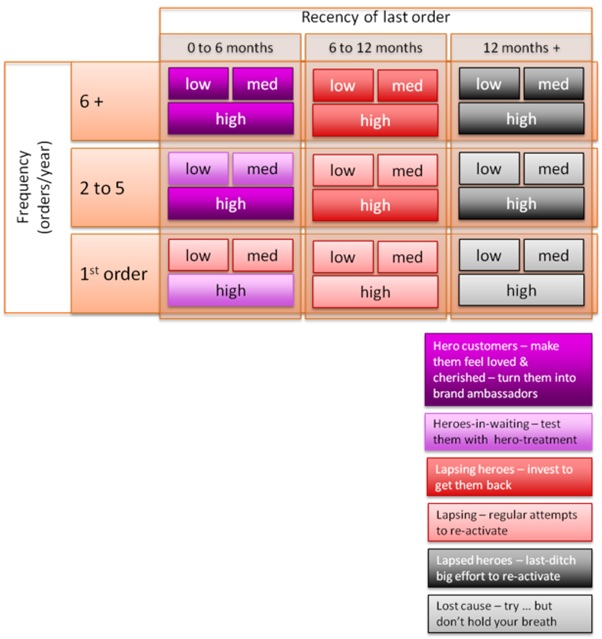 It's a great example of how measurement can be used to not only identify key customer segments, but also to be able to track patterns of behavior and take action at the right time.
There are other metrics to look at too. For example, looking at the percentage of customers making it from the first to the second order is an indication of how successful your site is at retaining customers.
Tracking and monitoring changes in metrics like this can help you to identify problems and take action.
Net Promoter Scores are another way of tracking customer satisfaction (a key factor in loyalty) and identifying patterns in scores and listening to customer feedback.
Increasing customer loyalty
Monitoring and identifying valuable customers is one thing, but retailers also need to work hard to retain existing customers, and to give new customers excellent service that makes them want to buy again.
There are many tactics retailers can use for this, but it has to be driven by a focus on the overall customer experience.
Website usability
Assuming your product and prices are good for the customer, it's then about making it as easy as possible for customers to find and buy items online. And this means having a website that's easy to use.
There's enough competition online that a poor web experience will deter people from coming back for repeat purchases, as well as stopping people from buying in the first place.
A site that's a pleasure to use, or just easy to buy from without any major problems is one that customers are more likely to return to.
Rewards and loyalty schemes
Rewarding loyalty is one way to make customers feel special or appreciated, and also gives them tangible incentives which encourage them to make repeat purchases.
Loyalty schemes are an obvious way to do this, and there are some excellent examples from bigger retailers that have really worked well.
Tesco's Clubcard scheme played a big part in the retailer's growth over the past two decades, as well as providing Tesco with lots of data which enabled them to better understand customer behaviour.
The best schemes are simple to understand and use and offer useful rewards for customers. For example, the Boots Advantage scheme gives customers points for every pound they spend, which can then be used for future purchases.
Loyalty schemes also help to identify the loyal customers, as they are likely to be the ones that sign up and make use of schemes on a regular basis.
There are also ways to reward loyalty without having a formal scheme in place. It could take the form of occasional treats for loyal customers – Vodafone occasionally sends me vouchers for free coffee for example – or targeted campaigns based on customer behaviour.
For example, when a sale is on, retailers can provide early access to valuable customer segments, or reward them with discounts for the products they purchase often. Marking customers' birthdays and other milestones with exclusive offers is another idea.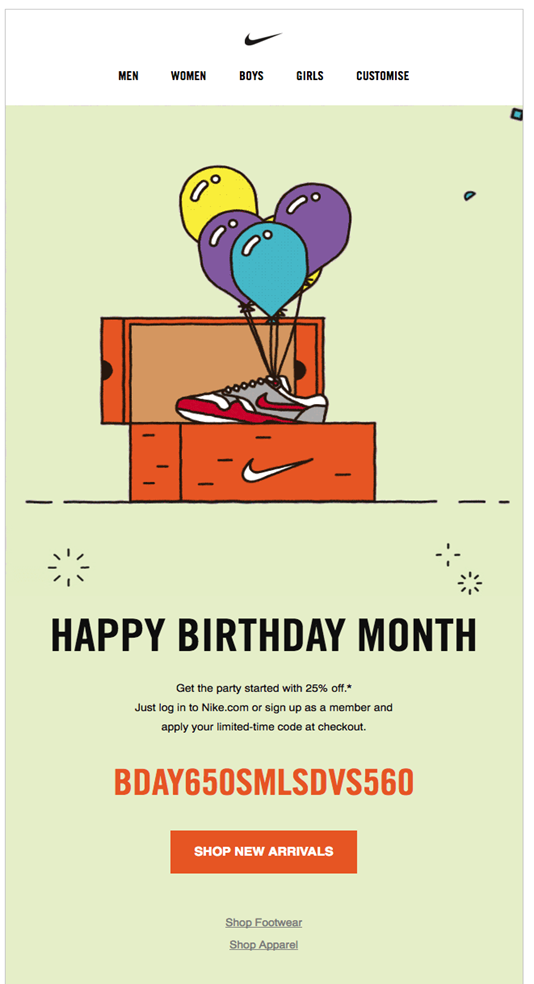 The best rewards strategies are built around a value exchange – customers join in and take time to sign up and provide you with valuable data in return for an improved experience. People are generally happier to give up personal data if they know they'll get something back from it.
Easy repeat purchases
Using the information from the first purchase, you can make subsequent transactions much easier by saving address and payment details for next time.
This is part of the secret of Amazon's success – with saved details it can make purchasing as easy as clicking one button.
Delivery and returns
Delivery matters to customers, and if you can deliver as promised – and quickly – customers are more likely to return and buy more.
Likewise, an easy to use returns service means that, even if customers don't find the product they want first time around, they'll be happy to buy from that retailer again.
Good customer service around these areas and beyond helps to build trust and respect with customers, and can make them more loyal.
Personalisation
The data retailers collect about customer behaviour can be used not only to learn lessons that help to improve performance, but also to create a better experience for customers.
The use of personalisation in this context is about making things more relevant for customers. A good example of personalisation is relevant product recommendations.
Amazon knows the products its customers have bought and viewed, and can make intelligent recommendations using this data.
You don't need to have Amazon's budget either, as there are affordable plugins and tools which enable smaller retailers to employ personalisation using platforms like Shopify.
Email marketing
Once someone has made their first purchase, email can be a useful line of communication to keep your business in customers' minds.
You can send too many emails of course, but used intelligently, emails can be used to reinforce the good feeling after that first purchase, and to provide relevant product recommendations and promotions to keep them coming back to you.
In summary
Keeping customers happy can be a challenge for retailers. It comes down to a blend of product and service, but these relationships can also be fragile. A retailer may have many successful interactions with customers, but one poor piece of service and they can head to a competitor never to be seen again.
However, a strong focus on good customer experience always helps, and will minimise customer churn. Likewise, if customers can see that their business is valued, and that they're getting value themselves, then they're more likely to keep coming back.