The UK's high streets are under threat, and it does at least seem that the traditional model of offline retail will change significantly over the next few years.
Last year, 5,855 stores closed in the UK, the highest number since 2010, with brands like Toys R Us and Maplin failing so far in 2018.
While there are other factors at play, the weak state of the pound after Brexit, high business rents, and the decline in some people's disposable income for example, the internet tends to be highlighted as the culprit when news of store closures is reported.
There is no doubt that the internet poses a threat, but some companies also tend to blame Amazon when they encounter problems rather than look at the mistakes they may be making.
Take Toys R Us for example. The internet was clearly a threat to it, but rivals like Smyths have managed to prosper in the same environment. Perhaps the retailer didn't make the most of the opportunity that online offered and also failed to make its stores an attractive destination.
Instead of simply blaming the internet, retailers need to look at how they can use online to their advantage. Online retail is now a fact of life, and those businesses which use it well are best placed to thrive.
First of all, offline stores which aren't selling online should reconsider. An ecommerce site gives them the chance to expand their potential customer base way beyond their current physical reach.
With an online shop, you can be selling 24/7 around the world, reaching customers who would never have found you without an online presence.
It can bring in valuable extra revenue which can enable retailers to keep their physical presence going. It's not about online versus offline, but finding the best mix of the two for a healthy and profitable business.
In this post I'll look at how online shops can be used to drive offline footfall, to improve the in-store experience, and how retailers with a presence online and offline can use it to their advantage.
Use your online presence to drive store visits
The internet offers a way for potential customers to find your stores more easily. This can be through your own website or other online listings, Google My Business for example.
Google My Business offers a free listing which appears prominently in local and brand name searches, offering details like opening hours, images and directions to stores.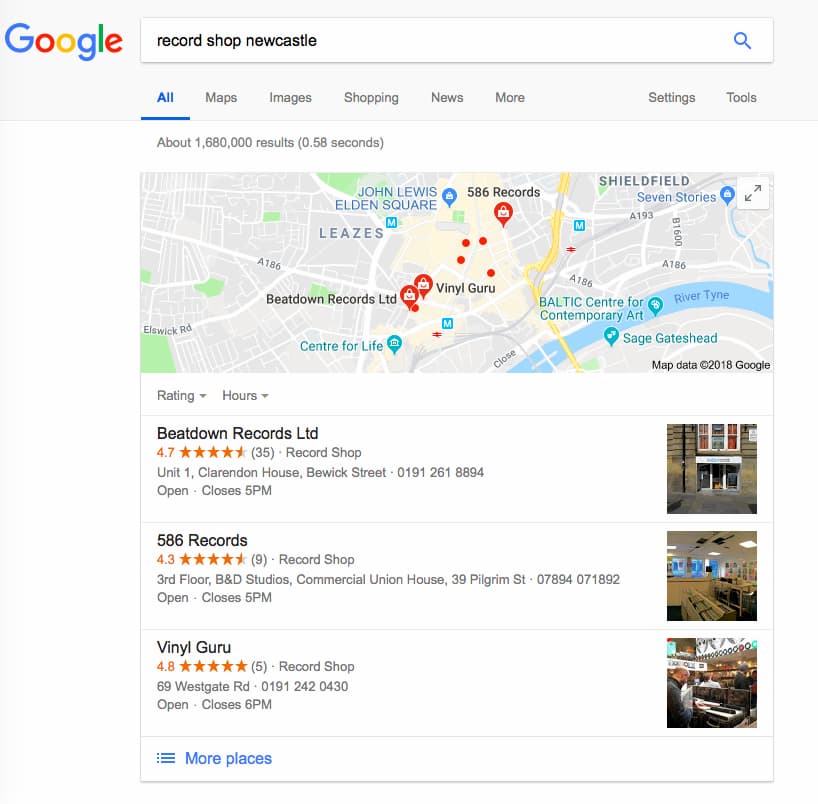 Creating and optimising your listing is a must, but an online store is the cherry on the cake. It allows you to showcase your business exactly how you want to, bringing in customers from search and other channels.
Whether you sell online or not (and you should if you can) your website can act as a way to showcase and drive traffic to your stores. There are various ways to do this:
1. Show off your store 
Tell customers what's great about your store, and why they should take the time to visit. If you're a cafe or restaurant, talk about the menu, your great ingredients, or show images of your food.
If your store looks great, show it off though imagery and tempt people to make the trip. For example, Barker & Stonehouse stores are always appealing, and the company shows this on the website through Google Business View maps, which allow users to visit the store virtually.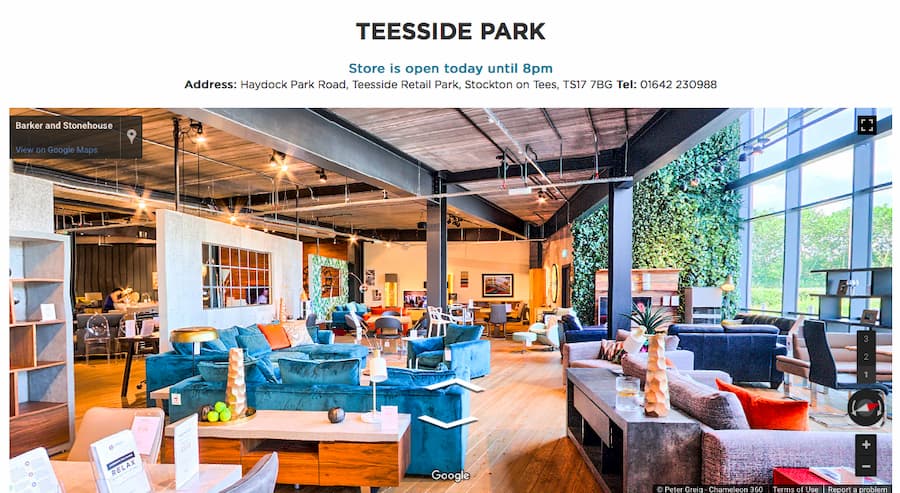 2. Provide clear opening hours
Opening hours are an obvious thing to show, but you'd be amazed how many sites fail to make this clear, or keep them up to date.
For example, opening times may change during holiday periods, so it's important to keep details up to date. If customers are not sure you'll be open, then they won't make the effort to visit.
3. Provide detail on in-store services 
Let customers know about the facilities you have in store. For example, things like free parking and in-store coffee houses are great features that may convince people to make the effort to come and visit.

4. Show directions
A clear address is essential, but it's also good to give people some help finding your stores, especially if they're in a less obvious location.
Embedding Google Maps so customers can use their phone to find the store is a great idea, while simply explaining directions from a local landmark or the nearest motorway can help.
Some sites go the extra mile here. 586 Records is in Newcastle city centre, but it's on the third floor of an office building, making it harder to find. To help people find it, they've created a simple YouTube video showing directions from the nearest monument, all the way up the lift to the shop.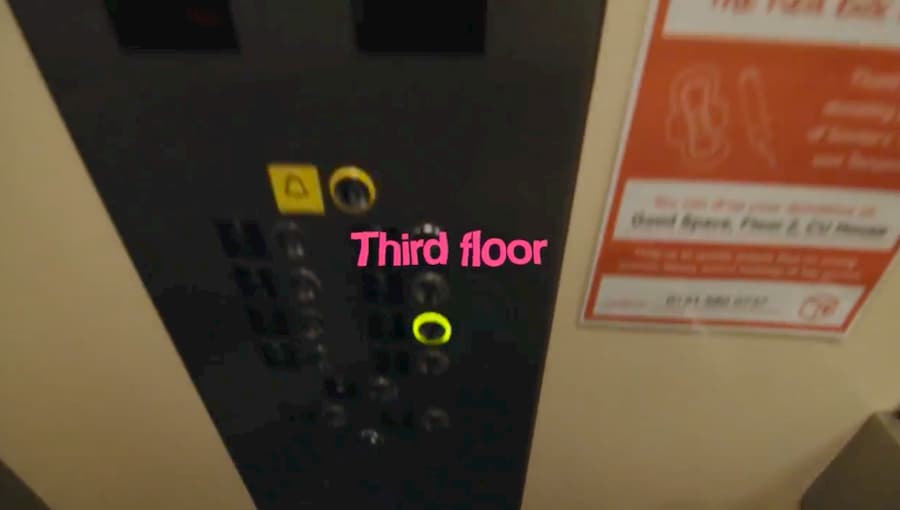 Make the most of multichannel advantages
This is about using the combination of an online shop and store to offer a greater experience for your customers, allowing them to shop how they want to.
According to Royal Mail research, 51% of UK consumers buy both online and in-stores, and the choice of channel often comes down to factors like convenience.
Online and offline each have their advantages and disadvantages, and thinking about multichannel can help you to get the best of both worlds. It's not about favouring one channel over the other, but finding the best way to adapt to shoppers' research and buying preferences.
1. Offer click and collect
Click and collect is a popular delivery option for online shoppers, with 72% using it in 2016. It can act as a valuable bridge between online and offline channels, and is a great way to get people into stores.
This raises awareness of your stores with online shoppers, and can lead to customers making extra purchases while they're picking orders up. According to a JDA survey, one in four European shoppers make extra purchases while collecting online orders in store.
Click and collect fits well with customer research and buying patterns, and can often be more convenient than waiting at home for deliveries.
2. Allow in-store returns
Allowing customers to return online purchases to stores can help in a number of ways:
It's often more convenient for the customer, as it saves them packaging and mailing items back.
It saves time money which either retailers or customers would need to spend on postage.
Problems with products can more easily be solved in store. For example, store staff may be able to find alternative products there and then, or a little help may solve any issues customers have with a product.
As with click and collect, customers may make extra purchases while returning goods.
3. Help visitors with product research
Customer purchase journeys are varied, and will often start on one channel and end on another. For example, many customers will research items online before heading to a store to buy it, or check out items in-store before buying online.
Some will even be carrying out research while they're in store. Pew Research Center found that 62% of in-store shoppers use their phones to look up online reviews before making a purchase.
This is often referred to as ROBO (research online, buy offline) and is something retailers need to adapt to. There are a number of ways to do this:
Make sure the mobile experience is good enough. You need to make it easy for shoppers to access the information they need. Sites should work well on mobile and key information should be easily accessible. In addition, providing wifi for customers helps ensure a faster connection and saves them using up their data plans.
Product pages need to aid research. Provide the detail customers need to decide on a purchase. Lots of images, detailed product information where necessary, and use of videos.
Use consumer reviews. They're a big part of the research process. Pew found that 45% of shoppers had used mobile to look for reviews while in stores.
Use online to improve in-store experience
What you learn from selling online can be applied to improve the in-store experience for customers.
1. Use the data you collect online.
An online shop allows you to gather a lot of data on customer's browsing and purchase habits which can be applied offline.
For example, when Amazon opened a bookstore in Seattle, it had lots of data to draw on, the purchase habits of consumers in the area for example.
Of course, most retailers don't collect the same amount of data as Amazon, but the principle remains the same. For example, data from your ecommerce site can tell you about products that are becoming popular, which you can stock in store.
2. Use online techniques in store.
Things that work online can be tried in store to improve the experience, or provide more information to help customer decide on products.
For example, PC World presents information about products in a very similar way to its website, allowing customers to compare products and specs at the store shelf.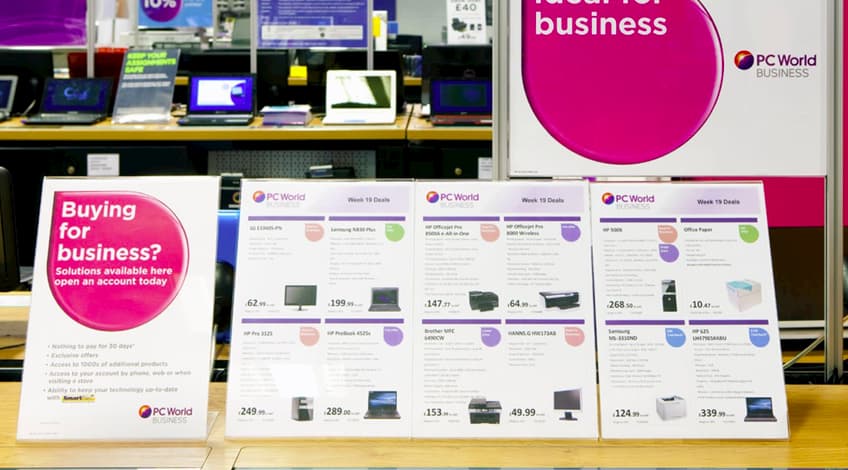 Another example is the use of reviews. If you have reviews for products online, they why not use them in store? It's great social proof which can help customers decide there and then. It also saves them from picking up their smartphone and searching for reviews online. This is something Amazon did with its bookstore, as well as grouping books together with high review scores.
3. Use mobile apps and sites 
If people are using your mobile app or site, then it means they're less likely to be heading to other site for research and price comparison.
Apps can help by making checkout easier, by scanning barcodes for example. They can be used as part of a loyalty scheme which rewards repeat business, while geotagging can allow retailers to target nearby shoppers with new products and discounts.
These are just a few examples of some of the ways retailers can benefit from the rise of the online world and ecommerce to increase footfall and sales in their high street stores.