How to handle returns is a bit of a conundrum for retailers in general, and for small businesses, it can be a serious drain on resources.
While offering easy returns can help to drive sales in the first place, it's also important to balance this against the costs of processing returns. While larger retailers have the resources to handle returns and absorb costs, this may not be the case for others.
Estimates suggest that returns cost UK retailers £60bn a year, with online retail accounting for £20bn of this. In a Barclaycard survey 31% of retailers said that managing the returns process impacts their profit margins.
The problem is made worse by consumer behaviour. The same Barclaycard survey found that 30% of shoppers over-order knowing they can return the items they don't need, while 19% order several versions of the same item, so they can decide which to keep later.
Customer expectations around returns can be a problem too. 58% say a retailer's returns policy plays a role in their decision to make a purchase in the first place, and 47% wouldn't place an order if they would have to pay for returns.
The returns problem can be worse for some retailers than others, depending on the products they sell. Clothing retailers have the biggest problem, thanks to the challenge of finding the right size and fit online.
So how should retailers handle returns and keep customers happy? There are two parts to this answer – minimising the number of returns, and putting a returns process in place that keeps customers happy.
Minimising returns rates
Reducing returns rates can relieve pressure on profit margins, but it's also a big challenge. The best way is to make sure people are making an informed purchase decision. If they understand the product, its features and uses, they'll be less likely to be disappointed when it arrives.
Some of the bigger retailers are starting to use fitting tools for clothing and shoes, though these are likely to be beyond the budget of most small businesses.
There are other ways to try and minimise return though, which are more affordable.
Product images and video
Images and video can be used to give people a better understanding of the product, and whether its right for them.
Images can be used to show products from every angle, highlighting key details and allowing customers to get as much visual information as they can. For products like clothes, it's hard to match the ability to try on in store, but good images can go a long way.
Video can also help to demonstrate product features and help customers find the product that works for them. For example, sites can produce videos talking customers through key products. If customers viewing this video understand how the tent works, and have seen it demonstrated, they're less likely to return it.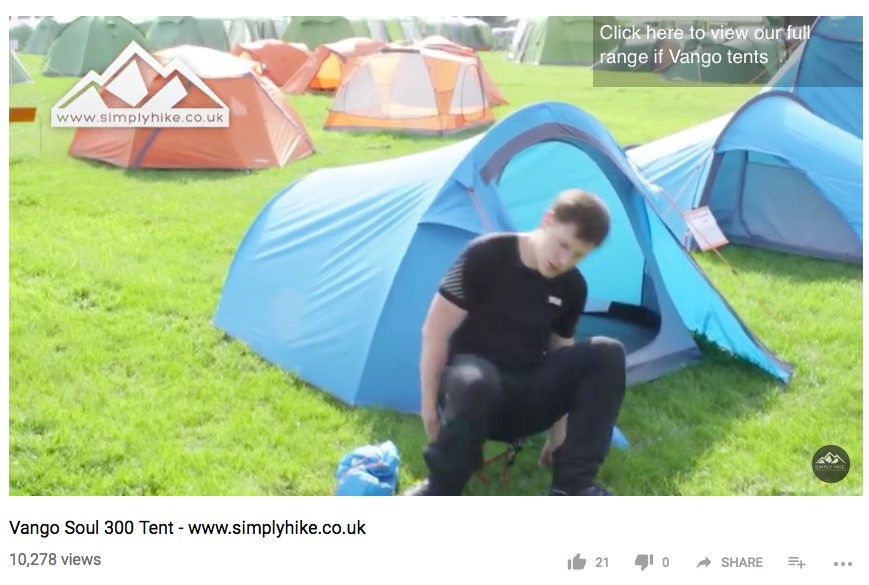 Comprehensive product information
If customers have all the information they need about a product, and your product page answers key questions, they're less likely to need to return items.
The information you'll need to show will depend on the product. For electrical products like laptops, people need the key details of memory size, processing power, as well as details like number of USB ports.
Having this information and making it easy to read and scan means customers will place orders knowing that the product is compatible with other devices, has the right ports and fits their needs.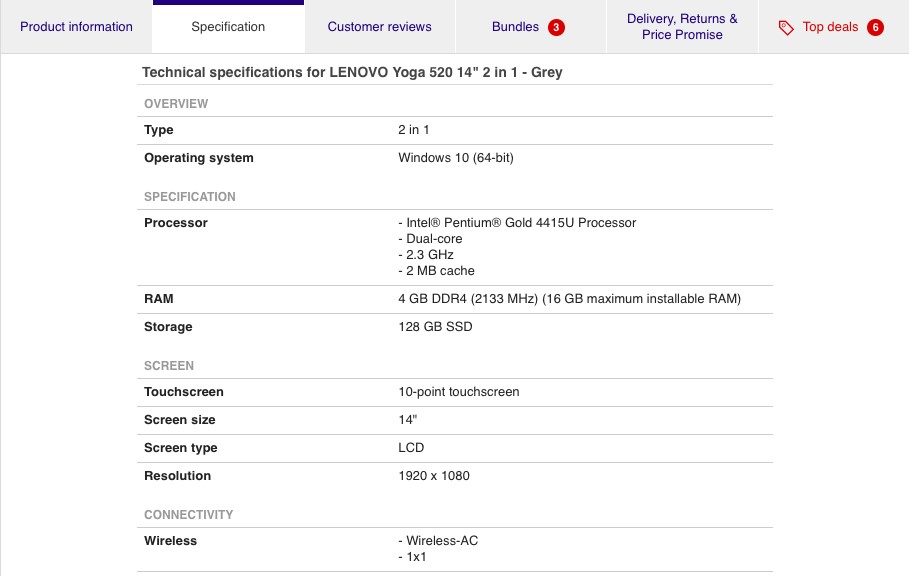 User reviews
Reviews are great for giving other customers information about how products work in the real world, and can help to answer buyer's concerns about a product.
Detailed reviews like the one below from Modcloth can help other customers to find the right fit for them and remove the need to return items.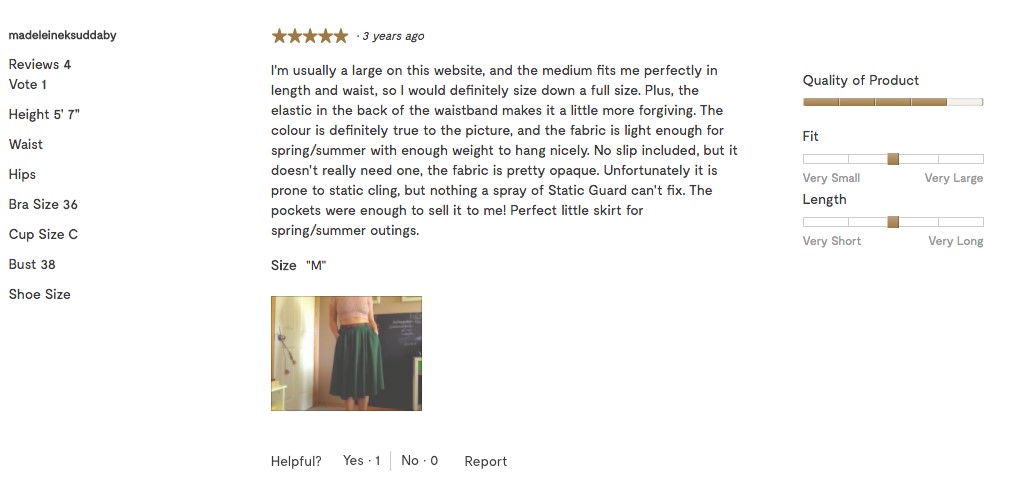 Good and bad reviews alike can help customers decide. There's some good information here on the features of the golf bag. The three reviews here also show the challenge retailers face – a product which two customers were happy with is branded as terrible by a third.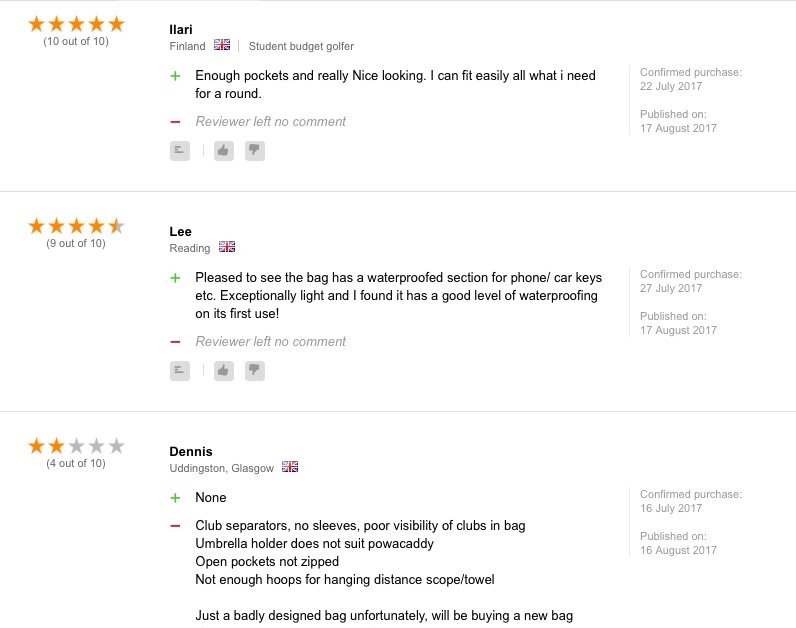 You can also ask customers to answer questions for others, which perhaps aren't covered by product information. It's also a great source of common customer questions to incorporate into future versions of the page.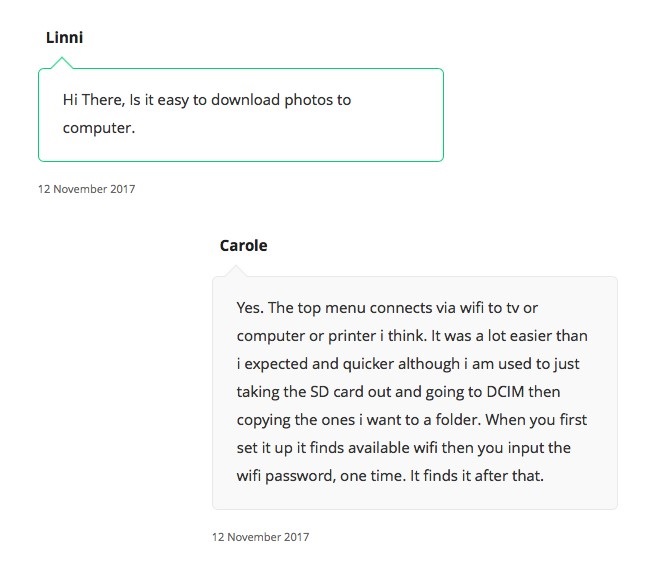 Offer in-store collection when possible
If you have stores, then customers can view products in the flesh when they collect them, and ensure the products are right before they leave the store. This reduces the need to return items, while they can find alternatives while in store.
Look for unusual patterns
Are certain products being returned more than others? A spike in returns may indicate a problem with a particular product, or perhaps with the way it has been described on product pages.
How to handle returns
While retailers can reduce returns rates, there's always going to be a certain level of returns and its important that these are handled well. A good returns experience means customers are happy to shop with you again, and even though you may have lost a sale, you've been able to leave a good impression.
Make returns policies clear
A comScore study from 2014 found that 60% of shoppers read returns policies before making a purchase.
This means customers are actively looking for privacy policies and basing their decision to buy on what they read.
Therefore, it makes sense to make returns policy easy for customers to find. One way to do this is to link from the product page where people are thinking about buying. In this example, the policy opens as popup so shoppers can easily close and go back to viewing the product page after reading.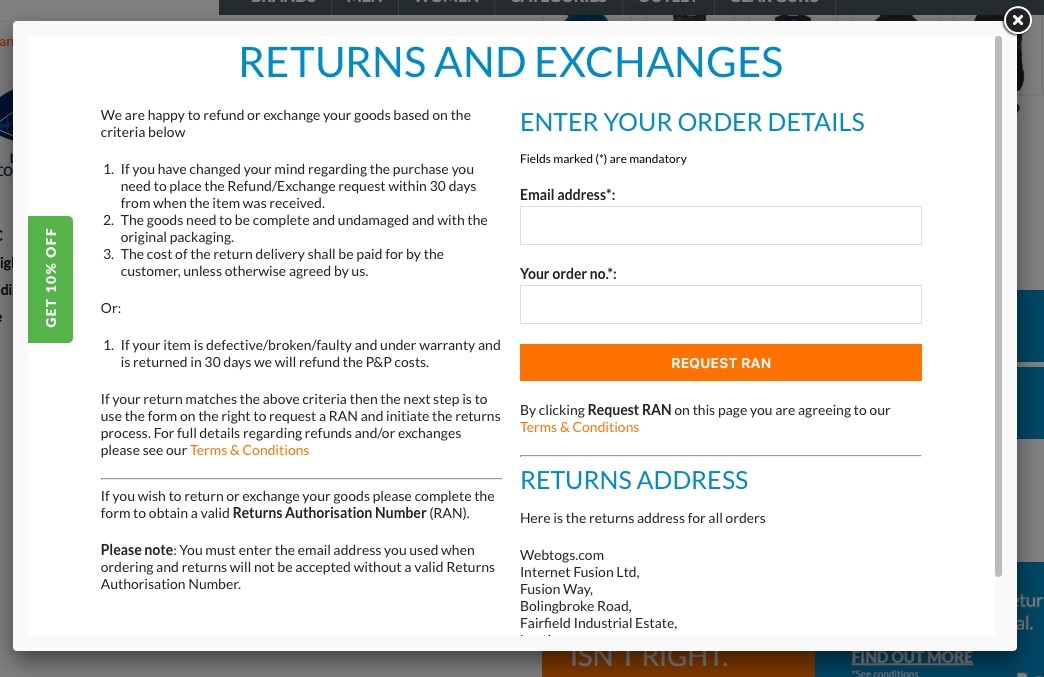 Some retailers also include messages about returns where it can be easily seen. This may be enough reassurance for customers that they don't feel they have to seek out returns policies.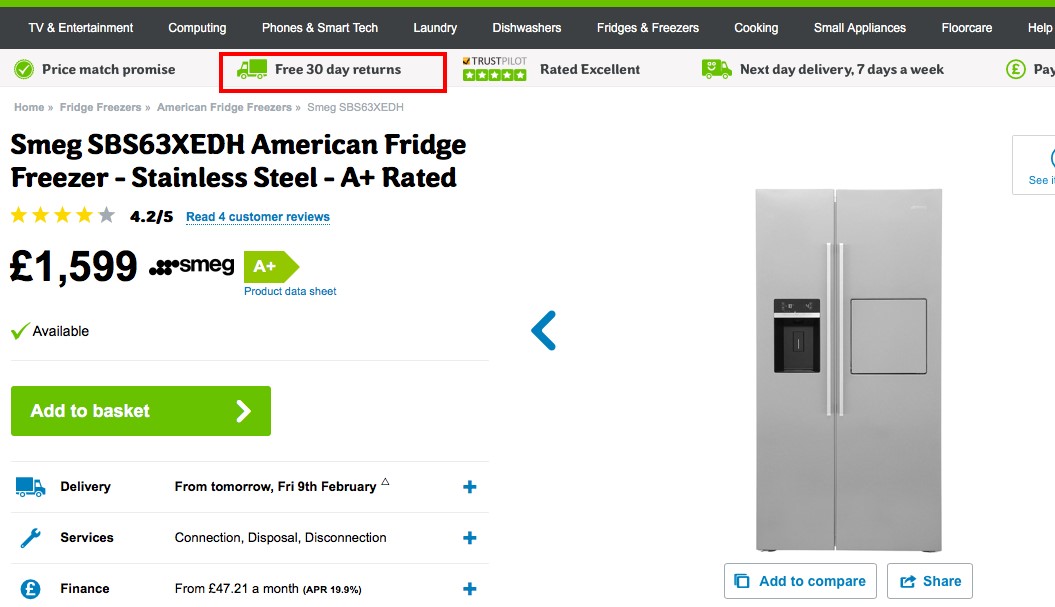 Make returns easy
Unless a customer is clearly in the wrong, it's important to make the returns experience as smooth as possible for them.
This means that the process should be clear and simple for the customer to set in motion. Here, from a UPS 2016 study, are the elements that customers are looking for from returns.

Let's take a look at each of these elements:
Free returns. This is a tricky issue for smaller retailers. Customers want free returns and resent having to pay the cost of returning items, but returns can impact profit margins. It's a decision retailers have to make based on their own budgets and margins. If at all possible, retailers should provide at least one free returns option as this will help to drive sales and improve customer satisfaction.
Hassle-free policy. This is about ensuring that customers can return items easily, and retailers don't make it difficult to return items.
Return labels. Rather than making them easy to print, it may be a better idea to include returns labels with the delivery so customers can return items more quickly.
Timely refunds. It can be a source of frustration for customers that, while card payments are taken instantly on purchase, it can take a week or two for refunds to come through. Refunds should be processed as quickly as possible.
Provide a choice of return options
For convenience, allowing customers to return through a choice of methods is great for customer experience.
ASOS offers eight different return options, but it isn't necessary to have quite that much choice.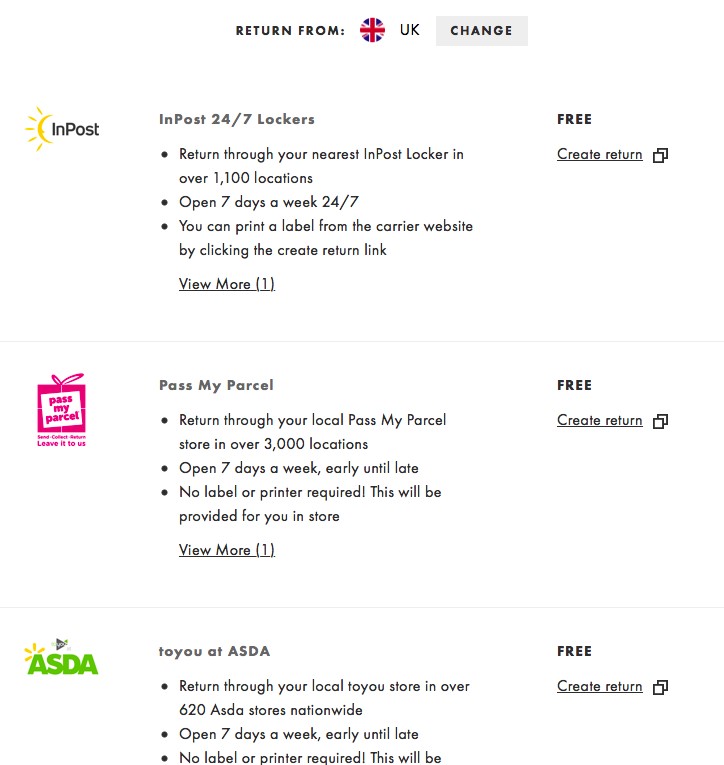 Postal return is an obvious option to provide, but options like Collect+ and Pass My Parcel where people return items to local stores and places like petrol stations are very convenient for shoppers.
Of course, much depends on the type of product and the cost of these options, but where possible, providing choice is great for keeping customers happy.
Another option to provide where possible is in-store returns. It's a preferred option for customers too, as the UPS survey mentioned earlier found.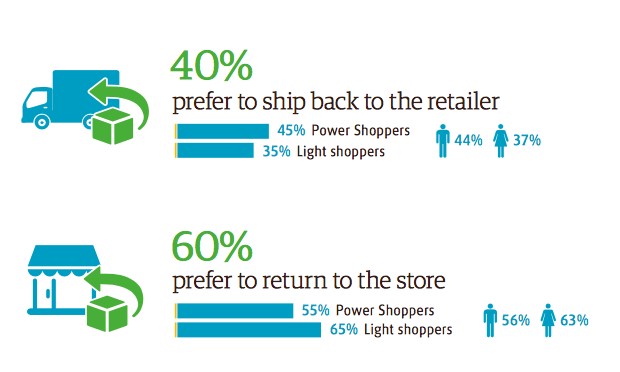 This is because it's often quicker and more convenient for customers to head to a local store, rather than packaging items up.
They may also want to find a replacement for the returned product, perhaps a different size in the case of clothing. This is great for retailers too, as it reduces their own returns costs.
Adjust returns policies for Christmas
The Christmas shopping season, which now begins towards the end of November thanks to the growing popularity of Black Friday, needs its own returns process.
People are buying gifts well ahead of Christmas Day, perhaps two months in advance, and many will be concerned about buying gifts if they can't return them after Christmas.
The statutory cooling off period for returns doesn't really work for Christmas, so most retailers will extend the returns period.
Last Christmas, most retailers allowed retailers for a few weeks after Christmas, many until the end of January.
Again, this is a problem for retailers, as stock can potentially be bouncing back to them over a long period, draining resources and impacting margins. While extending the returns period is a good idea, exactly how long you allow returns for is something to think about.
In summary
Returns are a real headache for any retailer, and it's very important to take steps to minimise returns through some of the steps mentioned here, ensuring that customers make informed purchase decisions.
When customers do have to return items though, ensuring that they have the best possible experience is important. It's great for retention and word of mouth marketing. In addition, the customers that return items can be valuable customers.
Craig Adkins from Zappos found that it's most profitable customers – those which bought expensive footwear had returns rates of more than 50%. It paid to make it easy to buy and return as the margins on those items more than covered the delivery costs.
A hassle-free returns policy can also be a sales driver, and it's a key part of the purchase decision for many shoppers. Of course, retailers have to consider costs when devising their returns policy, but free, no-hassle returns is the best option for the customer.