The FAQ page may not be the most exciting page on a website, but they can be a useful resource with clear benefits for businesses and site visitors.
In this article, we'll look at the reasons for having FAQs pages, the benefits, some tips to make yours a useful resource, and some examples of excellent FAQ pages.
What's an FAQs page for and why do you need one?
Put simply, FAQs pages are there to provide information and (of course) answer frequently asked questions.
It's a place where visitors should be able to find precise answers to questions they may have about your website, products and services.
When used well, it should enable customers to find the information they need quickly, at various points in the customer journey.
There are various reasons why customers will use FAQs. Perhaps they need some reassurance before they buy, information about delivery times for instance. Other visitors may have made a purchase already and have returned to the site to find out about returns processes.
Some of the information shown on FAQs pages should be shown elsewhere on the site as well, where customers can see it more immediately, but the FAQ page should act as a resource containing all the information customers may need.
For example, information on delivery and returns can be shown to customers while they're on product pages, or during checkout, as this information can influence their purchase. However, customers will take different routes to find information, so it should also be visible via FAQs pages.
Benefits of FAQs pages
Reduced pressure on customer services
It's simple really. If customers can find the information they need themselves, they'll be less likely to need to contact customer services.
This means relatively simple queries can be answered online, meaning reduced call and email volumes and more time to handle other customer questions.
Happy customers
Let's face it, not many people enjoy sitting on the phone waiting for customer services, or waiting for a reply to an email.
If they can find the information they need without having to work too hard, they're more likely to continue with their journey.
On the flip-side, if FAQs pages are hard to use and customers can't find simple answers, then it's enough to make them abandon the site and head to a competitor.
FAQs can represent a conversion opportunity
By searching through your FAQ pages, customers can be indicating an intent to purchase. If they're looking at delivery options, then it suggests they're getting closer to buying.
By making that information easy to find, you're improving your chances of converting that visitor.
SEO benefits
The FAQs page represents a great opportunity to improve your ranking for target keywords and improve your internal linking strategy.
For internal linking, the FAQ page can work as a kind of hub where you can link back to pages around the site using relevant anchor text, while you can link to the FAQ section from elsewhere on the site.
While people may not be searching using your brand term, they may be looking for answers to questions you've already answered within your industry and find your site in this way.
In addition, the format of FAQs often fits well with Google's rich answer boxes.
Best practices for FAQs
Find and answer real customer questions
The aim when creating an FAQ page should be to be as comprehensive and useful as possible.
Yes, you can probably guess some of the most common questions that customers will have – delivery options and how to return items are obvious examples – but it's important to look elsewhere to find questions that need answers.
You can find customer questions through customer service enquiries, feedback forms, social channels and more.
If one or two customers are contacting you with questions, it's likely that others may have these questions in future. While you're answering one customer's question, you can add the answer to the FAQs page for future enquiries.
It's also worth looking at the FAQs pages from other sites in your industry to see if there are questions there that you haven't covered.
Keep FAQs up to date
Some questions may stay the same, but times change and pages need to be kept up to date. If customers view outdated information, it can lead to problems further down the line, and also reduces their trust in the information they see.
In addition, FAQs may need to be adjusted seasonally. One example is around Christmas, when delivery timings and returns policies are likely to change.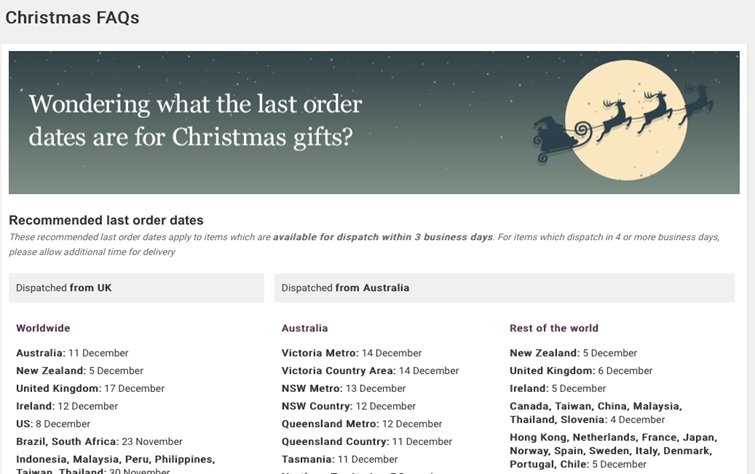 Provide clear and concise answers
Customers don't need long answers, unless that's unavoidable due to the complexity of the question.
Instead, answers should be clear and concise, delivering the information to the customer as simply as possible.

Avoid any unnecessary jargon or marketing speak when answering questions too. If questions and answers are written clearly and consistently, they're easier to scan, meaning users are more likely to find what they need.
As in the example above, key information (contact numbers in this case) is highlighted, sentences are relatively short and easy to digest, while bullet points help to make the answer easier to scan.
FAQs should be organised and easy to scan
Some FAQ pages are just lists of questions in plain text, which can be daunting for users. Instead, good formatting and presentation of questions and answers helps the user to find what they want.
Here, Graze has split its page into topics so users can find the answer they're looking for more easily.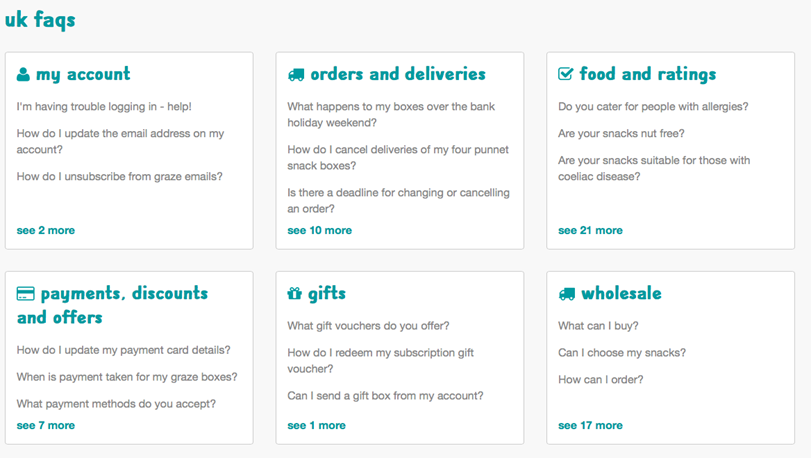 Use your brand voice
While your answers should be clear and easy to understand, FAQs also represent an opportunity to reinforce your brand tone of voice as you answer questions.
Here's an example from Firebox. It answers the questions clearly, but keeps the brand's casual, jokey tone of voice.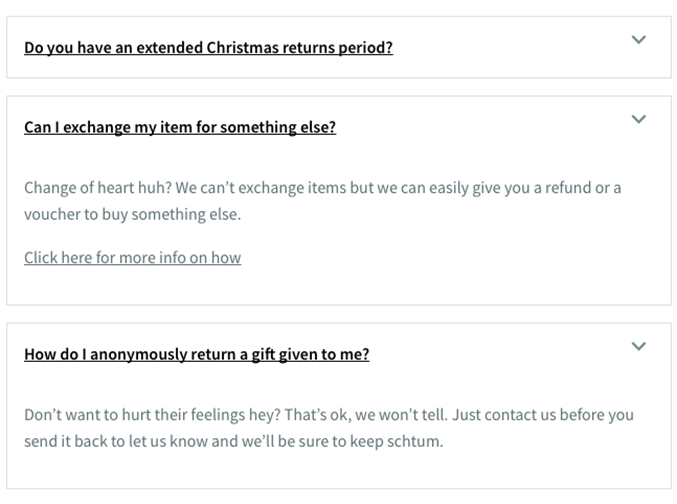 Get customers to rate your answers
This is a great idea from ASOS, similar to the 'was this review useful?' question used by Amazon.
This should help the retailer to see when it is getting the information right and helping customers, and can also flag any problems with certain answers.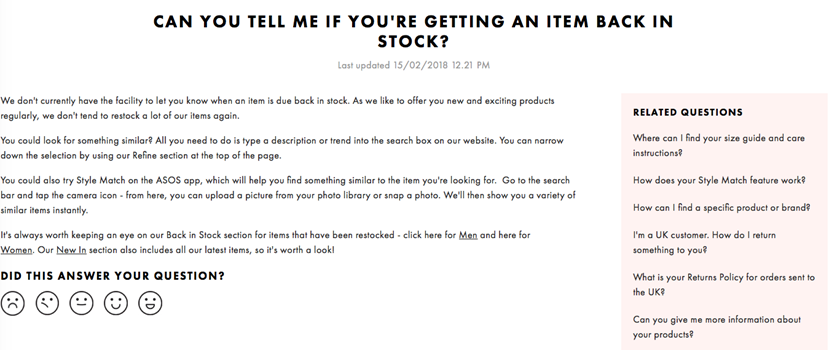 Verify the accuracy of your answers
Checking that advice and instructions are correct will ensure that customers can trust FAQs and save them from having to contact you for help.
Place contact options on FAQs pages
Some sites seem to try everything to avoid customers finding a customer services phone number or email address, and use the FAQs page as a way to delay or prevent customer contact.
FAQs should be helping to reduce calls and emails to customer services, and it does make sense to display them when customers are looking for contact options, but they shouldn't be used as a barrier as this can annoy customers.
A better approach would be to show contact options alongside FAQs. This way, if the customer can't find the answer they're looking for, or would rather call or email, they can find the option they want easily.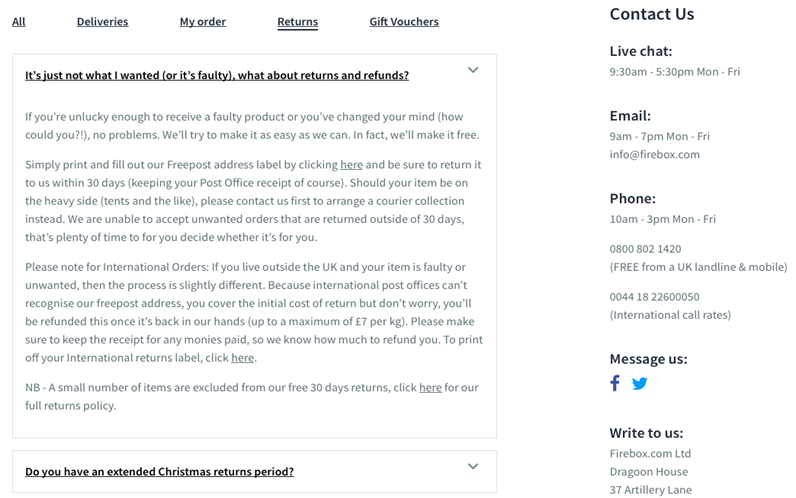 Placement of FAQ links
FAQs are most commonly found in the footer of a web page, along with links to privacy policies, terms and conditions etc. It's where many people will be used to looking, but some sites may prefer to use more prominent links so customers can find FAQs more easily. It's also a good idea to link to FAQs from product pages and elsewhere so people can find information when they're considering a purchase.
Return FAQ results in site search
Retailers often just think of site search in terms of product searches, so these features are geared to return only these results.
However, customers also use on-site search to find other information, so content from FAQs pages should be shown for relevant searches.
Make FAQs searchable
Adding a search box to the FAQs page provides a useful shortcut for users, saving them time spent looking through lists of questions.
Monitoring the terms customers search for can also provide some valuable insight into the most common queries, and highlight some questions you may not have answers for.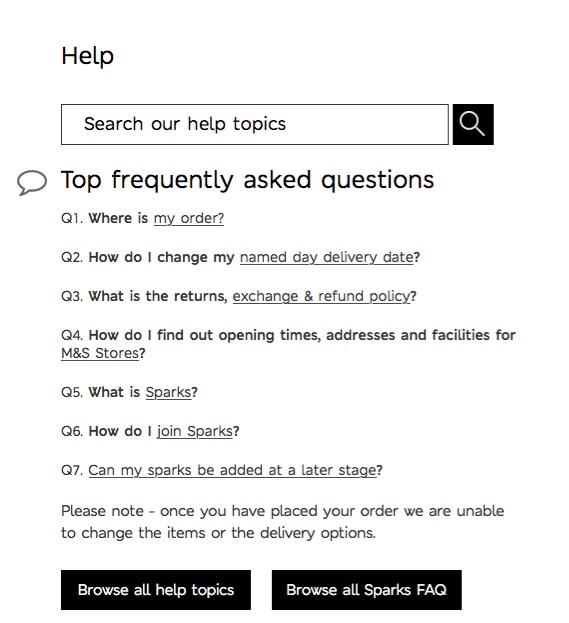 Highlight top questions
As you can see above, M&S highlights some of the most frequently asked questions on its page. This helps people find answers to the most common questions quickly.
Organise longer FAQs pages
If you have a larger product range, or the kinds of products that generate more complex questions and answers, then FAQs pages can become quite lengthy.
This then makes information harder to find and scan for your users, so it's important to pay close attention to the layout and organisation of the page.
Chunking pages up into categories in one way to help here, as is the addition of a search box to provide a quick path to finding answers.
In addition, the formatting of a page matters a lot. Good design can help here too. For example, while Amazon has a lot of pages with FAQs, the way it has broken them down into categories and sub-categories, as well as the use of images makes the page much easier to use.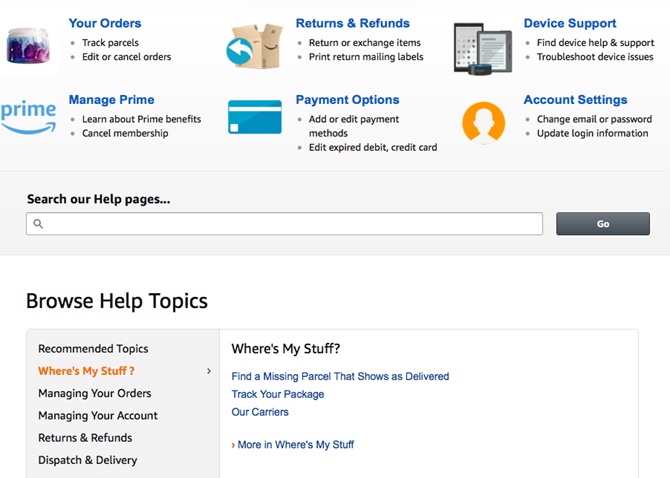 Online FAQ pages are often expected by customers and many will seek them to get answers to questions that will likely be a major part of their decision making process, from returns to opening times on bank holidays. Not only will having a FAQ page on your website allow consumers to find the answers they're looking for easily, it'll also save you time by reducing how often you have to answer the same questions over email or phone.