Did you know that 92% of consumers believe brand recommendations from their friends?
Then they tell their friends. And they tell their friends… and so your customer base grows exponentially. In the age of social media, when it's easier than ever to spread the word about a good experience (or, indeed, a bad one), the power of word-of-mouth marketing is something you can't afford to ignore.
The things people say to their friends may seem something you have no control over, but you'd be surprised. Today we're going to be looking at some of the ways you can encourage happy customers to spread the word about your business, helping to increase website traffic, sales and customer referrals.
Ask for testimonials, reviews and product ratings
62% of consumers search online for reviews before purchasing a product or using a company, and 85% of consumers trust online reviews as much as personal recommendations. Contrast that with the fact that 75% of us don't take adverts to be the truth and it becomes clear that good reviews are a great way to market your business: consumers are more likely to trust what other people say about a brand than what the brand says about itself.
It's worth noting that you don't necessarily need to install a sophisticated review system on your website to start benefiting from good reviews. When a happy customer emails you, for example, you could simply ask their permission to include their testimonial on your website so that potential customers can see it.
You can also email customers after they've purchased and ask them to send their feedback, rate the product or leave a review. A study found that 68% of consumers left a local business review when asked, showing that if you don't ask, you don't get.
Note: Reading this in preparation for starting your own business? Check out our free guide on how to become self employed.
Offer an incentive
An obvious way to encourage customers to tell their friends about your business is to provide an incentive for them to do so. For example, you could use your order confirmation page (or email) to offer a discount on future orders if a customer clicks a link to share details of their purchase on social media. This not only encourages the customer themselves to come back for more, but it gives them an incentive to do your marketing for you by talking about your brand on their social media accounts.
A referral programme is a great way to offer incentives in a more formal way. They typically work by giving the referrer a bonus when their friend signs up as a result of their recommendation, and the friend gets a benefit too. Recipe kit box company Gousto does this, offering existing customers credit when they refer their friends: "Invite your friends to try Gousto and we'll pop £15 in your account and your friends will get 60% off their first box, PLUS 30% off for a whole month."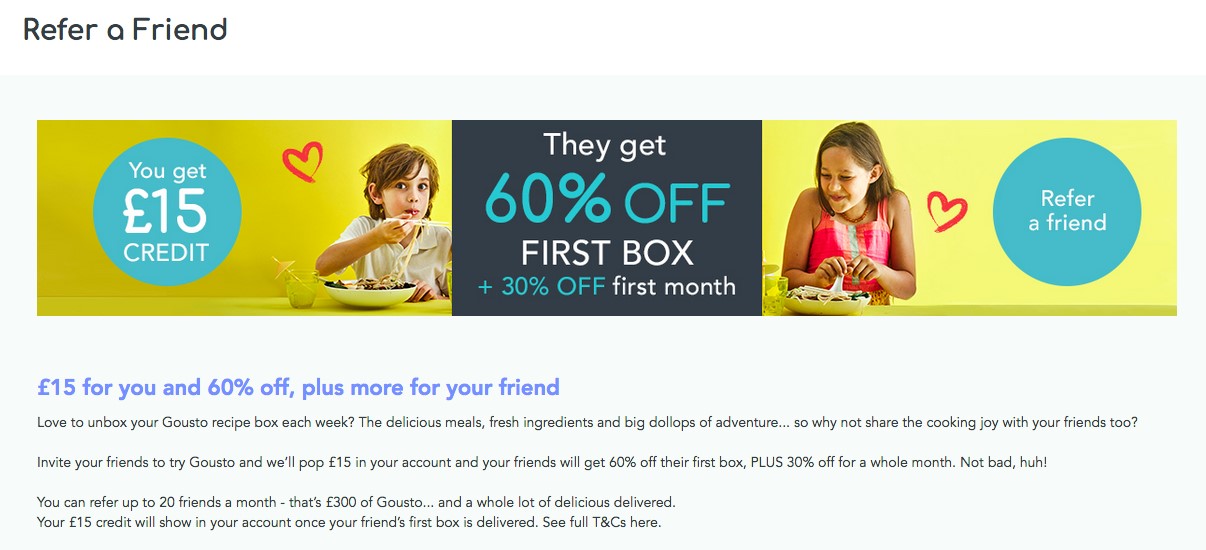 They can keep doing this up to the value of £300, providing a powerful incentive to keep persuading friends to sign up using their own personal referral link. This special link can be shared on blogs and social media accounts, as well as directly among friends via email, text or instant message.
Similarly, Pasta Evangelists runs a refer-a-friend programme that currently offers customers a free box of pasta when a friend signs up, and the friend gets 50% off their first box. When there's a concrete benefit like this, the motivation to spread the word about your business is all the more powerful.
Encourage user-generated content
Why create marketing content yourself when you can get your customers to create it for you? User-generated content is a way to let customers talk about your brand online, and there are a number of different ways you could encourage them to do so.
Creating a hashtag on social media is another great strategy for encouraging word-of-mouth marketing via user-generated content. A good example of this comes from Boden, which encourages customers to post photos of themselves wearing Boden clothing using the hashtag '#bodenbyme'. It then features highlights from the hashtag on its homepage, with the option to upload photos directly on the website as well as on social media.

This works well because there's something in it for both parties. Customers get the chance to have their 'five minutes of fame' on the homepage, and clicking on the pictures links to their Instagram account, so they could pick up followers from it. Boden, meanwhile, benefits from happy customers spreading the word about their clothing, encouraging quality Instagram posts that paint an aspirational picture of their brand.
Work with influencers
Another form of word of mouth marketing with user-generated content is working with influencers, which is a more formal extension of the idea we've just seen with Boden. Whether it's popular lifestyle bloggers and Instagrammers such as RVK Loves, or YouTubers with huge followings such as Tanya Burr, the marketing potential of having a big social media influencer telling their followers about your brand is enormous. The stats back this up: 40% of us have bought a product after seeing it touted by an influencer on YouTube, Instagram and Twitter, while 49% say they rely on recommendations from influencers when making purchasing decisions.
You don't have to have a big budget to cash in on the power of influencers. Many are happy to write reviews or share your brand on social media in return for a free product, as you can see in this review of window shutters on the lifestyle blog Roses and Rolltops.
It's worth keeping an eye on social media to find out who the top posters are on hashtags relevant to your business, and then approaching them with a view to collaboration. The chances are that their followers might also be interested in what your business has to offer, and there's mutual benefit to a collaboration because you both gain more exposure by featuring each other's accounts. There's lots more on influencer marketing here.
With all that said, we should end by mentioning that we're assuming you already have a great product or service that people will want to tell their friends about. For a word-of-mouth marketing strategy to work, you need to approach it from a position of confidence in your own business. Invest in fantastic products or services and great customer service, and you'll be well on the way to word-of-mouth marketing success.