In an age in which the most successful 'YouTubers' have become celebrities in their own right, and in which there are huge volumes of video content relating to just about everything under the sun, it stands to reason that YouTube is a platform with enormous marketing potential.
YouTube's total number of regular users comes in second only to Facebook, at 2 billion – and each day, around a billion hours of content is watched on YouTube.
Your business can get in on the act, whatever its size. Use it for showing off your products or creating lifestyle content on themes related to your business. Film video testimonials with happy customers, and create videos around events you've hosted or attended. You can even embed your YouTube content into your website to save bandwidth on your site. Even better, it's free!
Get started by having a read of this guide on how to start a YouTube channel for beginners.
How to create a new channel on YouTube
Setting up a YouTube account for your business is straightforward. Simply follow the steps below and you'll be up and running in no time.
1. Create a Google account
YouTube is owned by Google, so to set up a YouTube account, you'll first need to set up a Google account. It's best to do this from a dedicated Google account for your business, rather than using your personal account. If your business doesn't already have one, you can register for one quickly and easily with Google.
2. Head over to YouTube
Now that you've got your Google account set up, make sure you're logged into it and open YouTube.com. In the top right-hand corner, you'll see your profile icon. Click this and a drop-down menu will appear, at the top of which is a link that says "Your channel". Click this and you'll then be asked who you want to use YouTube as. Click on "Use a business or other name", fill in the name of your business and click the "Create" button.
3. Customise your new YouTube channel
You'll now see a blank channel page, with a button at the top that says "Customise channel". Click this to begin making your new channel your own. You'll need to do the following:
Channel icon
You'll see profile and cover photos at the top of the page, similar to those on Facebook. In the world of YouTube, your profile picture is called your 'channel icon', and it makes most sense to upload your business's logo here.
800 x 800 pixels is the recommended size for this photo; remember that it will appear in different sizes in different places around YouTube, and although you upload a square photo, it will be cropped into a circle. Simply click the edit button on the channel icon to upload your logo.

Channel art
Your header image – the equivalent of your Facebook cover photo – is known on YouTube as your 'channel art', and while it's not essential, it's a great way to personalise your YouTube channel and make sure it matches your brand.
Images from your website are a good option for keeping your branding consistent, or you could use your Facebook cover photo if you have a business page.
Click the "Add Channel Art" button to upload your image. The recommended dimensions are 2560 x 1440, but bear in mind that it will appear slightly differently depending on the device it's viewed from – YouTube can be viewed from mobile phones, computers or televisions – so it's worth viewing how your new channel looks on each of these to ensure your channel art displays as you want it to.

About information
You can edit your About information by clicking this tab on the navigation bar below your channel art. You'll see a button that says "+ Channel description"; click this and a box will appear where you can add some information about your company. It doesn't need to be a long essay; a brief description of what your business does (and perhaps what kind of content you'll be posting) will suffice.
It's a good idea to include a few keywords in your description, as these will help people to find you. For example, if you're a restaurant business, dropping in phrases specific to your business and channel – such as "Indian restaurant in Woking" and "Indian cooking tutorials" – will help ensure you come up in relevant searches.
Below this box, you'll also be able to set your location and add links to your website and social media, as well as an email address for business enquiries.
4. Upload your first video
Now that you've got your channel up and running, you're ready to upload your first video. Click on the "Home" tab on the navigation bar and you'll see a message that says "Upload a video to get started". Click the link and you'll be able to select your video from a folder by clicking "select files", or you can drag and drop your video from another window into this one.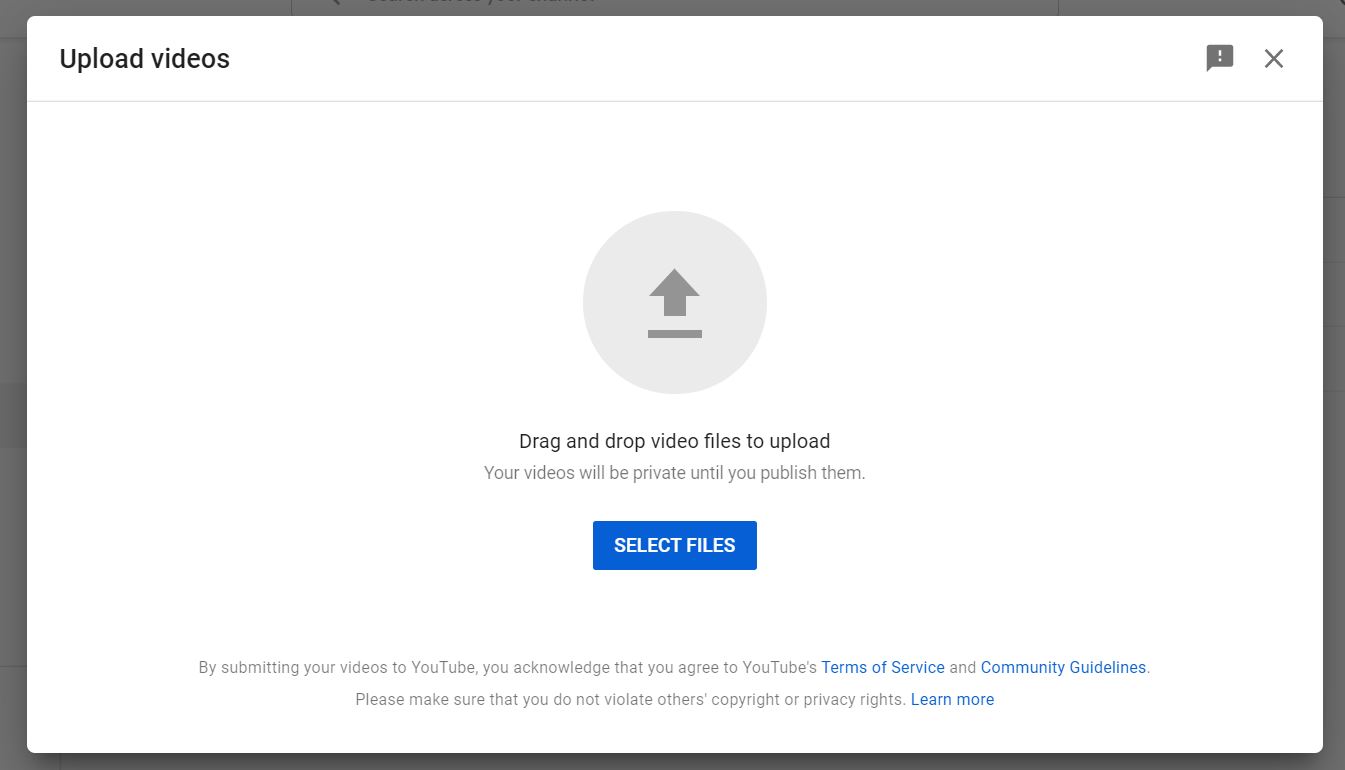 While it's uploading, you'll be able to start filling in information about the video. You'll be able to write the title of the video – try to make this descriptive, imagining what people are likely to be searching for – along with a brief description of what the video is about.
You can select a thumbnail for the video, choosing from a still from the video or uploading your own if you'd prefer to create a custom thumbnail yourself. You'll be asked whether or not the video is made for kids or if there are age restrictions, and you'll also have the option to add the video to a playlist; I'll come onto these in the next step.
Clicking on 'More options', you'll see other information you can add about your video, but these are less important. Tags, for example, are of limited benefit, as described by YouTube: "Tags can be useful if content in your video is commonly misspelled. Otherwise, tags play a minimal role in helping viewers find your video." Other options include setting the language your video is in, choosing what category it falls into (education or comedy, for example), and deciding whether or not to enable comments on your video.
Clicking on "next", you'll then go to the "Video Elements" stage, where you'll be able to choose whether to include an "end screen", which you can use to encourage people to take a particular action, such as watching another of your videos.
Clicking "next" again, the final stage is "Visibility", and it's here where you can schedule your video for publication and decide whether your video is "Public" (visible to all), "Unlisted" (visible only to people you give the link to) or "Private" (visible only to you and specific people you choose).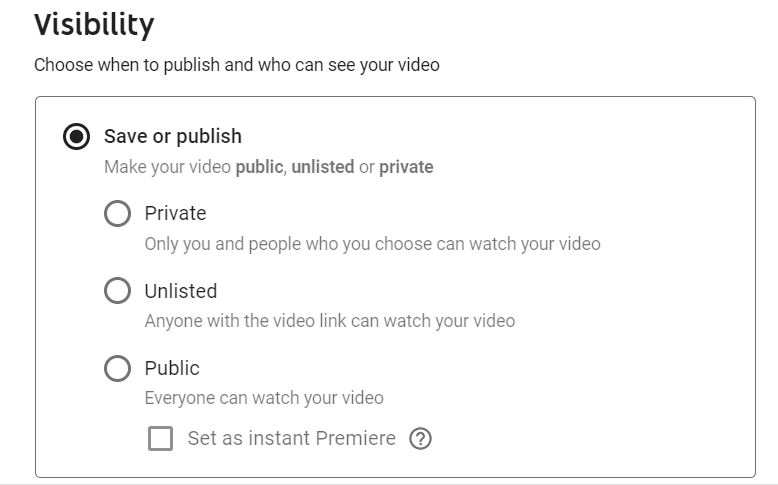 YouTube best practices
To get the most out of your YouTube presence, there are a few extra things you can do to make your channel as professional and appealing as it can be. Here are some top tips on how to create a great YouTube channel.
Highlight popular videos on your channel homepage – go to the "Home" tab and you'll see a button that says "Add section" below any videos you've recently uploaded. You'll have the option to add new sections to your channel homepage, such as popular videos, playlists and live streams
Playlists are great for linking together videos in the same series, or grouping together your favourite videos that you'd like viewers to see first. For example, if you're planning a series of videos highlighting different products, you could collate them into a playlist. Go to the "Playlists" tab and click "+ New playlist" to get started
Respond to comments – as with any form of social media, the more you put into YouTube, the more you get from it. Take the time to 'like' and respond to comments and you'll find you start to grow a community of subscribers
Keeping your YouTube account going and growing
Having launched your channel, you'll not only want to keep it going, but you'll also want to grow your number of views and subscribers. Here are some tips for helping your new channel get off the ground.
Promote and share your new channel – let your existing social media followers know that you're now on YouTube, and encourage them to subscribe so that they see your new videos. You could also mention it in any email newsletters, add a line to your email signature and link to your channel from other content you send to your customers.
Plan your content – it helps to be consistent with uploading videos, sticking to a schedule so that subscribers know when to expect a new video from you. You may find it helps to plan your content in advance, creating a content calendar so that you know what videos you'll upload and when.
Monitor your Analytics – see which videos are performing best and you'll be able to give your subscribers the content they want to see. To access YouTube Analytics, click on the "YouTube Studio" button next to the "Customise channel" button and you'll see the Analytics link in the left-hand navigation bar.
Finally, as with any marketing activity, it's important to make sure you're always clear about how each of your videos is helping to achieve a business goal. Don't just upload videos for the sake of it; running a YouTube channel can be time-consuming, so you need to know that the time you're investing is worthwhile for your business.
Here are some more articles you may find useful as you begin your YouTube journey: