It's common knowledge that content marketing is marketing in today's business world. Most businesses know how important it is to have a clear content marketing strategy in order to provide the right information to the right people at the right time.
However, a recent Smart Insights study has shown that a massive 47% of content is produced only for the top of the sales funnel, or the awareness stage of the purchasing journey.
87% of respondents of the same study said that the majority of content was produced to generate leads and 82% to raise brand awareness.
At the same time, however, marketers are beginning to realise the importance of customer communication post-sale, to improve chances of repeat custom and onward recommendation. 
And so, it appears there's a mismatch. On the one hand, marketers know that the customer is as important (if not more so) once they've made a purchase, as they are before they even know you exist. The content brands produce must reflect that.
Let's look at how SMEs can produce content that's relevant to each stage of the buyer journey.
Revisiting the buyer journey: what about after-sales?
Before we get started, brands need to be clear on their buyer journey. Traditionally, buyer journeys like the HubSpot model, focus on three phases: the awareness stage, the consideration stage, and the decision stage.
Whilst this model helpfully portrays how a typical journey of a consumer might flow, it doesn't capture what happens after they've made a purchase.
Given how much more valuable a current customer is than an entirely new one – it costs more to acquire new customers than to nurture existing ones – what content is produced further down the buyer funnel is arguably more important than the content brands produce to raise awareness.
As such, in addition to the awareness, consideration and decision stages, there should also be a retention stage, and an advocacy stage: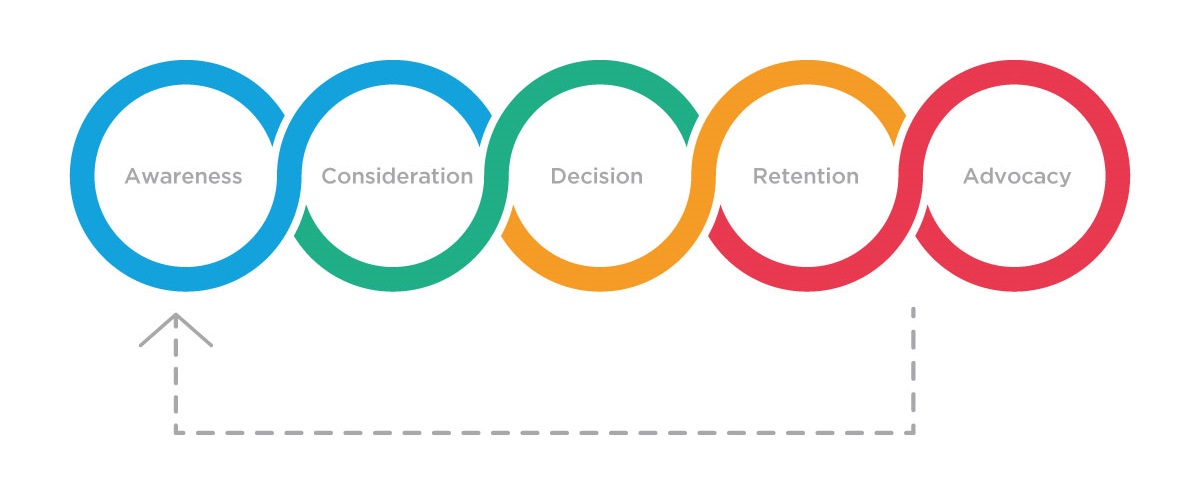 Awareness stage: A consumer becomes aware of your brand through word of mouth, social media or advertising.
Consideration stage: The consumer has a problem that needs to be solved, and are actively looking at how your product or service can help them.
Decision stage: The consumer comes to a decision and makes a purchase.
Retention stage: The consumer has made a transaction. They're now using the product and may need guidance.
Advocacy stage: This is when the customer talks about your product or service and provides feedback or writes a review.
Map out your buyer journey
Now that you know the main stages of your buyer journey, you need to fill in the gaps, making it specific to your brand.
Buyer personas
This starts with (re)visiting your personas. If you haven't completed any persona research, then now's the time to start.
Buyer personas are essentialy fictional representations of your ideal customers. When marketers develop buyer personas they're getting to grips with the needs, pain points, and goals that their audience face so that they can respond accordingly.
Buyer personas help marketers position their content – as well as the design, usability, and functionality of all their marketing material – to help bring the buyer down the sales funnel, from "awareness stage" through to "decision" and beyond.
For advanced persona research, mine your data for insights into your customer behaviours across your marketing channels.
ACTION: If you haven't already done buyer persona work, then start now, using HubSpot resources to help you.
List out the touchpoints
Before you can start creating content to speak to each of the stages of a buyer's journey, you need to drill down into the detail. How, when and where are your customers experiencing your brand?
For each of your five stages, list out:
The social platforms they are using.
The areas of your website they're visiting (blog, product pages, checkout etc.).
The adverts they're seeing (online, offline, TV, radio).
The SMS, WhatsApp or email notifications they receive from you.
Expand with goals, pain points, emotions and actions
At each stage of your buyer journey, the same customer will have different goals, experiencing different emotions, coming up against different potential pain points, and will be wanting to take different actions.
Marketers need to plan for these in their customer journey mapping, so that they can provide the right content and context to help them at each stage of the way.
List out all the search enquiries, keywords, and topics your audience will be asking at each stage of their journey.
Add the content opportunities for each stage of the buyer journey
By now you should have a comprehensive idea of your buyer journey: all the many and varied ways your customer is interacting with your brand; how they're feeling and what their goals and obstacles are.
Putting this together will then help you to stitch together the right content ideas to help them at each particular step of the journey.
Awareness stage content: Social media, paid social media, PPC, Blog articles, SEO.
Consideration stage content: Information downloads, landing and product pages, whitepapers, testimonials and reviews, email campaigns.
Decision stage content: On-page copy, product comparisons, email campaigns, CTAs, offers.
Retention stage content: Video tutorials/how-tos, email marketing, surveys.
Advocacy stage content: Email marketing, social media, events, offers.
So, for example, part of your customer journey map might look a bit like this:
| | | | | | |
| --- | --- | --- | --- | --- | --- |
|   | Awareness | Consideration | Decision | Retention | Advocacy  |
| Questions/thoughts/emotions/pain points | Jenny wants to stay in a hotel in Brighton. | Jenny wants to find the best deal but also wants to be as close to the pier as possible. | Jenny has decided on this hotel, but has a few last questions about payment methods, checkout times, and parking. | Jenny has now stayed at the hotel and enjoyed the experience.  | Jenny has been asked to write a review of her stay at the hotel. |
| Goals | Find a list of hotels available for her dates. | Shortlist a couple of hotels to choose from. | To make the booking and feel well-informed about the stay. | To remember the hotel to stay at/recommend in future. | To refer a friend and get a discount voucher. |
| Actions | Jenny searches the internet for her options, and looks on social media. | Jenny looks for third party reviews of the hotel, as well as social media posts and comments from guests. Jenny also searches the hotel's website to make sure it fits her criteria. | Jenny narrows down her dates on the website booking, enters her card details, and books her dates. She receives an email notification with all the details of her stay. | Jenny reads all follow-up email notifications and stays at the hotel again.  | Recommends the hotel to a friend, posts a review on the booking site, and references the hotel on social media. |
| Touch point/content | Social media advert and blog article (search optimised).  | Website copy, info on rooms and facilities, directions/maps, getting there and around.  | Booking process online: helpful information, downloadable price guides, room details, surrounding areas. Also visible phone number and email address for customer support.  | Email newsletter with offer of two nights for the price of one. | Survey, asking for a review via booking platform, and refer a friend in return for voucher.  |
Getting the messaging right
As important as getting the type of content right for each stage of the buyer journey, you must also consider the tone of voice, the level of urgency, the kinds of offers you use to incentivise, your headings and subject lines and so on.
Join forces with your sales team
We've explored how non-linear today's buyer journey is. And likewise, the way businesses create content should involve a pan-company effort. Marketing teams shouldn't be creating content in isolation without working closely with the sales team. In the same way, online content should complement offline sales and marketing materials.
In fact, the more brands can create a seamless customer experience throughout the entire experience, the better.
Start creating content
The content creation process needn't start all at once. Instead, plan ahead using a content calendar so that tasks can be shared among your team and scheduled ahead of time. 
To avoid falling into the trap of focusing too much time on the first stages of the journey and neglecting after-sales, work on a content type at a time, rather than focusing on stage one, then stage two and so on.
The process should also be iterative  – content creation is not a conclusive task. Your content calendar should be a constant work-in-progress and so must be a flexible and collaborative document.
Conclusion
Your content is your brand, and so producing the right kind of content at each stage of the buyer journey will not only help you to earn customers in the first place, but also provide the kind of user experience that'll achieve a returning and loyal following.
But while most businesses focus their content on the first stages of the buyer journey –  raising awareness via social media and engaging consumers with blog and video content, they fail to spend time and resources producing content for their existing customers.
And because it makes more business sense to look after existing customers than to keep trying to recruit new ones, brands who get this right will be paid dividends by way of repeat purchases, loyal fans, and brand recommendations.