A fundamental part of SEO is your keyword research. It's the task of identifying and researching the keywords and phrases that people enter into search engines that are relevant to your website. Carefully choosing the most relevant and popular keywords to add into your content will improve the chances of it being found in search engines.
Although there has been some questions raised around the relevancy of keywords recently, they are still very much a beneficial and important part of SEO strategy. They help Google identify what your website is all about, improve traffic and conversions, and provide valuable insights into current trends.   
But most people stop at primary keyword research. If you expand your research to include secondary keywords, however, you'll be providing more contextual information about your primary keywords and could start to see results quicker.
What are secondary keywords?
First, let's explain primary keywords. These are the main keywords that most closely describe your business. So, for example, a primary keyword might be "bike".
Secondary keywords are those that add a bit more detail to those initial keywords and are often more related to searcher intent. So, linked to your primary keyword "bike" you might want to consider researching secondary keywords such as "off-road", "all-terrain", "lightweight", and "mountain". Most secondary keyword searches often result in search listings that may not mention the actual phrase but rather ones that pull results from bigger primary head terms.
How secondary keywords support your SEO
Although secondary keywords aren't the most important element of your SEO, they do provide extra information to search engines. They could help to add strength to your primary keywords and could support your SEO strategy by:
Adding context
The biggest value of secondary keywords is that they add extra context to your content. Google is always scanning content for clues about its context so that it can deliver the most relevant content to each search enquiry.
So, by adding some contextual secondary keywords you'll be giving Google better clues about your content above and beyond your primary keywords, so it's more likely to rank higher in search engines and also get found by the right people.
Potentially helping you rank quicker
Because your secondary keywords are providing more context to Google, it's likely that Google will be able to get your content in front of the right people quicker. This is because Google is scanning content on a daily or weekly basis depending on how authoritative your website is. The more clues it has about your content, the quicker it'll be able to decide on where to rank it in search.
How to do secondary keyword research:
To get started with your secondary keyword research, you need to know both where to find them, and the tools you can use to help you.
Where to find secondary keywords
To find your secondary keywords, there is a little guesswork involved. But there are a few tricks and tools available to you:
1. Google Autocomplete
When you type an enquiry into Google's search bar, Google autocompletes the enquiry based on the most popular phrases that real people have used in that context.
So, turn this around and type in one of your primary keywords, and see what Google's autocomplete throws up.
If you're a restaurant, then one of your obvious primary keywords will be "restaurant". Start typing this into search and see which secondary words come up in the autocomplete. A typical secondary keyword would be a location, "reviews" or "near me".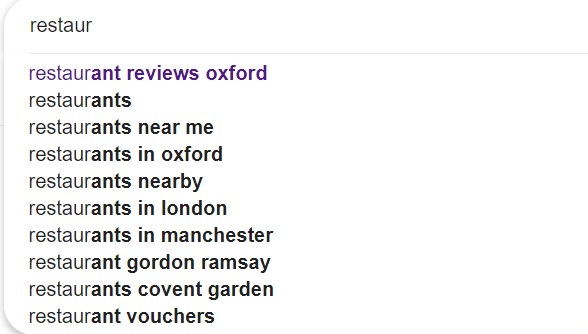 Similarly, when you search for a query in Google, you're shown a list of terms that "people also searched for" in a box at the bottom of the page.

So, whether it's Google Autocomplete or "people also searched for", steal some of these secondary keywords. After all, these are real searches people are making, so they are likely to be the kinds of words your customers will be using to find your website too.
Type in several primary keywords or combinations of keywords to see what shows up. This should give you a good start for your secondary keyword research.
2. Look for synonyms and semantics
When you're using the Autocomplete and "people also searched for" techniques, try looking for other ways of describing the keyword you've entered.
For example, Google knows that when you type "Search Engine Optimisation" into search, you also mean "SEO". So, it provides results that include content about "Search Engine Optimisation" and "SEO" because it knows it's the same thing.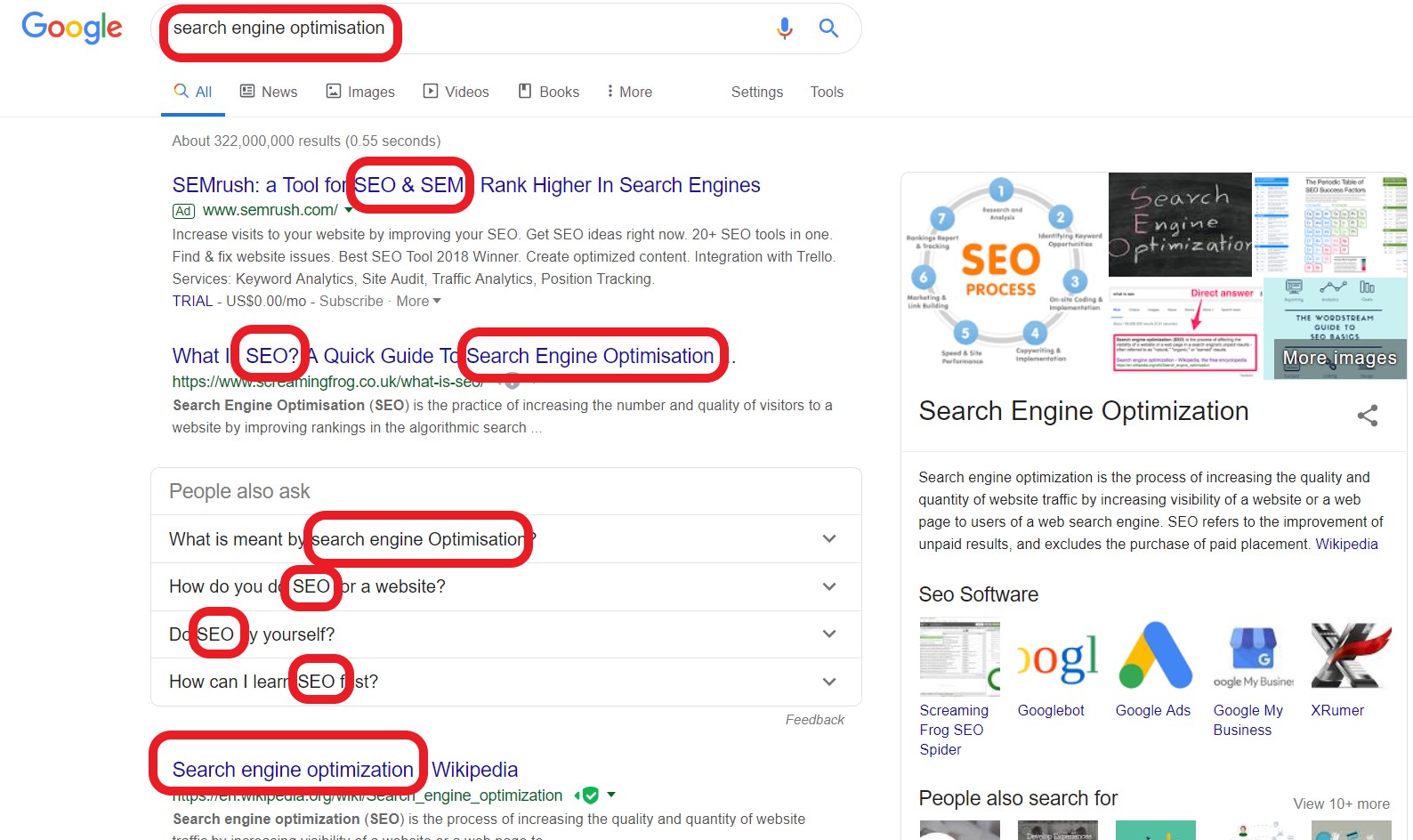 It might seem obvious but try using Google results to expand your keywords to include acronyms, close synonyms or semantically very similar terms.
3. Google Keyword Planner
Google Keyword Planner is another free way of doing your secondary research. Just as when you're using the tool for your primary keyword research, type in the secondary keywords you want to check out.
Keyword Planner then shows you the usefulness of those keywords from an SEO point of view. It tells you their average monthly search volume and how competitive that keyword is.
Ideally for primary keywords you want a relatively high search volume and low competition. But for secondary keywords you want them closely related to your primary keywords but with a lower search volume.
So, if we want to research secondary keywords to support your primary keyword of "mountain bike", then try typing in "all-terrain" and "mountain bike" as two separate keywords, and click "Get results".
Your results will show you not only the relative value of your primary and secondary keywords, but a whole list of ideas based on real related searches: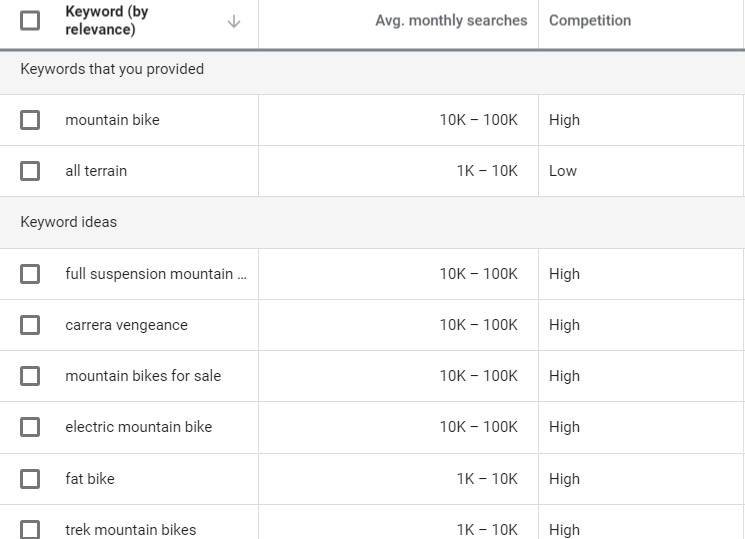 4. Paid keyword research tools
Just like Google's Keyword Planner, there are paid tools out there to give you loads of insight into your keywords.
SEMrush, Moz and Ahrefs all let you input your keywords and they'll give you data to help you decide which ones will receive the most amount of traffic whilst being relatively low in competition.
Best practices:
Now that you have your list of primary and secondary keywords, you need to know how to use them in your content:
Stick to a maximum of five secondary keywords for your content
To avoid keyword stuffing (the practice of over-filling your content with keywords to such an extent that your content seems unnatural), choose a maximum of five keywords. Just like your primary keywords, you want to sprinkle them throughout your content, rather than force them into every other sentence.
Remember, with keywords, it's quality over quantity. Google knows when you're keyword stuffing, so make sure you weave together your primary and secondary keywords to create the right content to respond to your user intent.
Use each secondary keyword at least once
Once you've chosen which keywords you're going to include in your content, make a list of them and include them at least once (if not, more) in your content.
You can double-check you've included your secondary keywords in your finished content by clicking CTR+F and typing in that keyword.
Overlap secondary and primary keywords
If you're busy trying to include both primary and secondary keywords in your content then you might find it difficult to keep things sounding natural.
By overlapping your primary and secondary words, you can kill two birds with one stone and ensure you incorporate both keywords into one phrase.
So, say your primary keyword is "London restaurant", and your secondary keyword is "Italian", you could incorporate them to create "Italian London Restaurant". This way, using your secondary keyword means that you've also used your primary keyword.
Add internal links to include both primary and secondary keywords
Now you've finished writing the content and you've managed to include both your primary and secondary keywords, then it's time to go live.
But before you do, consider including some internal links to strengthen those primary and secondary keyword signals.
First, find a page on your site or a recent blog article that is relevant to the new content you've written. Create one link to your new page using the primary keyword as the text in the link. Now create another link from another page, this time using your secondary keyword.
Each of your links then indicates to Google that both your primary and secondary phrases are relevant: extra SEO juice for your new content!
In summary
Secondary keyword research is one of those tasks that's often overlooked. And whilst it isn't the most important element of your SEO strategy, it will make a difference to your search rankings.
That said, the importance of keywords, both primary and secondary, shouldn't be overblown. What matters most when you're creating content is quality and relevance. After all, your content is there to provide helpful, shareable and authoritative advice to your customers, and no amount of keywords will determine whether or not they read it or enjoy it.
My advice is to carry out a well-rounded SEO programme to ensure your content has the best chance of getting found – and this includes some secondary keyword work. But your main focus should always be on ensuring you create the right kind of content that'll speak to your audience.