With six million active users in the UK alone, chances are you've heard of TikTok.
Initially dubbed the social media platform for youngsters, its popularity soon saw older generations and even businesses gravitate towards the site. Now boasting an impressive 689 million users worldwide, it's not surprising that company owners and marketers are starting to realise the potential of TikTok for business.
As with any new platform, it can feel like a conundrum trying to figure out where to begin. A great place to start is by reading 'TikTok: Everything your small business needs to know.' This article explains how the platform works, how to decide if it's right for your business, the pros and cons of setting up an account and how organisations can use TikTok to reach out to customers.
If you've decided that TikTok is appropriate for your business, below I cover everything you need to know about TikTok For Business. From what company profiles look like and the tools available, through to creating videos, engaging with users and advertising, here you'll find tips and insights to help you get started on the social platform.   
How to use TikTok as a business
If you're familiar with Instagram, TikTok shouldn't feel too alien. In terms of what your account looks like, they're very similar.
On your main page you can see how many followers you have, how many accounts you're following and you have a short bio where you can tell the world more about yourself and your business. Below this, you can see all your posts as well as various icons which take you to other areas of the site such as your News Feed, Inbox and Discover which is like the Instagram Explore feature.
The only major difference is that you only post videos on TikTok whereas with Instagram, you can post photos too.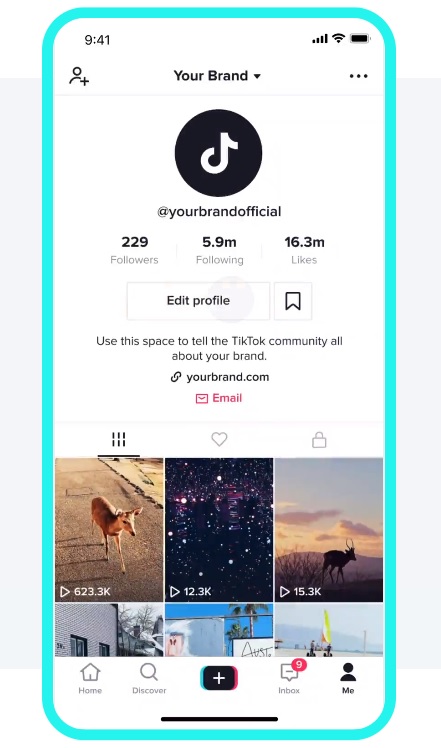 What tools are available when using TikTok For Business?
TikTok provides a number of tools which help businesses to grow their online presence and reach out to new audiences.
With a business account, you can:
View real-time metrics for your content
Get insights into your followers and understand who they are
Run interactive polls to encourage your followers to engage with you
Add information about your business – such as your website and contact information
Use the in-built video editing tool to access features including filters, sounds, effects, timing and speed options
Reach new audiences through TikTok advertising
Use TikTok Analytics to make data-driven decisions and gain helpful insights into video views, traffic source types, average watch time, total views, trending videos and more
How do I set up a business account on TikTok?
The good news is that setting up a TikTok business account is quick and easy.
1. Download the app
Download the app from the App Store or Google Play store. Once you've opened the app on your phone, click on 'me' which can be found on the bottom menu bar, then click 'sign up.' Here you will be prompted to enter information such as a phone number, email address and username.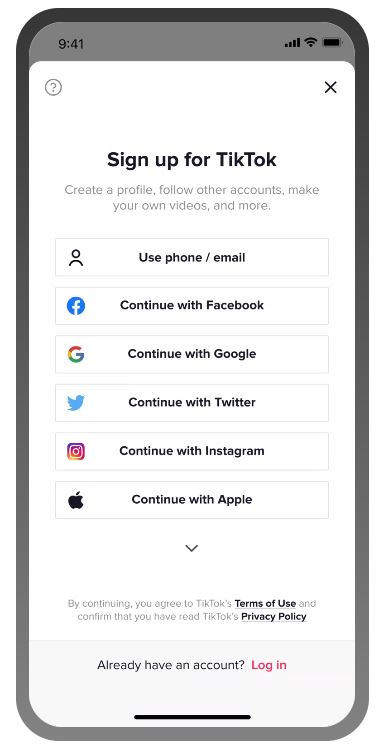 2. Create a business account
Go back to the 'me' page and click on the ellipses (three dots) at the top right side of the screen.
Click on 'manage my account,' and select 'business account' which is under the 'switch to pro account' option. Choose the category that best fits your business. This is important because you will see customised content, events and solutions based on the category you select.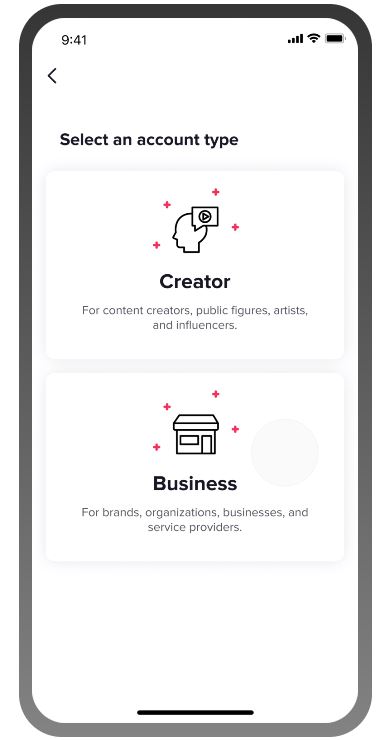 3. Complete your profile and get posting! 
Once you've added your profile picture and completed your bio, you're ready to start posting content about all your wonderful products or services. Next let's go into more detail about how to post, create videos and engage with other users.
How to create and post videos on TikTok
Now you've got your account set up, it's time to start creating content.
The video below from Social Media Examiner explains everything you need to know about recording, editing and posting your first video. It also includes other helpful tips including who to follow, how to add customised text and how to find the best hashtags for your posts.
TikTok For Business: Best practices
In time, you'll learn the type of videos which typically work well for you and which aren't so popular. It's often a case of experimenting with trial and error. In the meantime however, there are some TikTok best practices which can help boost followers and engagement.
1. Pay attention to trends
TikTok is all about what's trending. From dance challenges and parodies of viral videos to tips and challenges, participating in the latest trends helps you to gain exposure, likes and followers.
The best way to discover what's trending is simply by heading to the 'Discover' tab. Here you will be able to see trending hashtags, sounds and effects. This is a great place to search for inspiration for your own videos. Just remember to make sure any trends are still relevant to your business and align to your brand image before getting involved.
2. Use hashtags
Hashtags are one of the most effective ways to drive traffic to your page regardless of which social media platform you're using. Whenever someone searches a particular hashtag you've included on your video, your TikTok content will show and this means new followers are more likely to discover your content.
What's more, TikTok videos that have trending hashtags in the caption are pulled into relevant Discovery pages and could even get boosted to more 'For You' pages.
To find out everything you need to know about hashtags including how to choose them and how many you should be using, have a read of 'How to use hashtags effectively and why they play a key part in your social media success.'
3. Choose your niche
As a brand, it's important to be instantly recognisable. This means choosing your niche and sticking to it when you're posting on TikTok. A key part of this is of course ensuring that your niche is relevant to your business. If you're a makeup artist for example, tutorials and beauty hacks are a great route to go down. Followers should know what to expect from you and your content should have a recognisable theme. 
4. Partner with other creators
If you're struggling to build a following on TikTok, partnering with other relevant creators can really help to boost your reach. Say you're a wedding photographer for example, you could team up with a local wedding dress supplier and create videos together.
You can find these individuals by searching for relevant hashtags and when you find someone who's a good fit, send them a message asking if they would like to collaborate.
5. Engage with other accounts
When you're first starting out on TikTok, one of the best ways to receive engagement is to show support for others. Follow relevant accounts so they can find out about you and follow back. You can also like, comment on and share posts you find interesting and helpful. Providing you're producing great content, people are normally happy to return the favour.
6. Make the most of influencer marketing
Influencer marketing has become a popular concept across all the social media channels. It can be a great way to reach large audiences who are already highly engaged with the influencer in question. Because their followers look up to and trust these individuals, the accounts, products and services they promote often do very well from the collaboration.
TikTok has even developed a Creator Marketplace to help accounts collaborate with each other. It enables you to choose influencers using helpful insights such as audience demographics, growth trends, video performance and more. You can also browse top storytellers to see who's the right match for your brand. Whenever you partner with other creators or influencers, remember that relevancy to your brand and audience is key and be sure to comply with any relevant guidelines and rules. 
If you're unsure whether this is the right avenue for you, have a read of this blog, 'Should your business or brand be considering influencer marketing?' You can also find out more about influencer marketing in this social media strategy guide for small businesses.
7. Run adverts
TikTok ads are a great way to market your business and extend your reach on the platform. Rather than spending months, sometimes even years, trying to build up followers, advertising lets you reach your target audience within days.
There are a number of different ways to advertise on TikTok:
In-feed ads
Branded hashtags
Top view ads
Branded effects
I'll go into more detail about this later.
8. Use Analytics
Provided you've upgraded to a 'pro' account (which is free), you will be able to access detailed analytics on your TikTok videos.
Simply head to 'privacy and settings,' click 'manage my account' and you will see the option to upgrade to a 'pro' account.
By regularly keeping an eye on your analytics, you will be able to establish what is and isn't working and how you can improve your content in the future. You may for example notice that certain types of videos get a lot more engagement than others.
Another useful feature in TikTok Analytics is Follower Analytics. This provides insights into your followers including what they're watching (aside from your videos) and when they're most active.
Advertising on TikTok
With so many different ways to advertise on TikTok, there's something for every brand and its followers. Businesses can target audiences based on demographics like location, age and gender, interests, devices and via custom audiences. Popular ad placements include:  
In-feed ads. These show up in people's 'For You' feed, making them appear as native content
Branded hashtags/hashtag challenges. Businesses can create new branded trends so other users can copy, remix and play with the idea. A great way to encourage user-generated content and potentially go viral
Top view ads. Your full-screen video will play for three seconds when a user opens TikTok. It will then turn into a skippable in-feed ad which can run for up to 60 seconds. This is a fantastic way to grab the attention of new audiences and drive traffic to your page
Branded effects. Create customisable 2D or 3D effects in TikTok to encourage audiences to play and interact with your brand. To celebrate World Smile Day, Colgate created the #WinWithASmile branded hashtag challenge. They created a gamified branded effect where users gobbled up as many balls as possible when they floated across the screen. With points to be scored and a crown to win, more than 1.2 million users took part and 2.2 million videos were submitted. Crucially, the campaign increased brand awareness, intent to purchase and ad-recall
TikTok Ads cost
You have two budgeting options on TikTok – daily or lifetime. Your budget can be changed anytime throughout your campaign and you will never be charged more than the budget you set.
While the sky is the limit with how much you can spend, there is a minimum budget of $20 at the ad group level and $50 at the campaign level. You can also set a bid which indicates how much you're willing to pay for the actions you want users to take after they see your ad. When starting off, it can be a good idea to use a smaller budget to test different approaches and targeting options.
Below are some great articles which can help get you started with TikTok advertising:
Having covered how to set up a profile, create and post videos, best practices and advertising, you should now have a really good idea about how to use TikTok For Business.
If you would like some further inspiration to help get you started, have a read of TikTok: Everything your small business needs to know.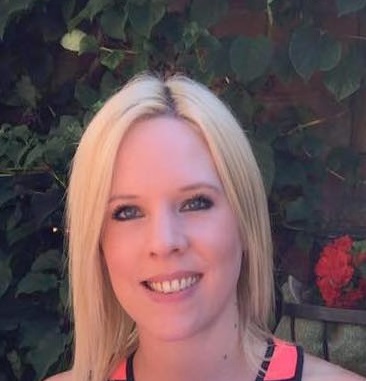 After completing her degree in Journalism, Monique began her career at a digital marketing agency. It was here she discovered a passion for online marketing with a particular focus on content creation for the web. Six years ago Monique set up her own copywriting business, Copyworks Group, which specialises in creating content for websites, blogs, newsletters and social media pages.
Read full profile