Online marketing is forever looking for more innovative ways to engage audiences. With YouTube and Facebook video being the most engaging marketing tactics among marketers, the next logical step is experiential marketing, which invites audiences not just to see moving content, but to explore it themselves.
Most of us are familiar with the proliferation of virtual gaming, but VR is quickly moving into the worlds of marketing and advertising too. With an estimated 171 million of us using VR this year compared to 200,000 in 2014, and with a prediction that most of us will own a VR headset by 2020, big corporates such as Nike and IKEA have been quick to adopt immersive technologies into their marketing strategies.
But VR isn't just for the big brands. As the technology becomes more mainstream, small businesses will need to keep abreast of VR developments, or face getting left behind.
What do we mean by Virtual Reality?
Virtual Reality, most commonly known as VR, is the name given to the art of placing a user within a constructed world or dimension. It uses visual technology, usually via a headset (such as Google Cardboard, Oculus Rift or HTC Vive), to transport users into a three-dimensional computer-generated environment. This new reality can then be explored and manipulated, making it an immersive interactive experience unlike any other.
360° images and videos
Slightly separate from VR, although still part of the immersive reality umbrella, is 360° film and images. These don't necessarily require a headset and can be viewed from a smartphone, desktop or smart TV, allowing the user to scroll around the screen to explore a 3D image or video.
VR film and image making is an entirely different process to traditional forms of photography. It can be done using several cameras pointing in different locations to cover all 360 degrees of a certain view. Or 360° cameras, which are readily available on the market, make the process much simpler. They have two fish-eye lenses and so capture all 360 degrees with just one piece of kit.
However, the planning and production of 360° film and photography requires a whole new way of thinking about images. No longer are you thinking in terms of rectangular screens but instead you're forced to think outside the box and capture the world as it is, and not how it fits on a screen.
VR headsets
360° imagery becomes virtual reality when the consumer uses a headset to view it. The headset or goggles allow them to essentially jump into the image and feel immersed in the constructed reality.
There's a huge variety of headsets available to purchase, from Google Cardboard viewers from as little as £4.40 to HTC Vive Pro at £799.
VR's potential for marketing
Marketing is endlessly looking for new and innovative ways of bringing product and customer together. Look at how Instagram Stories is already narrowing that gap between the brand and the end user via live video streaming.  VR is just another, more sophisticated, tool for breathing life into a product, brand or service and letting the customer experience it at close range.  
With 62% of consumers saying that they'd feel more engaged with a brand that uses VR, it's in the interests of brands to explore the possibilities VR has to offer.
Whether you're a website-only SME or you also have a physical store, there are ways of using VR to maximise your customers' engagement and to streamline your company's modus operandi.
Virtual showrooms
Whether it's a static 360° image available to view from your phone or a full VR video that can be explored via a headset, an immersive visual world allows your customers to engage in your brand more fully than ever.
If you have a high street presence – say, a beauty salon – then a 360° virtual showroom is a great way for potential customers to look around from the comfort of their own homes. It allows them to see your set-up, get a feel of your vibe and check out your treatments. For a competitive market like beauty, this could be the difference between a consumer making an appointment with you or choosing a more engaging competitor.
The property industry is another area that benefits from virtual showrooms. Tools such as Giraffe360 allow estate agents to create virtual tours and wide-angle images to bring house-hunters into homes at the touch of a button.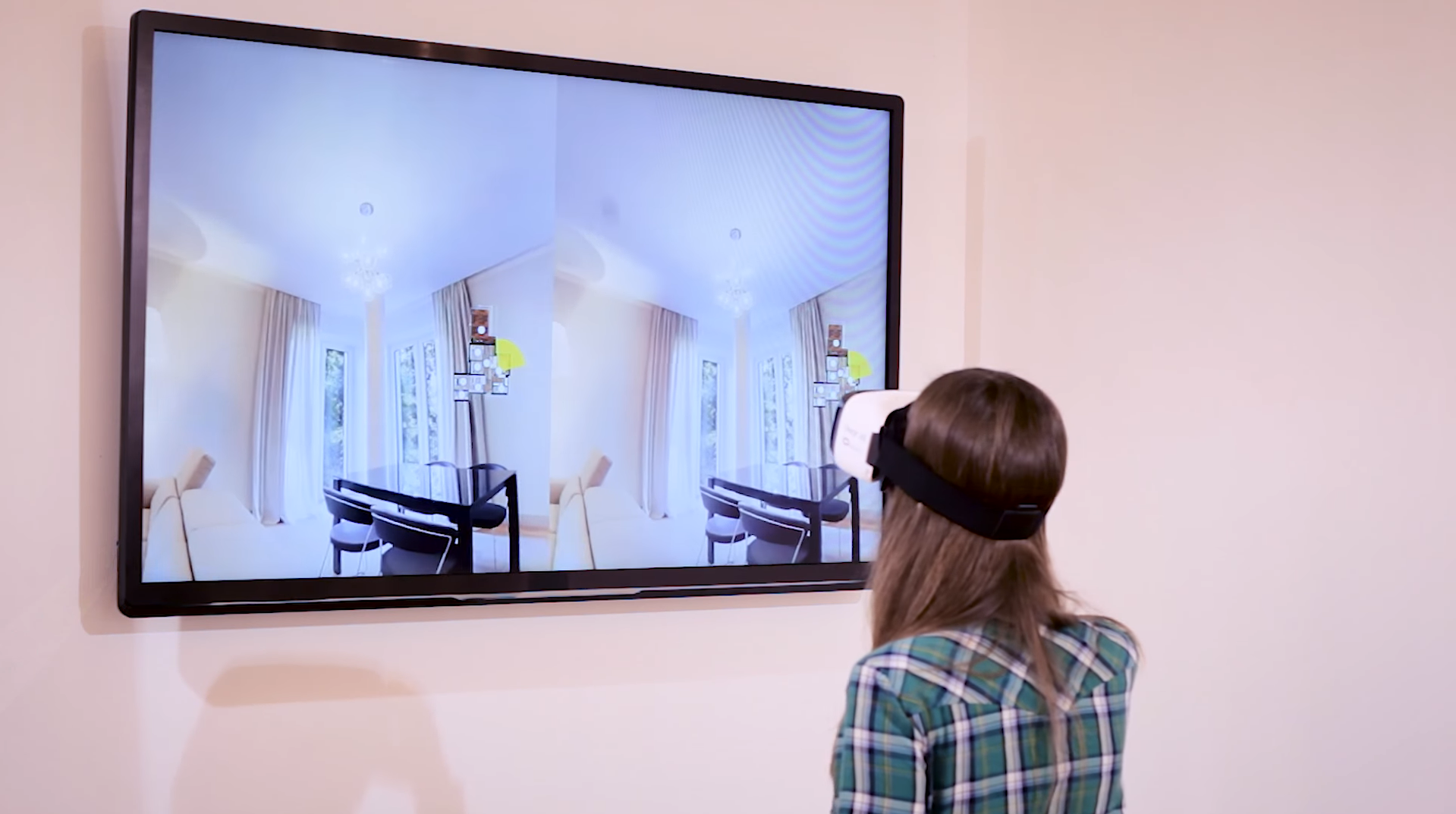 Product demonstrations and how-tos
A virtual demonstration is a great way of letting your customers explore every aspect of your product before buying. Or, with an estimated 27% increase in brand loyalty as a result of VR compared to 2D forms of marketing, a how-to is the kind of educational content that helps brand retain their customers.
Take American DIY store, Lowes, who are using VR to help skills-train their customers with their Holoroom How To VR experience:
Promoting your message
If you're a brand with something important to say, then there's nothing quite as powerful as VR for getting that message across through the art of storytelling.
Take this VR video run by the New York Times. It was created using Google Cardboard to show the stories of 3 different children in a bid to raise awareness of homelessness around the world:
Virtual advertising
Storytelling is the backbone of advertising, and virtual reality takes it one step further by inviting the audience to immerse themselves fully in that story. According to The Neuromarketer virtual reality film affects the brain differently to a flat-screen experience and is proven to increase engagement.
It's no wonder then, that brands are increasingly opting for VR in their advertising campaigns. Although VR ads are mostly the preserve of big brands with big budgets, they're worth checking out for ideas to steal for more modest ad campaigns.
In the following VR video from Boursin, The Sensorium, the viewer is taken on a zany, multi-sensory journey through the fridge while they learn about flavour, food pairings and recipe ideas. All of which helps the customer to see, hear and feel Boursin in all its delicious glory. 
Leveraging others' content
With the amount of VR content there is already circulating, there are ways in which you can promote others' content by customising your own brand VR viewers. This way not only are you getting your brand noticed on repeat, but you're also helping your customers get instant access to great content.
McDonalds are famously doing this in Sweden, with their "Happy Goggles". Children who buy their Happy Meals can repurpose the box as VR goggles for the accompanying game "Slope Stars", or use it elsewhere if they wish.
Recruitment and training
VR has potential within HR departments too. As VR technologies become more mainstream, it's likely that recruitment processes will become more practical and immersive.
How better to find out how a candidate will deal with a certain situation than to virtually place them in that scenario, rather than just to ask them? And how better to train employees than to immerse them in a simulated experience as opposed to sitting them in a training room and running through hypothetical situations?
Remote working
Thanks to tools like Google Hangouts and Skype, businesses are more able to operate with some or all employees working remotely. And with an estimated 50% of the UK workforce working remotely by 2020, virtual meeting spaces will soon become the norm.  
Although still only available in beta, Facebook Spaces, available on Oculus Rift and HTC Vive, is a free way of getting started with VR. It allows you to get together with your contacts in a virtual space of your choice.
The challenges
VR is still in its infancy and therefore the technology needed to produce decent VR marketing content is expensive and complicated. It's not something that most SMEs can bring in-house and will likely need to be outsource to skilled VR developers.
By the same token, the image quality of most VR imagery is relatively poor and so the content needs to be very creative and poignant to make up for it.  
But perhaps the biggest issue with VR is that they require every user to have a headset to reach their full potential. According to a YouGov poll, as of May 2017 only 6% of the UK population owned a VR headset, which leaves the other 94% unable to access your content. However, as VR become more widespread and headset prices become more democratic, we should expect to see this number increase.
In summary
Whilst VR isn't about to take over other forms of marketing any time soon, there's evidence to suggest that it's on the horizon to play a big role in all aspects of everyday life in the not-so-distant future.
But with VR technologies still in their infancy and therefore very costly, most SMEs currently won't be able to afford the high costs of outsourcing the production of VR content.
However, this isn't to say that VR should be overlooked in your marketing strategy. Even with some modest first steps – say adopting Facebook Spaces into your working environment or producing some simple 360° video content– you can start working towards a longer-term objective of making VR an active engagement tool for your brand.