By 2020, it's estimated that 1.7 megabytes of data per person will be created every second. With information being produced and downloaded at such a vast rate, businesses are beginning to garner big data to help them achieve results in their sales and marketing.  
However, with only 18% of UK businesses having a fully implemented big data plan, you're not alone if you're yet not grabbing big data with both hands. It's still the domain of the mega-brands who have the power to invest both time and resources and remains a daunting prospect for most SMEs.
But the value of big data for smaller businesses comes when it's brought down to size. If SMEs take a leap of faith and break it down into smaller chunks, they'll discover ways to deepen their understanding of their customers, improve sales and conversions and streamline marketing processes through automation and optimised scheduling.   
What is Big Data?
Big data is a misleadingly scary term, giving the impression of vast departments of number-crunchers and mega-bucks of investment.  
But, in fact, "big data" is simply the term given to large amounts of data aggregated from various sources. Big data can be used for marketing to gain insight into customers' behaviours both on and off your website, predict product depletion, and analyse sales ebbs and flows.
Many SMEs will find that, to some extent, they are probably using big data already.
The most attractive use for big data, according to research from Datameer, is how it can help companies to deepen their understanding of their audience, with 48% of business efforts focusing on customer analytics.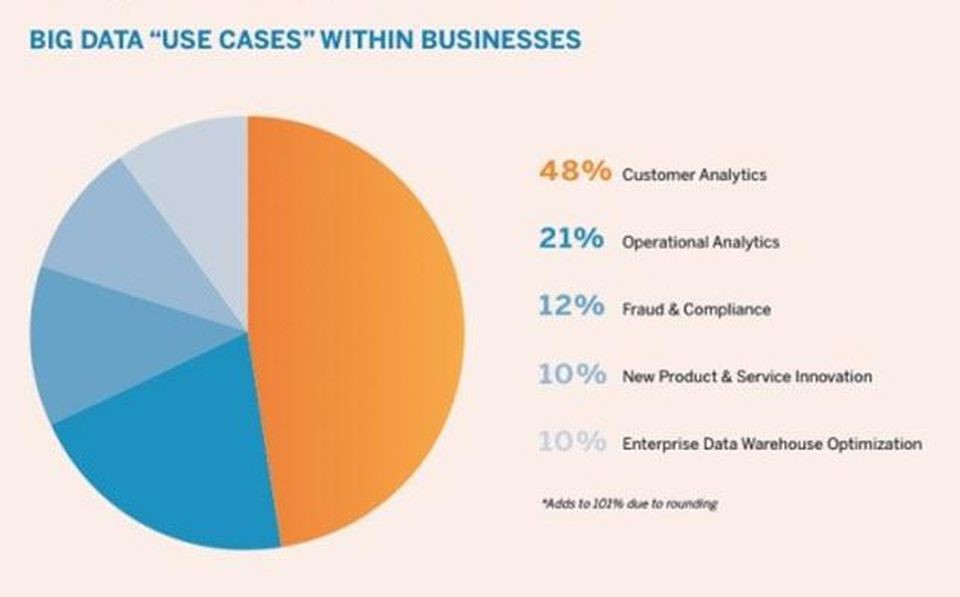 Source: Big Data: A Competitive Weapon for the Enterprise
The value of big data for SMEs
Big data, if harnessed intelligently, can be used by SMEs to provide the best possible content at each stage of the buyer journey and improve conversion rates, lead generation, and customer lifetime values.
The benefit – but also the challenge- in having such an abundance of data available is that businesses must first identify the most relevant, cost-effective and useful data to collect.
For example, do you focus on sentiment analysis, or predictive maintenance? Do you major in churn analytics or customer analytics? Or do you hone in on real-time marketing?
According to recent data from WHISHWORKS, however, big data is best focused on those areas of the business that will:
Save both time and budget on routine processes
Increase productivity in everyday operations
Make quicker and more informed decisions
Avoid "human error" mistakes
Predict customer preferences and improve buyer journey
Discover business opportunities
According to a McKinsey study, businesses that use big data as part of their customer analytics see a 126% profit increase compared to their competitors.  And the same data shows that retailers that use big data, see a 60% increase in operating margins.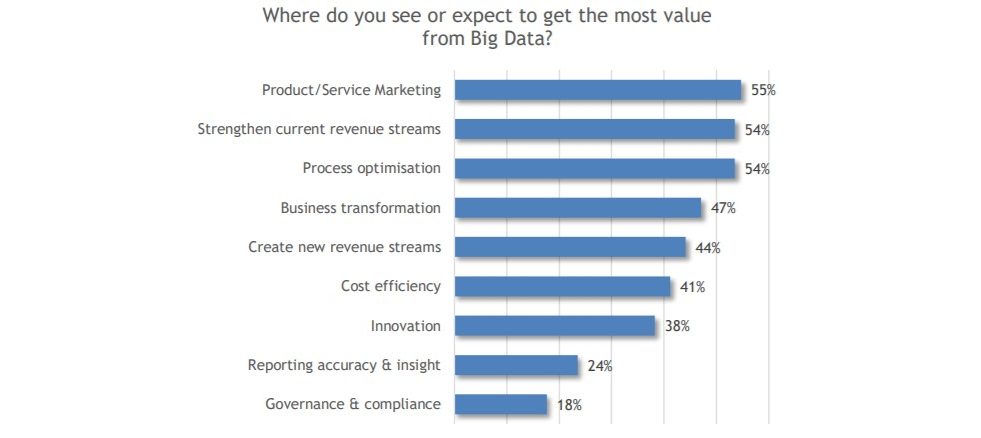 Source: WHISHWORKS, The State of Big Data in the UK 2017/8
Big data challenges
According to research by SAS, for all the opportunities big data presents, the challenges for small businesses tend to circle around lack of expertise and technical know-how. The sheer "bigness" of big data can seem rather too daunting for most SMEs to stomach. The three main areas of confusion around big data potential are:
Knowing which pieces of data to collect
Choosing which tools and software to use
Understanding how to turn the data into action
However, the key is to take it step-by-step and focus in on what your business strategy is lacking, and where big data might be able to fill the gaps:
Phase 1: Do your groundwork
Complete a data audit
The discovery phase of your big data journey is not to be underestimated. An audit of your business' current data analytics – what tools you're using, what metrics you're measuring against, how often you're reporting, your human resources – will stand you in good stead for identifying the gaps that big data can fill.
Try this: Look at all your methods of collecting and using data, from Google Analytics, to email marketing software, to social analytics to your CRM.  Make a note of all the opportunities for better understanding of your customers and their online behaviours.
Outline your goals
Defining what it is you want your big data to achieve for you is probably the biggest part of the whole project. Investing in big data can be a costly exercise and without a clear idea of how it will benefit your business specifically, budgets can be easily misspent.
Try this: Begin with some modest (SMART) goals, which you can build on in time:
Get a deeper understanding of your customer experience
Know more about who your customers are and why they buy from you
Increase conversion rates
Expand your contact database
Improve sales figures
Reduce time spent on marketing tasks
Save costs on marketing tasks
Find your software
 Now you know what you want to achieve with your data, it's time to tool up. Not that you should spend a fortune at this point, however. Right now you need to find the appropriate tool(s) for your organisation's need, although make sure they're scalable so that you're still getting value 5 years down the road.  
Try this: Investigate the big data software available out there and start to shortlist them based on their reviews, their price point, their user-friendliness.
Phase 2: Develop your tactics
Personalise the customer experience
Personalisation is becoming a necessity rather than a bonus these days, with around 75% of people being annoyed by a distinct lack of personalisation.
Using big data to create more defined customer personas will allow you to segment and target these audience types with tailored communications. This can be as simple as sending out personalised emails via your MailChimp account, or as advanced as setting up recommendation software based on detailed customer behaviour data.
Try this: Link Google Optimise with your Google Analytics to analyse which areas of your site are the most engaging to your customer. You can then make informed decisions about how you improve your customer experience accordingly.
For a more advanced step, you can do in-depth data-mining with a view to implementing recommendation software. For more on this, read an earlier article of ours on personalising the user journey.
Boost sales  
Given that there's usually an initial investment in big data, whether that's the software outlay, or expertise hired, there needs to be a financial gain somewhere along the line.
The good news is that big data can help you improve sales figures:
Optimising your pricing
By tracking your customers' real-time purchasing habits, you can start pitching your pricing at the right level to boost the chance of a sale. According to Linnworks, a simple 1% increase in price can result in 8.7% in operating profits.
Keeping supply in line with demand
With your big data you can start to forecast when you're likely to run out of stock. This way you can save money by avoiding stock shortages or keeping unnecessary inventory on shelves. Amazon, for example, use historical data to forecast future fluctuations over demand during holidays and festivals.
Optimise conversions
In a similar way, investing in big data can help you to decrease bounce rates, improve click-throughs and boost conversions.
From simple customer journey mapping, you can start to look at where your customers are reaching roadblocks and you can begin to address those areas. Your data could, for example, throw light on an overcomplicated check-out process or a poor call-to-action. The key here is to experiment with your data to find what works for converting your leads into customers.
Improve your content
When producing content, you want to make sure you're getting it seen and read by as big an audience as possible. Rather than just throwing it out there and hoping your target customers will find it, you can start to use your data to both find the best channels for your audience, and the optimal time to distribute it.
For email marketing, platforms such as Growbots allow you to both create target audiences and optimise sending times based on the data of over 1 million cold campaigns. The results are impressive. According to their data, Growbots claim to double conversion rates of any given campaign.
Sprout Social is the social media equivalent, enabling its "ViralPost" users to automate and schedule social posts based on the most active times of major influencers.  
Phase 3: Measuring and tweaking
SMEs must treat big data in the same way as they treat any data. Without measuring what's working, tweaking what's not, your big data is an empty investment. Most big data software will help you to A/B test your campaigns so that you can play around with different tactics. 
The key is not to be afraid to experiment. After all, no two businesses are the same, and what works for one, will not necessarily work for another.
In summary: Big data on a small scale
Big data holds some exciting new opportunities – and challenges – to the business world. But SMEs must not shy away.  Whilst big data looms large over SMEs, only a handful of companies are discovering its potential.
But with this guide, SMEs should begin to see how big data is manageable if they focus on the little side of big data. If they harness data to gain insights into their customers, they'll start to improve the user journey and benefit from higher conversions and sales.
The key is to start small to limit the number of mistakes and develop the right skills to bring your big data plan to the next level.