Email campaigns are a fantastic way to generate new business and get more out of existing customers. What happens in between campaigns, however? While you don't want to risk frustrating people by bombarding them with frequent communications, you also don't want them to think you've forgotten about them and to then lose them to a competitor.
Below I'll discuss the importance of keeping leads warm between campaigns and how you can do this.
Why keep leads warm between campaigns?
A warm lead is classified as someone who has shown an interest in your product or service. They can do this in a number of ways including following you on social media, subscribing to your newsletter or filling in a contact form on your website.
Although no purchase will have been made at this point, these leads are crucial to any business because when nurtured correctly, they hold great potential for future sales. Research carried out by Search Engine Journal has, in fact, found that warm leads have a 14.6% close rate compared to just 1.7% for cold leads. 
This is quite simply because warm leads are easier to convert than cold leads. You will have already established a connection or contact with the prospect which means that there's trust between you. It's because of this trust that potential customers will actually read or listen to what you have to say.
According to Forrester Research, companies who excel at lead nurturing generate 50% more sales-ready leads at a 33% lower cost.
Other great reasons to keep leads warm between campaigns include:
It enables you to develop your reputation as an expert and trusted advisor. Lead nurturing builds credibility and strengthens relationships because you're sharing useful, educational and relevant content. By doing this, you're demonstrating to your leads that you understand their problems and can provide solutions. As a result, they're more inclined to buy from you in the future.
It's proven to drive sales. According to CSO Insights, companies with mature lead generation and management practices have a 9.3% higher sales quota achievement rate. Research from Annuitas Group also shows that nurtured leads make 47% larger purchases compared to non-nurtured leads.
What if I ignore warm leads?
In order to turn cold leads into customers, you need to build relationships. This can take time but the key is consistency. If you neglect those who have previously expressed some form of interest in your company, you're at risk of slipping from the top of their minds. Even though they might not be ready to make a purchase now, you want to be the first company people think of when they are ready to commit.
There's a strong possibility you will lose your warm leads if you don't communicate with them. If they're making the effort to find out more about your company but don't hear back from you, they will feel you simply don't care about them. Perhaps they had a question about your product or service and you didn't respond, chances are they will go elsewhere.
Remember, first impressions count. If this is someone's first experience of your customer service, this provides them with an insight into what it might be like to work with you. According to the report, Customers 2020, customer experience will overtake price and product as the key brand differentiator by 2020.
What's more, after receiving poor customer service, 56% of people say they won't use a company again, 52% will tell friends and family about the experience and 34% will write about it online.
How to keep email leads warm between campaigns
Every time a potential customer interacts with your business, you're presented with an opportunity to warm the lead. You want to keep building warmth, messaging and positive interactions so that you can continue to prime your lead for future sales. Below are some great ways you can achieve this.
Emails
When someone subscribes to your newsletter or follows you on social media, you don't start selling to them immediately. It's far more effective to build a relationship over time and once that trust has been established, you can then start trying to promote your product or service.
A great tip is to use 'The Rule of Seven.' This principle is based on the idea that we need at least seven touches before you even begin trying to sell to prospects. A touch can be anything from seeing your logo at an event, reading a blog, receiving an email or even noticing that your business page liked a social media post. The intent is to get your lead to register your company name, even if it's just for a moment.
The number of touches needed can vary from company to company. For example, if your offerings have a high price point or attract an audience that takes more time to consider, you may need more impressions.  Some industries naturally lend to more window shopping and comparison shopping whereas if you sell high volumes at a lower cost, people won't need as much time to consider your offer.
A great way to achieve your touch points is by sending drip email campaigns. This is when you send a series of emails over the course of several weeks. For example, when a cold lead subscribes to your email list, you can send them a welcome message thanking them. After one or two days, you can send another email offering them tips and so on, until you slowly get your cold leads interested in your product.
An example of a company that sends out drip campaigns is Tough Mudder. As you can see from the examples below, they have a number of ways of keeping in touch with subscribers without going down the pushy sales route. All of these emails are designed to pique your interest into signing up to an event and they do this by staying in regular contact with content that is designed to be fun, helpful, inspiring and engaging.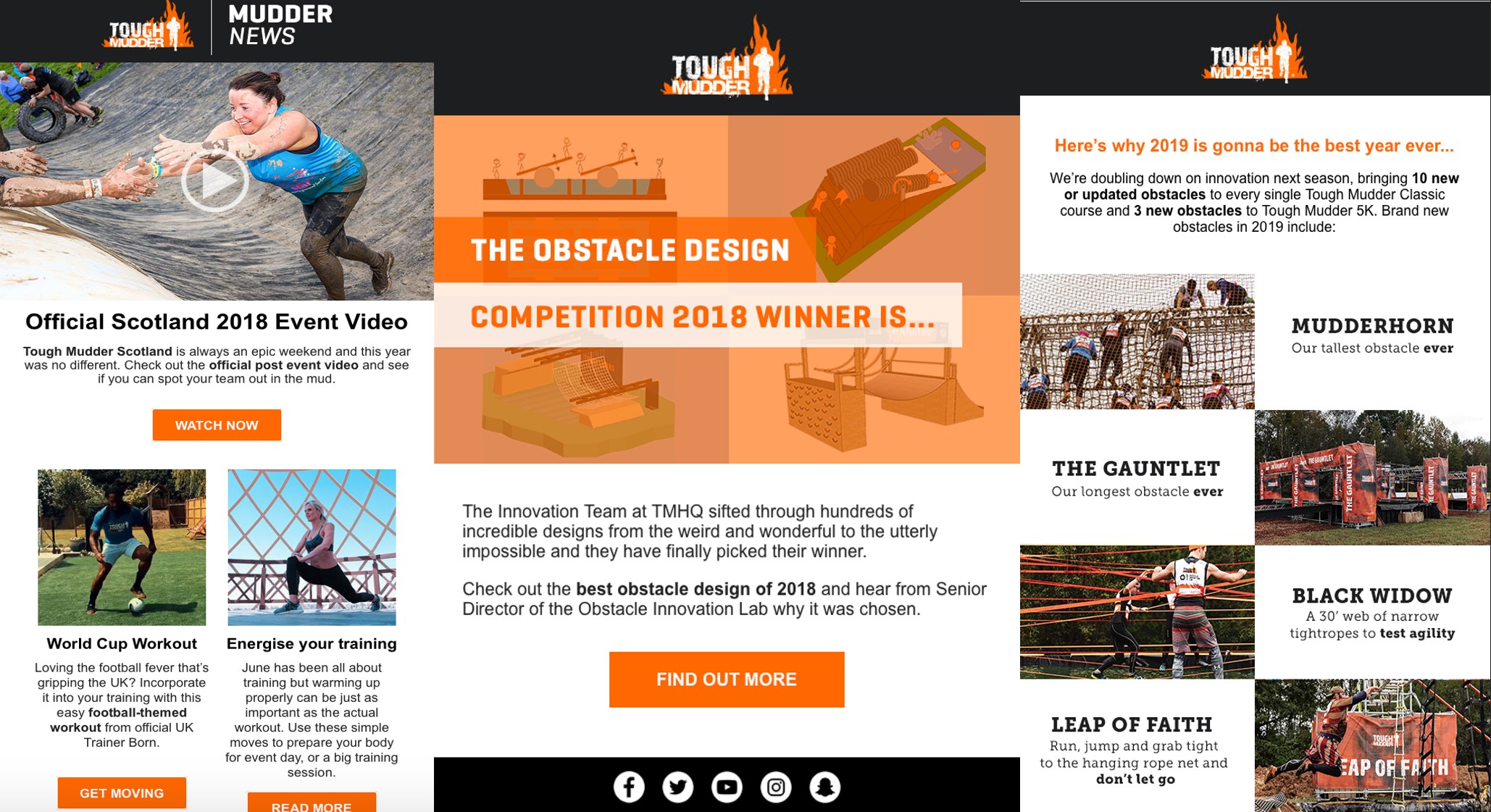 Although this is, of course, a slower approach than simply trying to get sales in as quickly as possible, research shows that it's highly effective:
Open rates for drip campaigns are about 80% higher compared to single-send emails.
Average click-through rates are three times higher compared to other campaigns.
Companies experience a 20% increase in sales after using drip campaigns to nurture their leads.
Relevant emails sent through drip campaigns drive 18% more revenue than generic emails do.
Social Media
The vast majority of us use sites such as Facebook, Twitter, LinkedIn and Instagram on a daily basis which makes social media a great way to keep your leads warm. Not only do you stay present in your prospects' minds, but you also get to do so without being pushy.
Companies with a strong social media presence have been found to enjoy 30% better revenue growth compared to brands lacking a social presence. What's more, B2B buyers who feel a connection with you are 60% more likely to make a purchase and even pay a premium for your services.
What are the most effective ways to keep leads warm via social media?
Engage with prospects – if a follower comments on your post, respond to them and if they share your content, be sure to thank them for it. If it's positive, keep all your communications public but if someone has a grievance, publicly acknowledge that you will send them a private message.
Pay-per-click targeted ads through social media can help to shorten the sales cycle because it may prompt someone to make an impulsive purchase if you happen to catch them at the right time.
Post meaningful content – make a list of the top 10 questions prospects ask you most often. You can then use these questions to create great blog content and social media posts. Not only are you generating interest because your content resonates with your followers, but you're also establishing yourself as an expert in your field.
Build trust – one of the most effective ways of building trust with your followers is to share real life examples of customers who have used and benefited from your products or services.
Initiate conversation – don't just speak to your audience, ask them questions such as 'how do you do xxx?' or 'what's your favourite xxx?'
Holidays are a great time to run social media campaigns which encourage followers to engage with and share your content. The Sweaty Betty 12 days of Christmas campaign is a great example. Every day they send out a post on Instagram where followers can win something if they comment on the post and tag someone else in it. The below image is a post from the 24th of November promoting their base layer set. They received 716 likes and six comments. Less than two weeks later they promoted the same set and received 2,152 likes and 2,317 comments by running a far more engaging campaign.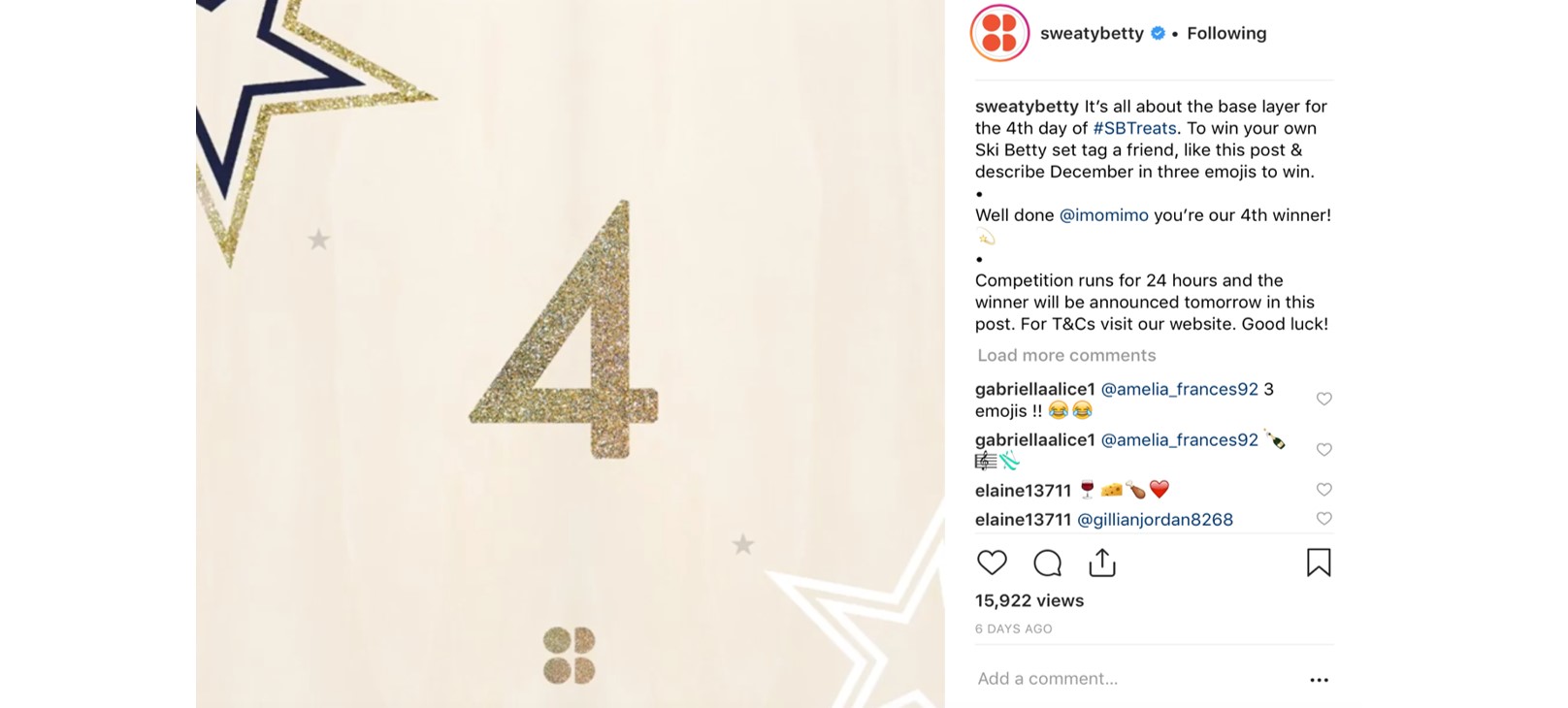 Give something away
As the example above shows, giving something away is a highly effective way of getting people to engage with your brand. There are a number of ways you can do this:
Run a seasonal promotion like Sweaty Betty where people can win something.
Offer discounts on products or services. Don't do this too often however because firstly it devalues your product/service and secondly, if you run promotions often enough, people won't ever buy from you when products are full price.
Free product demos (this is great if people need to use software or an app to access your product or service).
Free content is a fantastic way to capture people's contact details and establish yourself as an expert. The example below shows how you can do this.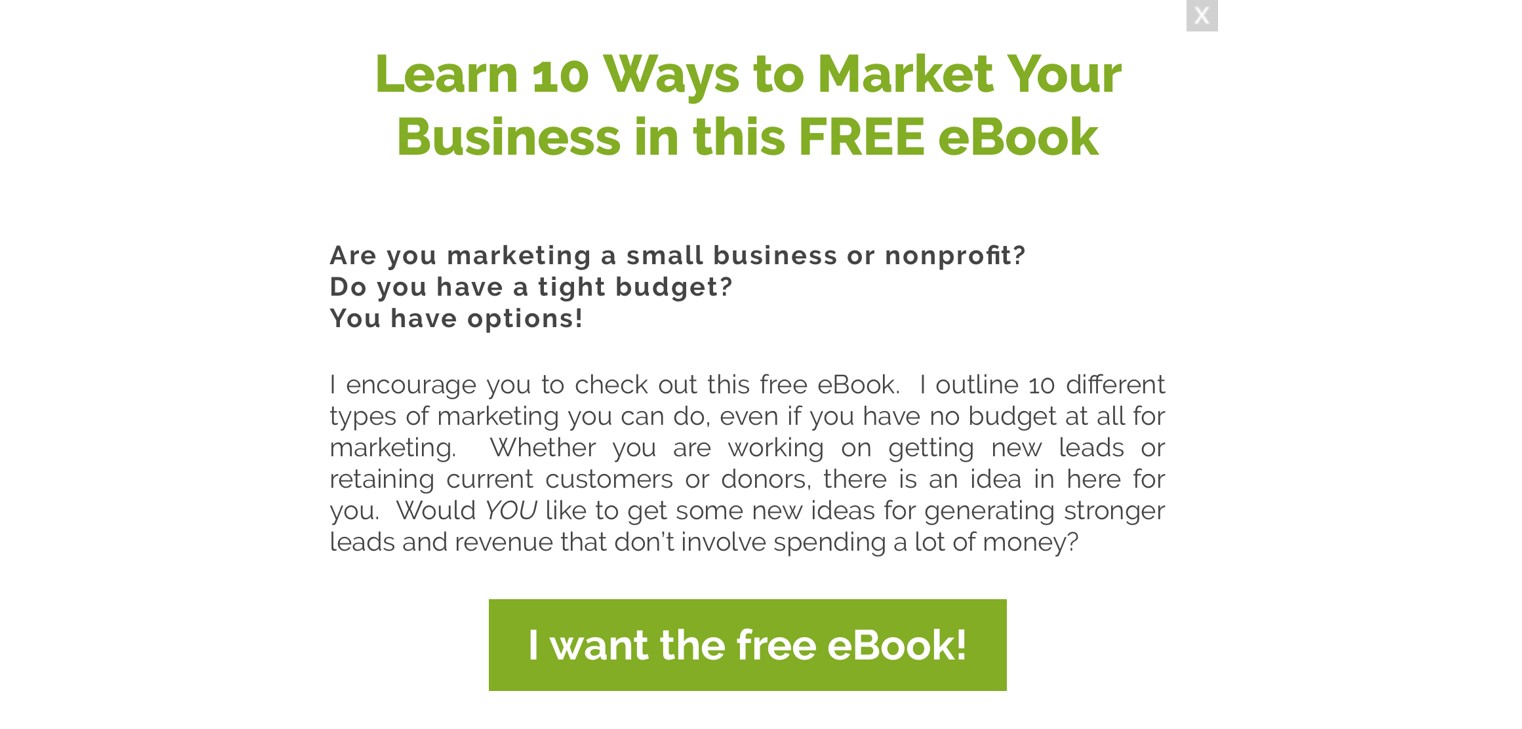 Run a question and answer session on your social media pages. This encourages followers to engage with you, their followers will see their comments to you so it will extend your reach and by answering people's questions, you're offering them something of value for free.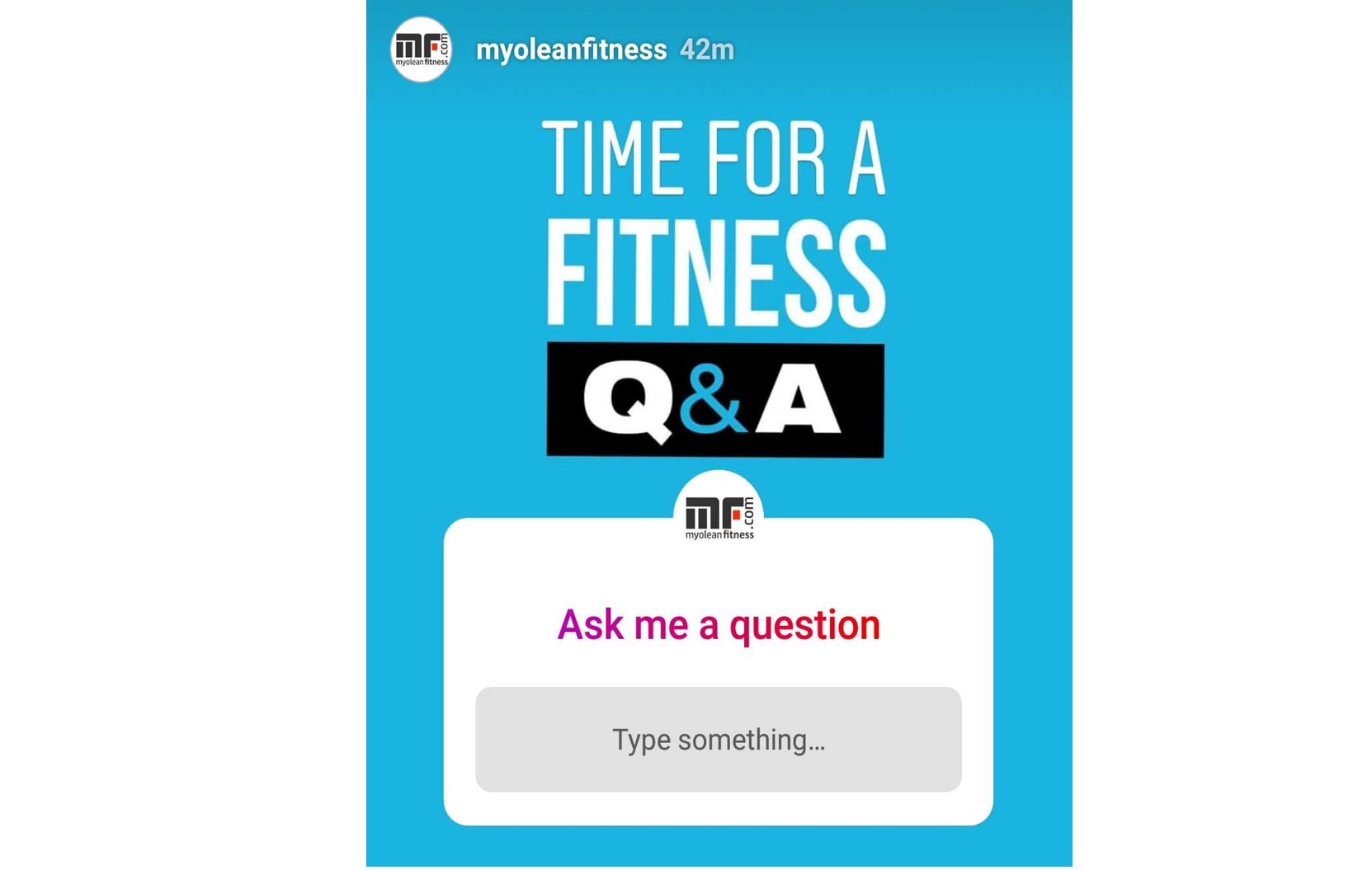 Thinking about how you keep your leads warm between campaigns can completely transform the way you market your business. As well as improving the quality of communication with your prospects, your success rate will rapidly increase when it comes to converting and retaining customers.