In the minds of many consumers, the division between online and offline retail simply doesn't exist. It's all one brand to them, and what happens on one channel reflects on all of them.
If you offer excellent customer service in store, then a customer has lots of hassles having an item delivered from your website, they'll blame the retailer, not the channel.
Therefore, consistency between online and offline channels is vital, in terms of customer service, customer experience, branding, product availability, pricing and more.
Some customer journeys may be quite simple, heading into a store and making a purchase, or seeing an item in store before buying online, but the reality is that many of these journeys are often very complex.
Customer journeys are now taking in multiple touchpoints (e.g. store visits, email interactions, web visits and so on) and moving between channels along the path to purchase.
For any retailer selling online and offline, the aim must be to provide as seamless a customer experience as possible, whichever channel or touchpoint the customer chooses.
This seamless experience in all aspects isn't necessarily easy to achieve, especially for smaller businesses, but it has to be the aim to meet changing customer expectations.
On the subject of customer expectations, Salesforce's 2018 State of the Connected Customer report has some interesting findings, based on a survey of more than 6,700 consumers.
Some key stats:
Customers are 3.7x more likely to view seamless transitions between channels as important, versus unimportant.
The average customer uses 10 channels to communicate with companies and lists six of those channels as preferred.
Under 50s are the most multichannel age group, using an average of 11 channels, compared to nine for the rest.
70% of customers say connected processes, such as seamless engagement based on earlier interactions, are very important to winning their business.
In other words, consumers expect choice, consistency, and convenience as they deal with retailers.
A very simple example is the ability to view and buy the same product range online at the same price as they would in-store, while more advanced multichannel offerings will provide things like the ability to check in-store stock online and reserve for collection.
On a broader level, branding should be aligned between channels. Regular store visitors should recognise the brand when they click through to your website and vice versa. It's about a combination of factors such as logos, colour schemes, design patterns, and tone of voice.
In this article, I'll look at the ways in which businesses can ensure that the brand aligns across channels, looking at some key areas.
Tone of voice
Tone of voice is something that most businesses will work out at the very beginning of their development, though it does help to revisit and adapt as time goes on and target audiences develop.
This guide from Distilled is excellent if you're looking to define or rework your brand tone of voice, but essentially, tone of voice is an expression of the brand and the people behind it.
It can help you to define the brand as you would like people to understand it, can help you to stand out, or to build trust with customers.
The key is consistency across channels so that customers recognise the voice behind the brand wherever they see it. This doesn't mean it all has to be quirky and unique (unless that's the brand tone you're aiming for), it's about consistency in things like use of language and phrasing of sentences.
Loaf, a brand which started online only and now has several stores (which it calls shacks) is a good example of this.
It has a friendly but casual tone, as shown in the in-store displays and text: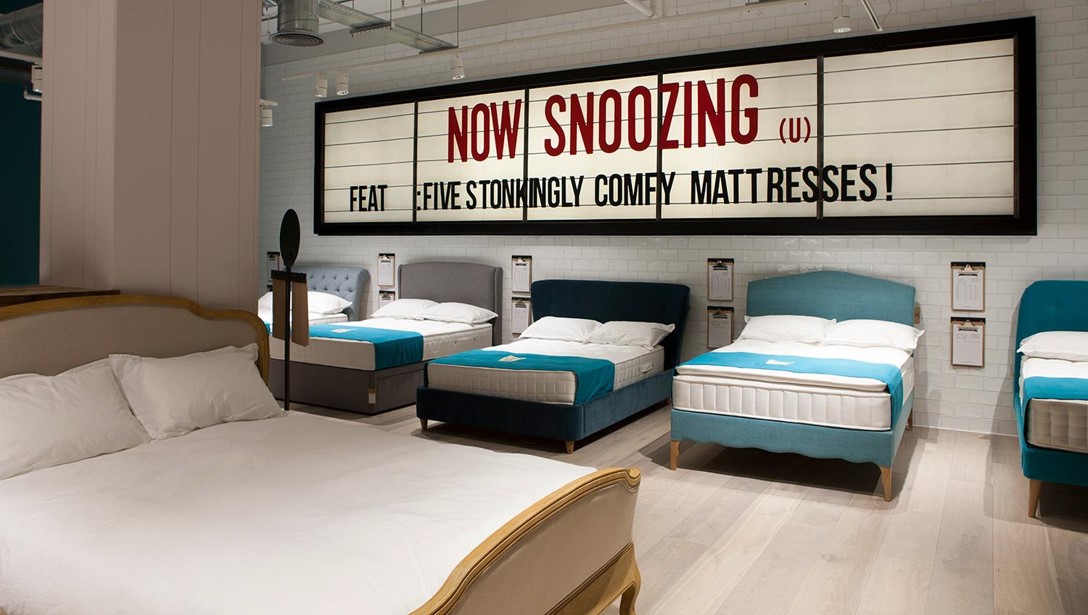 This carries through online, as in this product page element showing product dimensions and other details.
There's a friendly and helpful but slightly casual tone (our delivery chaps will assemble for you…) which comes through on both channels.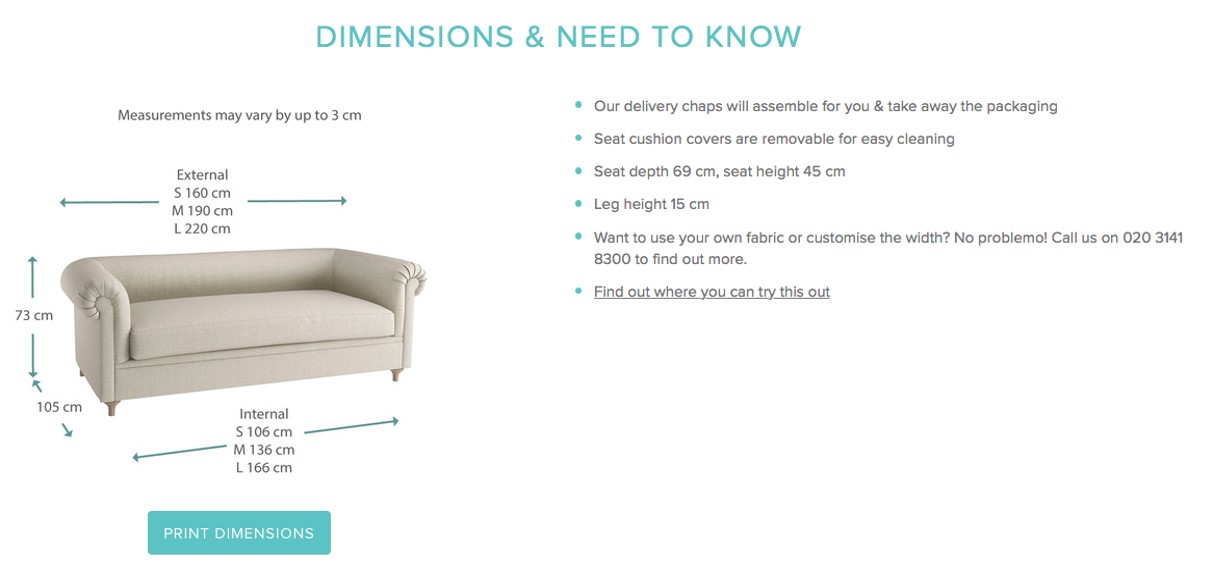 Achieving this consistency is about having a clearly defined brand tone and language, and ensuring that the people working on all channels understand and use it.
This can actually be easier for small businesses, without the difficulties of working between different departments and teams.
Design and colour schemes
Visual consistency across channels is about building brand awareness and ensuring that consumers can recognise your brand, whether in a store or visiting your website.
The more consistent the brand design is, the more likely they are to remember you. It's also about trust, as people are more likely to be comfortable shopping with a brand they recognise.
This brand awareness and consistency of design can give you an edge over competitors in your niche. A strong and consistent visual design indicates certain professionalism and quality in the minds of consumers. 
This consistency of design can be conveyed in several ways. A recognisable logo is one obvious way, but there's also the colour palette used and the typography.
Take the White Company as an example. The colour palette and fonts are the same online and offline.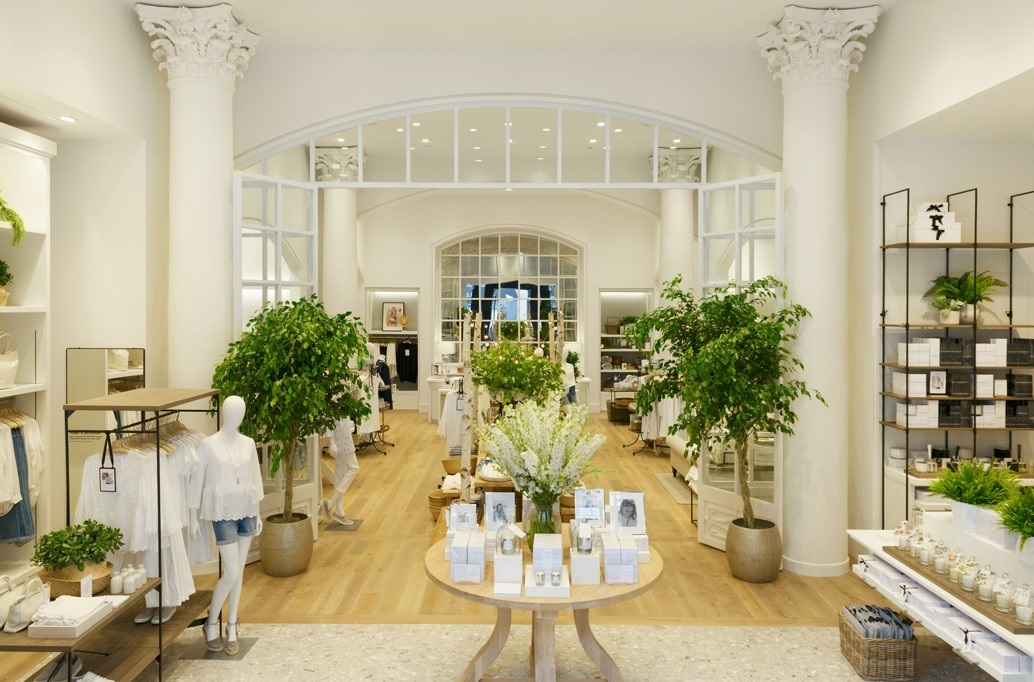 It means that visitors to either channel instantly recognise the brand, thanks to the consistency of colour palette, logos, and typography.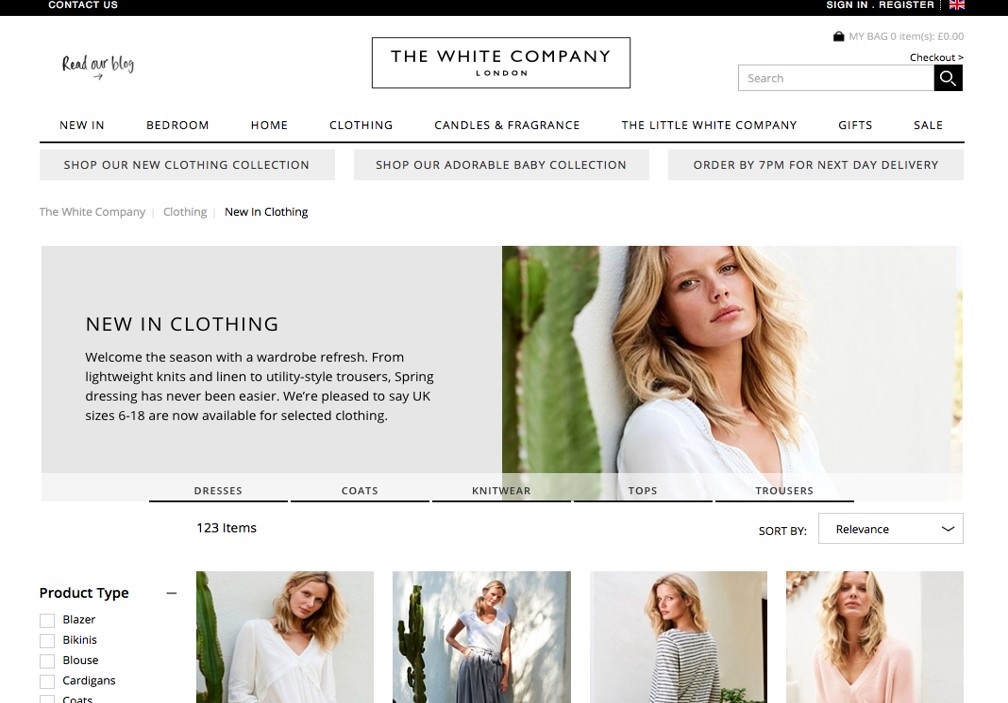 Product range and merchandising
Depending on both the size of stores and product ranges, there may be differences in product availability between channels.
Generally, customers will expect all products to be available online, whereas they will understand that, in many cases, stores may not be able to stock the whole range due to available space.
They may, however, expect that key products and those promoted through marketing campaigns are available whatever the channel.
Price consistency is a key area too. People will broadly expect to pay the same price, whether online or offline and would expect to be able to take advantage of promotional offers, wherever they chose to shop.
Merchandising is an area where site and store may diverge though. The simple fact is that what works online in terms of merchandising may not perform in the same way for stores.
Online, retailers have lots of data from consumer shopping and purchase behaviour which isn't available from in-store shoppers.
It makes sense to use whatever data to improve the performance of the website. It could be, for example, that the best performing products vary across channels so it may make sense to push certain products online.
Key information
Consistently of information across channels is key, and there are many aspects to this.
One thing is just to ensure that key information, online and offline, is up to date when customers are looking for it.
One simple thing is to keep opening hours up to date and to update the website in line with in-store promotions and events. If shoppers see that a website isn't kept up to date, this can lead to a lack of trust.
Product information should be consistent too, as this helps customers when they're researching products between channels. One area which stores can work on here is to bring the same level of detail to stores that can be viewed on product pages.
This can be achieved through technology such as mobile apps, which show greater detail around products, or it can be achieved more simply.
For example, Waterstones use reviews of books by store staff which help customers to decide what to purchase and mirrors the kinds of reviews people can view online.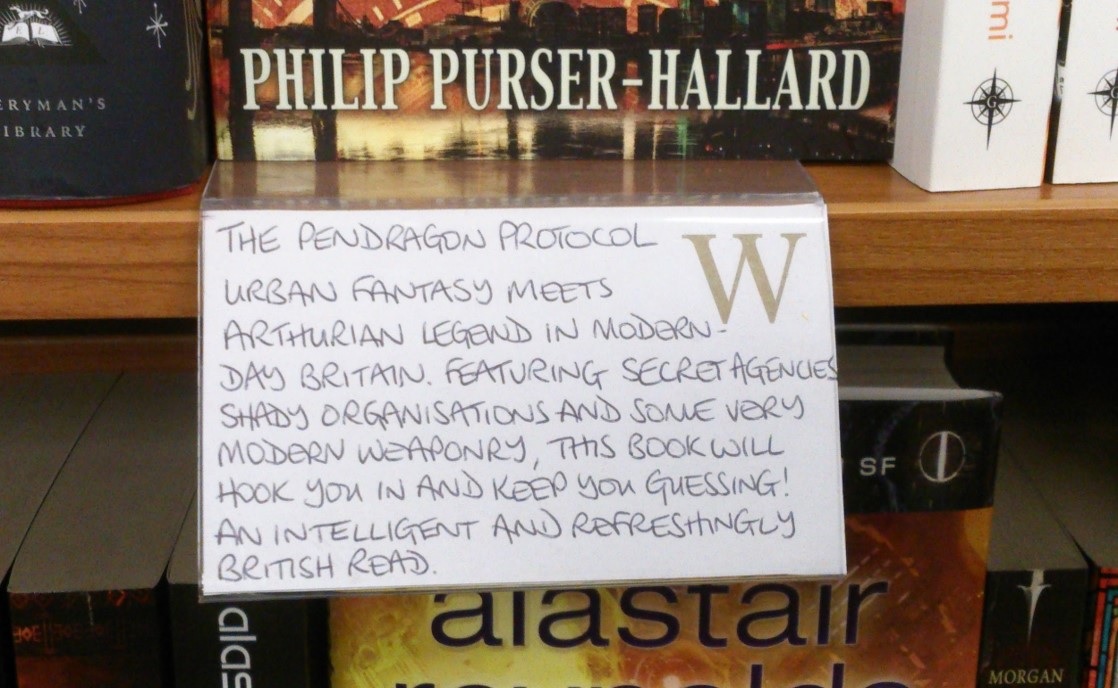 In a different way, Amazon's bookstores use the vast amount of customer review data it has collected online to help in-store shoppers and to display products.
Here, for example, they promote highly rated books more prominently: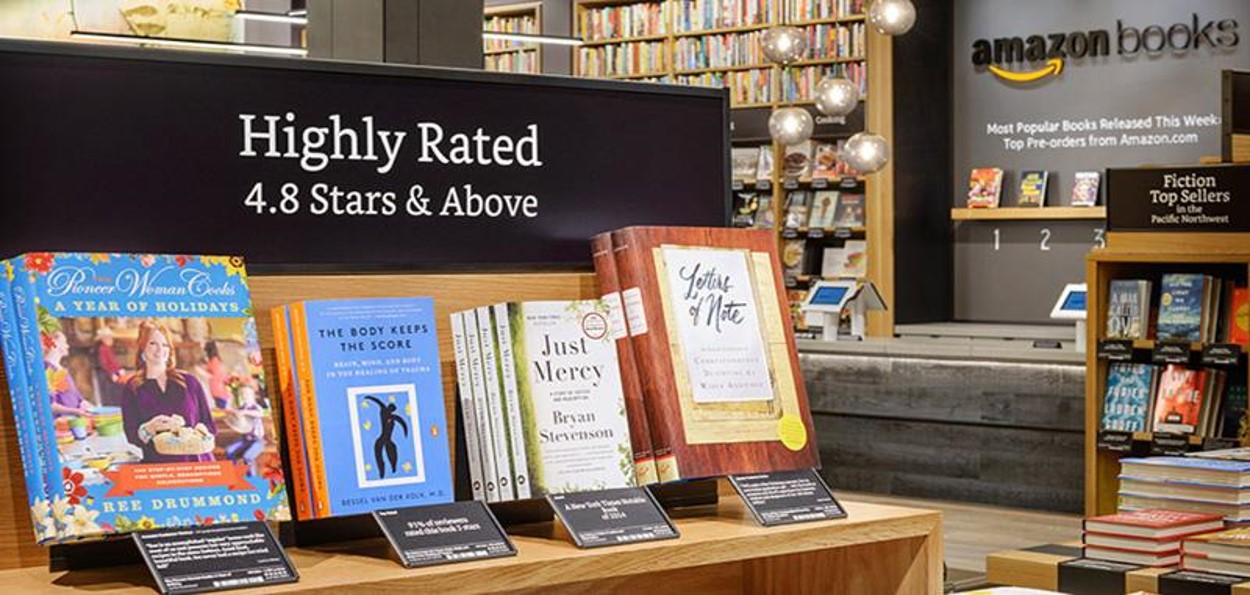 Joining up channels
One way to create a consistent experience between store and website is to make it easy for customers to research products and move between channels as they choose to.
In stores, providing access to online product ranges can help customers by giving them extra choice, or perhaps by helping them to order items which are out of stock in store but may be available online.
This can be achieved through in-store kiosks, proactive staff checking online product ranges, or simply through customers using their mobiles to check the store's website.
Likewise, retailers can help online shoppers to move between channels in various ways. One simple way is to have up to date store finders and contact information. Just simple details like contact phone numbers and email addresses can help.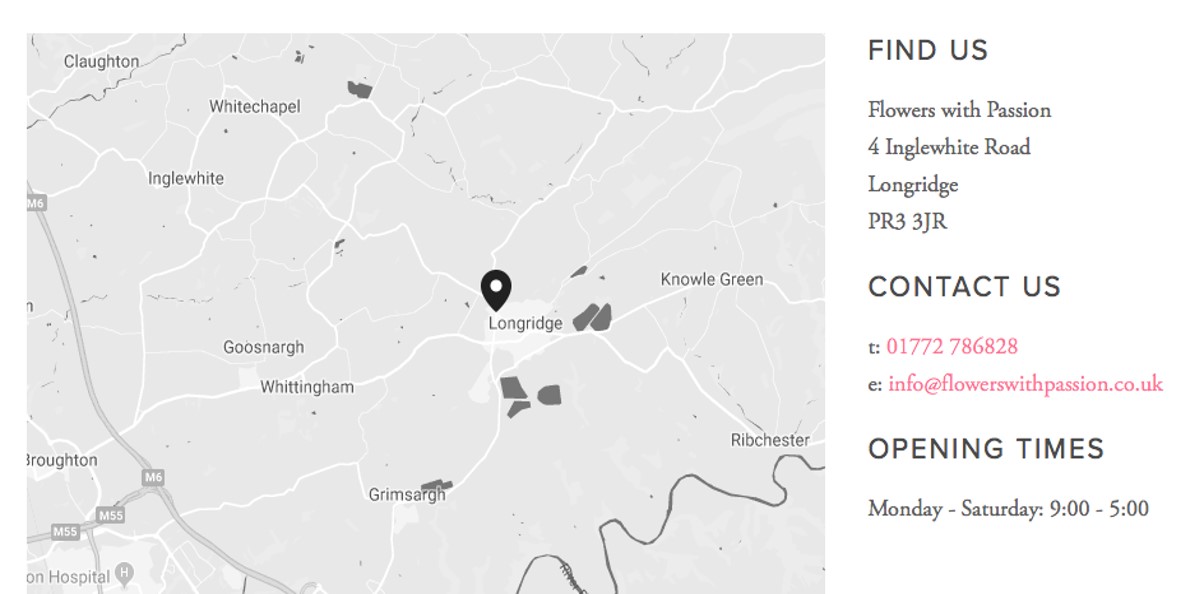 More advanced, and complex, is the ability to check in-store stock levels so that, having found an item they want online, shoppers can see if they can buy it at their local store.
Not every small business will be able to match the instant up to date store data that retailers like Argos can draw on, but even providing a simple phone number and prompting users to check can help.
In summary
The key here for retailers is to realise that their channels do not exist in isolation and that this is not how customers see them and their brand.
They expect consistency of product, service, information, and branding whether they land on a website or head into a local store.
Having a presence across channels should be a benefit for retailers. Fundamentally, it's about providing both choice and convenience for customers.
Consistency across channels helps to build the brand, it enables customers to find up to date information, and it allows each channel to work to enhance the performance of the other.