Humans love visuals. Our brains crave them and we process them an incredible 60,000 times faster than we do text.
Perhaps this is why the photo sharing social networking site Instagram now has one billion monthly active users who share more than 100 million photos and videos every single day.
As well as processing images faster, we also respond to them in ways which make marketing tools such as infographics astonishingly effective.
Why use infographics?
Infographics are visual representations of information or data. This is just as well because we remember 80% of what we see compared to just 20% of what we read.
An infographic is 30 times more likely to be read compared to a standard text article.
Publishers who feature infographics on their website grow traffic 12% faster than those who don't.
Creating an infographic is one thing but don't forget that in order to get the results you want, you need to promote it effectively.
The importance of promoting your infographic
Many businesses go to a lot of effort when creating infographics but then make the mistake of thinking that simply posting them on their website is enough. It's highly unlikely that people visit your site on a daily basis in the hope that you've uploaded new content so the only way people are going to know about it is if you promote it.
My top three reasons for promoting infographics include:
1. Increases visibility
Whether you're posting it on your social media pages or you've mentioned it in your monthly newsletter, the more you talk about new content, the more visibility it will get. It's also a great way to fill your social media pages with interesting and engaging content.  
2. Improves brand awareness
Your infographic should have your logo on it which means that the more people who see it, the more exposure you're getting for your brand. Because people tend to engage better with visuals, it also means they're more likely to share your content.
3. Boosts SEO
Infographics are brilliant for boosting SEO. By posting links to it on your social media pages or email campaigns, you're driving traffic to your website. What's more, because they're so visual, you're likely to engage people for longer which means they'll stay on your site.  
How to promote your infographic
As Donna Moritz from Socially Sorted says:
"The success of content doesn't stop simply at the creation of the content in the first place. You need to promote it and give it legs."
Now you've produced an infographic, how do you ensure it gets seen by the right people?
Post it on your website
The first thing you need to do is publish your infographic on your website. You can either create a landing page for this or simply add it as a new blog post.
In order to improve the success of your infographic, don't forget to add the following elements:
Have a call-to-action at the bottom. Whether you want someone to pick up the phone, visit a webpage, sign up to a free trial or register for something, make this clear. Also make it as easy as possible for people to do so. Whatever you want them to do, they should be able to do in one click.
Ensure the content is great. Your infographic may be visually appealing but if it doesn't offer any new insights, it will be quickly dismissed and may even hurt your credibility.
Include social sharing buttons. This makes it very easy for your audience to share your content with their friends and followers.
Social Media
The good news is that images get 53% more engagement than any other type of post on social media. The bad news is that infographics are difficult to share because of their long design.
You can simply post a link to your infographic as shown in the example below. Mentioning that it's an infographic in your description and accompanying it with an image should help to pique people's attention and increase your click-through rate.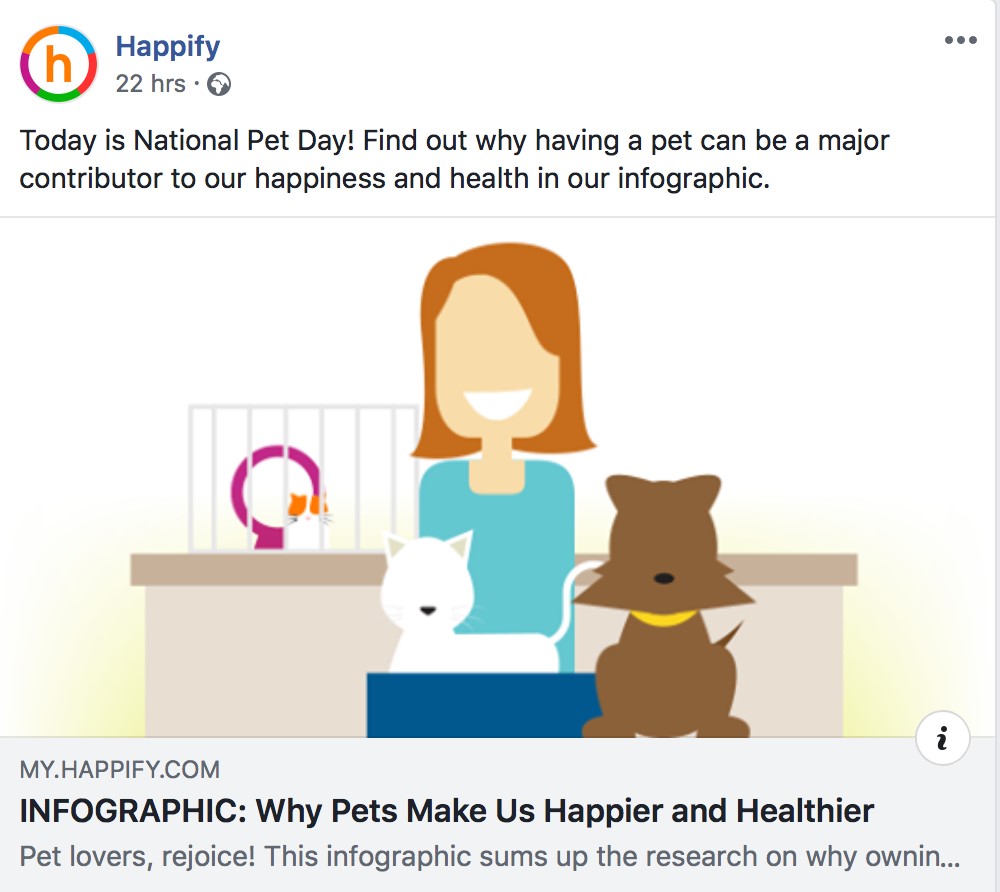 Alternatively, a great tip is to screenshot the most compelling part of your infographic and upload that as an image. You can then direct people to your website where they can see the whole thing (which they should want to do if you've only provided them with a taster of the great information they'll find).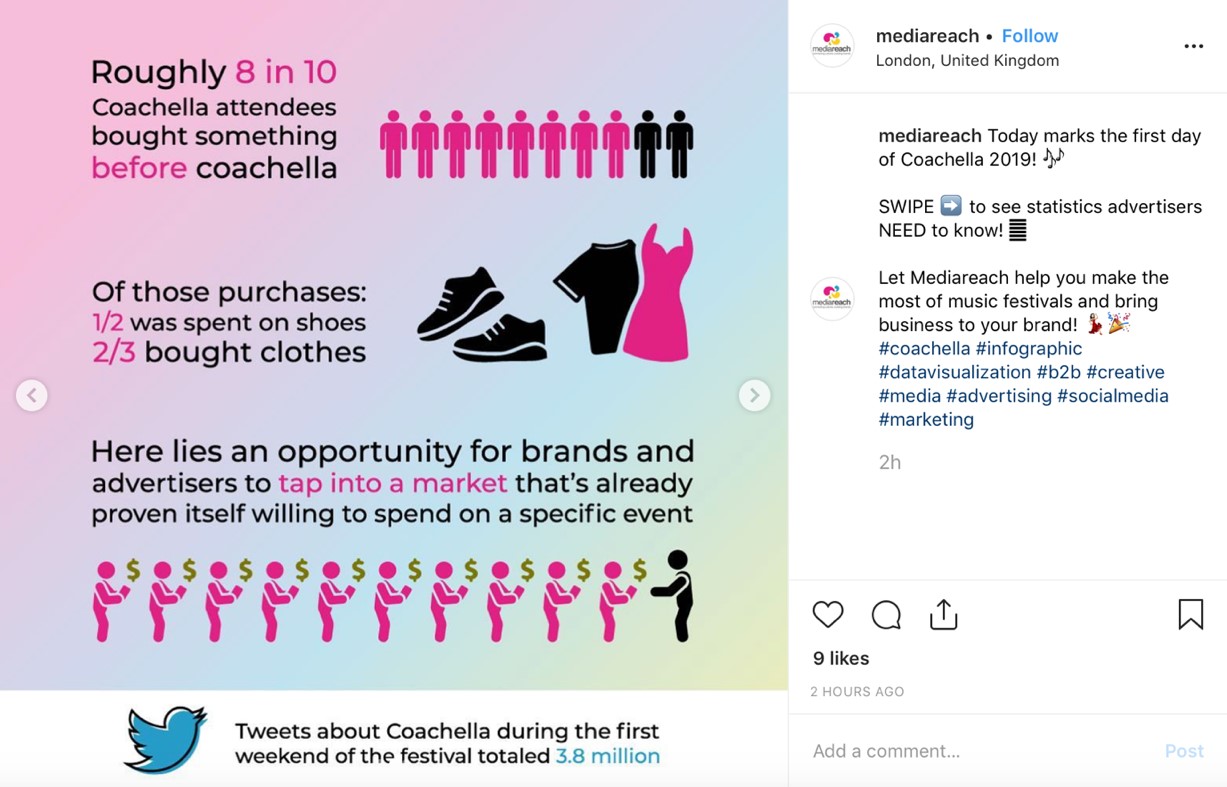 Encourage your employees to share your content on their social media pages as well. While you can't expect them to do this from their personal profiles, they may be happy to share work-related content from their LinkedIn page as it's a professional network.
A link to your website, blog page or latest post in their email signature is another great way to spread the word about your infographic.
Send an email
Emails are a great way to communicate directly with your audience and let them know you've just published some great new content. Businesses often feel that emailing has had its day but studies show that it's still 53% more engagement than social media when it comes to converting new customers.
You can either put the entire infographic in your email or just a snippet and then direct people to your website. There are pros and cons of each. If you put the whole infographic in the email, people have no reason to go to your website. If you put a link to your infographic however, you risk them not clicking on the link and then not seeing it at all.
When deciding which option to choose, go back and look through the stats from your previous email campaigns. If your click-through rates are generally quite low, it's probably a good idea to put the entire image in the email. If your readers tend to click through to your website however, you can probably pull off giving them a little teaser and then directing them to your site.
As well as emailing your subscriber list, you can also offer your infographic to relevant blogs, websites or companies who could benefit from your information. Companies are often desperate for new content so you should get a good response rate.
Make embedding easy
If you create a fantastic infographic, you can guarantee others will want to use it for themselves. This is great news for you because with your logo and website URL on the image, this really helps to get your brand seen by audiences who may not have heard of you before.
Even if you're far from tech-savvy, it's easy to let people use your image. Simply create an HTML embed code and place it directly underneath your infographic. This will allow people to copy it very easily onto their website or blog while ensuring that it still links back to your site.
Providing an embed code for other people to use can also improve your SEO ranking and increase the number of times your image appears in searches like Google Images.
Submit it to a directory
There are a number of excellent directories, blogs and archive sites devoted to infographics. Submitting your creation to one, a few or even all of them can really help you to extend your audience reach.
Some great places to submit your infographics include:
Send it as direct mail
Companies are often so busy trying to promote themselves online that they forget there are other ways to market themselves. This doesn't make offline marketing any less effective however.
It may be hard to believe but direct mail still pulls a higher response rate than any digital marketing medium. Its response rate is in fact about five to nine times higher than that of email, paid search, or social media. 
It's also worth bearing in mind that not everybody is online. Depending on the nature of your business, it can actually be beneficial to focus your efforts offline. If you're in a rural area where Internet connectivity is an issue for example, you could enjoy great success by reaching out to your customers via direct mail.
If your audience is typically much older, they may also appreciate being contacted via post. With so much emphasis being placed on emailing and social media, these days it can actually be easier to stand out when you contact someone via post rather than trying to compete with a very cluttered inbox.
If you're simply posting communications through letter boxes, another benefit is that you don't have to worry about whether or not you've acquired people's permission to contact them. This is a tactic that's often successful for companies that offer services like cleaning, gardening, window cleaning, and food delivery.
Even more incredibly, despite our somewhat addictive tendencies towards the Internet, research shows that as consumers, we still trust the old-fashioned methods of marketing the most.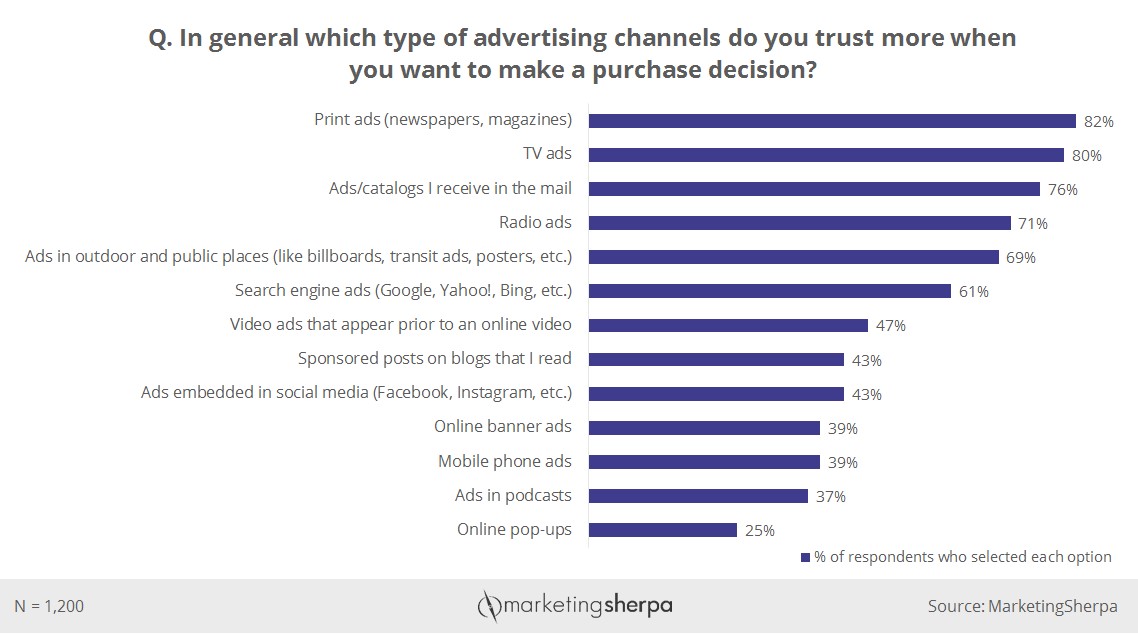 Another great thing about direct mail is that it can also help to boost your online efforts. Approximately 64% of people say they've visited a website as a direct result of a communication they received in the post.
Ensure you're giving the online (and offline) community every possible opportunity to find and share your infographic. This is a surefire way to guarantee that your creation will be a resounding success, you improve brand awareness and boost your SEO efforts.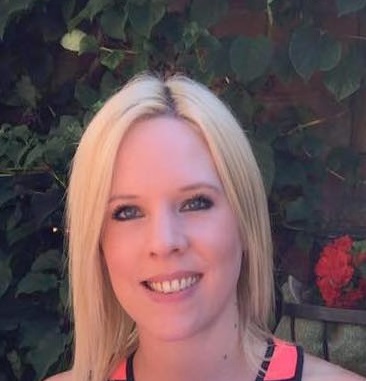 After completing her degree in Journalism, Monique began her career at a digital marketing agency. It was here she discovered a passion for online marketing with a particular focus on content creation for the web. Six years ago Monique set up her own copywriting business, Copyworks Group, which specialises in creating content for websites, blogs, newsletters and social media pages.
Read full profile