Marketers spend a lot of time thinking about ROI. To make a profit, it's crucial to know which tools, channels, strategies are most cost-effective and where savings can be made.
But, calculating any kind of ROI is easier said than done, especially when it comes to social media. Given the many and varied benefits social media brings – from awareness-raising of your brand, through to expanding your following – some things cannot be quantified financially.
But, there are also ways in which paid social can be quantified, and so these tips will help you to find those, and discover ways in which you can tweak your ad campaigns to improve your ROI accordingly.  
Determine your paid social media goals
Before you calculate your paid social ROI, you need to consider what you want your ads to achieve. After all, if you don't know why you're doing something, it's impossible to know its value.  
You may want your paid social campaigns to directly increase your revenue, or you may be looking at building your audience and driving more traffic to your site.  
Once you know these goals then you'll be better able to determine how well they perform and then begin improving on their ROI.
List out all your paid social media
You may be using just one or several paid social media platforms, and so it's worth listing them out and determining what you're aiming for with each platform:
Twitter
Twitter promotions can help you to increase the reach of your tweets and your account in general. You can promote your business so that they are most easily found, pin tweets so their reach is wider, and promote trending hashtags across the whole of Twitter.
Ad type: Promoted tweets, promoted accounts, promoted trends (hashtags)
Facebook
Probably the most robust social marketing platform, Facebook ads allow you to target your advertising campaigns to your desired audience.
Ad type: Photos ads, video ads, carousel ads, slideshow ads, canvas ads, collection ads.
Instagram
Heavily linked to Facebook (Instagram is owned by them), paid-for Instagram means that your Insta posts are boosted natively, but powered by Facebook.
Ad type: Photo ads, video ads, carousel ads, stories ads.
LinkedIn
LinkedIn is primarily a B2B professional platform which allows you to pay for text ads and sponsored content to promote events, job openings and B2B products.
Ad type: Text ads, sponsored InMail, sponsored content
Working out your paid social ROI
Getting a grip on your marketing ROI is notoriously difficult. Econsultancy has recently published an article which explores how ROI depends on who's asking for it, and indeed whether it's possible to calculate at all. After all, how can you measure growing your brand awareness and building your audience?
Taking the simple equation of cash input vs end revenue, then the equation would look like this: 
(Profit ÷ total investment) x 100 = paid social ROI
However, because you can't quantify all the benefits of your paid social so simplistically, you'll need to think carefully about your objectives, and then use that a basis from which to measure its success.
Define your objectives and KPIs
For each objective look at the key performance indicators (KPIs) you'll use to measure success. For example, your KPIs for Facebook ads might look something like this:

Make sure Google Analytics is set up properly
The easiest way to get a good understanding of your ROI is to set up Google Analytics so that it calculates it for you.
The first part of this is to tag all your paid social ads using UTM parameters. This allows analytics to differentiate your ads from one another and set them apart from organic social activity. Don't forget to add values to your tags so that you can track their monetary return. For more on setting up UTM parameters, check out our earlier article.
The second part of this is to upload your cost data to the Data Import tool in Google Analytics. This will help Analytics to determine the ROI of the paid ad. When you do this, make sure to tell Google Analytics which costs to associate with which ad so that it can then bring the two together. For a step-by-step guide to doing this, Three Ventures have a comprehensive guide here.
So, to sum up:
Tag your paid ads with UTM parameters
Upload a cost spreadsheet to Data Import
Use tag values to bring together pre-existing data with the cost data you're uploading
Use your cost and the tragic from your tagged social campaign to determine your ROI
Or, track your ROI manually:
If you feel you'd like to get a rounder idea of your return from paid social, you can look at your KPIs and determine the metrics you need to measure them.
The most obvious metric for determining your investment is cost-per-click, although you might want to consider including people hours (time spent by staff on producing and running the campaigns).
When looking at profit, however, there are many ways – both qualitative and quantitative – in which you can measure success.
Total investment:
The cost per click will be different for each social media channel, but because the pricing is determined by auctions and targeting options, will also vary depending on time of year, day of week, size of your target audience and many other variables. Usually you put forward a budget from which you run your campaign, and you can tweak this budget once you've seen how your ad performs.
But a rough guide to median cost per click, according to Falcon.io, is as follows:
Facebook: $0.51
Twitter: $0.53
Instagram: $1.28
LinkedIn: $5.61
This isn't a necessary component of your ROI but knowing how much time is spent on your paid media might help you to look at ways of streamlining the process.
Profit:
The easiest metric to use to calculate your ROI is your conversion rate. It not only demonstrates how many people clicked onto your ad, but then went on to make an action as a direct result.
However, your conversion rate can mean anything from completing a registration, through to making a purchase. It's for you to define what these goals are.
To work out the conversion rate of your ad, you can use Google Analytics to set up your "goals", which in this case would be the purchase of the product. When you set up your goal, you can also input the monetary value of the sale which will help you to calculate your ROI. For more on setting up goals in Google Analytics, read this earlier article.
Your conversion rate is then calculated by: (number of conversions ÷ total visitors) x 100
A more nebulous metric for measuring your return is your engagement rates. These cannot be quantified in as specifically monetary terms as conversion rates, but can still help you look at how much your ad is being liked and shared relative to how much you've invested in it.
Your engagement metrics, such as numbers of likes and shares, can be analysed through your social media  (such as Facebook Ads Manager) or social management software (such as Hootsuite).
The CTR is the number of people who click onto your social ad through to your site, giving you a good idea of how much traffic you're achieving from your campaign. It will help you to understand how successful your ad itself – the choice of words, the image, the call-to-action – all were in engaging people enough for them to click on it.
To measure your CTR, head to Google Analytics, and checking in to "Acquisition – All Traffic -Source/Medium"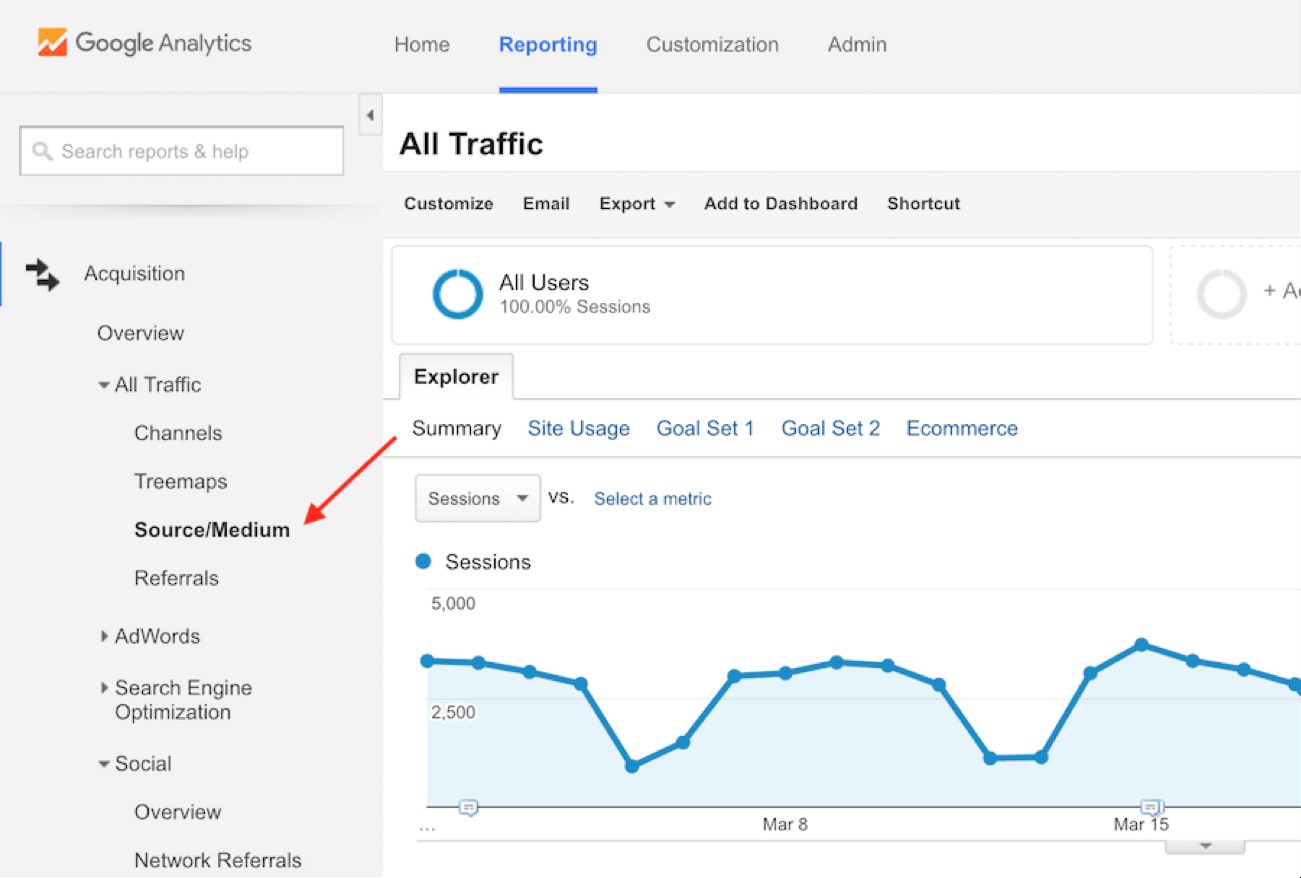 Source: Unbounce
And you'll find your social ad, looking a bit like this: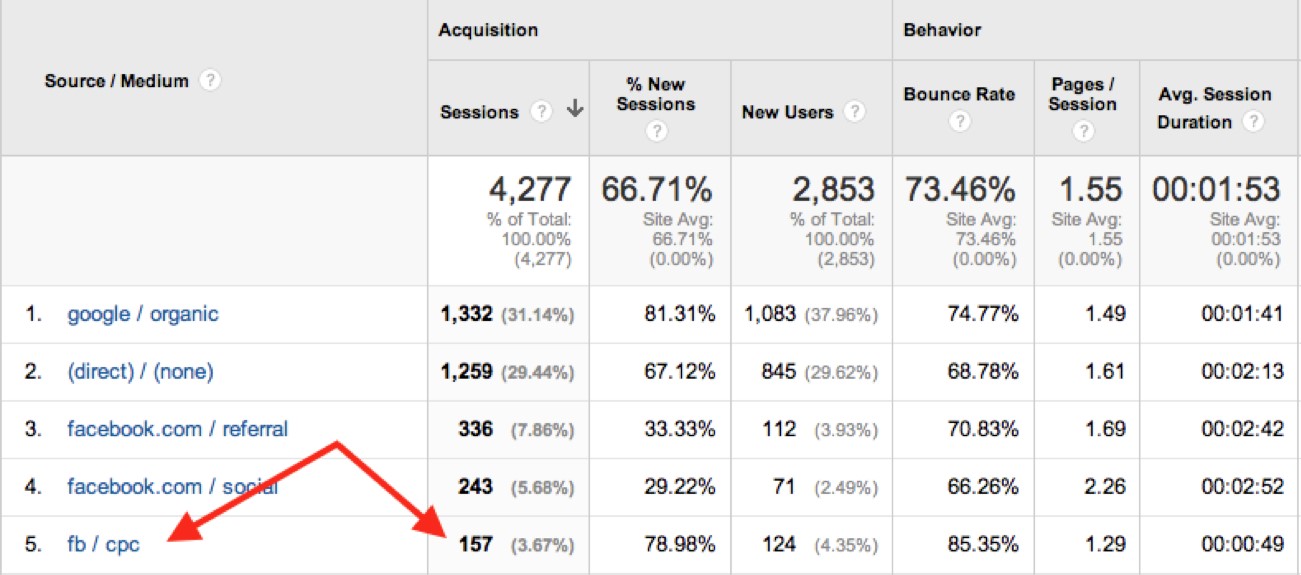 Source: Unbounce
Once you have your baseline ROI, it's worth having a goal ROI to aim for. For example, you'll need to look at your current conversion rate and work out how many more visitors you'll need to reach your sales/revenue target.
Improving your ROI
Once you know your baseline ROI, you can start making tweaks to help improve it. From choosing the right platform through to making the necessary tweaks to the ads themselves, these tips will give you a starting point:
Get your social platform right
Having looked at the ROI of each of your social platforms – you may just be using Facebook, you may be using two or three – you will get an idea of the relative costs and opportunities. But where Facebook is great for B2C businesses, LinkedIn might be better if you're trying to reach potential partners and investors.
Similarly, make sure your chosen platform aligns with your objectives. If you're looking for direct conversions, then Facebook and Instagram are perfect; whereas Twitter might be better for building up engagement.
Refine your targeting
Using your personas, you can really make the most of paid social's help in targeting your ads to speak to your audience. LinkedIn is great at allowing you to dig down and find your audience, but most social platforms have features that allow you to fine-tune your targeting.
Making the most of these will help you to get your ads seen and turn scrolls into clicks and conversions.
Reduce the costs of your clicks
Capping your campaign budgets can help you shave off some investment without damaging your campaigns, although this requires careful monitoring:
Facebook: Cap your bids if you're getting a negative ROI. Facebook will try to find cheaper clicks and impressions whilst enabling you to still run your ad.
Twitter: Rather than opting for automatic bidding, manually input your budget, starting low and gradually raising it depending on your ROI.
Instagram: Setting a lifetime rather than a daily budget will let Instagram find the cheapest time of day/day of week to display your ad, hopefully getting you a better return.
LinkedIn: Use "Matched Audiences", which allows you to target warm audiences – those who've visited your website, who are in your contact list, or work for a company you know. This raises the CTR and improves your ROI.
Tweak and test your ads and landing pages
Now's the time to start playing around with your headings, ad copy, colour schemes and images. What works for one platform, might not work on another. And what speaks to one set of audiences might be overlooked by another.
For example, Facebook and Instagram ads are heavily dependent on bold engaging images, whereas strong headlines may be more important on LinkedIn.
The bottom line is to A/B test different variables to see which works best for your platform and your audience. Be sure to tweak and test your:
headings
CTAs
ad copy
landing page
Track campaigns closely
As you begin tweaking your paid social, it's worth checking in regularly at first to see if you're seeing an increase in your ROI. Monthly reporting on your ROI is a good habit to get into, and if you've already set up goals in your analytics, then this process should be relatively painless.
In summary
Determining the ROI of your marketing activity is fundamental to reaching your business goals. It helps you determine what campaigns are successful and identify what's simply not working.
But determining the ROI of your paid social media is a complicated process, given how many intangible outcomes an ad campaign can produce. But there are also elements of your paid social you can, with some degree of accuracy, use to calculate your ROI.
Using your baseline ROI you can then begin to make relevant changes to your paid social campaigns to help both reduce the cost per click, but also see more successful outcomes by way of click-throughs, engagement and, ultimately, revenue.