It's the scenario every business owner dreads: an unhappy customer has taken to social media to vent their frustrations at a perceived grievance. While it might feel like a PR disaster that makes you want to switch off all your social media channels, all is not lost. There's a right way and a wrong way to respond in this situation, and if you go about it the right way, you can diminish if not reverse its effects. In this post, we'll look at what you can learn from big brands about how to craft an effective response to a bad review.
Keep calm
It's normal to feel emotional in the face of a bad review – particularly if you're a small business and you put your heart and soul into trying to provide a great experience for your customers. It's only natural to take criticism to heart, as it can feel very personal. The temptation can be to reply immediately in your own defence, but we'd caution against a knee-jerk reaction. A calm, measured response is what's needed – and this is difficult to achieve when your emotions are running high.
Take a little time out and perhaps initially type your response offline, in a Word document, so that you can edit it without the risk of accidentally publishing it before you're completely happy with it. If possible, ask someone else to read it over for you just to make sure you haven't missed out anything important. Don't leave it too long, however; research by ReviewTrackers shows that more than half of customers who complain on social media expect a response within seven days, and the general consensus among experts is that it's advisable to address customers' concerns speedily.
Respond publicly – with some personality
A well-worded response from the business owner or management team can go a long way towards mitigating the effects of a bad review, so it's a good idea to make your response public so that everyone has the chance to see your side of the story. Responding to a customer's concerns also makes them feel valued; research by PhoCusWright found that "78% of respondents agreed that seeing management respond to reviews made them believe that they care more about them."
Although every complaint should be addressed individually, you can use a rough template to help you draft your response. Start by saying that you appreciate the feedback, as it helps you to keep improving the experience you offer to your customers. Next, address the issue that they've complained about, offering an explanation if you have one. If this bad review has arisen as a result of a genuine mistake on your part, there's no point trying to deny it; it's better to own up, admit you were in the wrong and show that you're taking steps to ensure it won't happen again. This should help reassure other potential customers. End on a positive and hopeful note, as in this TripAdvisor review response by the manager of a New York hotel: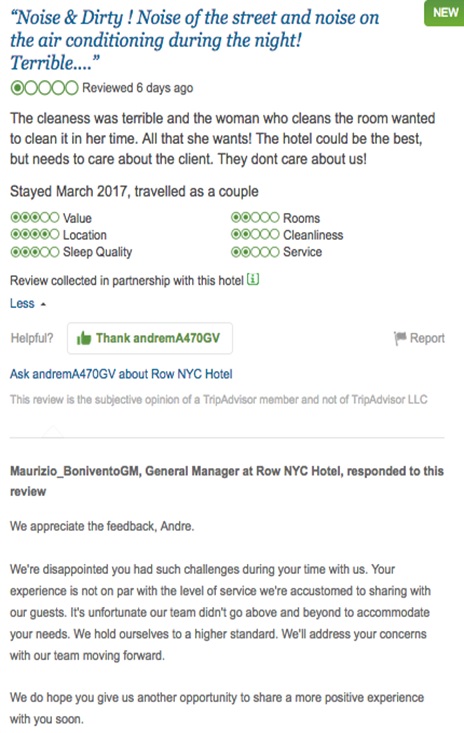 Don't feel that you have to adopt a corporate tone of voice when responding to reviews; indeed, this could actually make the customer feel even more aggravated, as they will soon recognise a stock answer and feel they aren't being taken seriously. People respond better to being spoken to by a fellow human being. We like the friendly yet professional tone taken by Pizza Express in response to complaints. The following response has all the hallmarks of a great response to a bad review, empathising with the customer and offering a way forward to resolve the issue: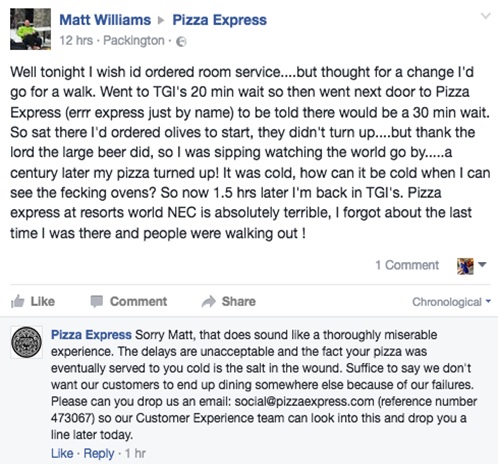 Sometimes, a complaint may not have any basis in fact, and when this happens it's important to keep the tone friendly, politely refuting the claim and avoiding being defensive. Here's a great example from Icelandair, who've managed this within the confines of Twitter's 140 character limit: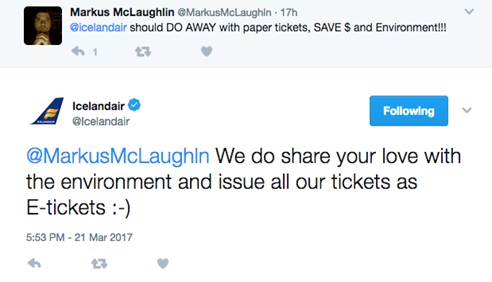 The smiley face on the end of this tweet is another friendly touch that shows the brand's human side.
Offer them something
If someone is genuinely aggrieved – perhaps because they'd had a disappointing experience for a special occasion – then you can try to sweeten them up by offering them something as a gesture of goodwill. As a restaurant owner, for instance, you might want to invite them back for a meal on the house. If the customer has received a faulty product they'd ordered online, you could offer to send out a replacement with next day delivery at no extra charge. It could be that a simple refund is all that's needed to calm the situation. In this example from Waitrose, the supermarket has turned the complaint around by offering a refund via private message following its public apology.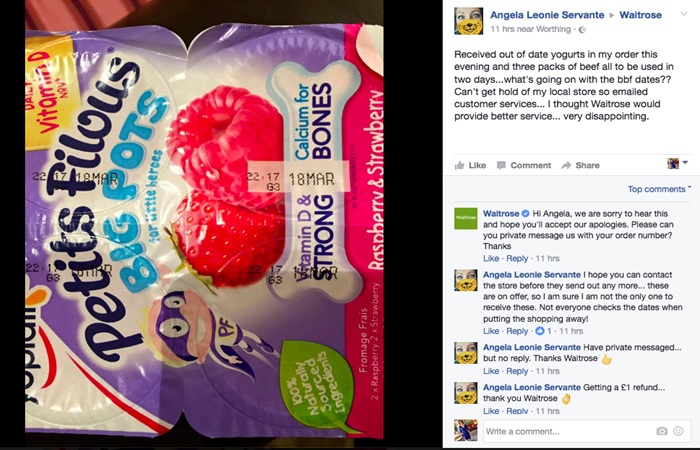 To make the best of the situation, accompany your offer with a positive sentiment along the lines of, "We'd love it if you'd give us another chance" or, "We'd love to make it up to you".
You'll need to approach this carefully, or you may find that you're inadvertently providing an incentive for others to leave bad reviews. To avoid publicly specifying the compensation you're going to offer, you could end your public response by saying, "We'd love to make it up to you – we'll send you a private message with more details." Alternatively, as Subway does, you can link to a feedback form that the customer can fill in so that you can gather more facts about what's happened, as well as confidentially securing their contact details. JotForm and SurveyMonkey are handy tools for collecting feedback.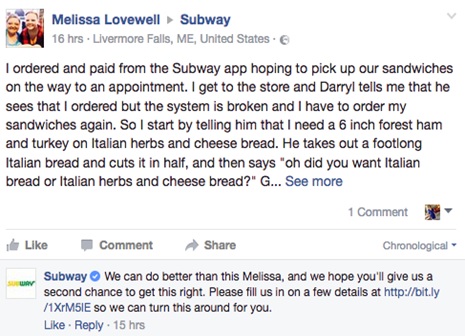 Sometimes, complaints arise simply because someone didn't like a product. This may not be your fault – personal taste is highly subjective – but treating the reviewer's concerns as legitimate is still important. In this example from Marks and Spencer, the reviewer didn't like the taste of the product, but the supermarket goes above and beyond the call of duty to turn the situation around.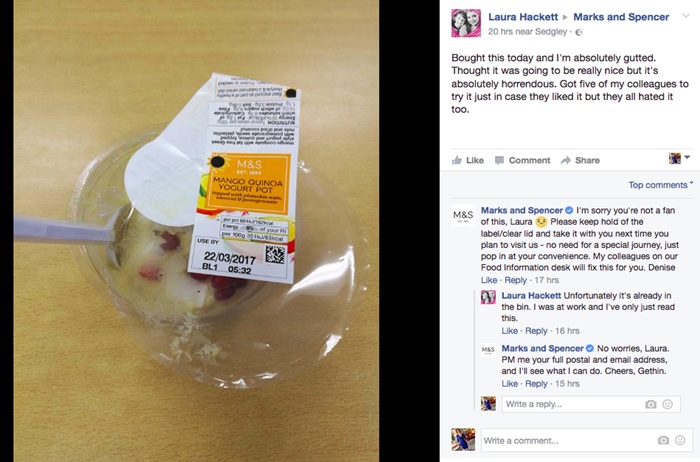 As you can see, they've responded in a friendly tone, making life easy for the customer ("no need for a special journey, just pop in at your convenience") and then requested the customer's address, presumably so that they can send them a voucher. Don't forget that if you ask for a customer's contact details, you should request that they send them to you in a private message so that they're not sharing personal information publicly.
Learn from it
A bad review can be turned into a valuable learning experience – and one that should hopefully prevent further negative comments. Perhaps a customer has highlighted a particular issue that you could easily rectify through a change of process, or a new piece of equipment. Even if you don't tell them exactly what you plan to do, you could still mention to the customer that you've taken their feedback on board and taken steps to ensure that it doesn't happen again. Here's Icelandair once again showing how it's done: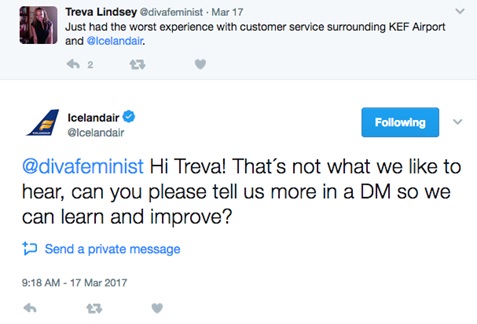 Of course, anybody who works in a public-facing role knows that there are people who seem to look for things to complain about. You can't please everybody, and if a customer has been overly picky, or is determined to find fault, then there may not be much you can do about it. But if you respond in the right way to negative comments, you should find that you can turn an unhappy customer into one who wants to come back to you again.
Want more? Check out our guide on how to become self employed.