If you've decided it's time to add Facebook to your social media strategy and start reaping the benefits of being on the platform, this article is for you.
Setting up a Facebook page takes minutes to do, and you can do it from your smartphone or tablet if you want to. Even better, it's free! Follow the steps in this article and you'll have your new page up and running in no time.
Is Facebook right for your business?
If you're going to go to the trouble of setting up a Facebook page for your business, you need to know that it's going to have a positive impact on your bottom line. 
If you're not a big user of Facebook yourself, you might be wondering whether setting up and maintaining a page for your business is worth the effort. Here's a quick look at some of the pros and cons of setting up a Facebook business page:
Pros:
Allows you to engage directly with your customers: it's the social media platform with the most community focus, making it the perfect place for back and forth communication
Helps drive traffic to your website: by making it easy for you to share pages on your site, such as blog posts and product pages
Helps you reach new audiences: through social sharing and highly targeted advertising
Learn about your target audience: you can use your Facebook page to help you learn more about your customers, gaining a deeper understanding that will aid your wider marketing strategy
Cons:
Doesn't suit all industries: Facebook doesn't work so well for niche and very technical businesses, as people mainly use it for leisure
Needs investment: it takes time and effort to build a following, and then to keep engaging with the community you've built
Potential costs: such as training staff to run your Facebook page and for investing in advertising
Requires a good level of responsiveness:

 

customers sometimes use Facebook to contact a business when they're unhappy with it. You'll need to be prepared to deal with bad feedback as well as good
It might be that Facebook is exactly what your business needs to connect you with new audiences, but it could be that another social network would be better for you. Before you go any further, have a read of this article on Which social network is right for my startup? for some pointers on what the different networks have to offer.
Business pages versus personal pages
Having established that Facebook is right for your business, let's start by clarifying what we mean when we talk about 'Facebook pages'.
As a personal user of Facebook, you have your own Facebook profile page connected with those of your friends. Your page may be visible to people who aren't your friends, but this depends on your privacy settings, which can be set to public, friends only, or customised to include or exclude specific people on your friends list.
People who aren't your friends can 'follow' you if you have this setting enabled, meaning that your content will appear in their news feed, but they'll only see content that you share publicly.
A business page works slightly differently. Everything you post is public, and viewable by anyone, whether they're logged into a personal Facebook account or not.
People 'like' the page rather than become 'friends' with it, and those who've liked your page will see your posts in their news feeds. Like a personal page, you can allow people who follow you to post on your page, comment on your posts, and send you private messages.
If you've already created a personal Facebook profile for your business, you can quickly and easily convert it to a business page to get the benefits of using Facebook for business. Simply click the 'Get Started' button and follow the instructions.
What you'll need before you start
To make your Facebook page set-up as quick and easy as possible, it will help to have a few things ready before you begin.
Business basics
The name of your page is what people will use to find your business on Facebook, so ideally this should be the same as your business name.
If you have a common business name, or you're a franchise, it might help to add something to your name to clarify who you are, so that people know they've come to the right place. For example, if your business was named Smith and Sons, your Facebook page name could be "Smith and Sons Construction" or "Smith and Sons Brighton".
You'll also need a short paragraph of information about your business: what you offer, where you're based, and so on.
You'll be able to edit all this information whenever you like after your page goes live, but it's worth taking some time to get it right from the start so that your page looks polished and professional when you launch it.
You'll also be able to add information such as your opening hours, contact details, and a map of your location.
Profile and cover photos
You'll need to choose profile and cover photos that present a good impression of your business, and ideally match the branding on your website. 
Your profile photo should ideally be your logo, while your cover photo is a 'widescreen' image that goes across the top of your Facebook page. You could use it to show your products, or perhaps your premises if you're a shop, restaurant or local attraction.
Let's take Waterstones as a good example, they've used their recognised logo as their profile picture, a very relevant cover photo showing their products and store layout and an appropriate CTA button of 'shop now'. 

You may already have a suitable photo that you've used in a marketing campaign previously, or there may be one on your website that you could use. 
To ensure fast loading times and optimum image quality, bear in mind that your photos will display at the following dimensions:
Profile picture: 170 x 170 pixels on computers and 128 x 128 on smartphones; it will be cropped from a square to a circle
Cover photo: 820 pixels wide x 312 tall on computers and 640 x 360 on smartphones; your photo should be at least 400 x 150 to upload
You'll find more information on the ideal sizes and file types for your images on Facebook's help centre.
Call-to-action
What do you want people to do when they visit your Facebook page? You can set a call-to-action to encourage them to visit your website, call you, get your app or even donate.
Deciding on the best call-to-action means thinking carefully about what you want to achieve from your Facebook page, so having a social media strategy in place will help. You can, of course, change your call-to-action at any point.
How to set up a Facebook Business page 
Now that you've got together all the information and photos you need, it's time to get your new Facebook page up and running. It's a straightforward process, so it shouldn't take you long to follow the steps below.
1. Get started: open Facebook on your computer, log into your personal account and click on 'Create' at the top of the page, next to where your friend requests are. A drop-down menu will appear; select 'Page'. Under 'Business or Brand', click the 'Get Started' button.
2. Page name and category: you'll now be asked for your Page name – this will be the name of your business – along with the category into which your business falls. In the category box, simply type a word or two that describes your business and you'll be presented with some options to choose from. For example, typing 'Restaurant' will give you lots of different restaurant types and you can choose the closest fit to yours.
3. Complete address: having chosen a category, you'll then get an address box for you to fill in your business address. Don't worry – you can choose whether or not to display your full address or opt for just your town and region to be shown. If you don't mind customers phoning you, you can also include your phone number.
4. Upload your images: next, you'll be asked to upload the profile and cover photos you prepared earlier. If you don't yet have these ready, you can skip this section. See how they look 'in situ' and adjust them as necessary, as you might find that an important part of your cover photo is overlaid by your business name or profile photo.
5. Complete your page info: your new page is up and running! Before you go any further, it's worth clicking "Edit Page Info" at the top and filling in as much information as you can about your business. At the very least, you'll want to add a short paragraph of information on what you do, and provide your contact details. If you have a website, link to it in the designated box rather than including it into the page description, as this will ensure it's a clickable link.
6. Configure your settings: work your way through the Settings tab to configure your page settings, such as who can find and post on your page, whether people can share your posts and tag your photos, and so on. Here, you can enable messaging so that you can use your Facebook business page as another way for people to contact you with customer service enquiries. You can enable a profanity filter, and filter out comments that contain certain words. You can also make other people 'admins' of the page so that you can share posting duties with your colleagues or staff.
7. Set your notifications: click on the 'Notifications' tab on the left-hand bar of the Settings section to choose which actions you'd like to be notified about. Enabling notifications will help you respond quickly to customers and prospective customers, but you can also choose to have a summary notification every 12-24 hours if you're worried about being bombarded.
What happens next?
Setting up your Facebook page is only the beginning. Let's look at some of the activities you'll need to make time for now that you have a Facebook Business page.
Writing posts
First and foremost, you'll need to post regularly to keep people engaging with your business, so you might want to start planning your first few posts to get the ball rolling. To give you some initial ideas, some of the things you could post include:
Images or videos related to your business that readers might find interesting or amusing
New blog posts that you've published on your website – this is a great way to promote new content and get people onto your website
Questions and polls to get followers interacting with your posts; see this post on social media polls for inspiration
Company news, such as new product launches
News stories that you've spotted that relate to your industry – what do you think of the story, and what do your followers think?
If you're serious about using Facebook to boost your business, try experimenting with the kind of posts you write and the times of day you publish them. Slowly, you'll begin to see what works for your particular audience by looking at which posts get more likes, comments or shares. Once you've worked out what they seem most interested in, you can make sure your posts are tailored to them.
Ask questions to encourage people to comment with their replies, as Iceland's Blue Lagoon does in the below post, in which they've shared a third-party blog post (be sure to share your own posts as well!). The more comments you get, the more your page is likely to be seen by friends of those who already like your page.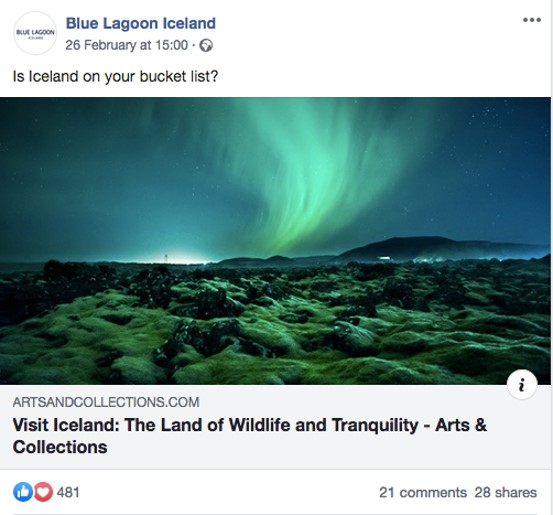 It's a good idea to keep sales-based posts to a minimum; the occasional product plug is fine, but these should be mixed with plenty of non-sales posts to avoid driving away people who are already fed up with being bombarded by adverts wherever they go online.
It's also important to be yourself. Keep your tone of voice consistent with your brand identity, so that someone reading your website and Facebook page would know you're the same brand. And keep it relevant: post things that have a link with your business, like this dog meme posted by the dog-walking company that's talked about in this article on engaging with your social media followers.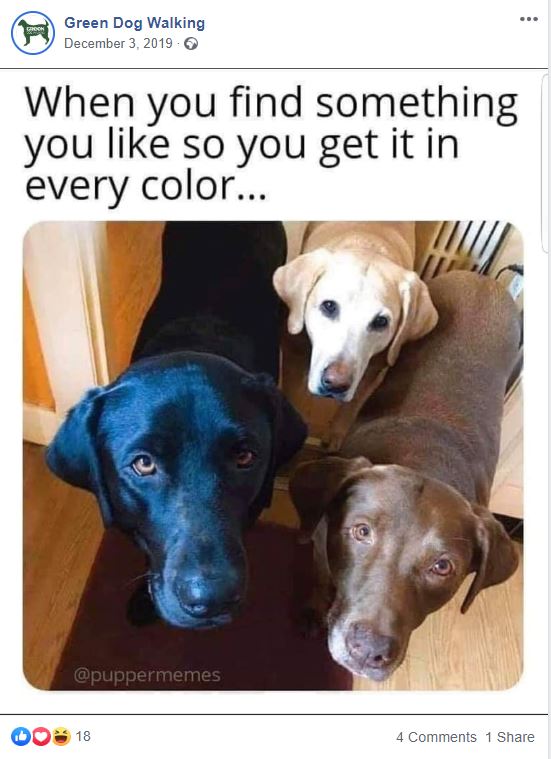 Build your following
You'll want to start building up the number of people who 'like' your page, otherwise you'll effectively be shouting into an empty room. Here's how you can start building your following: 
Share your new page with your customers, family and friends to get your first few likes
If you're on any other social networks, let your existing followers know that they can now also follow you on Facebook
Add a Facebook icon to your website and a line in your email signatures to encourage website visitors to follow you on Facebook
Run a competition – why not give away one of your products, asking people to like your page and share your post for a chance to win?
Like other Facebook pages that have a link with yours, and comment on their posts using your business page if you spot topics that are relevant to your business and you have something to say
Where relevant, ask people to tag themselves or friends in your photos – for example if you've run an industry event – so that their friends see your business as well
You could consider paying for some Facebook advertising to encourage new likes of your page and speed up growth. You can finely target these to people who like competitors' pages, people who live near your business and many more demographic filters.
This article on how to grow your social media followers to strengthen your brand gives you lots more useful pointers, and you can also learn how to get more people to view your Facebook posts here.
Managing your updates
Keeping your Facebook page updated regularly doesn't have to be time-consuming, even if you're trying to keep on top of multiple social networks.
Using a content calendar will help you get organised about posting on a regular basis, while plenty of platforms allow you to schedule posts so that they're posted automatically – great if you want to get a post out in the evening without interrupting your home life.
These tools help you manage your Facebook page more easily, particularly in conjunction with other social media accounts; some of the most popular are:
For more detail on one of the top social media management tools, take a look at this beginners' guide to managing social media using Hootsuite. Don't forget to keep an eye on the comments people are making on your posts, too; it's good practice to reply to all of them, as this shows you're engaging with your audience and means it's not just a one-way conversation.
Managing your reputation
As your Facebook page gets established, you'll need to learn how to manage your reputation on social media so that you'll know how to respond in the unlikely event of problems such as customer complaints. It's also good to see the nice things people are saying about you, and making sure more people see them by responding to and sharing good feedback.
If you've enabled reviews and recommendations on your Facebook page, have a read of this advice on how to respond to a bad review just in case.
Monitoring
Using Facebook Insights, you can monitor the performance of your page to find out information about your audience, see which posts work best and keep track of how many people like your page.
This will help you work towards improving engagement with your page, which in turn should help drive traffic to your website and generate business. Understanding how your website and social media can work together will help you make the most of your social media presence.
And finally…
As with any social media platform, you'll get more out of Facebook the more you put into it. The clue's in the name – social media! Spend time interacting with the people who like and comment on your page and you'll have the beginnings of a loyal following.
And remember, be authentic: consumer trust in brands is at an all-time low, and showing your human side – as Yorkshire Tea did over on Twitter recently, to viral acclaim – is no bad thing.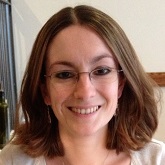 Rachel Ramsay is a freelance copywriter with a background in digital marketing. She's written copy for clients ranging from the United Nations World Food Programme to The North Face, and particularly enjoys working with lifestyle and travel brands. In her spare time, she volunteers for Guide Dogs and flies light aircraft and helicopters.
Read full profile