Every successful small business has a defined vision and set of actionable goals. But that doesn't always translate into its digital marketing. In fact, according to Smart Insights, a massive 49% of organisations don't have a digital marketing strategy, let alone goals for their website.
But, having an online presence is meaningless if you haven't decided how you want it to support your broader business vision and this starts with setting actionable, realistic, and measurable goals.
We've brought together a step-by-step process to help you to think about which goals you'd like your website to strive for and how to track their progress.
Define what success looks like
Every business is different, and likewise, each business has its own vision. The best marketers out there understand that their online goals should be aligned with their overall vision for the business.
You might, for example, be an online shop selling hand-made jewellery. One of your visions might be that, in three years' time, half of all your sales are made through your website. This vision can then be translated into a goal, which in turn can be translated into some metrics.
Vision= half of all sales to be made online
Goal = Increase sales by x amount
Metric = % conversion rate
TRY THIS: Go back to basics. If you have a vision statement for your business, then highlight the areas that your website and digital marketing could support. If you don't have a vision statement, then now's the time to devise one.
Define your SMART goals
Working from your vision statement, you can begin to determine your goals. SMART goals are the term used by marketers to help keep goals focused and achievable, rather than just plucked from the air for the sake of it.
SMART goals must be:
Specific – your goals are clearly defined
Measurable – you can apply a metric to map their progress
Attainable – success is realistic
Relevant – how your goal will benefit your business
Time-bound – the timeframe you put on your goal
So, a goal such as "increase visitors to the site", isn't SMART because it lacks any detail about metrics, the relevance to the overall business, or a deadline. A better one might be: "by June 2019, reach 12,000 unique monthly visitors".
Some, but by no means all, goals you might like to focus on are:
Increasing your unique visitors – measured in Google Analytics
Essentially this is about the volume of visitors to your site. Increasing your unique visitors is about getting your content right, focusing on your SEO, and using paid ads and social media to promote your site to new audiences.
Reducing bounce rate – measured in Google Analytics and Page Speed Insights
Another Google Analytics metric, your bounce rate is the percentage of people coming to your site and clicking off right away. You want to keep your bounce rate as low as possible simply because you want to retain visitors who find you online.
A high bounce rate (anything above 50%) can either indicate that people are coming to your site and not engaging with your content, design, structure, or your page speed is irritatingly low.
Addressing this issue means trying to get to the root cause. First, you can eliminate page speed problems by connecting your site to Google's Page Speed Insights tool, and then look at how you can optimise your landing pages to encourage maximum engagement.
Increasing conversion rate – measured in Google Analytics
Your conversion rates are arguably the most important metrics to measure, since they give you a real understanding of the rate at which your customers are engaging with your product or service.
Low conversion rates might indicate unclear calls-to-action, laborious checkout processes and a general poor user experience, so if your conversion rates are low, then these are the most obvious places to start.
You can set up goals in Google Analytics to track your conversions. Sales and downloads are the most obvious goals to reflect how your business is doing, and you obviously want these numbers to be as high as possible.
Increasing time on site – measured in Google Analytics
The longer the people stay on your site the more they are engaging with your brand. As a rule, if the time on site is lower than 3 minutes then there's room for improvement.
Like a high bounce rate, a low time spent on your site might indicate poor quality content that simply doesn't provide the visitor what they need.
Organic search acquisition –  measured in Google Analytics
This measures the number of people who are finding you in online search rather than being referred by another domain or social media. This is a good indicator on how you're doing at SEO. 
A low level of organic search visitors relative to visitors acquired via referrals, social, or directly typing in your URL, could indicate that you need to start paying more attention to optimising your site for search.
Improving your search ranking – manual searching in search engines
This begins with getting to know which keywords you'd like your site to rank for in search. That is, you want to match your site against the search enquiries your target audience is making and be found high in the results.
Starting with some keyword research (check out the UK Domain's beginners guide here), build up a list of words and phrases you want to rank for and then assess how you fair when those are typed into Google.
TRY THIS: Define no more than five goals to start with, making sure you ask the questions:
Is it a detailed enough goal?
How will it be measured?
Is it achievable?
How is this goal important for the business?
By what date should it be achieved?
Set up your Google Analytics "goals"
This is slightly confusing, because Google Analytics allows you to set up "Goals", but we've so far been using the word "goal" more broadly to encompass larger marketing objectives.
However, if one of your goals is to track conversions such as downloads, sales, or sign-ups, then you need to set up Goals in Google Analytics. This will allow you to easily identify how many people in any given period have made the action that you want to track.
If you've already got a Google Analytics account then great, if not, then now's the time to link up your site. For more, follow the Moz guide to starting out in Analytics here.
Once in Google Analytics, go to Admin, then View column, and then Goals:

Now create "new goal":

Now you name the conversion you want to track. In this case, I want to track the number of "Earrings 1" that are sold. You then add your destination that confirms that the conversion has been made; in this case, a "thank-you" page. You can also track time spent on a page in "duration"; pages per session; and "events", which can be an action like watching a YouTube video.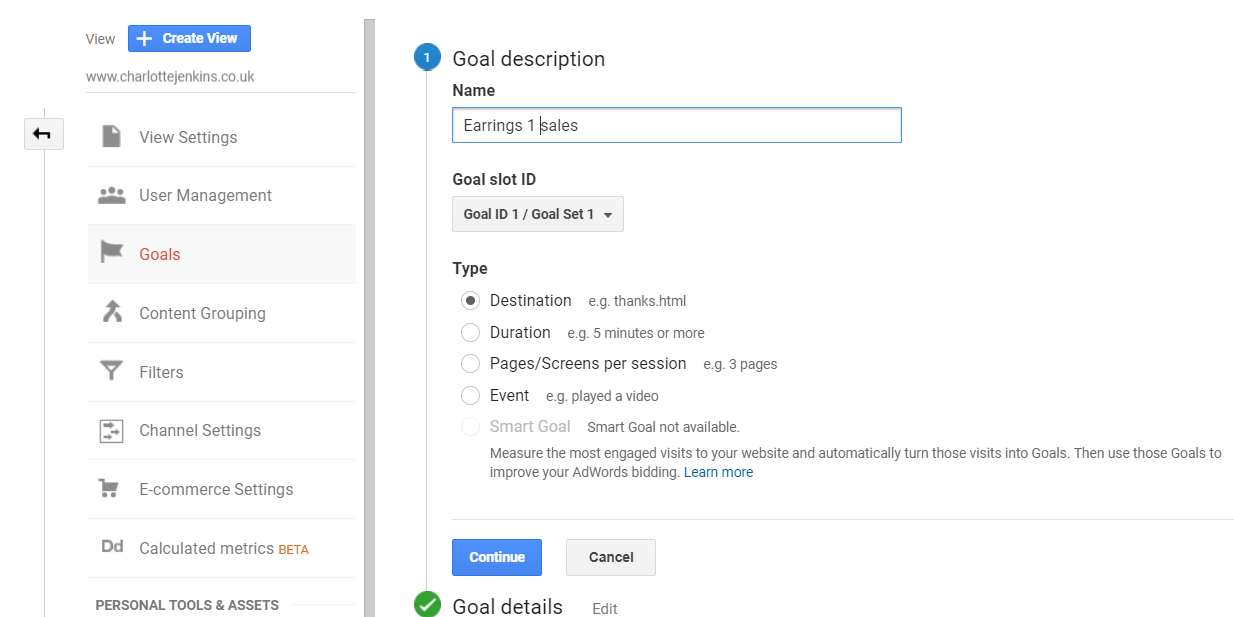 Next, you add your destination page, in this case "/thank-you", and then an optional monetary value, to help you to track your revenue.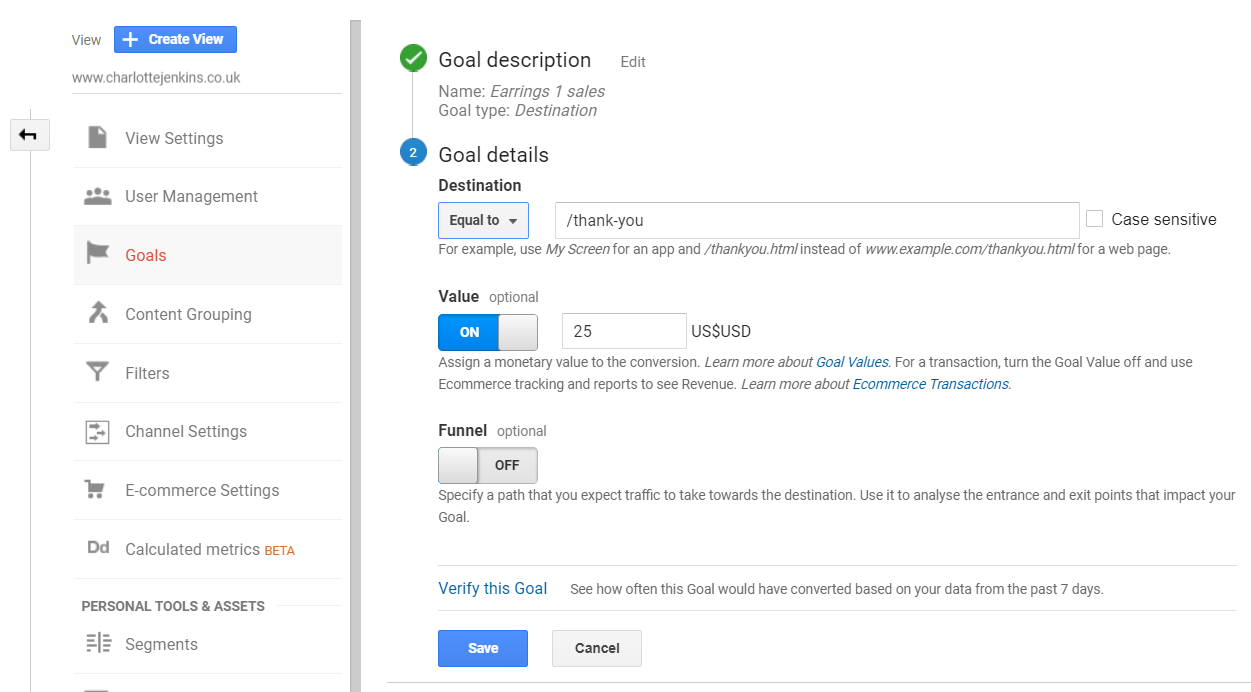 And you're done!
Get a baseline of your metrics
For Google Analytics:
After some time of letting your site tick along and accrue data, you should take a baseline snapshot of your goal metrics. This will allow you both to make an informed website marketing strategy and give you something to measure against when you begin to make changes.
To get a baseline account, go into Analytics and start by setting the date range you'd like to measure. Let's say one month.
In "Audience Overview" in the left-hand menu, navigate to the top right-hand corner, select your date range and click "apply":

Immediately, you'll see some key metrics:

To go into more detail, or to choose other metrics then navigate again to the left-hand menu, and search for the right metric. To view your "Goals" that you've set up, navigate to "conversions" and look at your overview.

Take a snapshot of your baseline metrics, either as screen shots or in a spreadsheet, so that you can refer to these for future monitoring and reporting.
For your search rankings:
This is a more manual job, but worth doing if you're going to start working on improving your search results. Type in your keywords and phrases into Google and make a note of where you're ranking in the search results.  
Develop a website marketing plan, and define your tasks
Taking your baseline metrics as a starting point, you can start to plan how you go about improving your numbers. Creating a strategy will help you to organise and prioritise your daily, weekly, and monthly tasks, as well as to share them out amongst your team.
Translating your goals into tasks can take some consideration, however. For example, one goal might be to "increase downloads by 10% in the next 6 months", and so your tasks might be:
Optimise download landing page with better content and headline
Improve and test design and placement of the download CTA
Reduce number of mandatory form fields in download form
When setting out your tasks, decide how long they should take, and budget time accordingly so that you can hit your deadlines.
A recent UK Domain article will show you how you can incorporate your online marketing into your daily routine, and prioritise and divvy up tasks so that your team are all working towards achieving your goals.
Measure, tweak and repeat
Now that you've put so much effort into defining and setting up your goals, it's important that you track your progress. After all, marketing is never "complete" but an ever-evolving process of experimenting, testing, and tweaking.
Decide how regularly you measure your progress. Most marketers carry out monthly reporting, because it allows enough time for changes to bed in but isn't too long that alarming dips in performance are missed. It also neatly ties in with other monthly chores such as payroll.
Tracking your progress means being realistic, however. Don't expect all your endeavours to have instant and dazzling results. Often marketing efforts take a while to take effect. The trick is to keep plugging on, whilst also knowing, that if something isn't working, then it's time to quit and try something new!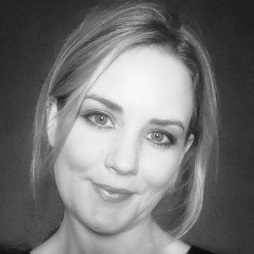 Charlotte Jenkins is an Oxford-based content marketer. She has several years' experience in content writing, editing and digital marketing, helping clients communicate their businesses online.
Read full profile